Staying at The Hospice "Torinin" in Kyoto: Offering Overnight Stay and Vegetarian Diet for $65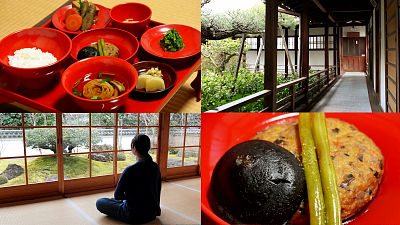 (This article was originally posted in Japanese on 12:00 Mar. 18, 2017)

The accommodations in temples and shrines for priests and visitors to purify mind and body are called "Shukubo (a hospice)". Many temples and shrines have Shukubo, and some of them have modernistic buildings like a hotel. In Myoshinji Temple in Kyoto, you can stay at the hospice named "Torinin" which is famous for the garden of sal tree, and eat a Shojin dish (a vegetarian meal), produced by the chief priest of Torinin who is famous as a vegetarian dish cook. We went Torinin and spent a night.

In order to stay at Torinin, first make a reservation by phone call (075-463-1334), and then send your information, such as a date of stay, number of people, your contact address, your phone number, and whether you want to eat dinner and breakfast or not, by a double postal card. Few days later receiving a reply from Torinin, you completed the booking. This time we booked a room for one night and two meals, so the room charge was 6480 yen (about $65) per person. if you book a room for one night and breakfast, the room charge is 5400 yen (about $55).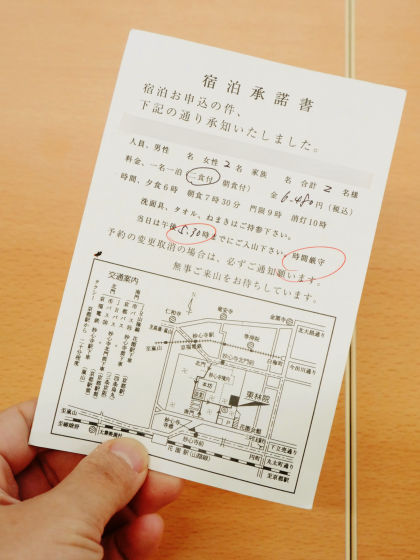 Torinin is one of Tatchus (sub-temples) of Rinzai sect Myoshinji Temple, located in Hanazono-Myoshinji-cho, Ukyo-ku, Kyoto city. On the Kyoto tourism and travel webpage, there's a map of Myoshinji attached below, but in fact you can't reach Myoshinji if you follow this map.


Although you can see the temple but cannot reach there, because the road comes to a dead end. According to those who live nearby Myoshinji, once there was a bridge to get to Myoshinji at the B point of the map, but it has been blocked.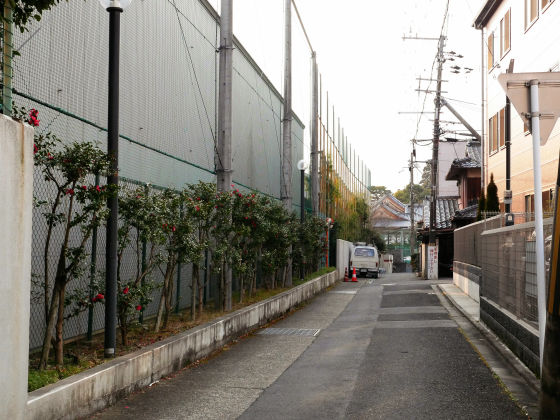 So, we go inside through the south gate of Myoshinji instead.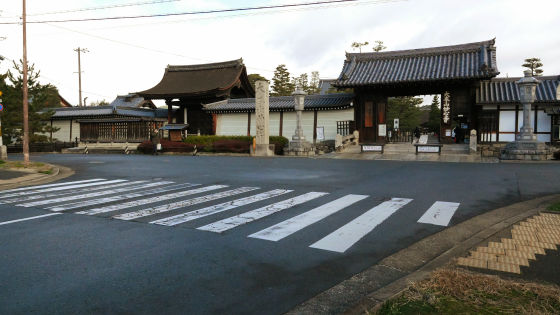 There's a big map near the gate. Let us see.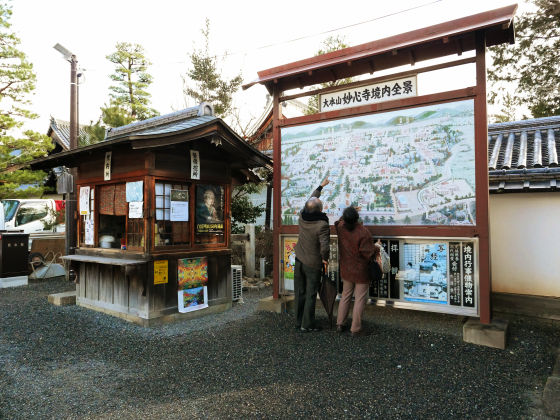 It seems that to get to Torinin, you go straight from the south gate, and turn right twice.


Go straight and...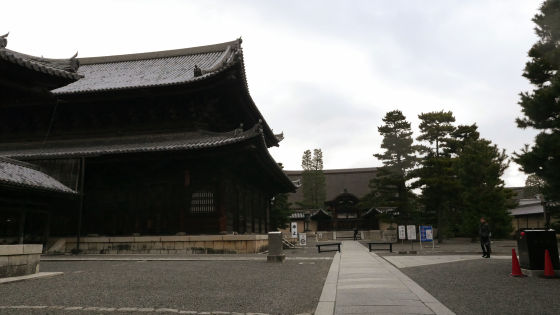 there's a corner. The sign says "Mimyoden", "Hanazono Kaikan" and "Nehando", but no sign of Torinin. We felt uneasy but anyway followed the sign.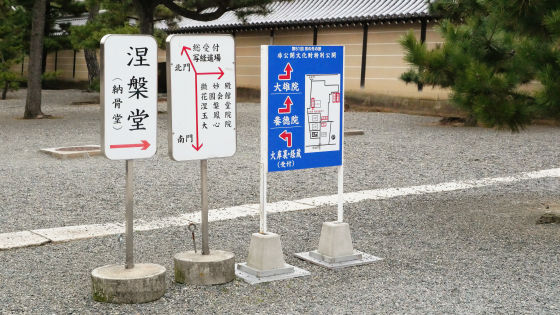 The path led to...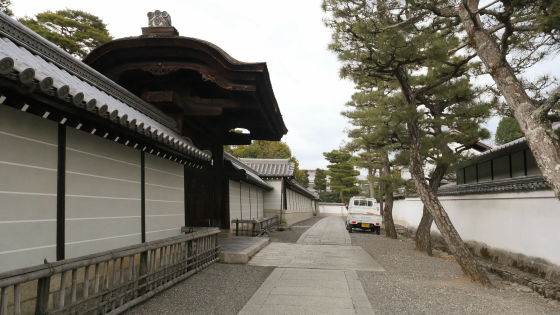 a dead end.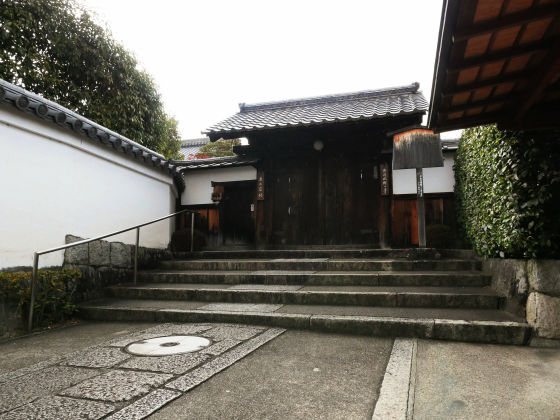 However, we found the signs "Torinin" and "The temple famous for the sal tree". But we were puzzled from where to go inside.


Then we found that the night entrance was opened. Before arriving the building, we were excited as if we were on an adventure.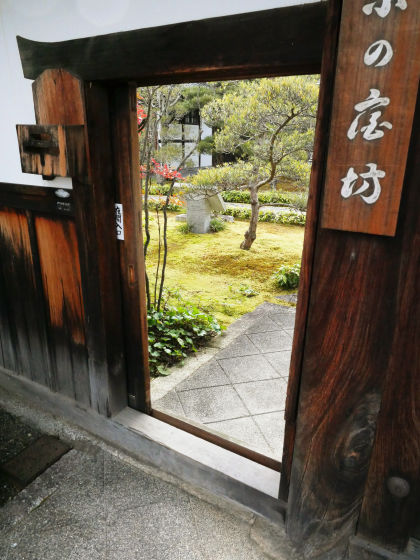 Inside the gate.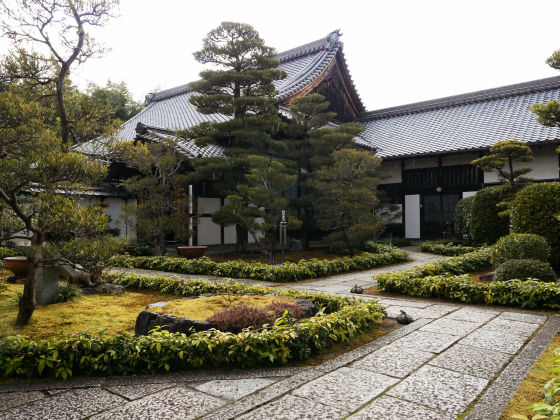 Entrance.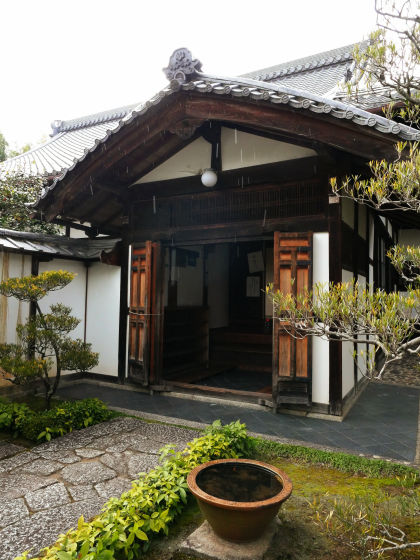 When we went inside the building, a bell rang, but nothing happened. It says "Strike this bell when you want the host", so we stroke the bell, then the hostess came to show us into the room.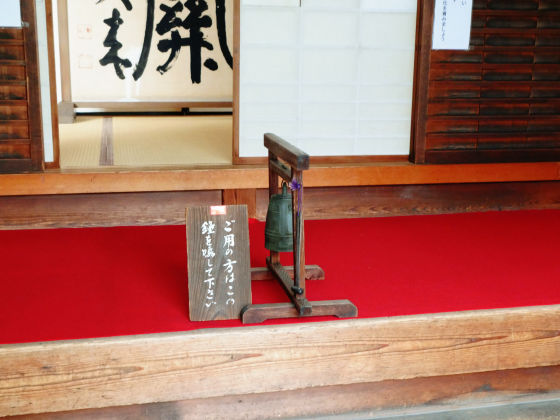 Take off shoes and go inside. The building is old but tasteful, and there is not a speck of dust in the whole building. Windows are cleaned perfectly, too. You will certainly say "It's a clean place ..."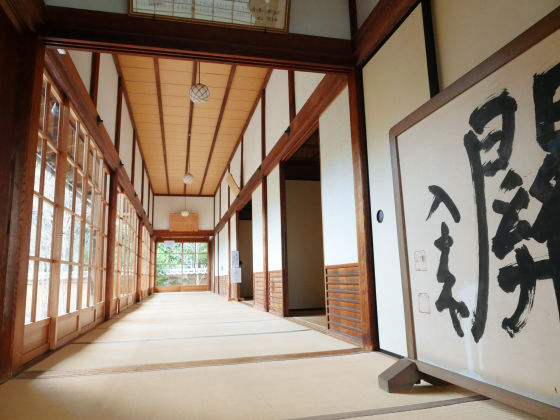 Reception. First of all, sign in at the guest book here.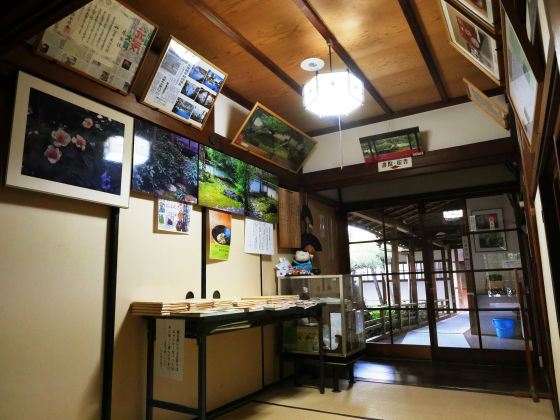 The hostess usually stays at the backroom of the reception. If you want to speak to her, it is necessary to push the button attached to the wall.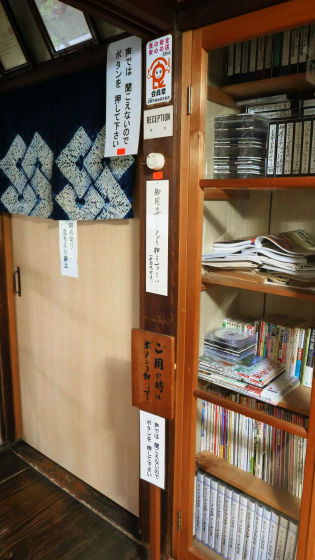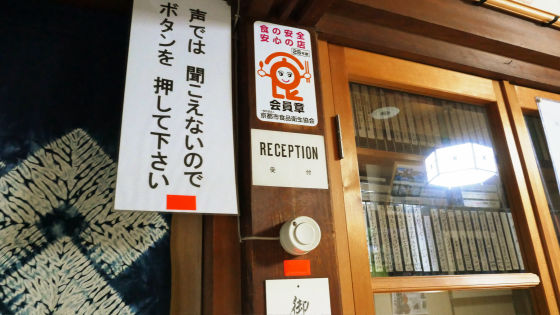 Mr. Genbo Nishikawa, the chief priest of Torinin, is famous as a vegetarian dish cook, and he wrote many recipe books. You can read and buy those books at the reception.


You can make a vegetarian dish at home with these recipes, like a vegetarian curry and rice. Since reading the book in the evening, our heart were filled with expectation for dinner, as we became hungry.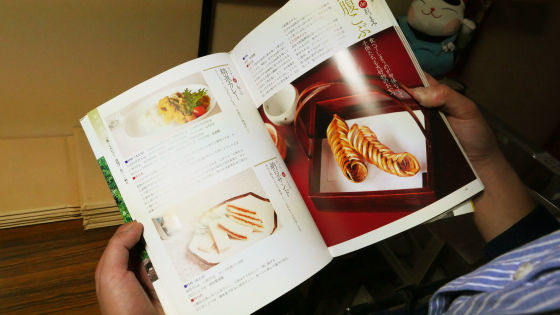 In addition, Torinin is also famous for the precious wood of a sal. During rainy season, you can see the tasteful view that the flowers of sal are exposed to the rain and fall off to the ground, like a following photograph.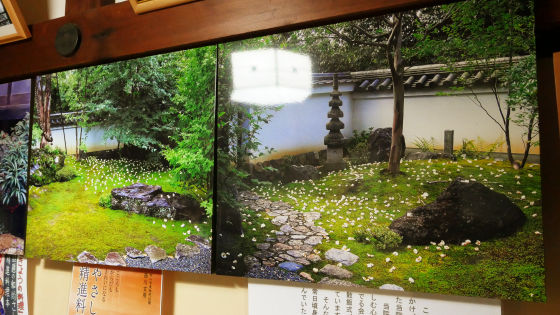 Going ahead of the reception, there is a corridor. We were excited to see the beautiful contrast of a wooden building and green in the garden.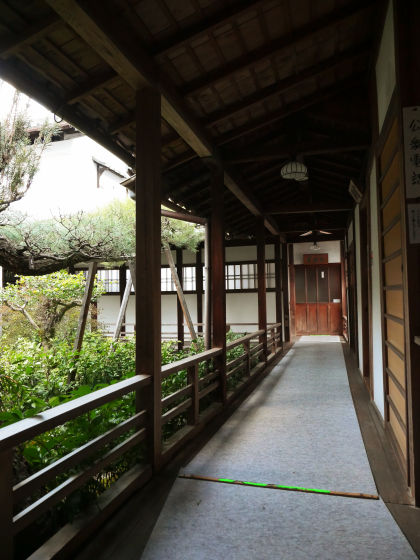 A public telephone was placed in the corner of the corridor.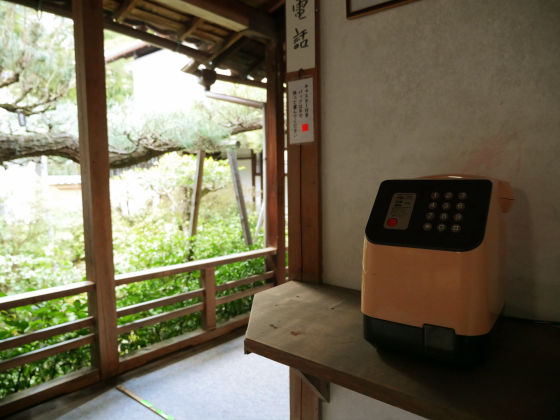 There's a tree named "Hiryu no Yadorigi (A house of flying dragon)". The reason why they named like this is because...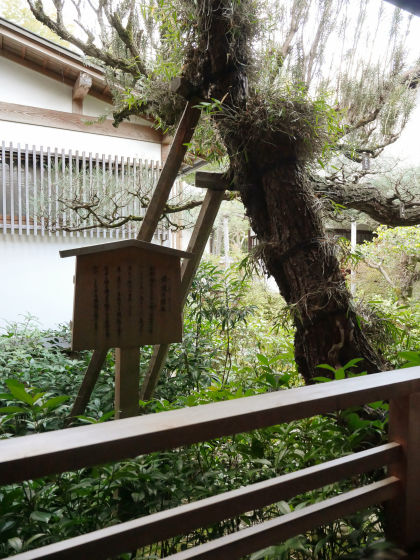 the tree grows long and round like a dragon flying in the sky.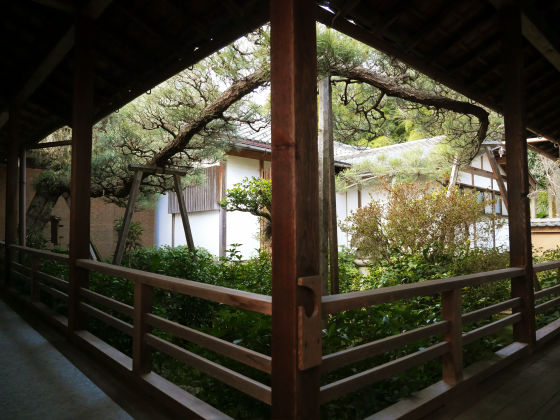 Going to an another building.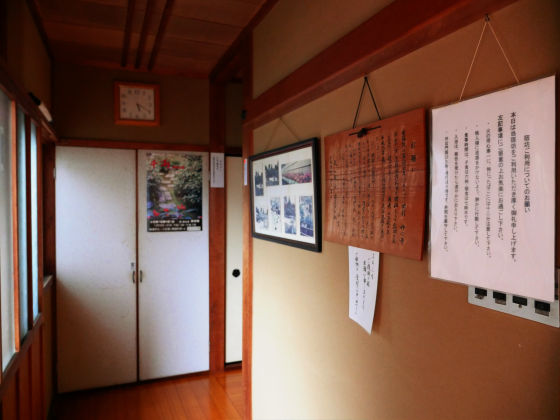 The room we stayed was named "Daitoku", which faces to the garden "Horai no Niwa".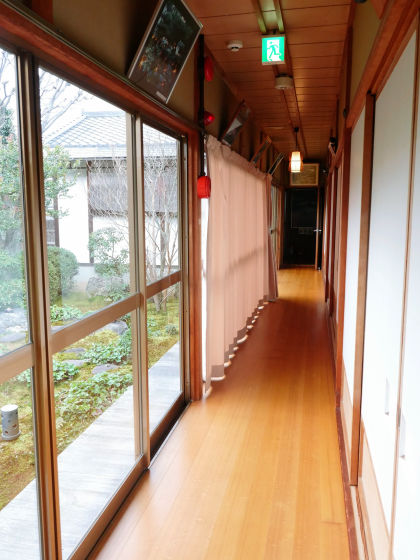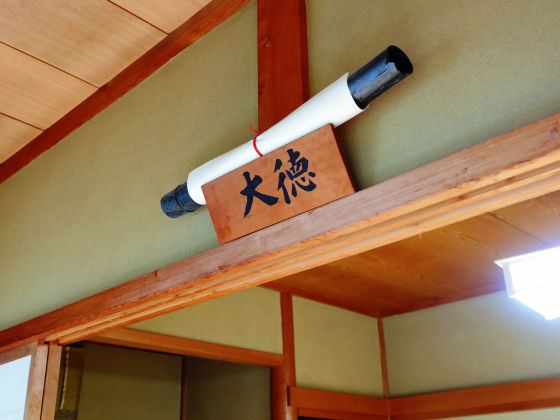 A six-mat room.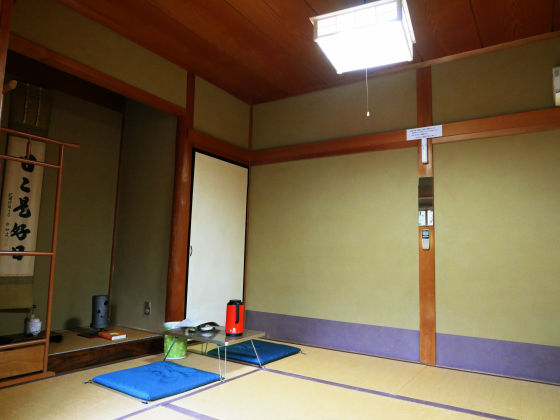 Bedding is on the corner of the room.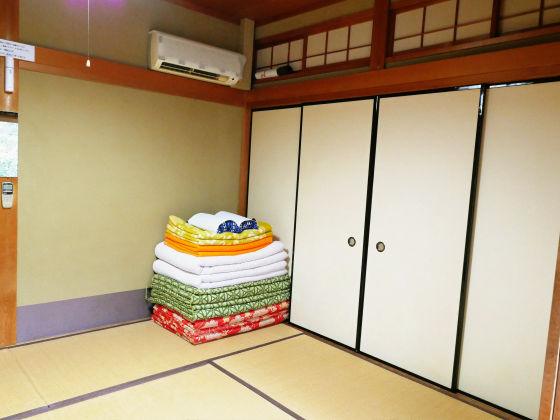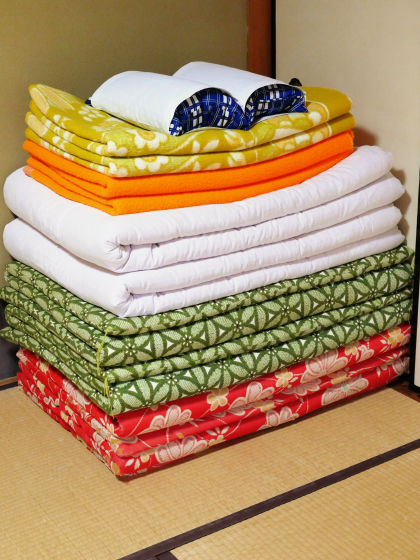 An air-conditioner. Although Torinin is a hospice, you don't need to stand with cold, like a Buddhist practice.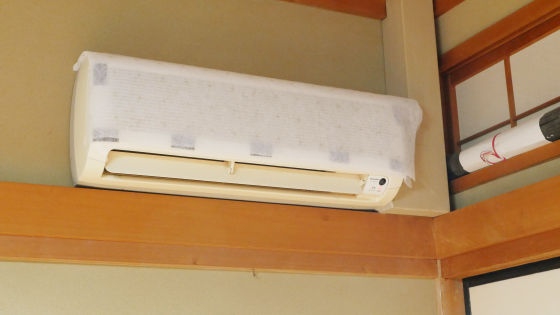 An emergency light, a mirror, and an air-conditioner remote control on the wall.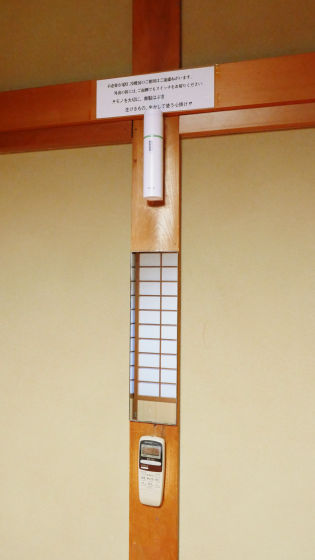 You can put your coat in front of a hanging scroll saying "Hibi-kore-kojitsu (enjoy everyday life)".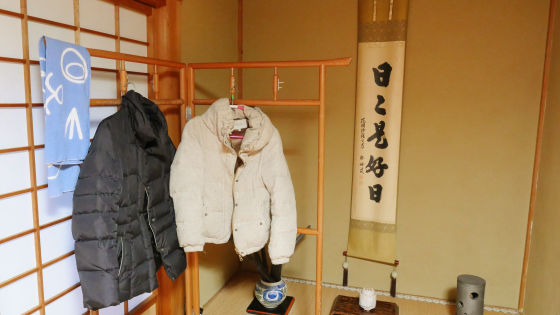 There are two electric sockets, so you can charge your electronic devices, such as smart phones.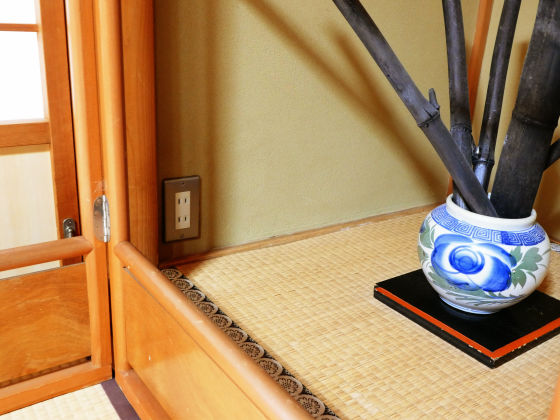 The key is attached on the both side of shoji.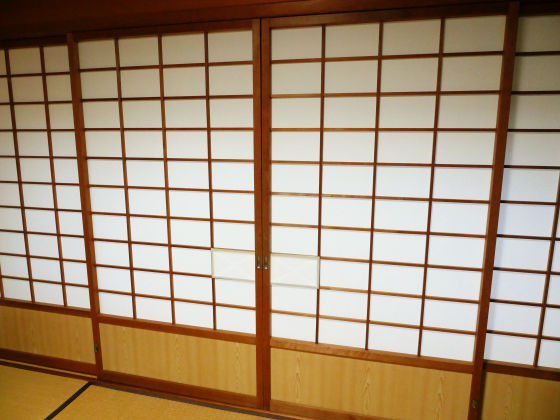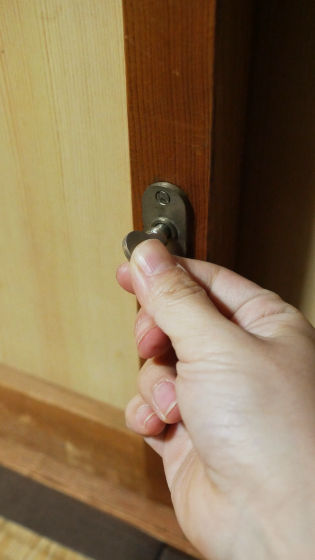 A map inside the building, tea, and sweets.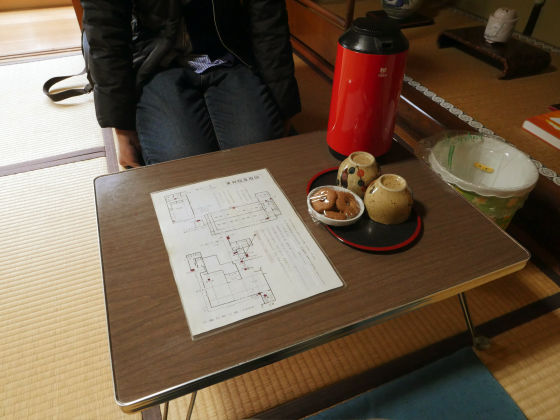 Staying relaxed, with drinking tea and eating sweets. There is no television, and you barely hear any sound. Therefore, this is a good place for reading, too.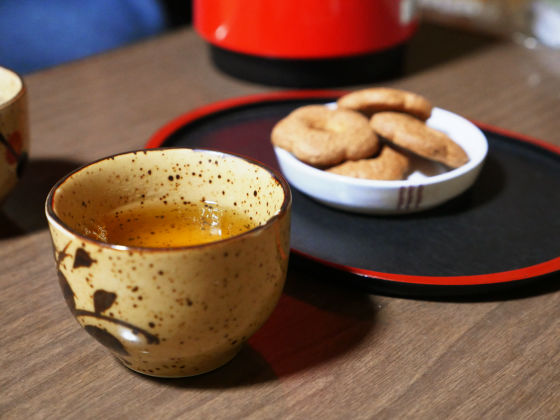 Dinner starts from 6:00 p.m., and when the dinner is ready, the hostess announces "Sir, dinner is ready. Please come to the room near the entrance". Wondering where to eat dinner, we found a room with the lights on near the entrance.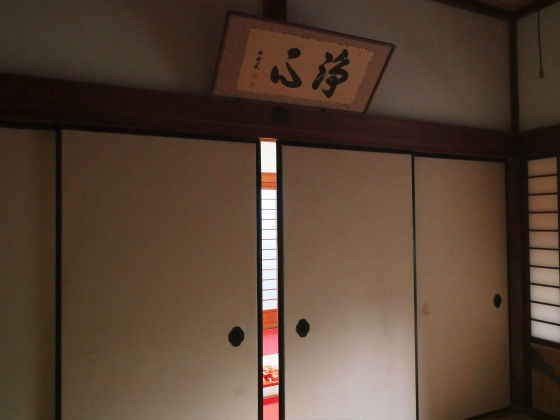 In the room, the dinner is prepared on red containers and tray. Before eating it we can smell a good scent of broth. We were deeply moved and felt "It's entirely different from everyday meal which is filled with smell of meat and fat... It's been a long time to smell such kind of a scent...!"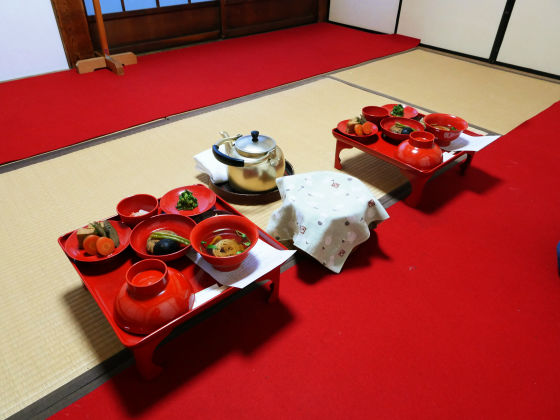 On the dinner tray, there is a paper of "shokuji gokanmon", a verses recited before the meal. The attitude and way to have meal are written, like "Consider labor for preparing meal, don't forget a benefit of nature", and "Don't be blinded by greed to eat too much or drink too much", and "Food is a efficacious medicine which saves your heart and body from wither or die". Since we eat meal in a hurry between works, we are often careless about it. The shokuji gokanmon is really convincing.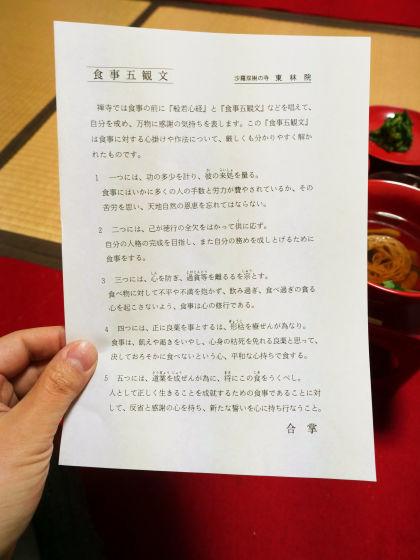 Dinner has seven items of 1 soup and 5 side dishes.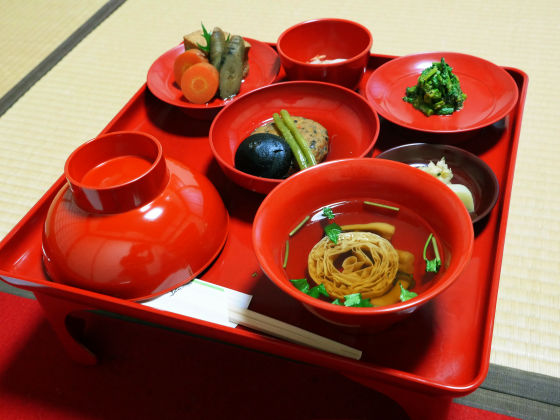 Rice is put in a wooden tub, and you serve rice by yourself.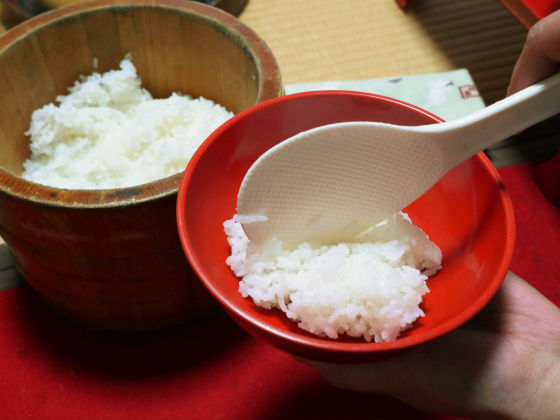 Looking carefully, the sal flower is drawn on the chopstick envelope.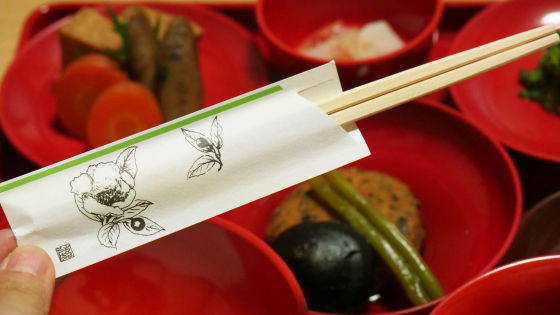 A soup with yuba (tofu skin), a mitsuba, and a shimeji mushroom. A vegetarian diet seems to taste less strongly, but it has a strong taste of broth. However, its smell is mild and doesn't spoil the flavor of mitsuba. You will say "This is the delicate taste of vegetarian diet..."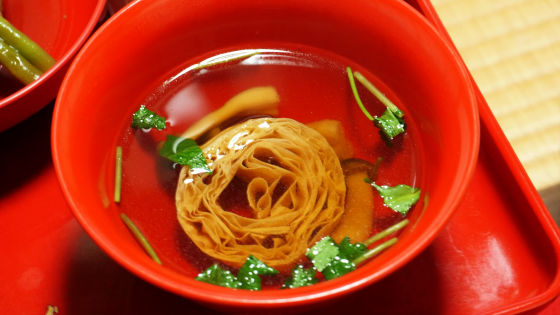 A fried bean-curd cake is cooked with a shiitake mushroom and a navy bean.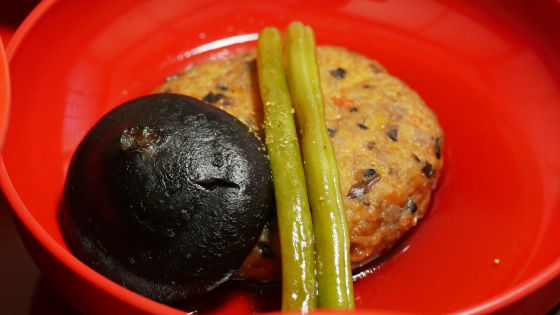 A lotus root, a carrot, sesame, a brown seaweed are contained in it, and it is both crispy and soft. You will be surprised with the taste that goes well with rice. As Japanese we eat a fried bean-curd cake somehow, this one has a good smell of sesame, and you can taste each foodstuff. And a boiled shiitake mushroom tastes good and goes well with rice, too.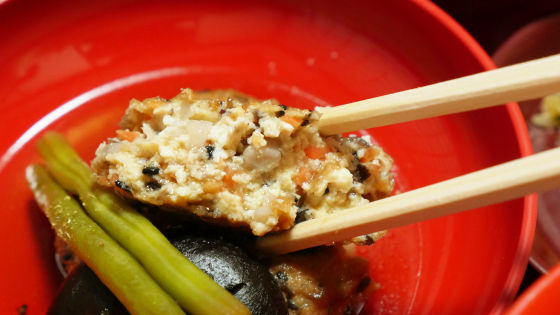 A thick deep-fried tofu, a carrot, and a burdock stew.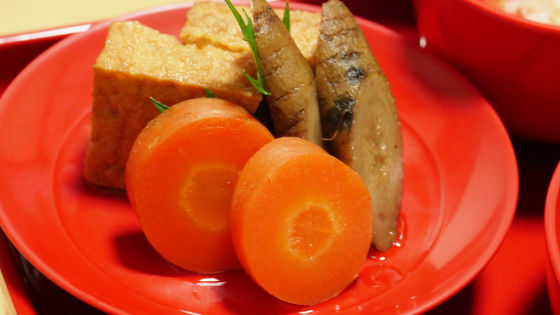 A carrot is cooked without peeling the skin. Although it is cooked with same broth, the taste is different from the a fried bean-curd cake, its taste is milder.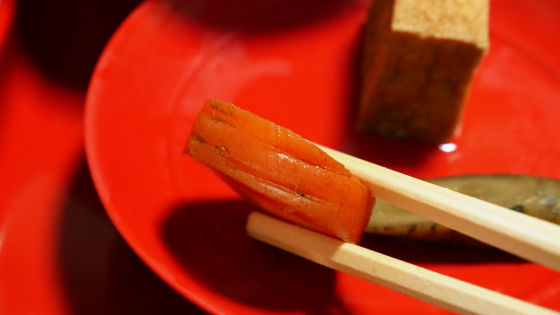 A dish made from sliced carrot, Japanese radish and seasoned with vinegar.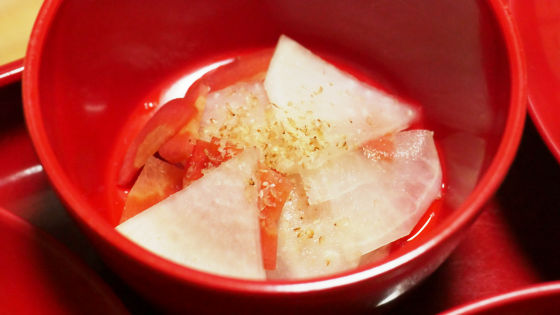 Boiled rape blossom.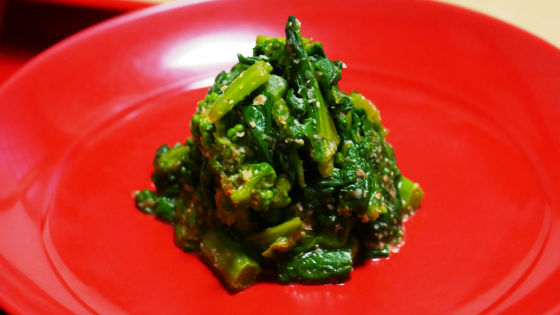 Pickles. A pickled radish on the front, and a chopped pickled vegetable with good smell of green perilla.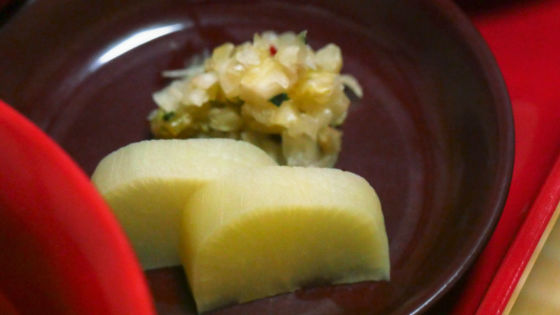 Anyhow, every side dish goes well with rice, and it sharpens our appetite, so we couldn't help eating rice, even if some of us don't usually eat meal so much. Despite no meat, egg, or animal food products are contained, we became full, and we felt we wanted to eat such dinner every day.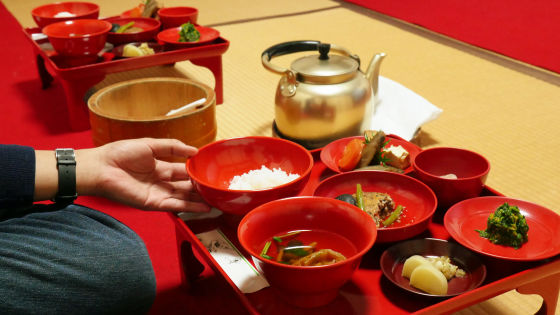 At last, drink tea with the rice bowl, to clean the bowl.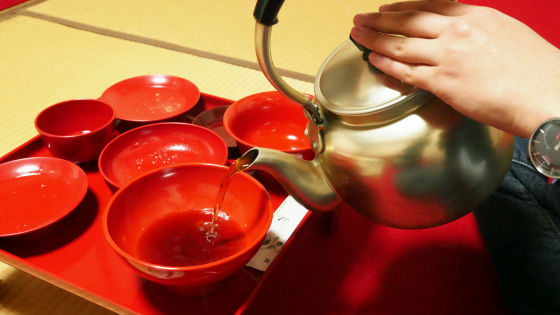 When we finish eating dinner, it became dark outside.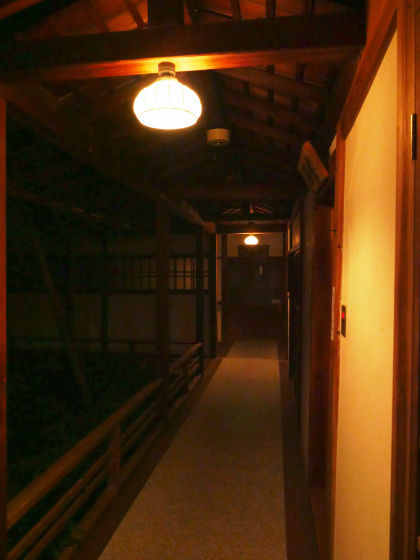 Going back to the room, the hostess announced "Sir, the bathroom is ready. Please take a bath immediately". You may feel a little busy, but it seems like a school trip.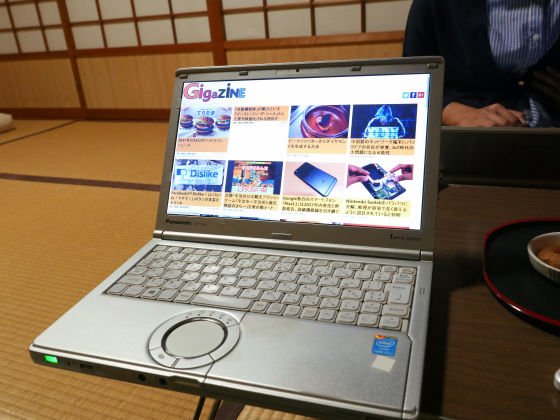 A bathroom. You should take a bath by 8:30 p.m. When we stayed, there were one guest besides us. If many guests stay in the same day, you may have less time for bathing.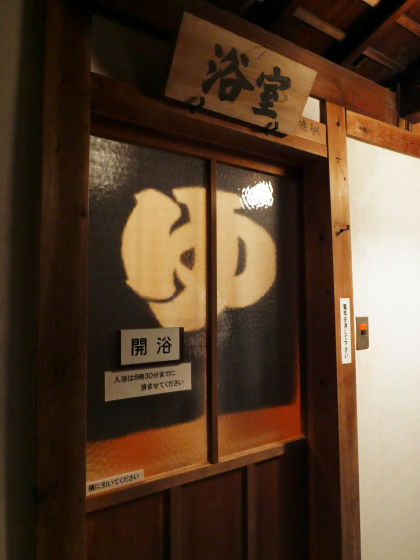 A dressing room.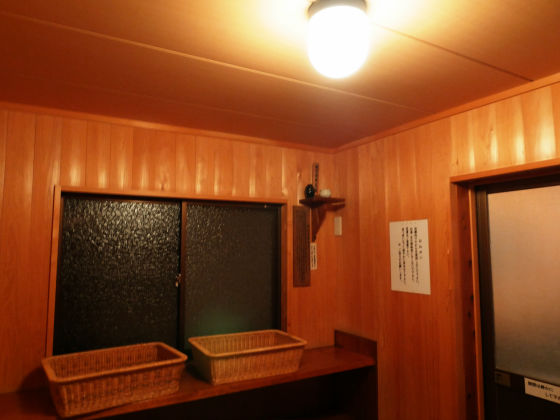 As open the door, a slight scent of tree comes out.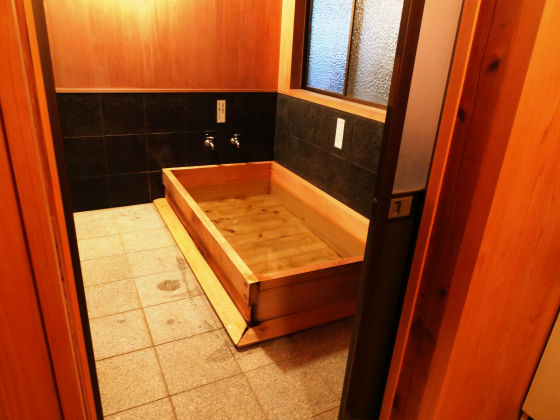 A bathtub is big enough for 3-4 persons, and it seems like a bathtub in hot springs.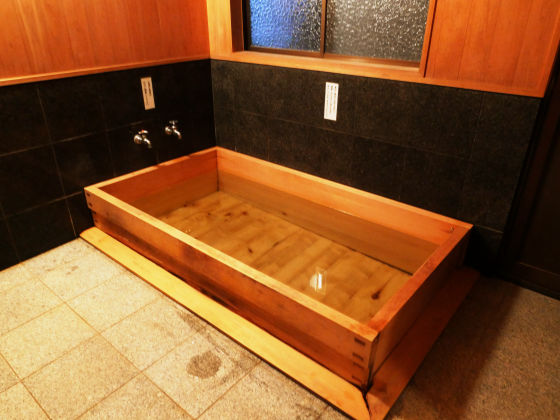 A washing place: three faucets and one shower, only one soap, no shampoo. Although there were no poster in the bathroom, it is reported that washing your hair is not allowed in Torinin.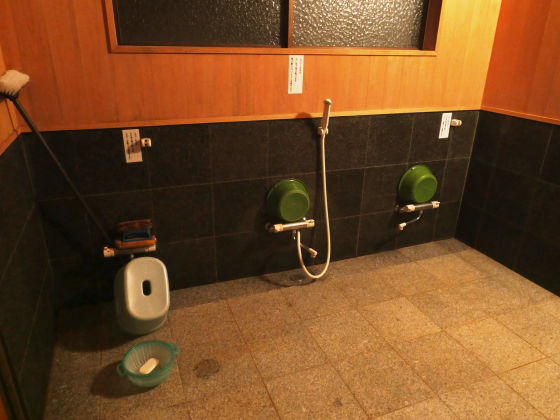 After taking a bath, all you need to do is to sleep. A bedtime is set on 22:00, so we wondered if the hostess would announce to go to sleep, but in fact there was no announcement. Of course you shouldn't be noisy, however, the bedtime is at your own discretion. But since we came all the way to stay here, we decided to go to sleep at 22:00.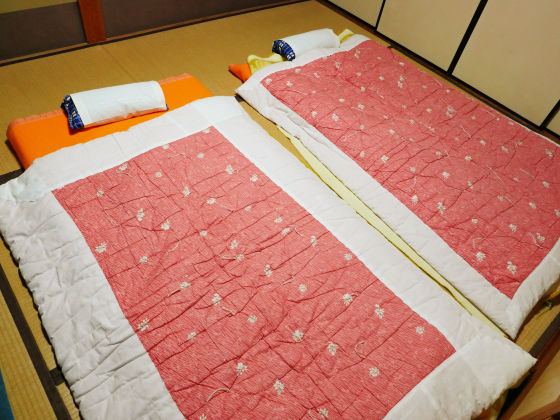 The following morning. Although the time to get up is set on 6:00 a.m., there was no announcement on that time and you can get up whenever you like. As we went to sleep at 22:00, we could woke up at 6:00 at ease. Moreover, the morning air is clear so you may feel very refreshed.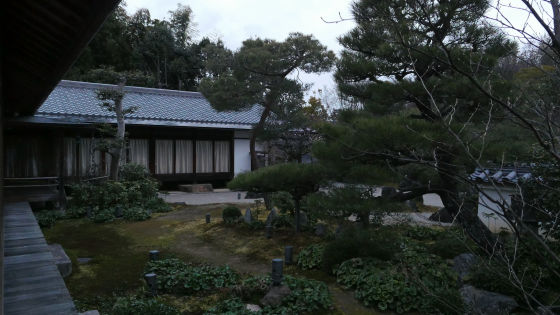 Toilet.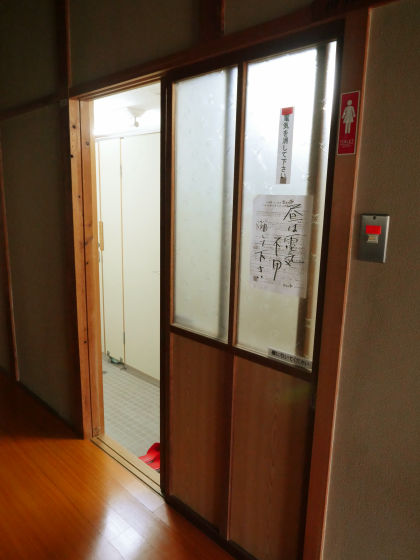 A poster says "No need for light in the daytime: please turn it off". Such posters appealing water saving or power saving, etc, are put throughout the building to avoid wasting things.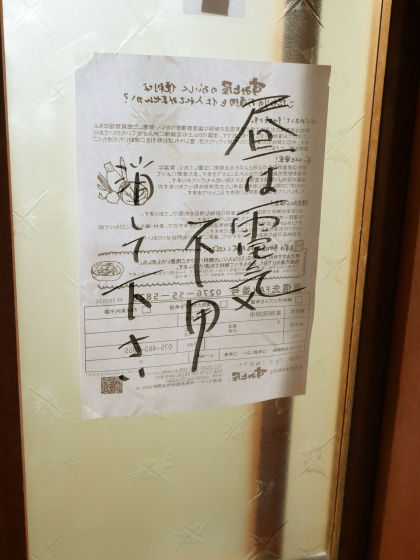 There are four toilets, but two of them were unavailable.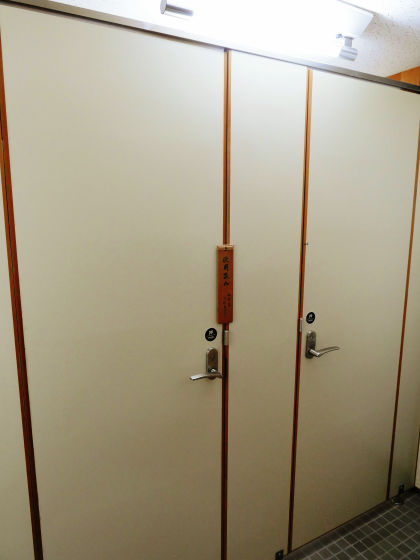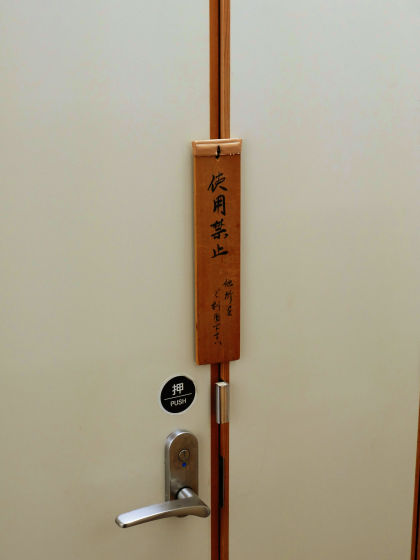 There are both Japanese-style and Western-style toilets.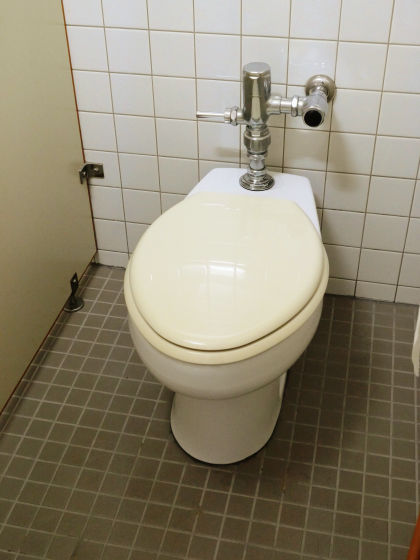 A washing stand for washing face or brushing teeth. There is no dirt on tiles and it looks so beautiful.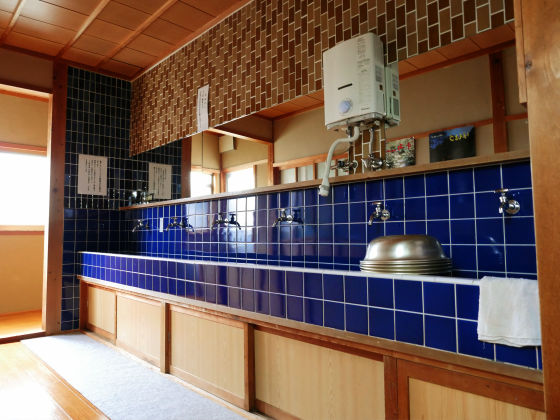 Incidentally, there is a room named "Tensairyo" near the toilet. Although the room was closed during our stay, a cooking class for the maigre dish is held here.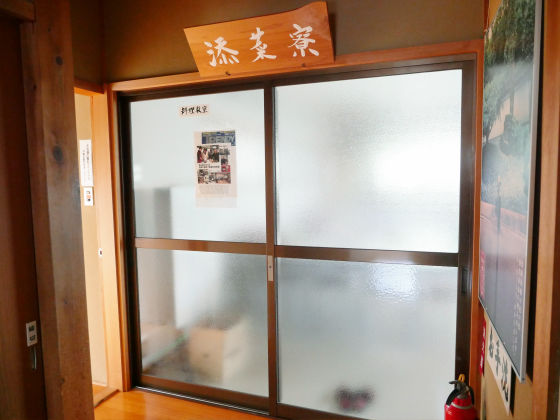 We wondered if we have a religious service in the morning, but in fact, you can decide whether to have a religious service or not of your free will, and do it by self-service in Torinin.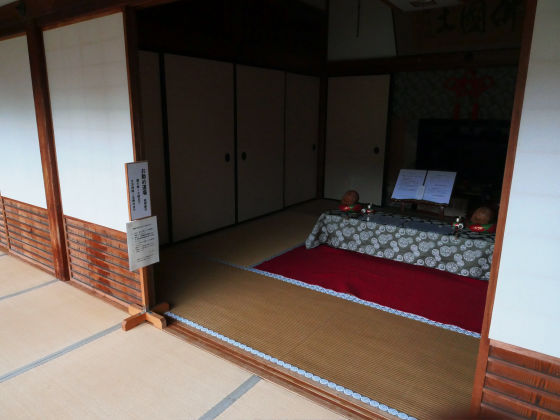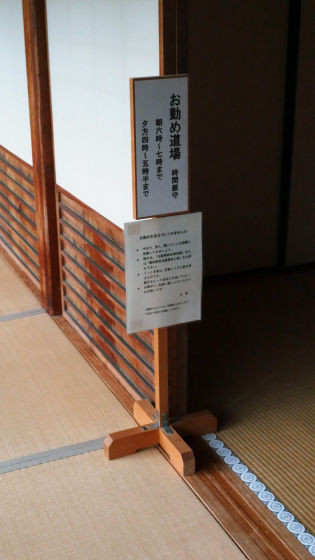 In the training hall for a religious service, you can learn how to recite a sutra.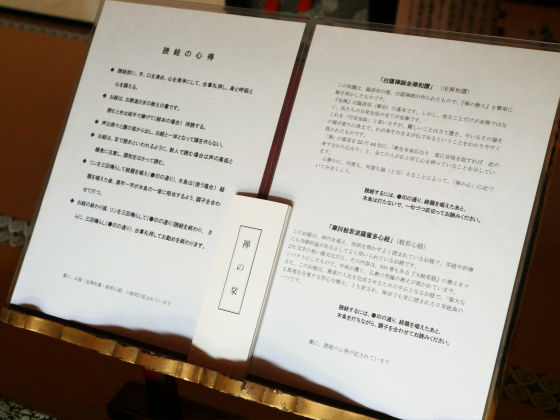 Trying to recite a sutra, following "Heart Sutra (Hannya Shingyo)".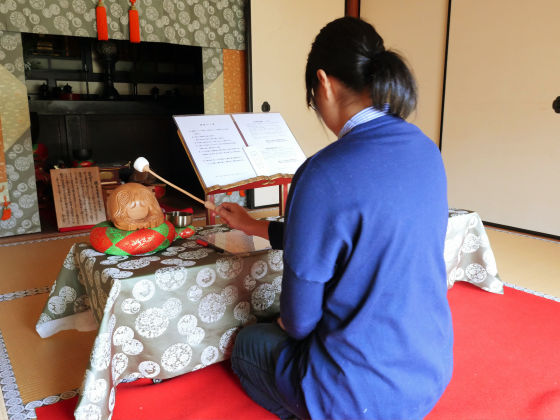 Facing the yard, there is a space big enough to relax, so you can sit in Zen meditation or do yoga exercises here.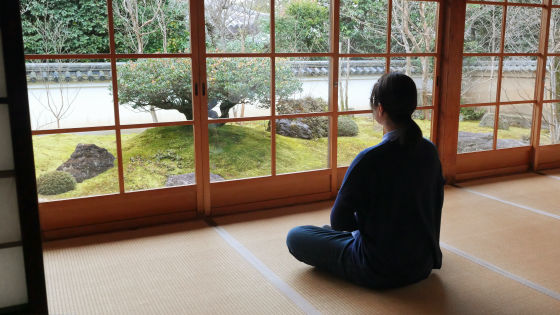 Although the door is locked, you can unlock it and go outside freely. You can take a morning walk in the garden, too.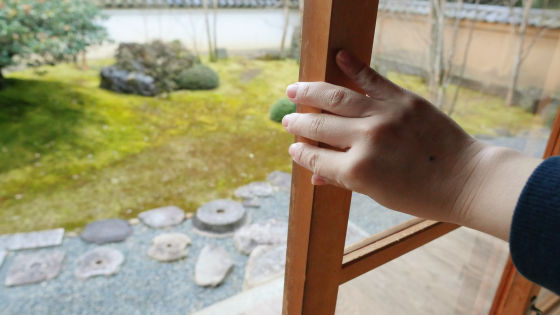 Since the air is clear and it is so quiet without any noise, it is a good place for those who want to take a walk vacantly.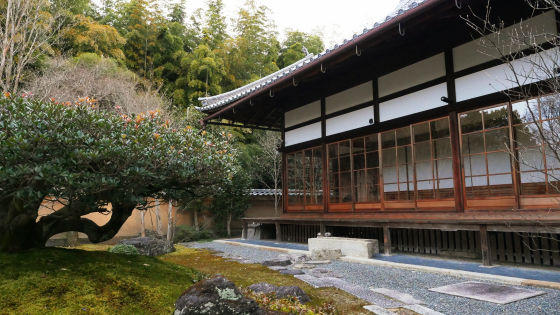 The stones on the path are put alternately rectangle and diamond-wise.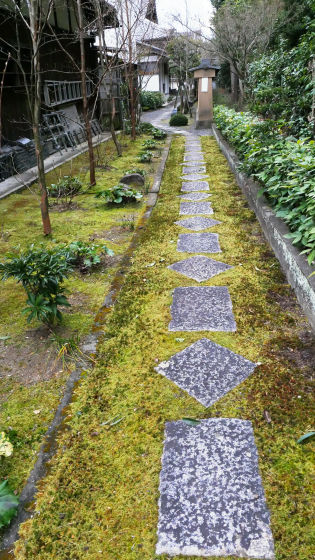 Walking along the stone-paved path, we reached the garden called "Horai no Niwa" which faces to the room we stayed. You can enjoy to see plum blossoms, or hear a bird singing.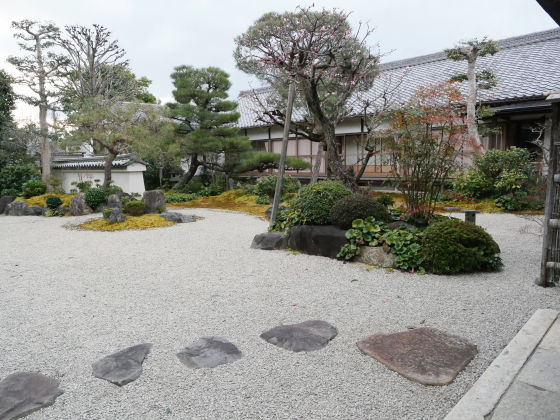 Breakfast is from 7:30 a.m. The hostess announces when the breakfast is ready, so after hearing the announcement, go to the room where you took dinner.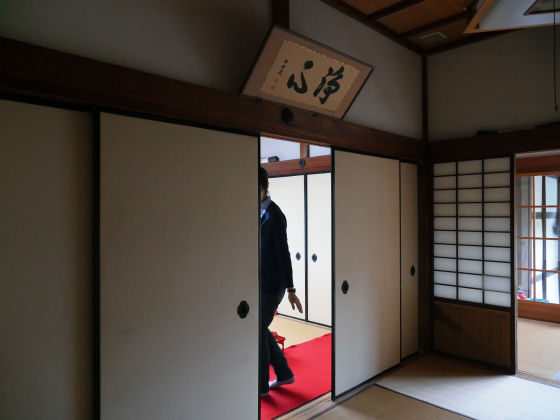 Breakfast has seven items of 1 soup and 5 side dishes, as well as dinner.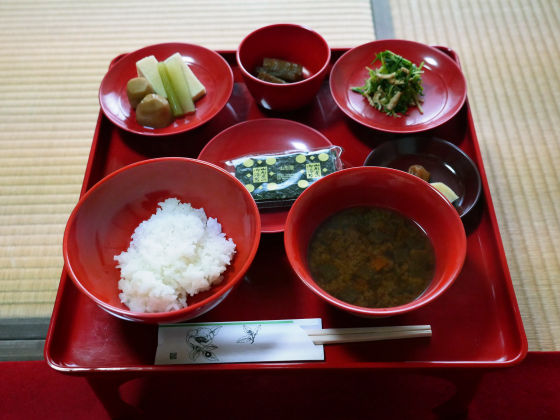 Rice.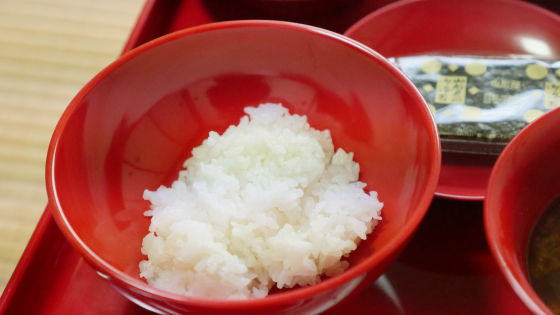 A mizuna mustard and a deep-fried tofu dressed with sesame and soy sauce. A mizuna is crisp to eat, and sesame smells good. It tastes mild.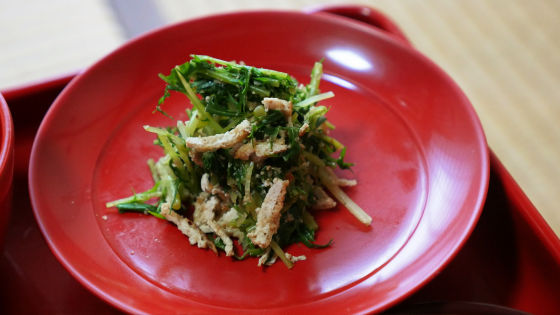 A stew, looked like dried gourd shavings.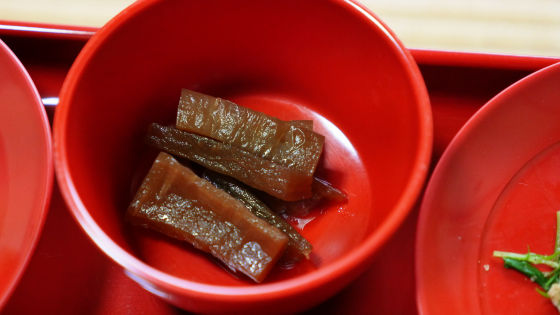 A taro, a butterbur, and a freeze-dried tofu stew. Although its color is light, it tastes good. Especially a taro is cooked well, and it is good to eat with rice.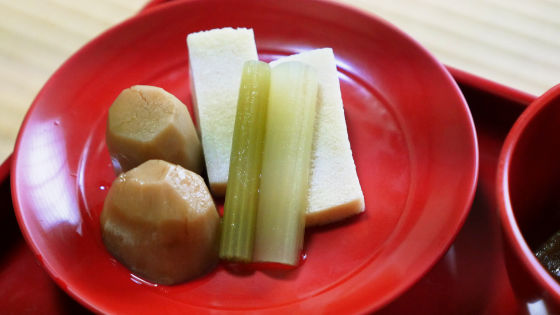 A pickled plum and radish.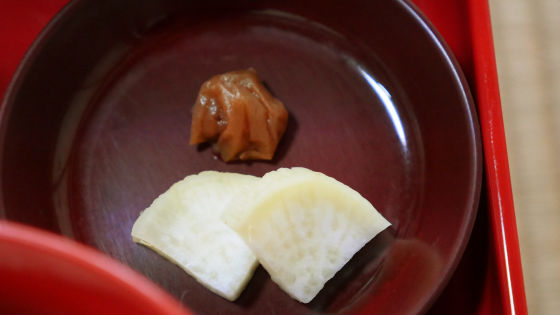 Nori and soy sauce.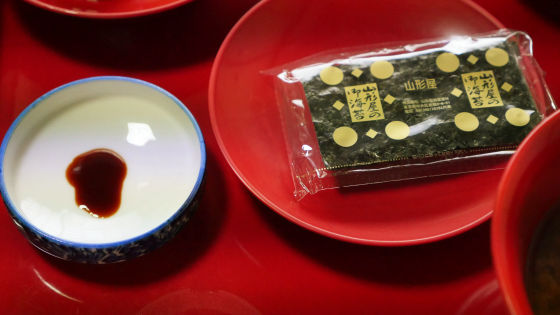 Ingredients of miso soup are a tofu, a carrot, and a Japanese radish: all of them are cut into small cubes of precisely same size. They are cook well and dyed brown, the color of miso.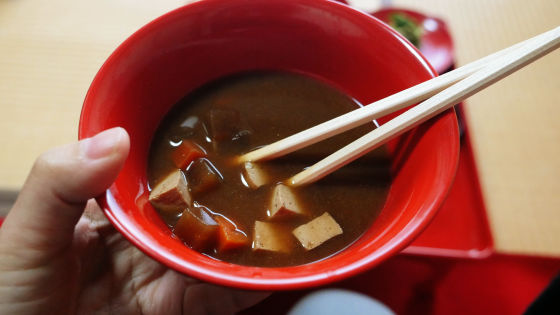 You can't help but eating rice from early in the morning.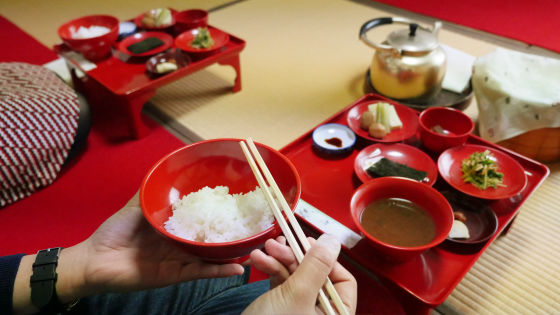 Moreover, inside the building, there is a door with a beautiful picture, and...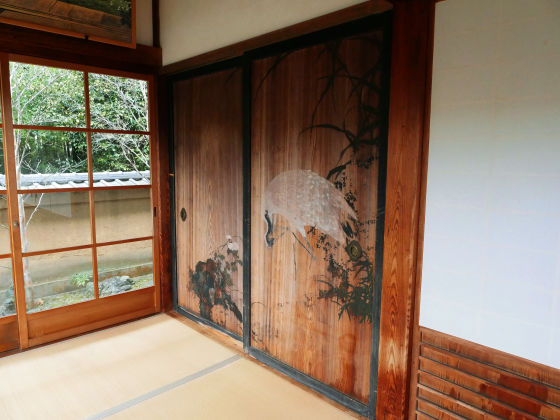 A big rosary made of sal trees.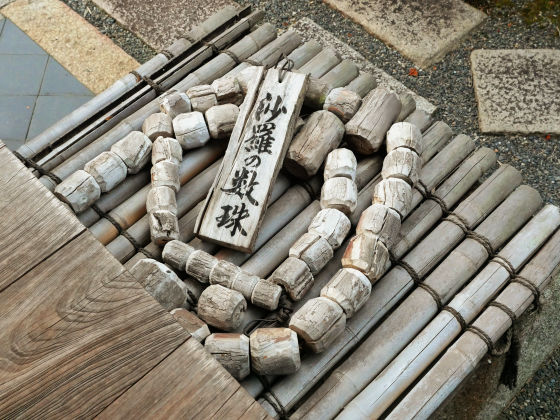 A stone guardian dog.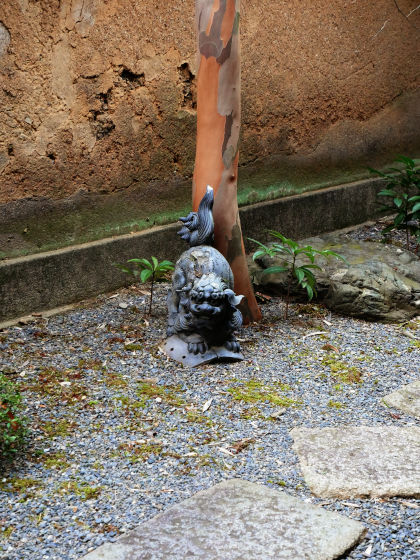 "Tsuboten": you can enjoy the sound of drops of water using a bamboo pipe.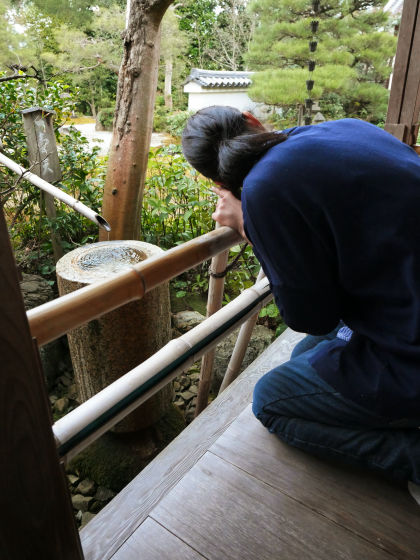 Inside the room called "Hokanza", there is...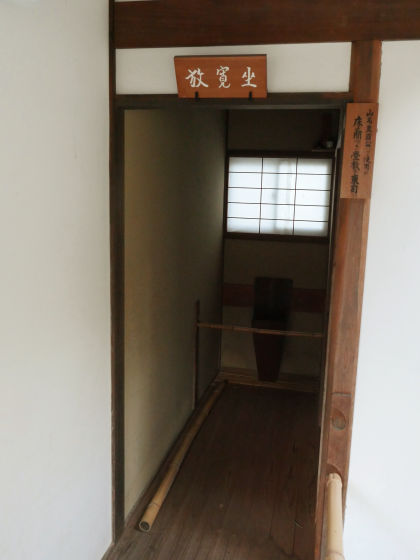 a tatami-floored Japanese style rest room.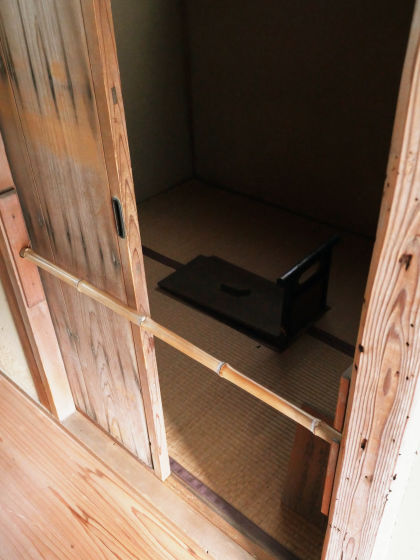 A wooden hammer with a note: "Free to hit the board". In Torinin, you can enjoy the historical building with a lot of atmosphere and the delicious maigre dish, and get away from all troubles and feel relaxed. You will be certainly satisfied if you like Japanese temples or shrines.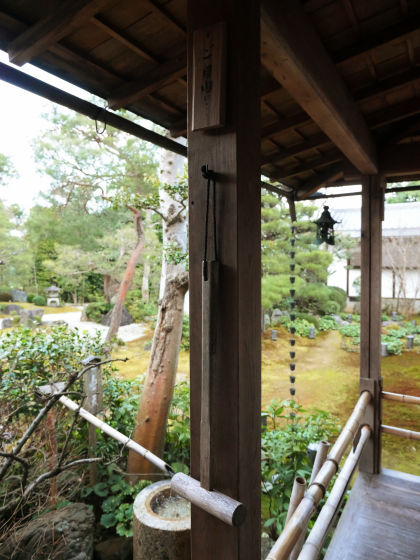 Related Posts:
Machiya-turned-Hostel GUEST HOUSE PONGYI opened in Kanazawa - GIGAZINE

Futuristic Capsule Hotel "9h" in Kyoto with Unique Concept and Style - GIGAZINE

The Deluxe Twin Room of "APA Hotel & Resort [Tokyo Bay Makuhari]" - GIGAZINE

"REMM AKIHABARA" - the nearest hotel from Akihabara Station - GIGAZINE

Top 10 Things You Should Do In Japan - or maybe not - GIGAZINE