Staying at Yokohama Kotobuki-cho: One of Japan's Three Largest Flophouse Areas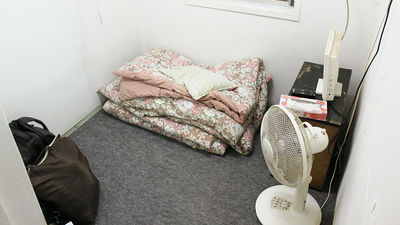 (This article was originally posted in Japanese on 9:00 Feb. 27, 2017)

I found and stayed in a cheap flophouse which charges only 1300 yen per night, but I spent so much time at an Internet cafe in the daytime. Although there is an enough space to sleep, the room of a flophouse was very small, so I rather wanted to spend my time outside the room. I have been tried various hotels so far, but this room was a severe place to stay.

Hello, I'm Takuya Shuto @ Chariderman, I traveled around the world by bicycle. In October 2016, I had a chance to stay at Kotobuki-cho, a flophouse area in Yokohama. I have been to Osaka Nishinari, and Tokyo San'ya, so I completed all of Japan's three largest flophouse areas.

◆What is a flophouse area?
A flophouse area is a place where lots of day laborers live. For example, dock workers gather at Yokohama Kotobuki-cho. A flophouse area is called "Doya-gai" in Japanese. There are many cheap lodging houses prepared for day laborers. "Doya" is the reverse reading of "Yado" which means "a hotel" in Japanese. However, elderly people who live on welfare head the cast of Doya-gai these days, and the Doya-gai becomes to play a role as a safety net for those people. Besides, there are some cheap lodging houses which give high priority to travelers' lodging. As the number of inbound tourists increases, the number of hostels for foreign backpackers is increasing in Doya-gai.

◆The room where I stayed in Kotobuki-cho
Since there are hotels everywhere as far as the eye can reach, I was optimistic about taking up my lodging immediately. But in fact, even if I find a good place to stay, hosts tell me "It's difficult for us to let you stay here only for several days.", and I had a succession of refusals. Unlike in Nishinari or San'ya, hosts in Kotobuki-cho don't deal with people staying only for five days. Wandering around the town, someone said "Hey, what are you doing here?" to me. He was preparing to open an izakaya (a Japanese-style bar). I said to him that I was looking for a place to stay for 5 days. He wore a gloomy look and said "It's difficult to find a room for such a short period." However, he gave me the names of two flophouse where I might be able to stay with that harsh condition. I felt like I was playing a role playing game in a real world.

I was refused to stay at the first flophouse, so I went to the second one. If I would be refused again, there would be no place to go. I asked "Are there any rooms for me to stay only for five days?" to an aged man at the reception, and he began to be sunk in thought. I felt that I might get into trouble, so I told him "A man in the street told me this flophouse." to make an appeal that I never do things without planning. As my enthusiasm got through to him, or he noticed that someone introduced me that flophouse, he finally prepared me a room. A room charge was 6500 yen for 5 nights, 1300 yen per night.

As same as ordinary hotels, there are rooms on both sides of a corridor.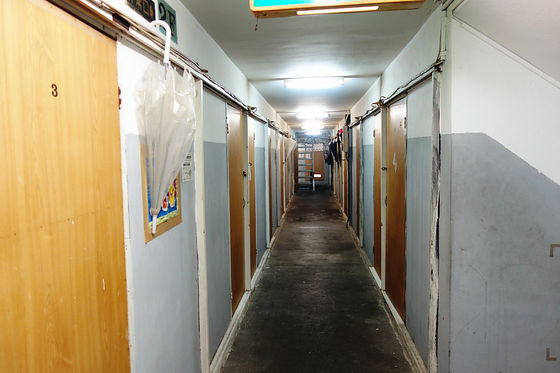 This is the room where I stayed. It has about two mats. However, it was hard to sleep in a small square shape room. Although I have a small build, it was too narrow to stretch myself in that room.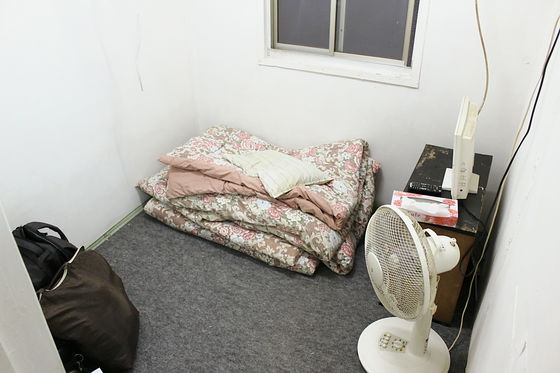 You can use a set of futon, but looking after my health, I put my inner sheets for sleeping bag on the futon. I used a quilt only when I felt cold. Either a carpet wasn't good, so I covered the floor with my blue sheet.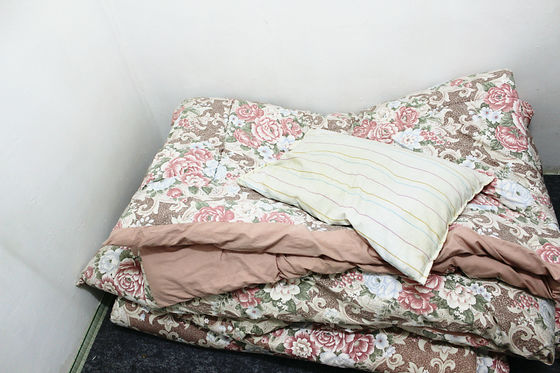 One of the great things of Japan is that there is a liquid-crystal TV even in such kinds of place.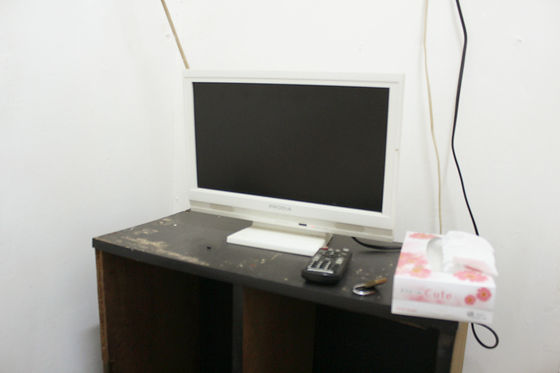 A fluorescent light is used for the lighting of the room.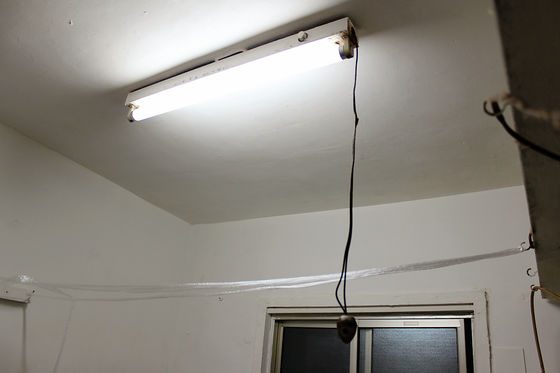 However, a lighting fixtures is an old one, turning the light on and off by pushing the stick, which is seldom used in common households recently.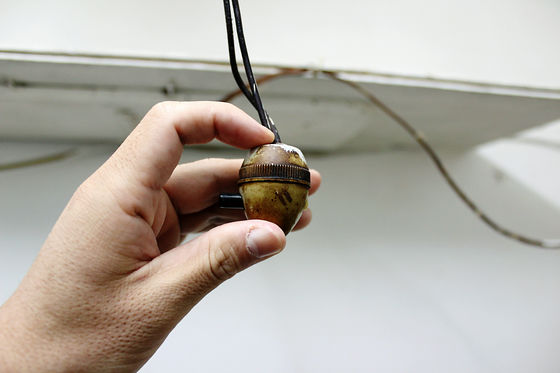 There is no electric socket in the room, and the power source tap is installed from somewhere outside.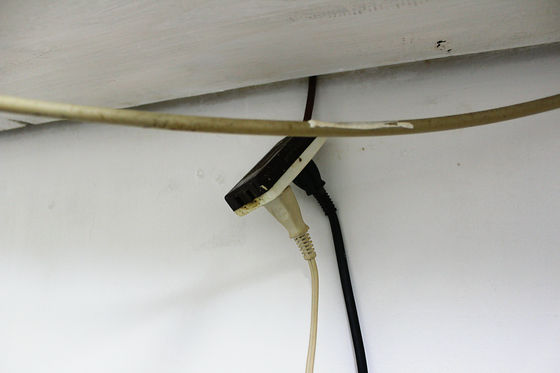 A vinyl string which the former resident maybe used to hang clothes to dry.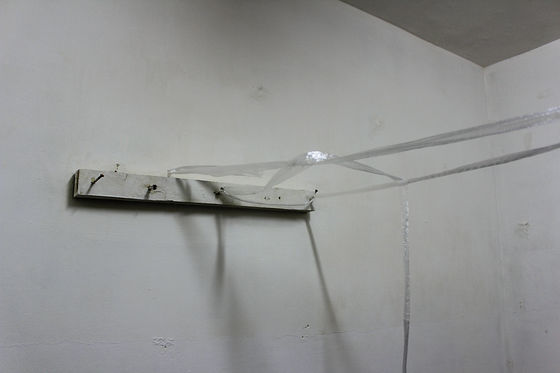 A gummed tape for preventing a carpet to slip off.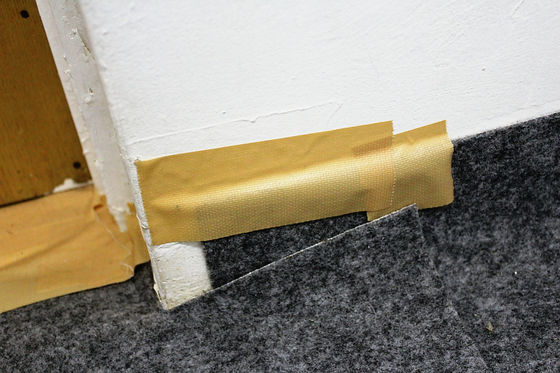 A simple inner key, called "a round bar latch" in Japan. The lock had rusted away, so when you touch it an iron smell sticks to your finger.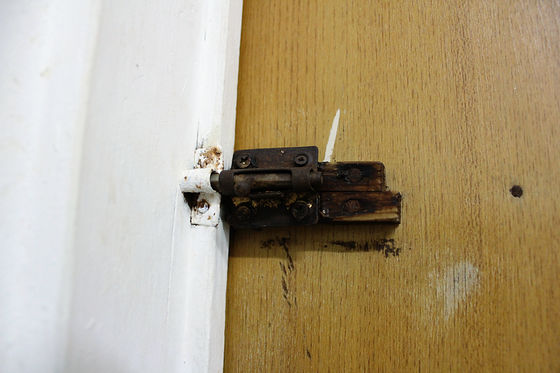 A key on the outside of the room is also a latch with a padlock.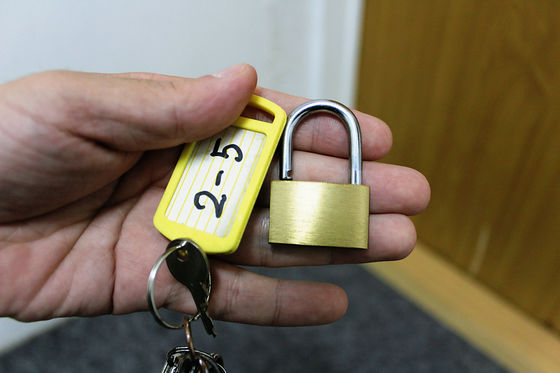 It seemed that some visitors smoked indoors, so I was uneasy about the smoky air in the room. Even I opened the window, a building next door is built so closely, so I couldn't let fresh air in. It was hard to stay in such a room, therefore I did my work at an internet cafe nearby.

・Accommodations
Since there is a gas stove and a microwave, you may be able to make a simple dish.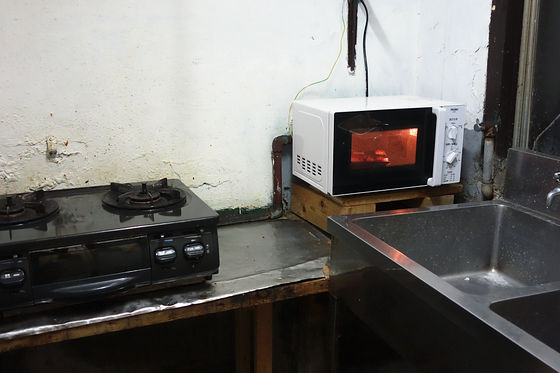 Although a toilet was old, it was cleaned up so I didn't mind. However, I didn't mind about a toilet only on the first floor. The one on the second floor have no doors, so Chariderman as I was, I was bewildered what to say.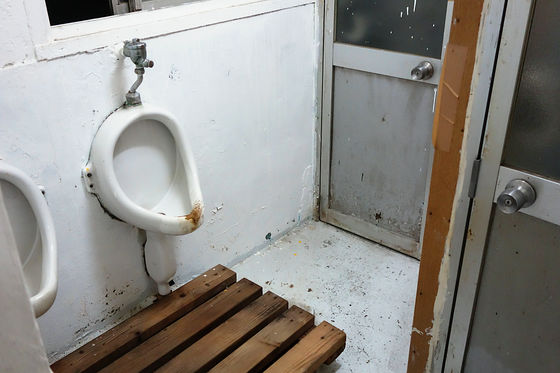 ・Shower
There was neither a bathtub nor a shower because it was such a cheap flophouse. I used a coin shower, similar to a coin laundry (a launderette), which opens nearby.

This is another flophouse. They also run a coin laundry and a coin shower on the first floor.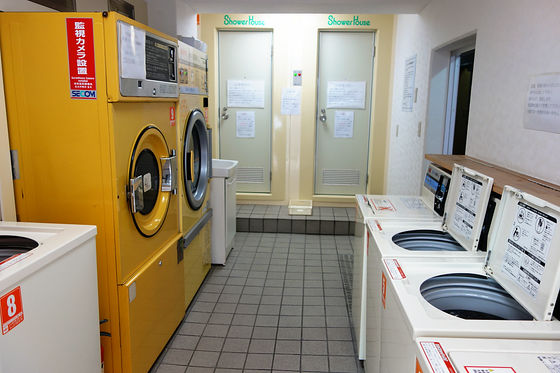 A modular bath including a dressing room. I felt like I was going into a big plastic box.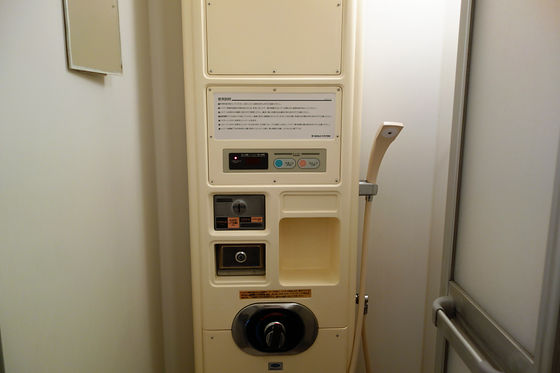 It costs 200 yen for 7 minutes. You need to put two 100 yen coins. If you press the button, you can stop both the countdown and water. Although water is cold in the beginning, it gets hot immediately and the temperature was comfortable.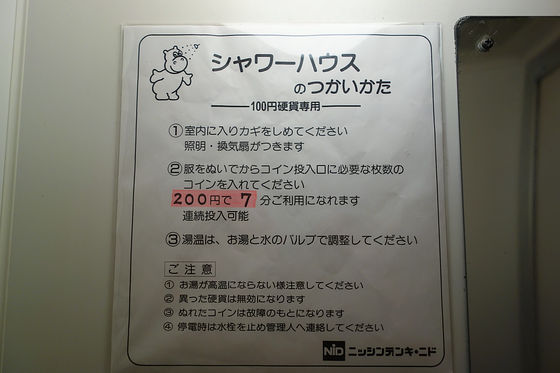 ◆A scenery of Kotobuki-cho
Old buildings stand side by side all through this neighborhood. Numbers of bicycles are parked on the street. Those who walk along the street are all men, aged men in particular. As same as other Doya-gais, there is an unapproachable atmosphere.

I feel vaguely dismal in this scene of the back alley.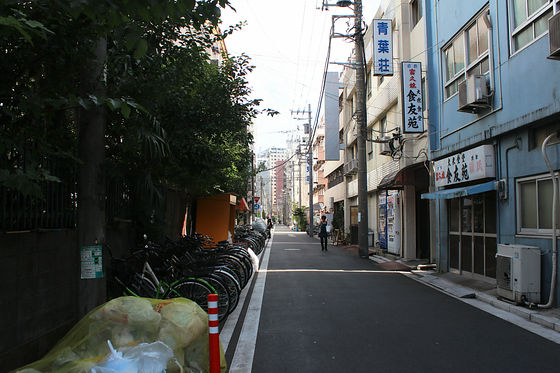 Most of flophouses in Kotobuki-cho charge 2200 yen per night, as same price as in Tokyo San'ya. Although the room charge is same, the conditions of a room is better in Kotobuki-cho. I found some flophouses where I want to stay, but I wasn't sure that they would accept a short-term stay or not.

A lot of cheap flophouses stand side by side.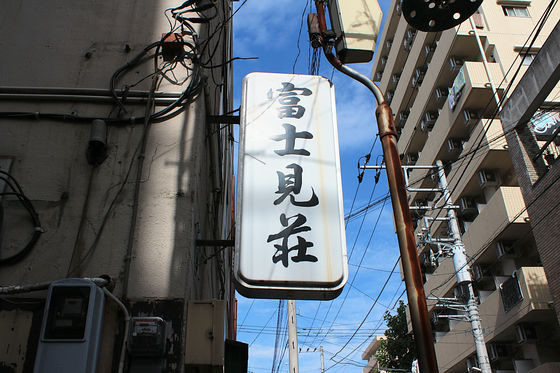 A catchy freestanding signboard, which is unusual in a flophouse area.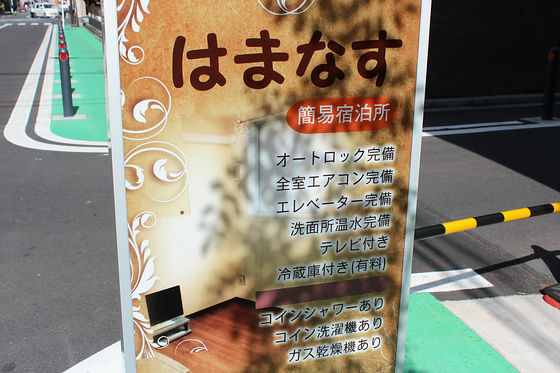 This flophouse introduces its accommodations with photos.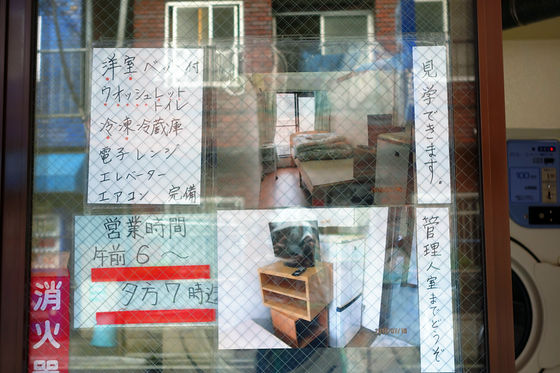 Although they charge 2200 yen per night in this flophouse, I was attracted by its room size: a four-and-a-half mat room. I have only stayed in two or three mat rooms.


There are some hostels for foreign backpackers.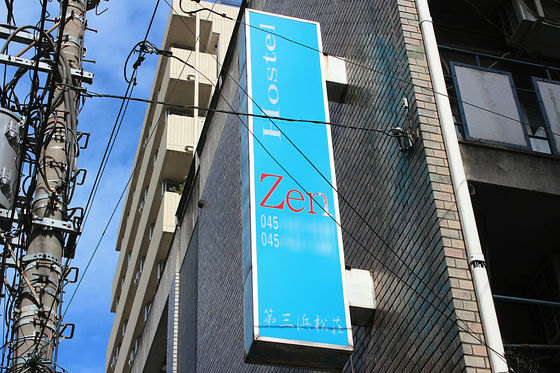 When I go to Doya-gai, what I want to check out is an extremely cheap vending machine. I saw some of them in Kotobuki-cho.

The lowest price of canned drink is 50 yen. An empty can with its ring pull opened is used as a sample.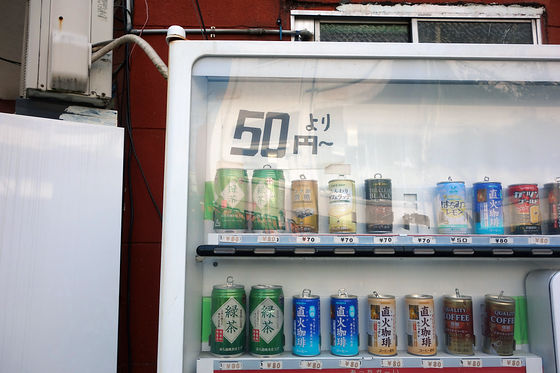 A cup of drink in this paper-cup-type vending machine with a friendly atmosphere is 70 yen.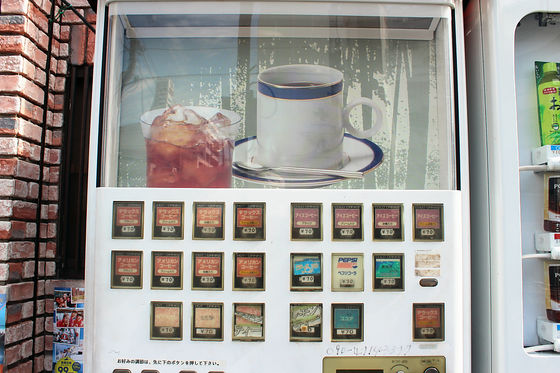 I saw stray cats here and there, may be there are foods and bed for them in this mixed-up town.

A catloaf in a corner of the park.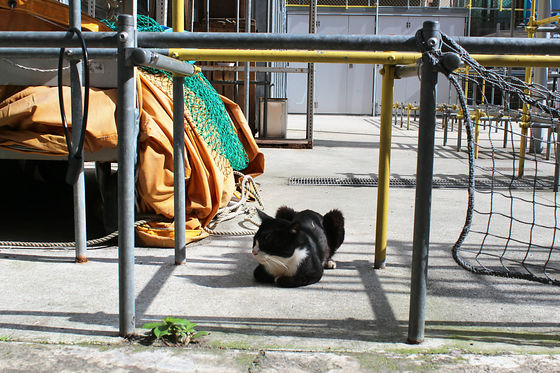 Meow from behind the bicycles.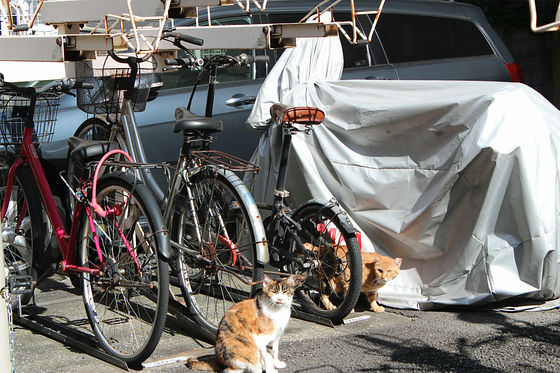 Two cats hidden between the buildings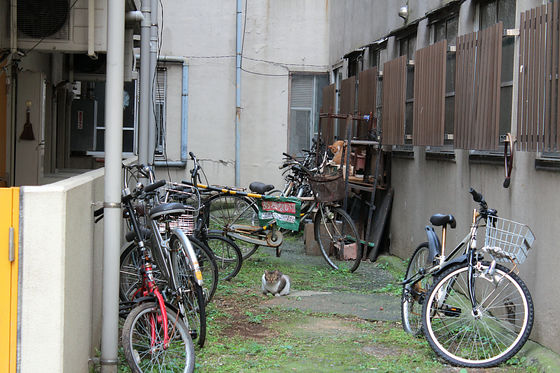 It seems there is a nursery school somewhere nearby, and small children were walking on the street accompanied by nursery teachers. Ten chilren, some three or so years old, were walking on the street with holding each other's hands. Looking at them, men passing by broke into a smile. Sometimes children were riding on a cart. About 6 children with wooden faces were standing inside a cart as if they were packed in a box. Some children in high spirits wave their hands to people walking on the street, and men waving back their hands were smiling, too. It was a peaceful time in such a town.

In fact, Kotobuki-cho, one of Doya-gais, is a part of Japanese society.

◆Location
The nearest stations to Kotobuki-cho are JR Negishi Line Kannai Sation and Ishikawachō Station.


Speaking of Yokohama, people may bring Chinatown to mind. You can go to Chinatown from Kotobuki-cho on foot.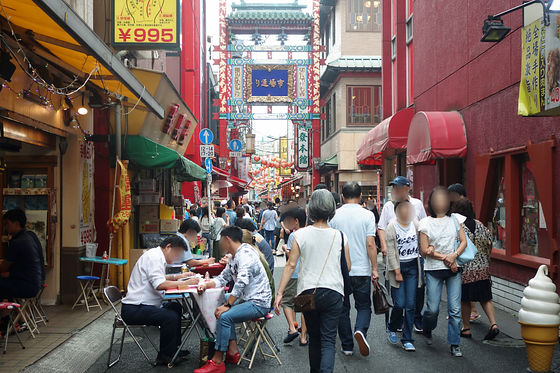 Kotobuki-cho is also close to Yokohama Stadium, the YOKOHAMA DeNA BAYSTARS' home field.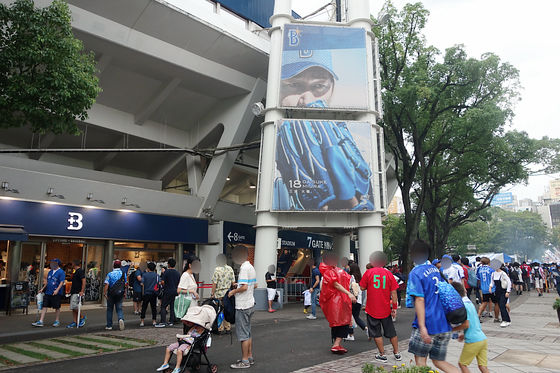 (Article・Photos:Takuya Shuto @ Chariderman
Traveling and gathering activities around the world by bicycle http://shuutak.com
Twitter @shuutak
Facebook https://www.facebook.com/chariderman/
DMM talk request https://kouenirai.dmm.com/speaker/takuya-shuto/)

Related Posts:
"REMM AKIHABARA" - the nearest hotel from Akihabara Station - GIGAZINE

Futuristic Capsule Hotel "9h" in Kyoto with Unique Concept and Style - GIGAZINE

Machiya-turned-Hostel GUEST HOUSE PONGYI opened in Kanazawa - GIGAZINE

The Single Room of "APA Hotel & Resort [Tokyo Bay Makuhari]" - GIGAZINE

Hotel Review: Shinjyuku Washington Hotel, the nearest hotel to Tokyo Metropolitan Office - GIGAZINE

Top 10 Things You Should Do In Japan - or maybe not - GIGAZINE