Highway Night Bus "COCOON" by WILLER EXPRESS Secures Private Spaces For All Passengers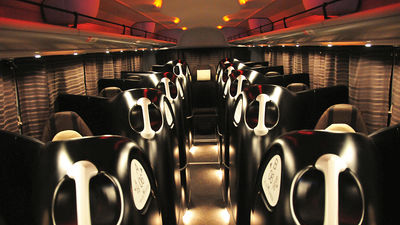 (This article was originally posted in Japanese on 22:03 Mar. 29, 2011)

When you move between Tokyo and Osaka, you can choose a bullet train, an airplane, or a highway bus as a long-distance transportation. Each of them has advantages, and one of the benefits of a highway bus is a cheap fare. On the other hand, when you use a highway bus, the travel time is longer than other transportation, and you might worry about passengers in your front and back when folding down your seat at night.

However, on a highway bus named "COCOON", which was introduced in 2010 by WILLER EXPRESS, each seat is divided in a shell-shaped partition, and almost looks like a single room. You don't need to worry about other passengers and can feel relaxed while traveling, therefore COCOON may exceed other transportation.

The whole aspect of COCOON is as follows.

COCOON - Seat details / Bus, Night Bus, Booking in Japan / WILLER TRAVEL
(Japanese)http://travel.willer.co.jp/seat/cocoon/

Various kinds of highway night buses gather at a parking lot. COCOON is on the very left. From the outside, it looks similar to the other buses.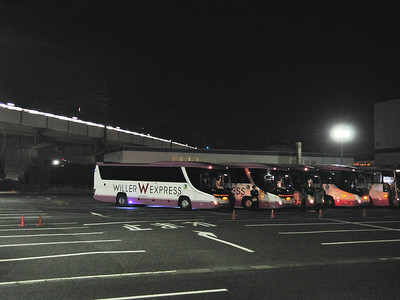 Let's get in COCOON.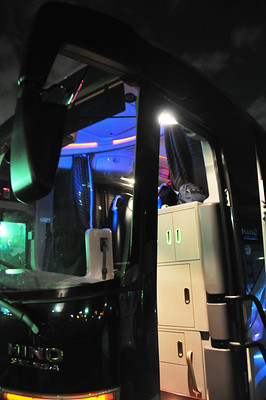 Inside of COCOON. It's completely different from ordinary buses. The following photo was taken from the front side of the bus, facing the back side.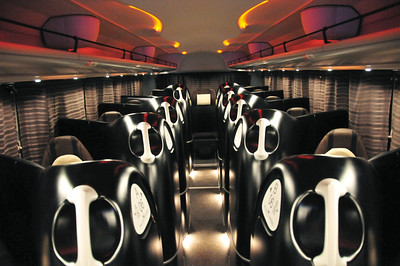 The following photo was taken from the back side of the bus, facing the front. Each shell-shaped partition is taller than ordinary seat, so you may feel that this bus is narrower than other buses.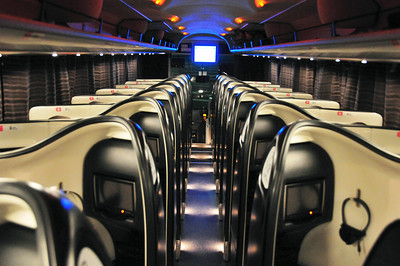 The seat fits snugly inside the shell.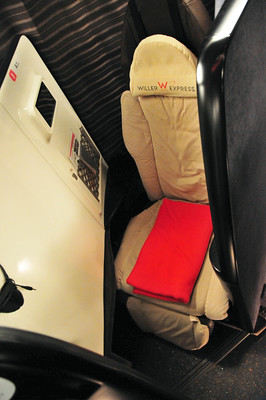 The seats are arranged a little diagonally towards the aisle. Therefore each seat never interferes with others, and you don't bother other passengers even if you lean your seat back. Besides, you don't need to ask them before reclining your seat, so you can relax on COCOON.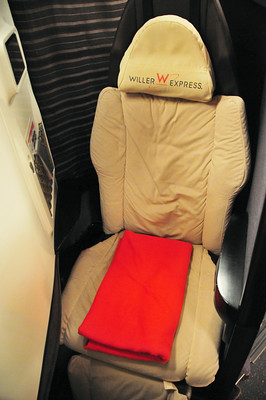 Foot rest. The seat is big enough for an adult to sleep. However a large-built person may feel cramped.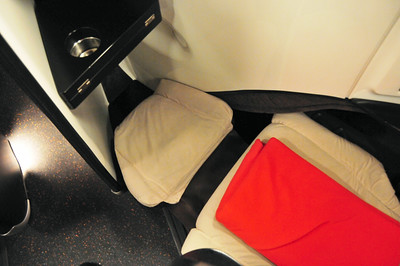 TV is right in front of each passenger.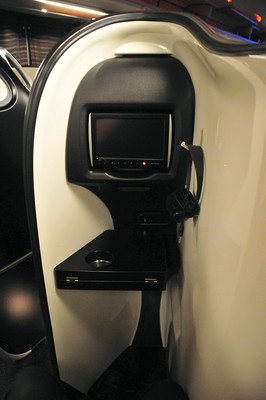 As you unfold the table, there is a video game controller. The shell gets narrower towards the front, therefore the table shapes like a triangle. You can put a small laptop on the table, but you have to put on your lap if you have a big one. There is one electric socket beside the seat so you can use your laptop while traveling.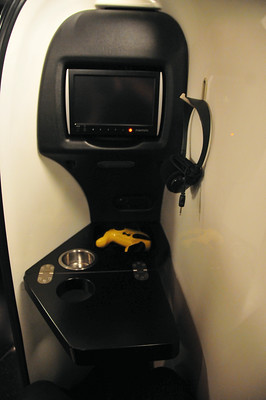 Other equipments around the seat.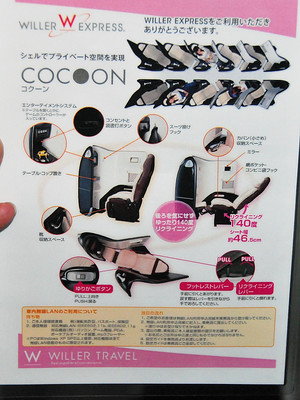 There was three services each day for the Tokyo - Osaka route on 2011, but at the time of this writing there is only one service.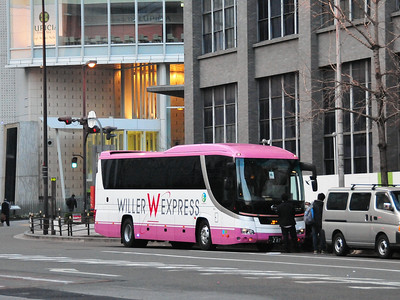 Highway buses often appear on a Japanese TV variety show "How do you like Wednesday? (Suiyō Dōdeshō)" as a transportation, and performers were damaged during their travel, so some people feel that those buses are dangerous even if they never ride the highway bus. But in fact, COCOON offers us a single-room-like comfort seat, so you can enjoy your ride unless you always get motion sickness on the ride.

WILLER EXPRESS offers Business seats with a socket for a businessperson, but you can use wireless LAN service just until the first rest point on Business seats. But on COCOON, you can use wireless LAN service all along.
(Note: WILLER EXPRESS doesn't offer wireless LAN service at the time of this writing.)

Besides, each seat is covered completely with a shell, so people who are awake on the bus can leave their lights on without caring about other passengers

You should keep in mind that there is no toilet on the bus, because they put as many seats as they could.

The fare of COCOON is from 9,000 to 13,000 yen on average (depends on a discount). The last bullet trains from both Tokyo and Shin-Osaka depart at 21:23, but on the other hand, highway night buses depart between 22:00 to 24:00. So if you miss the last train and you want to return by the next morning, you can use these highway buses instead.

Related Posts:
How much will a linear-motored bullet train fare be? - GIGAZINE

Flight Report: ANA's Gundam Jet Tokyo-Osaka Maiden Voyage - GIGAZINE

Papercraft Kitaro planes distributed by Japan Air Self-Defence Force - GIGAZINE

Macross Train, Macross Billboards and Macross Columns advertising the "Macross Frontier" Movie - GIGAZINE

30th Anniversary Exhibit of "Car of the Year Japan" Award: Part 1 - GIGAZINE

Top 10 Things You Should Do In Japan - or maybe not - GIGAZINE