"Nissin Cup Noodles Matcha Seafood Flavor" Review: What Does Green Noodle Taste Like?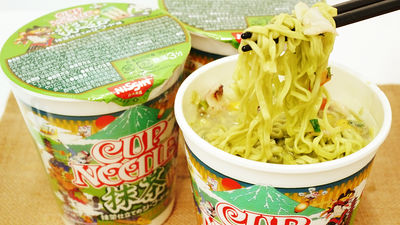 (This article was originally posted in Japanese on 22:00 Jan. 23, 2017)

Nissin Food Products Company has just developed three Japanese style noodles named "Japan ♥ Noodles Trio" in their product series "Cup Noodle", "Donbei", and "Yakisoba U.F.O". One of them is named "Nissin Cup Noodles Matcha Seafood Flavor". Matcha, Japanese green powdered tea which is popular overseas, is kneaded in its noodle, and its soup also has a flavor of matcha with creamy seafood taste. We wondered what it would taste like, so we tried it immediately after its release on January 23, 2017.

"Japan ♥ Noodles Trio" (January 23 on sale) | Nissin
(Japanese)https://www.nissin.com/jp/news/5700

Nissin Cup Noodles Matcha Seafood Flavor| Nissin
(Japanese)https://www.nissin.com/jp/products/items/7815

Cup design. Japanese motifs like Mt. Fuji and Ukiyoe (Japanese woodblock prints) are printed on a green cup.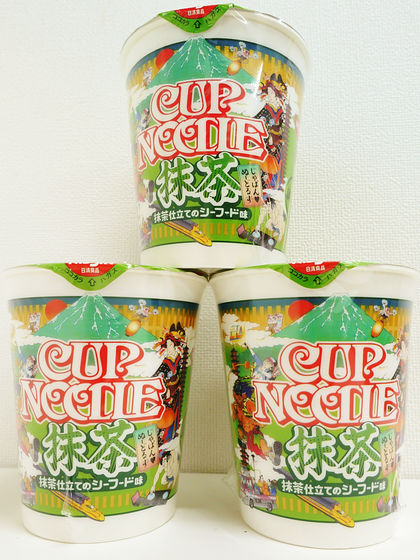 Close-up. Under the brand name, is it the Series 700 Shinkansen with a tiled roof?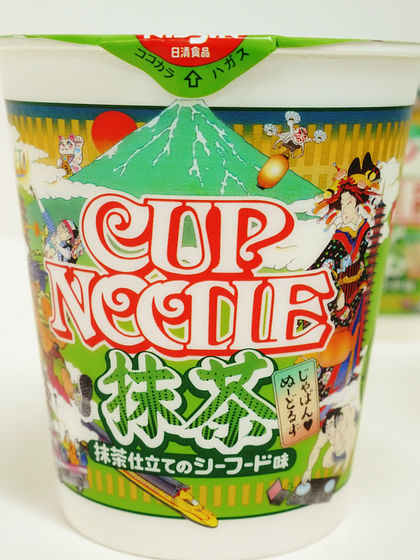 Green tea processed article is contained in both noodle and soup.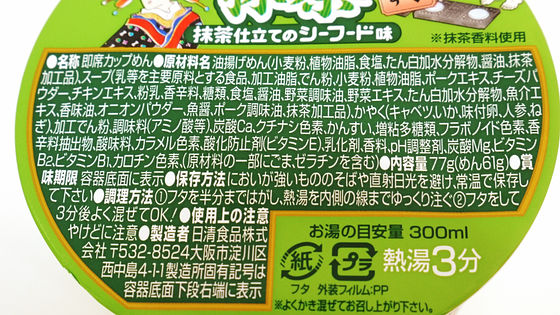 375kcal per meal.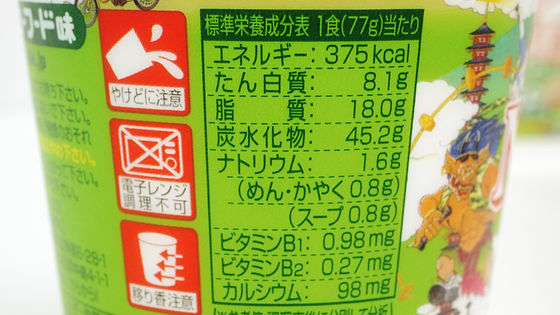 As pulling the lid of the cup, you can see that there is a plenty of green powder with seafood ingredient, but it doesn't smell like matcha.


Pour hot water into the cup and wait for three minutes.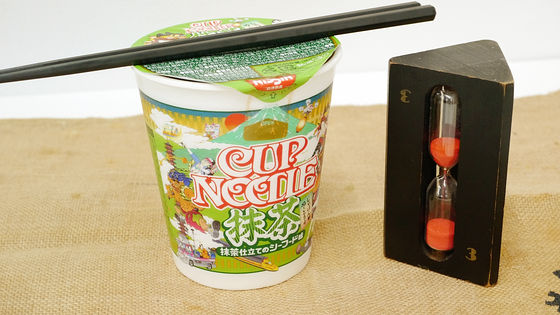 Three minutes after, all over the cup becomes green.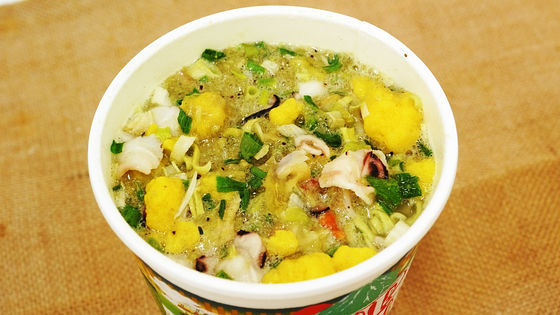 While you stir the noodle, it doesn't look green as green tea any more, and it looks like white broth. It doesn't smell like green tea, rather smells creamy.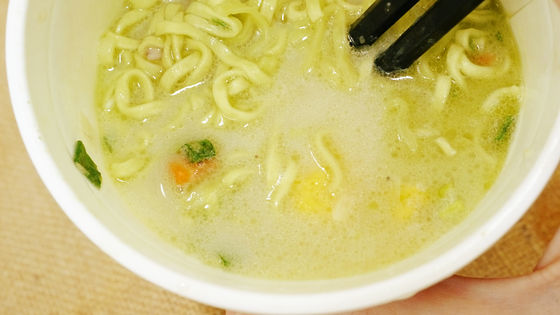 Although the color of the noodle is completely green, but it has very little taste of matcha, and isn't bitter as matcha. In Japan, we have a type of Japanese noodle called "Cha-soba" (tea buckwheat noodles), so we can eat this Cup Noodle with gusto. It basically tastes like Cup Noodles Seafood Flavor, but it leaves a creamy taste, so it rather tastes like Cup Noodles Milk Seafood Flavor. It seems it's because powdered cheese is contained in this Cup Noodle.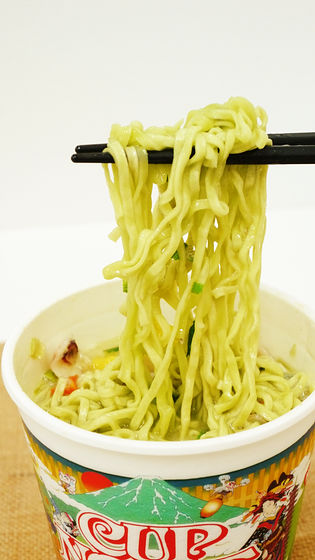 Squid is a only seafood ingredient, and its crunchy texture is good. Crab flavored fish cakes is contained in Seafood Flavor, but not in Nissin Cup Noodles Matcha Seafood Flavor. Brown powder which left dissolved on a piece of cabbage has slight smell of matcha, and tastes a little bitter. "Matcha flavored noodle" sounds strange, but actually only the color of noodle and soup looks like matcha, and the flavor is similar to Milk Seafood Flavor. Therefore "Nissin Cup Noodles Matcha Latte Flavor" seems rather be suited for its name.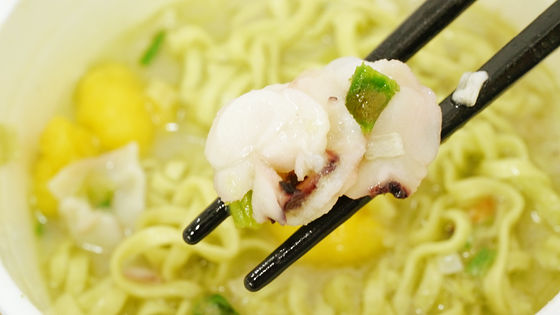 You can buy Nissin Cup Noodles Matcha Seafood Flavor for 180 yen (about $1.57) plus tax in Japan.

Related Posts:
"Coca Cola Plus Catechin" makes you feel odd with Green Tea flavor - GIGAZINE

Geekiest Refreshment ever! "Comic Green Tea" on sale Exclusively at Tokyo Big Sight - GIGAZINE

Somewhat Powdery but Otherwise Bearable? "PEPSI AZUKI" Came Out! - GIGAZINE

Wasabi Kit Kat: Brave Enough to Take a Bite? - GIGAZINE

Top 10 Things You Should Do In Japan - or maybe not - GIGAZINE