Videos of Seven Manga Artists Live Painting for Tokushima's Machiasobi Festival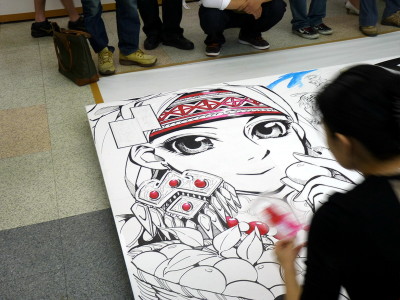 Last Sunday we were fortunate enough to witness seven talented manga artists from Enterbrain's bimonthly magazine Fellows! creating a beautiful mural for Machi★Asobi Vol.4, an anime-related festival held in Tokushima.

Although the seven artists must be relatively unknown outside Japan, except for Kaoru Mori of Emma maybe, they are all brilliant artists and you could clearly see why they get to do what they love for a living. It's always great to see people doing what they're good at!

Pics and videos after the cut!
The event took place at an open gallery set for the occasion on a roofed shopping street in central Tokushima.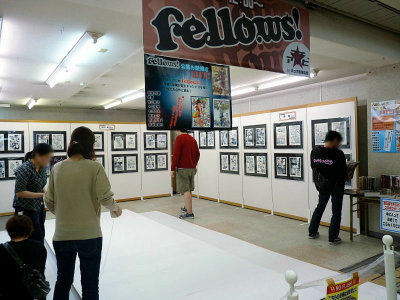 Works of the seven artists were on display.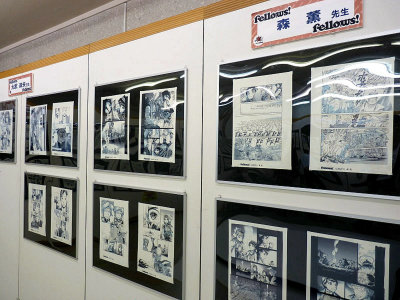 Good Afternoon Teatime by Michiyo Nii.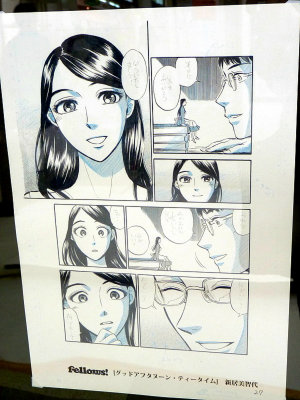 From Tantei Leg(Detective Leg), also by Michiyo Nii.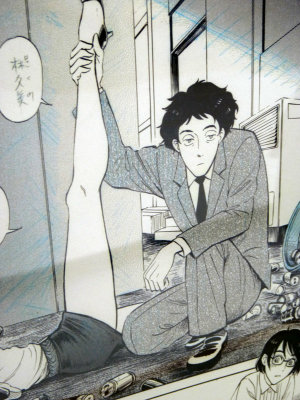 Lan to Haiiro no Sekai (Lan and the Grey World) by Aki Irie.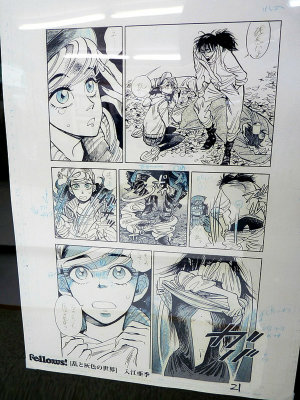 Fellows! Vol.13 Cover Story by Ruchi Kikuchi.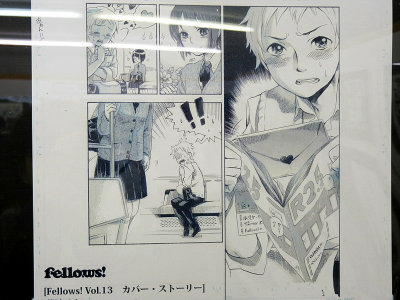 Last Dance wa Odoriba de (Let's have our last dance at the landing) by Koji Miyata.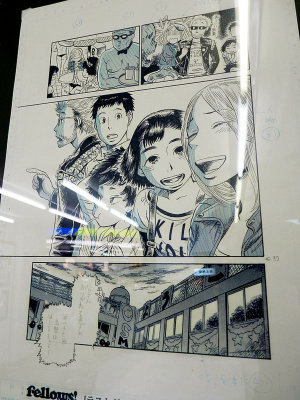 Ren Sensei no Shosai (Study room of Ren sensei) by Natsuko Takahashi.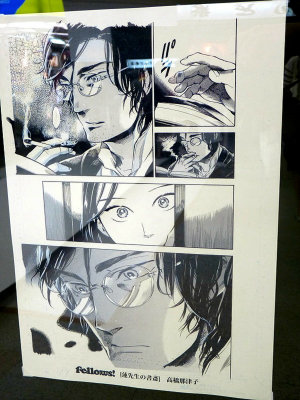 Hina Matsuri(Hina Festival) by Masao Otake.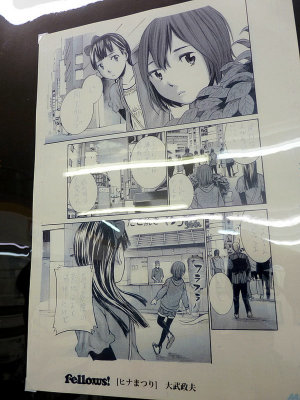 Otoyomegatari(The Bride's Stories) by Kaoru Mori.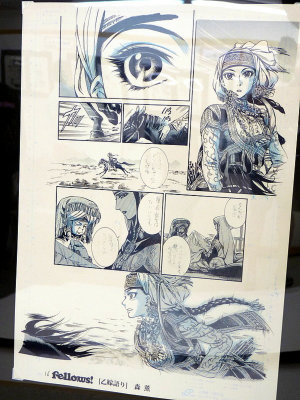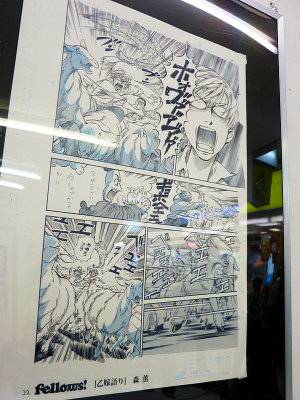 You could read the manga while waiting.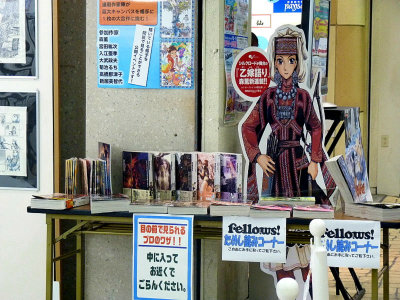 The live painting started around noon.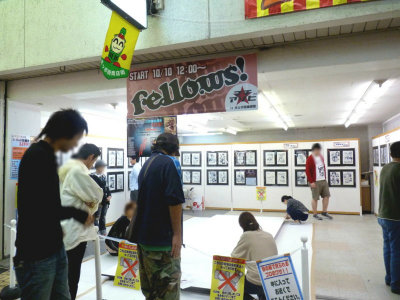 Here's the rough sketch of the mural.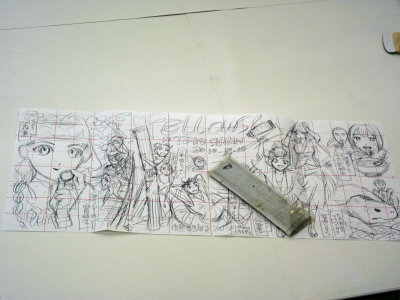 Each artist has a Tokushima-related theme: "Sudachi" for Kaoru Mori.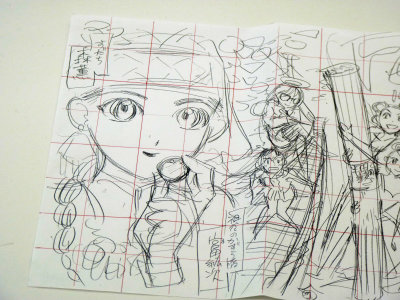 "Handa Somen" for Michiyo Nii.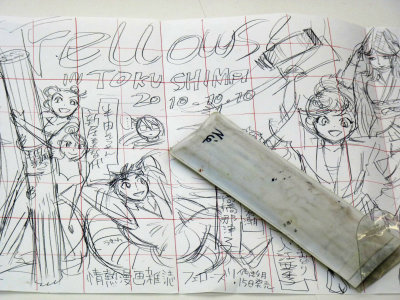 Masao Otake takes a shot at "Tokushima Ramen" and Ruchi Kikuchi at "Loggerhead sea turtle".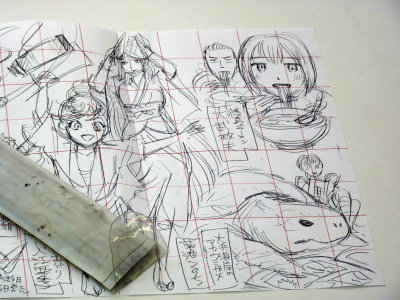 First they draw grid lines to enlarge the sketches.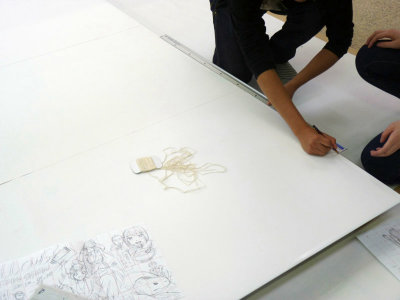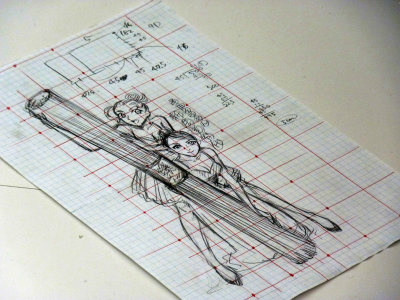 Then the underdrawing process started.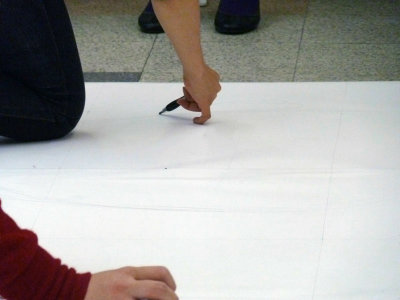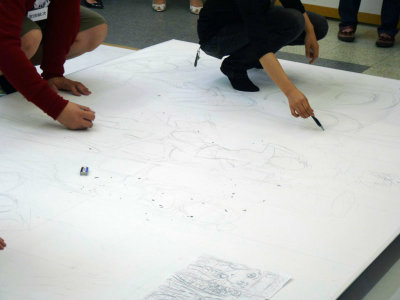 Here's a video of Kaoru Mori drawing Amira Hergal, heroine of her ongoing manga Otoyomegatari.

YouTube - 森薫によるマチ★アソビ壁画下描きの様子


Here she swiftly draws Amira's mouth and nose.

YouTube - マチ★アソビ合作壁画:森薫による作画、口や鼻を描いているところ


Natsuko Takahashi and Masao Otake discussing details.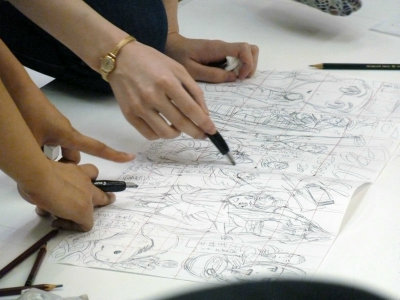 The video below shows Masao Otake and Aki Irie at work.

YouTube - マチ★アソビ合作壁画:大武政夫と入江亜季の作画の様子


They were using Pilot Croquis sketching and drawing pencil.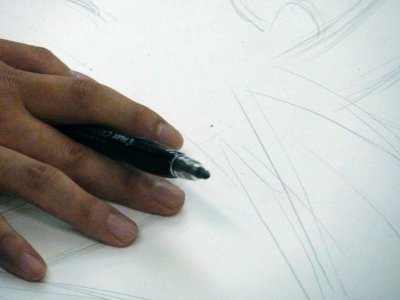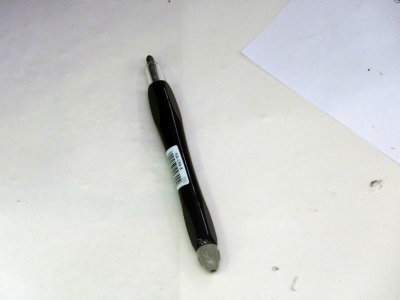 And Tombow MONO plastic eraser.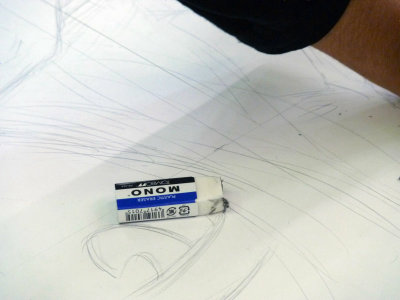 Here's Natsuko Takahashi at work.

YouTube - マチ★アソビ壁画:高橋那津子による作画


Checking the perspective.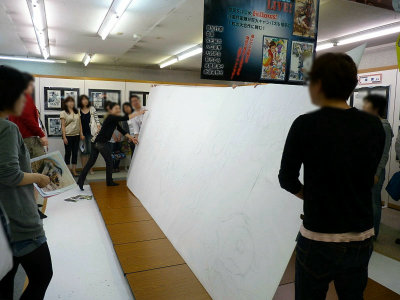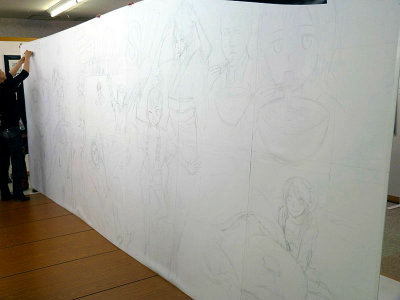 Kaoru Mori and Koji Miyata working on their part.

YouTube - 壁画を立ててバランスを見ながら森薫と宮田紘次が描いているところ


Drawing the outline with sharpie.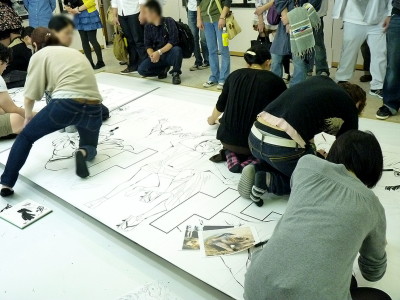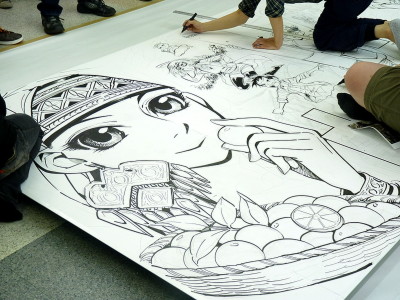 Michiyo Nii drawing a bundle of dried somen noodles.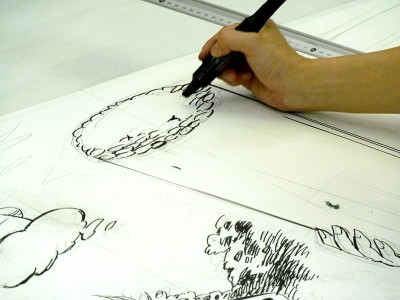 Here she uses a ruler.

YouTube - マチ★アソビ合作壁画:定規を使ってマジックで素麺を描く新居美智代


This part is illustrated by Koji Miyata.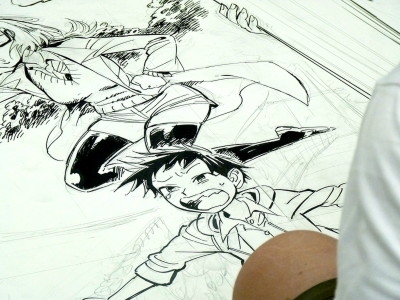 The following video shows Kaoru Mori, Koji Miyata and Michiyo Nii at work.

YouTube - マチ★アソビ合作壁画:森薫・宮田紘次・新居美智代らのペン入れ


They were using various black markers including Uni POSCA Markers and Zebra Hi-Mckee Oil Based Marker.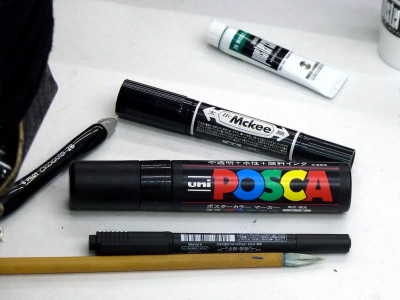 These coloured pencils they used to discuss colour scheme.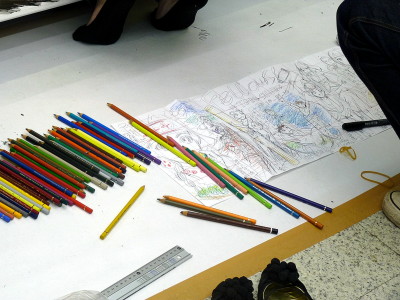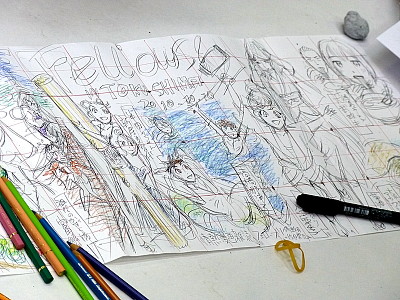 Almost done with the pens.


Michiyo Nii applies white Turner Poster Colour for touch-up.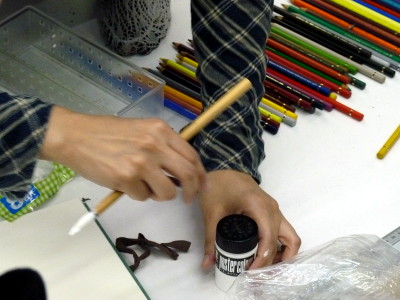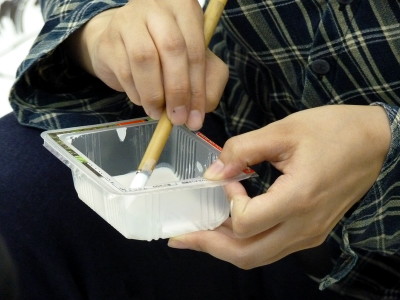 YouTube - マチ★アソビ合作壁画:ペン入れ後にホワイトを塗る新居美智代


On to the colouring.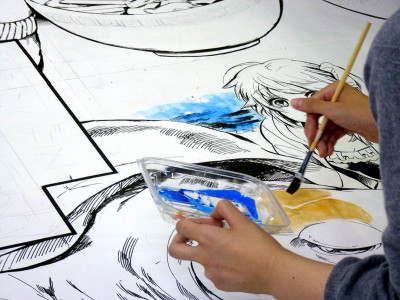 Ruchi Kikuchi colouring a turtle.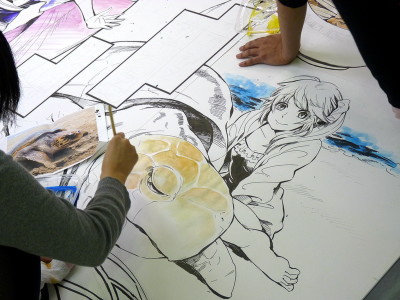 YouTube - マチ★アソビ合作壁画:写真を見ながらカメに色を塗る菊池るち


Here she delicately colours its eyelid.

YouTube - マチ★アソビ合作壁画:菊池るちがカメのまぶたを塗る様子


The equipments.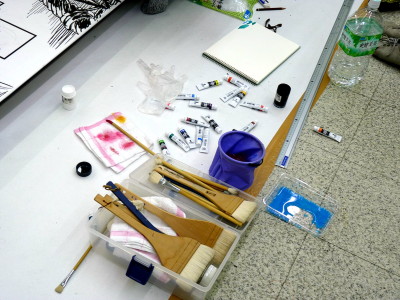 All kinds of brushes.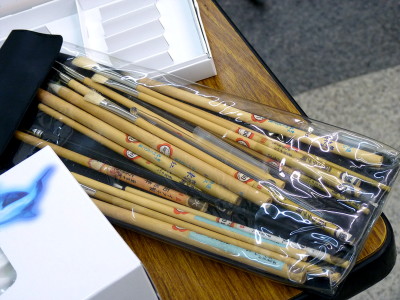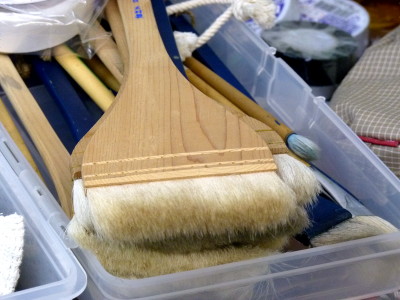 Brush washer.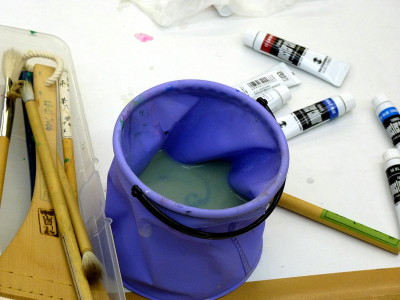 They also used plastic trays like these to wash and mix colours.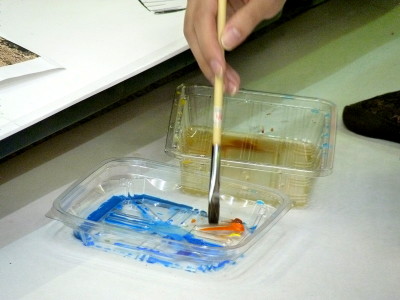 Masao Otake colouring a blonde guy's hair.

YouTube - マチ★アソビ合作壁画:大武政夫が髪の毛を塗っているところ


He painted the ramen consulting pictures in a magazine.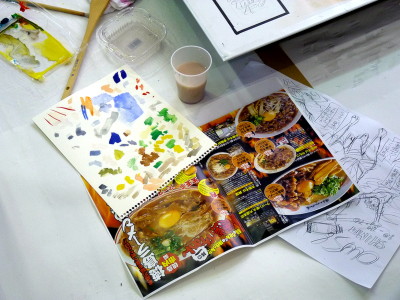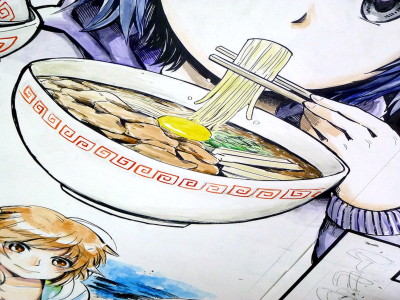 Koji Miyata colouring his part.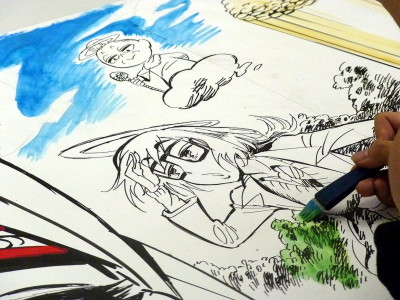 YouTube - マチ★アソビ合作壁画:服の色を塗る宮田紘次


Aki Irie paints a girl dancing Awa Odori.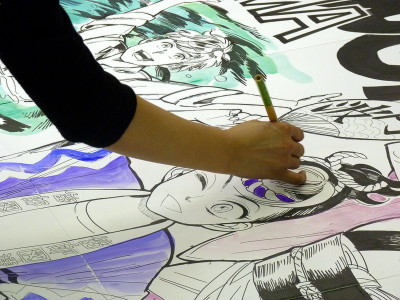 The following video shows Natsuko Takahashi painting the sea and Aki Irie painting the girl's Happi coat.

YouTube - 海に色を塗る高橋那津子と阿波踊りの法被を塗る入江亜季


Natsuko Takahashi's palette whilst she paints the float.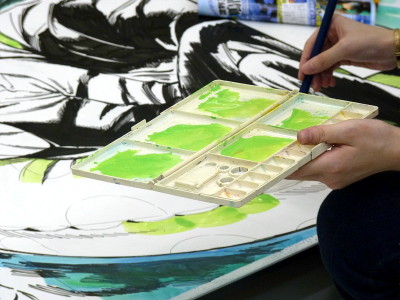 While colouring sea water, she used these plastic trays.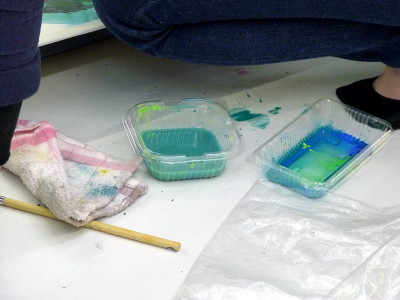 Michiyo Nii colouring in a woman's dress.

YouTube - マチ★アソビ合作壁画:女性のドレスに色を塗る新居美智代


Kaoru Mori paints the sudachi fruits switching between two brushes.

YouTube - マチ★アソビ合作壁画:2本の筆を持ち替えながらすだちに色を塗る森薫


Mori's palette.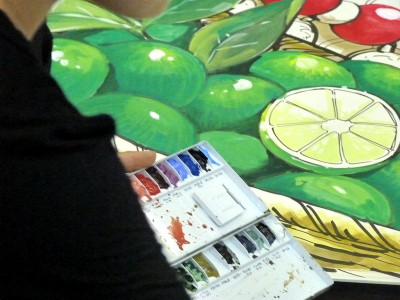 Here she colours Amira's earring.

YouTube - マチ★アソビ合作壁画:女性のピアスに着色する森薫


Steadily the work progresses.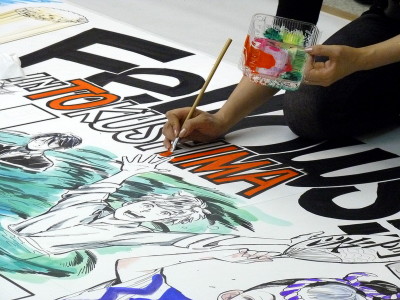 Apperently a manga artist must be sure-footed as well as sure-handed.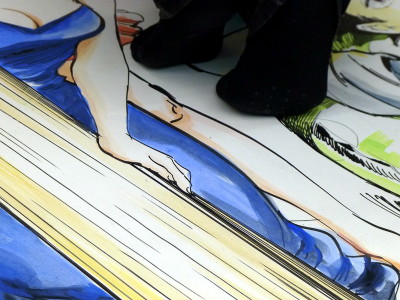 Michiyo Nii colouring a crucial part.

YouTube - マチ★アソビ合作壁画:女性の肌に影をつける新居美智代


The colour brings life to her.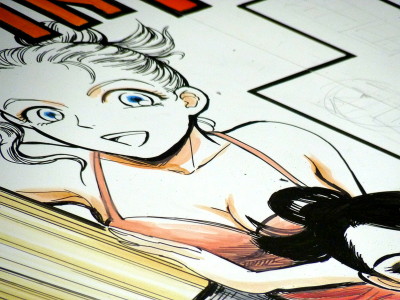 Aki Irie adds patterns on the girl's happi coat.

YouTube - マチ★アソビ合作壁画:阿波踊りの法被に模様を入れる入江亜季


Then she outlines the letters on her lapel using Zebra Mckee marker.

YouTube - マチ★アソビ合作壁画:絵の具の上からマジックで仕上げをする入江亜季


Kaoru Mori also touches up the outline and shadows.

YouTube - マチ★アソビ合作壁画:マジックですだちの仕上げをする森薫


Kaoru Mori writing her name.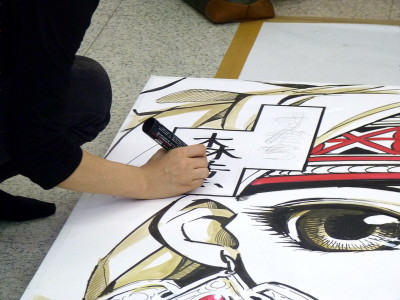 Natsuko Takahashi, whose theme was Naruto whirlpools, drips some white poster colour to get the shiny, splashy effect.

YouTube - 筆を振ってホワイトをポタポタッと落とし渦潮を仕上げる高橋那津子


Like this.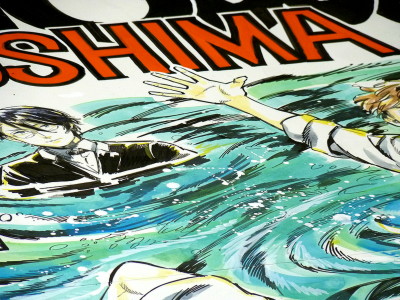 Aki Irie swiftly adds in some chochin lamps while Ruchi Kikuchi does some lettering on her name.

YouTube - マチ★アソビ合作壁画:入江亜季がマジックでササッと提灯を描く様子


Here's how the chochin came out.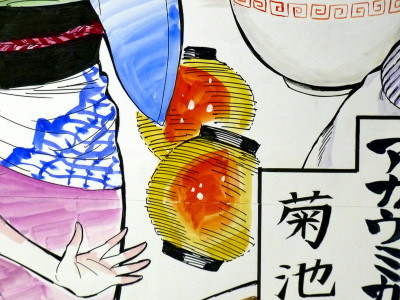 Michiyo Nii lends a hand colouring Koji Miyata's illustration.

YouTube - マチ★アソビ合作壁画:宮田紘次の絵に着色する新居美智代


Nearing completion, Michiyo Nii inspects each part with an eraser in hand.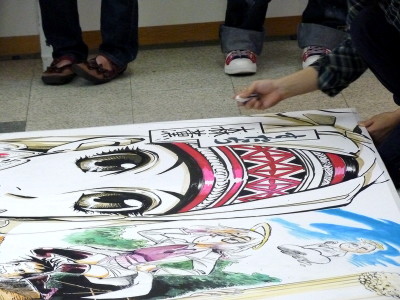 Masao Otake attempts to draw "shuchusen"(lit. concentrated lines) with a paintbrush, a technique frequently used in manga but usually done with pen.

YouTube - マチ★アソビ合作壁画:大武政夫が絵の具での集中線に挑戦


Looked tricky at first but here's how it came out. Quite a feat.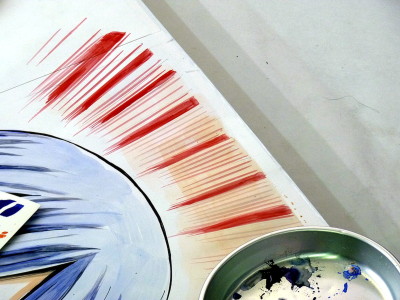 Otake signed his name at last.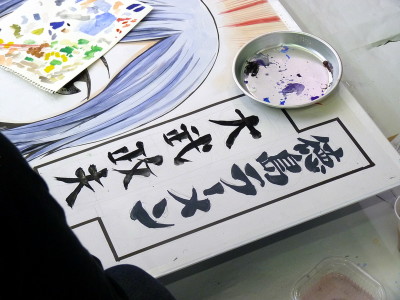 Waiting for the paint to dry.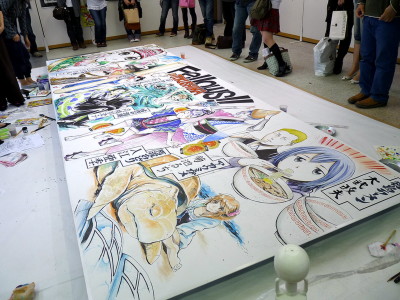 Michiyo Nii from Tokushima, who orchestrated the whole painting, checks the details for one last time.


Lifting the board, brushing off eraser dust and whatnot.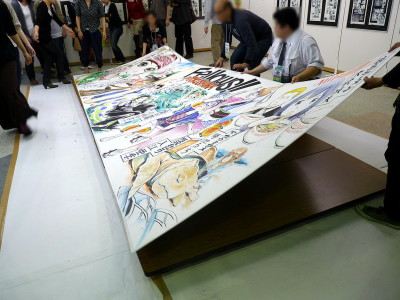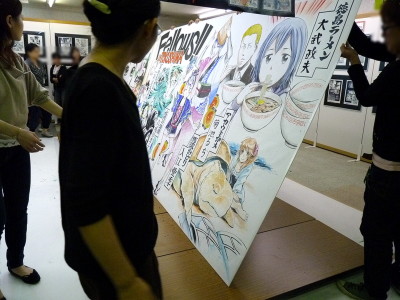 The gallery erupted into applause when the mural was finally finished around 8 pm after eight hours of collaborative efforts.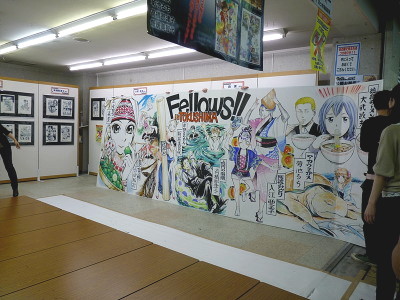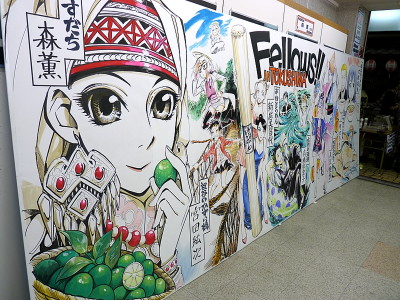 Here are some close-ups of the Tokushima-themed illustration done by each artist.

Sudachi by Kaoru Mori.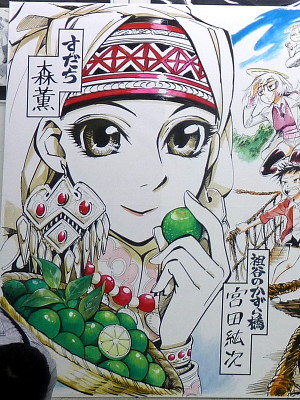 Kazurabashi (a famous ancient suspension bridge in Miyoshi, Tokushima) by Koji Miyata.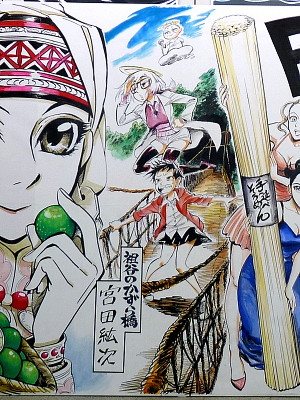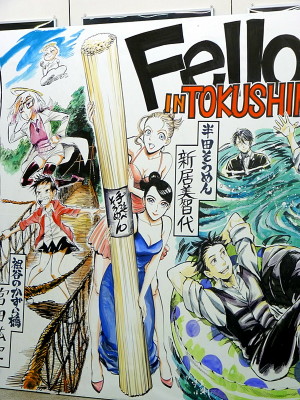 Naruto whirlpools by Natsuko Takahashi.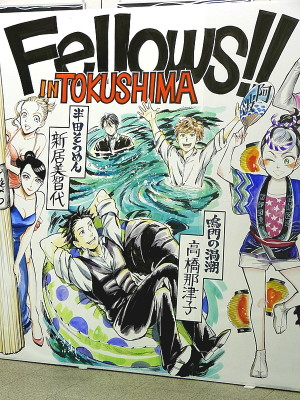 Awa Dance Festival by Aki Irie.


Tokushima Ramen by Masao Otake.


Loggerhead sea turtle by Ruchi Kikuchi. The endangered species is known to lay eggs on Ohama Beach in Minami, Tokushima.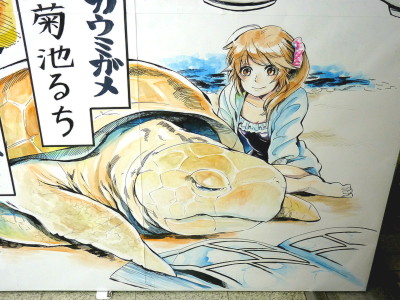 Here's what the whole picture looks like.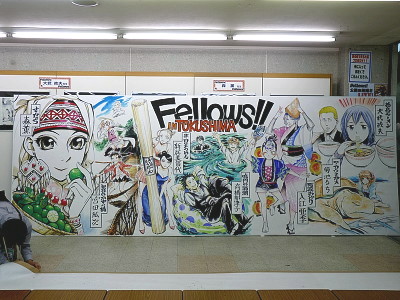 The painting will be hung on the wall of Nankai Books, a manga-centric bookseller in Tokushima.

Related Posts:
Video of Manga Artist Yoshitoshi ABe Drawing on iPad - GIGAZINE

Place of Creation: "Zatch Bell!" Manga Artist Makoto Raiku in His Workplace - GIGAZINE

Beautiful Wallpainting of Takii Seed's Headquarter by Kyoto-based Artist Hideki Kimura - GIGAZINE

Illustrations and Autographs of Manga Artists and Voice Actors at Machi★Asobi Anime Festival - GIGAZINE