Place of Creation: "Zatch Bell!" Manga Artist Makoto Raiku in His Workplace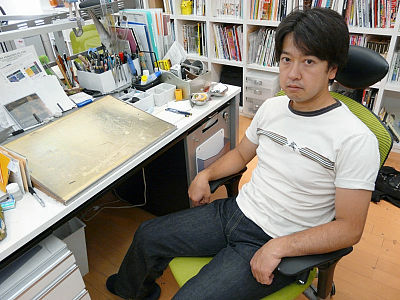 Have you ever pictured the artist at work while you're reading his manga? Wondered if he's working in a squeeky-clean studio filled with state-of-the-art equipments, or working from the kitchen table of his parents' house?

Here are some pics from when we visited Zatch Bell! creator Makoto Raiku at his workplace, which might be of interest to all manga fans and aspiring artists.

Pics after the cut!
The photos were taken in June, 2008 when we interviewed Makoto Raiku, back when he was in the midst of the lawsuit against Shogakukan, his publisher at the time that lost five of his coloured works.
(Japanese)Makoto Raiku's Blog: I Sued Shogakukan


Autographs of various manga artists are proudly displayed in the foyer, the first things you'd see upon entering the building.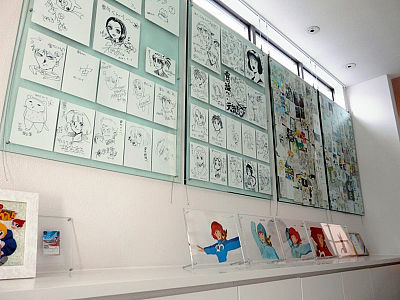 A droolworthy collection for any manga reader: Naoki Urasawa, Rumiko Takahashi, Mitsuru Adachi, Ai Yazawa...there's even an illustration of Ninja Hattori-kun by Fujiko Fujio (A) himself.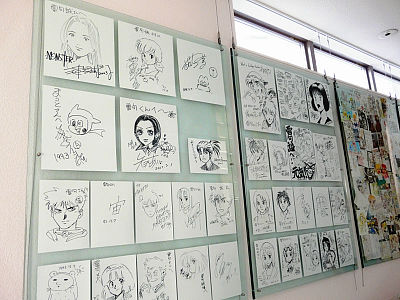 Tons of fan mail.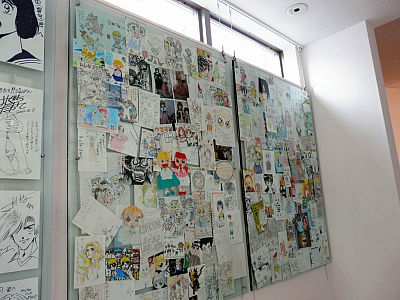 Let's enter the studio.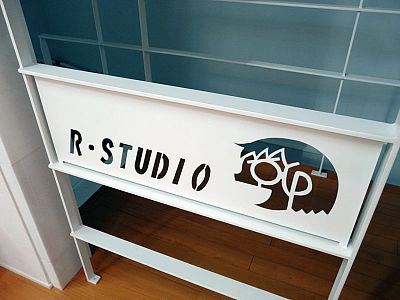 The studio from above. Five desks in the center for Raiku and his staffs, and another one with computer facing the wall.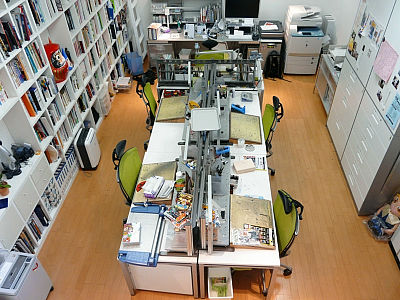 High ceiling to prevent getting claustrophobic when they spend all day here close to the deadline.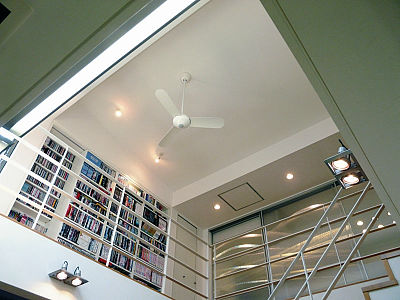 Upstairs there are shelves full of his DVD collection.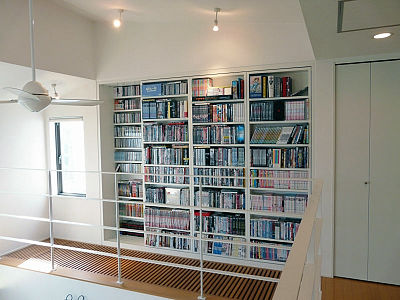 Collection of figurines.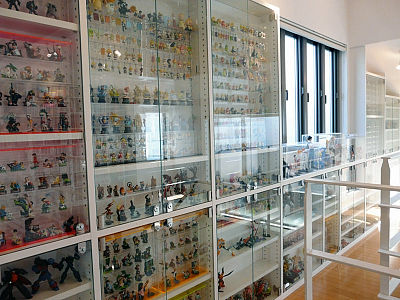 You can see various Zatch Bell! characters.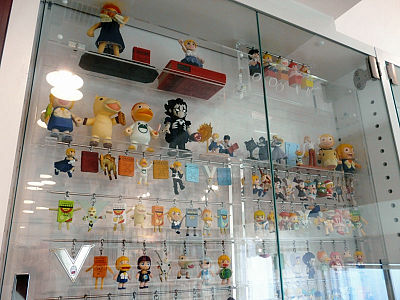 Bigger ones.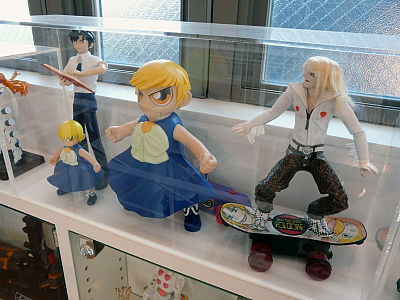 This handmade Vulcan 300 was a gift from his reader.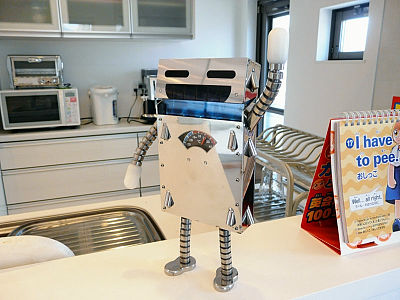 Greatly detailed.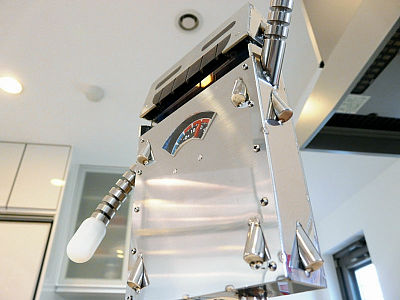 The studio seems like an ideal workplace for manga artist, but Raiku admitted that a considerable part of his work actually takes place in a casual dining restaurant where he lays out the storyboard; storyboarding is done all by himself but being surrounded by strangers in a restaurant somehow helps him concentrate. Plus, there'd be no distractions such as Internet, TV and his vast collection of manga.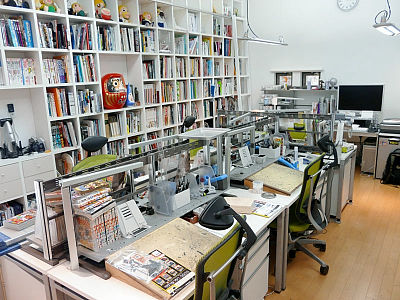 Storyboarding for an 18-page installment of Zatch Bell! takes two days at the least, and when the editor approves, Raiku calls his assistants and get busy at the studio. There are five assistants at most: usually four but when things get really hectic, as you can imagine for a manga serialised in a weekly magazine, he calls in extra help.

Raiku's desk.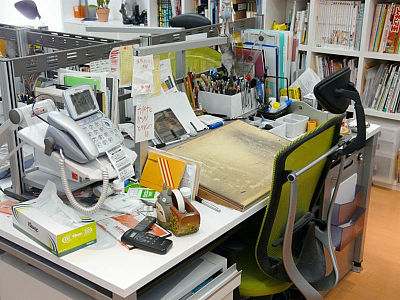 Sheets of screentones are organised in this custom made drawer.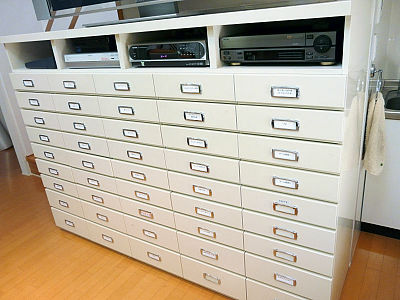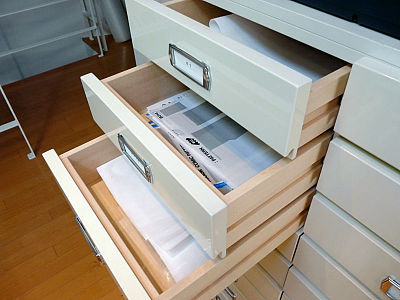 Large flat screen TV.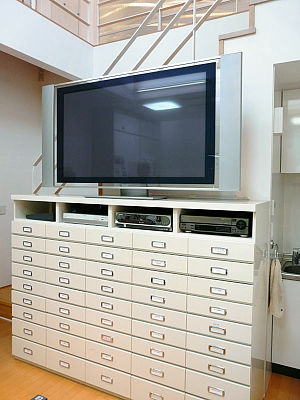 Built-in floor-to-ceiling bookcase, a book lover's wet dream.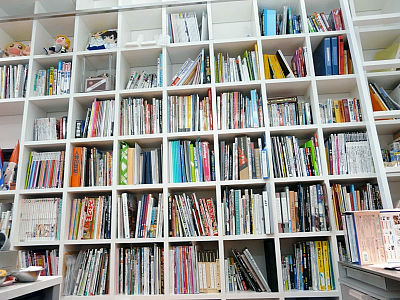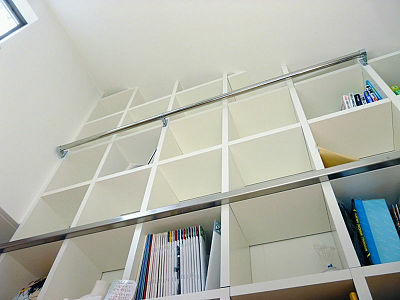 A Daruma doll to wish the Zatch Bell! movie's success.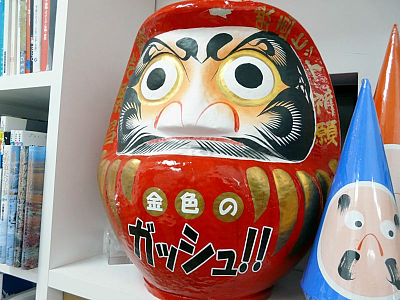 Scanner and copier.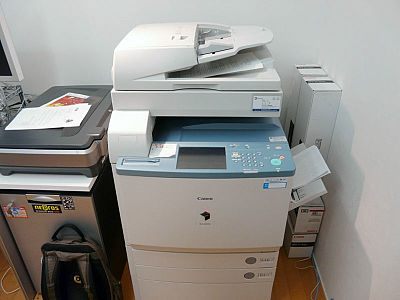 Raiku's computer where he updates his blog.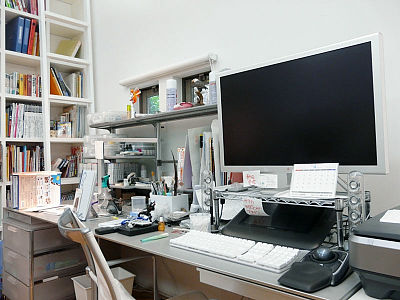 The thing on Raiku's desk might look like a light box at first glance.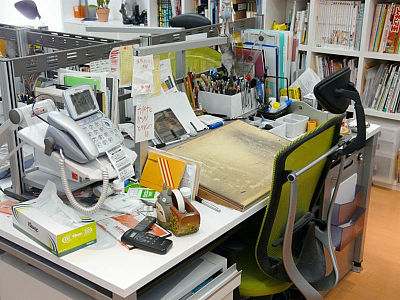 But it's actually a custom made drawing board, designed to make it easier to look at the whole picture in right angle.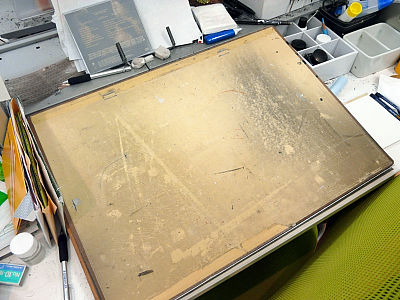 There's a stopper to prevent papers from sliding off.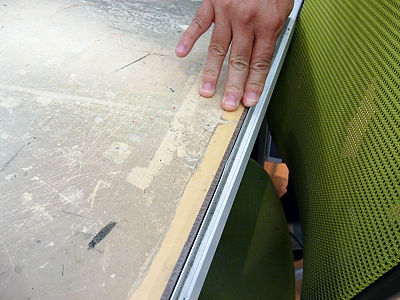 Stiff shoulders and backaches are occupational disease for manga artists, so the chair is very important.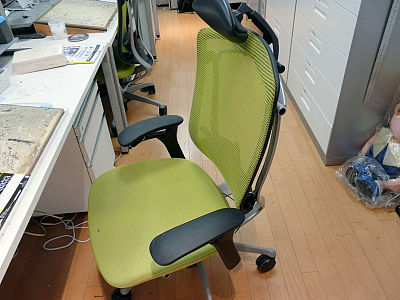 In June 2008, Raiku brought a case against Shogakukan to Tokyo District Court because they lost five of his coloured works. He demanded 3,300,000 yen as compensation. He decided to do it because he doesn't want publishers and their editors to look down on manga artists. In addition, Raiku was treated extremely badly for a long time. Moreover, the price of compensation represented by Shogakukan was only 500,000 yen. Raiku claimed that they had underestimated him too much.

These are the five works that Shogakukan lost.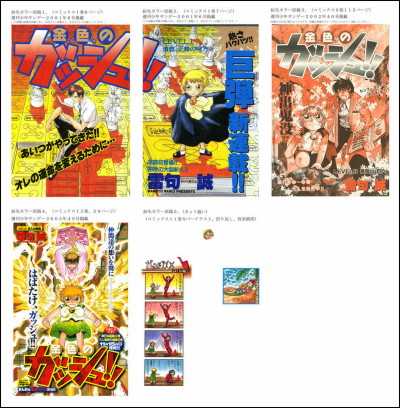 During the whole ordeal Raiku was extremely angered by the publisher and he once just lost it, saw red, and punched his desk with such force that the bone broke through the skin of his knuckle. Fortunately, it has healed.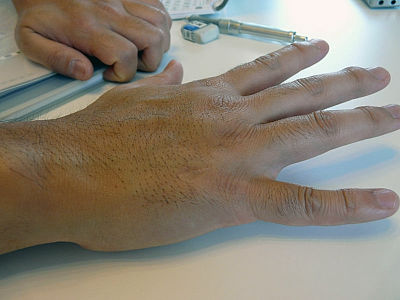 But you can still see the scar.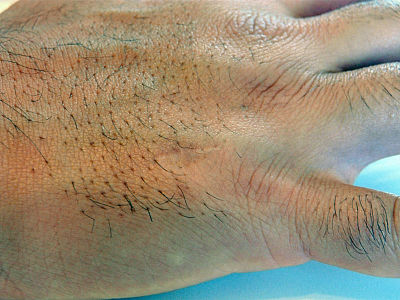 So, how did the trial go? On July 28, 2008, Raiku and Shogakukan had their first public session. Shogakukan agreed they were responsible for the loss with a reservation on financial value of the lost works as it was not clear. Recommended by the judge, both parties agreed to settle the claim.

Our interview was held before the lawsuit concluded, so he must have had so much on his mind.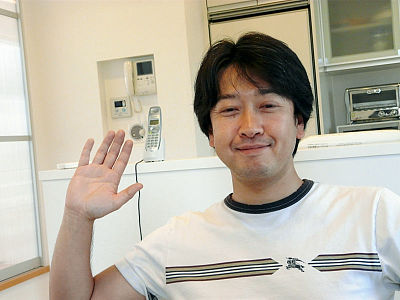 Related Posts:
Video of Manga Artist Yoshitoshi ABe Drawing on iPad - GIGAZINE

Makoto-chan meets Hokusai! Kazuo Umezu's Horror Manga turned Ukiyo-e - GIGAZINE

Winners of "Akihabara 2525" Colouring Contest Chosen by Yoshitaka Amano - GIGAZINE

Beautiful Wallpainting of Takii Seed's Headquarter by Kyoto-based Artist Hideki Kimura - GIGAZINE