World's Most Expensive Sushi, using Diamonds, Pearls and Edible Gold Leaves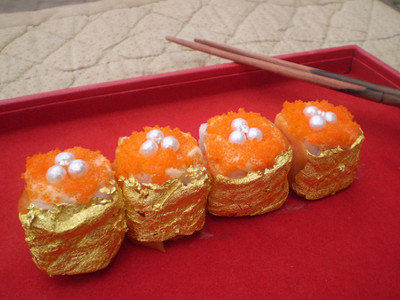 Usually the most expensive Sushi topping one can eat at a standard sushi restaurant in Japan should be Toro, belly meat of a tuna fish. Sometimes it costs $30 a piece in high-end sushi restaurant.

But this gorgeous sushi rolled with edible gold leaves is far more expensive. The sushi shown in the image above costs more than $4,000, which means $1,000 a piece, 10 times more pricey than Toro toppings.

Read on for list of deluxe ingredients.

This Is Now The World's Most Expensive Sushi | foodiggity.com

The sushi is created by Philippine chef Angelito Araneta, Jr. According to his Facebook page, these are the ingredients:
12-yr-old Italian balsamic vinegar, Japanese rice, 70-yr-old virgin water, Muscovado sugar, Norwegian pink salmon, cucumber, mango, foie gras, sea cucumber (smoked then pickled and steamed 'til tender sticky), genuine crabmeat, wild saffron, mayonnaise with butter, 12 local Palawan pearls and 4 (.20ct) African diamonds of VVS clarity.
We Japanese often eat things which most Western people won't eat, like nattos and seaweeds. But it's far beyond our idea to use nonfood materials on Sushi.

Related Post:
Top 10 Things You Should Do In Japan - or maybe not - GIGAZINE

Top 10 Things You Should Do In Japan - or maybe not - GIGAZINE

"Google Recipe Search" service launched in Google Japan - GIGAZINE

Wasabi Kit Kat: Brave Enough to Take a Bite? - GIGAZINE

Flash Game "My Bento!" Calculates Carbon Footprint of your Bento - GIGAZINE

The box lunch reproducting world's "newlyweds' cuisine" - GIGAZINE
in Note, Posted by darkhorse_log