1/1 Gundam in Shizuoka looks even better than last year's Odaiba Gundam!

(This article was originally posted in Japanese at 22:28 July 23, 2010)

Gundam fans must remember last summer's life-sized Odaiba Gundam. But wait, even if you've seen the Odaiba Gundam, you can't miss the life-sized Gundam re-erected in Shizuoka, since it's revamped as "REAL GRADE 1/1 RX-78-2", themed on a "1/1 scale plastic model" to celebrate the 30th anniversary of Gunpla (Gundam plastic models).

There are three major differences from last year's Gundam: 1. Shizuoka Gundam holds beam sabre in its right hand, 2. The paint job is altered to look more like a Gunpla, and 3. The illumination is way cooler!

Here are some videos and pics from the special light up show held on 23 July.
(Japanese)RG 1/1 GUNDAM PROJECT

Gundam is erected in Higashi-Shizuoka Plaza, north of Higashi-Shizuoka Station.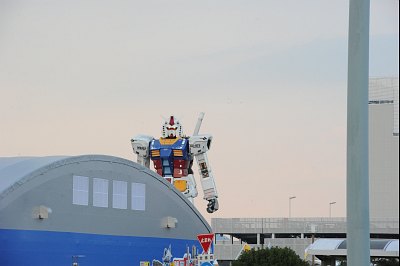 It's a part of the Shizuoka Hobby Fair.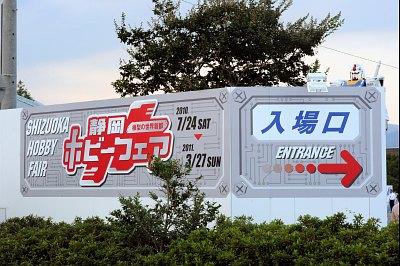 Flyer.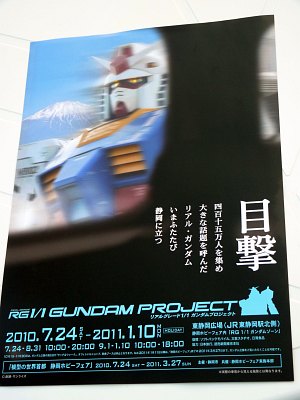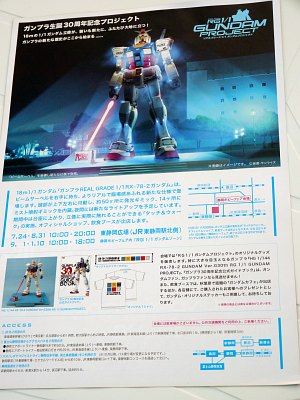 Shizuoka Hobby Museum near the 1/1 Gundam.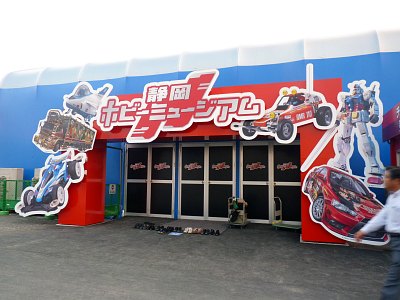 Food stalls.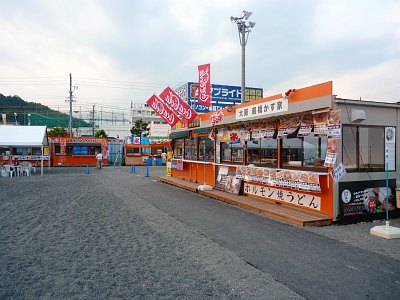 Let's get to the 1/1 Gundam.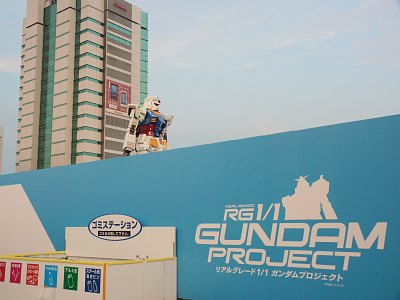 Taller than the trees.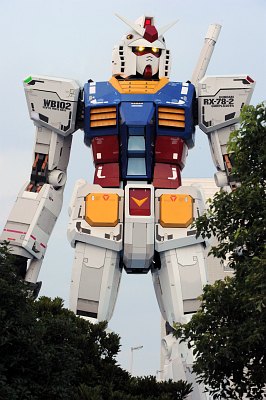 About 18m tall.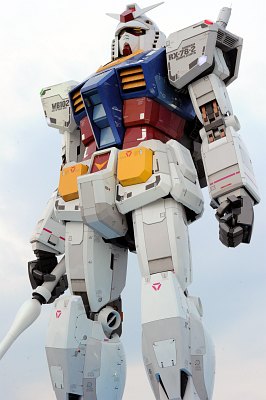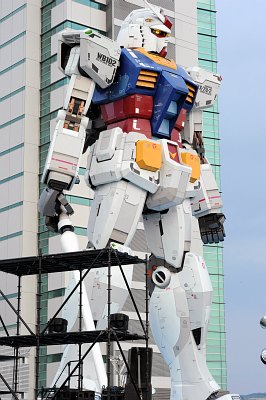 It's repainted to look more like a Gunpla.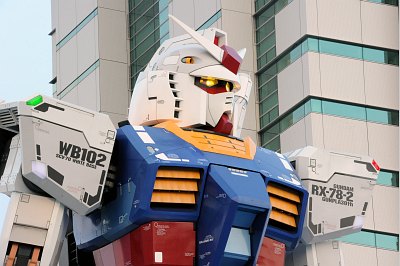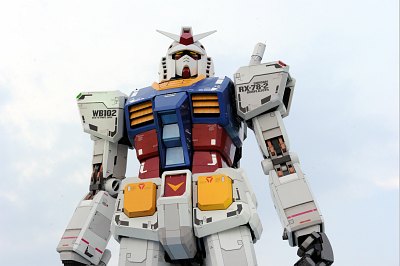 There's only one beam sabre on the backpack since the other one is held in its hand.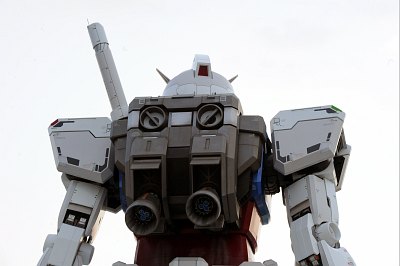 Beam sabre cutting through the marker.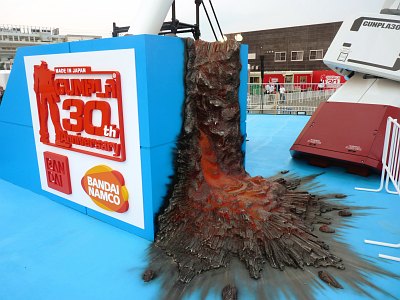 Melting.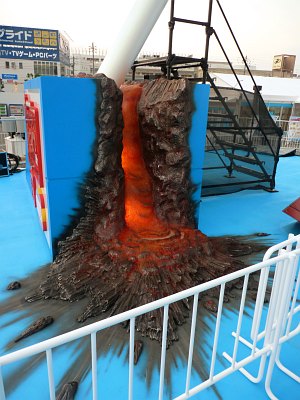 Emits mist from these slits in the chest.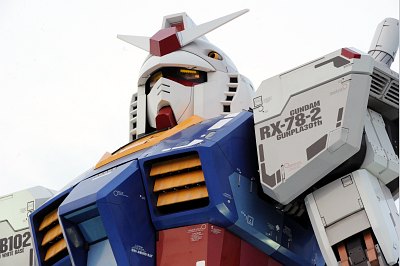 Compared to high-rise buildings it may look small.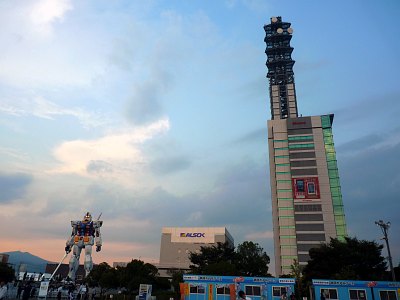 But up-close it's actually gigantic. Your head would barely reach its ankles.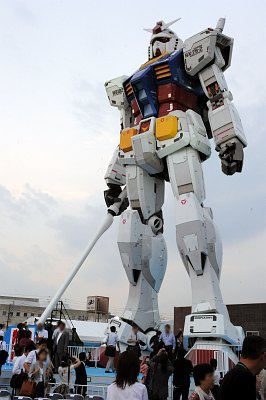 There's a photo deck to take pictures.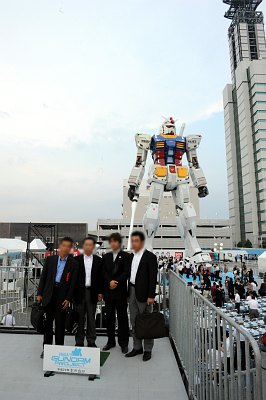 Looks even great from the back, like it's facing some invisible enemy.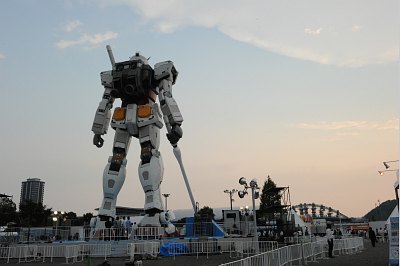 Looking up from between the legs. Nothing nasty here.


Here's a video we've shot walking around the Gundam. The PA system was playing various Gundam theme songs.
YouTube - Shizuoka 1/1 Gundam from every angle


Facing the moon.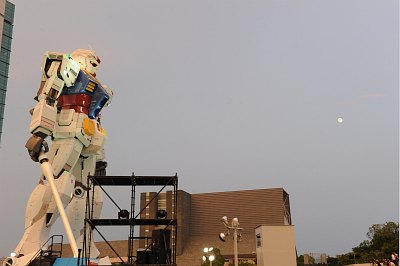 The sun goes down.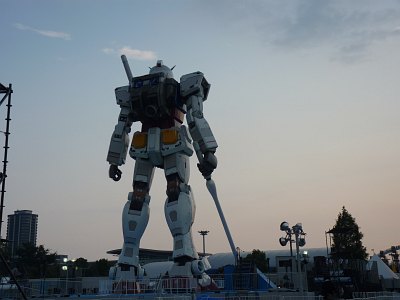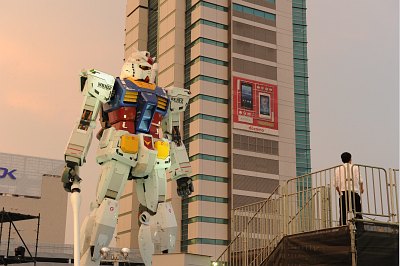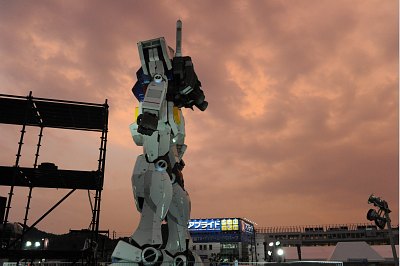 Looks great in any light.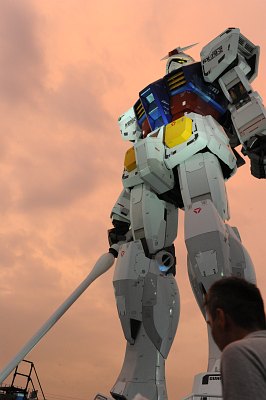 When it gets dark the lights embedded in 50 spots on its body turn on.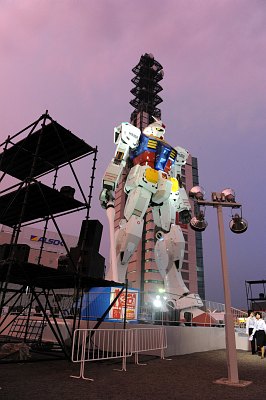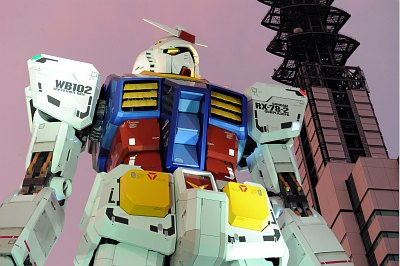 A seat for the light up ceremony was reserved for Gundam creator Yoshiyuki Tomino.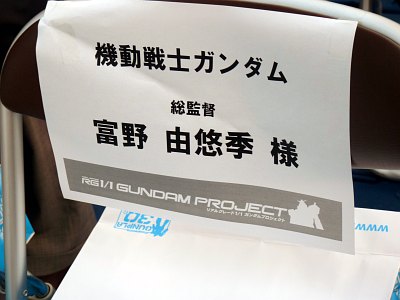 Getting dark.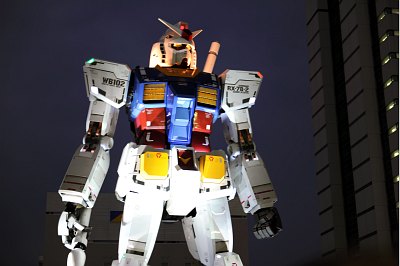 At 19:30, the light up ceremony started.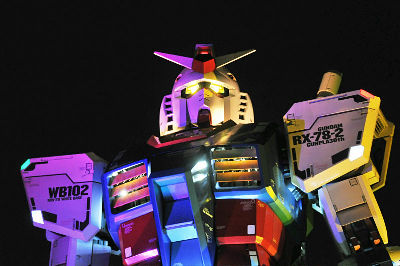 The light changes colour every second.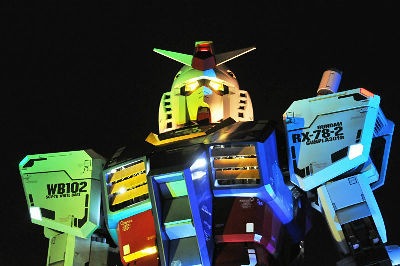 YouTube - RG 1/1 Gundam Project Opening Ceremony


CEO Kazunori Ueno of Bandai made a speech.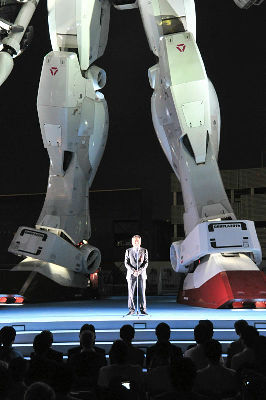 And the show goes on.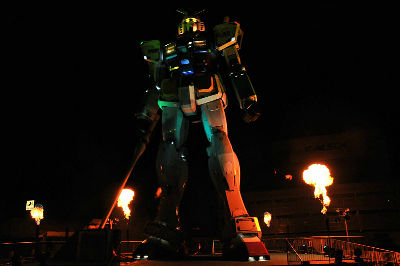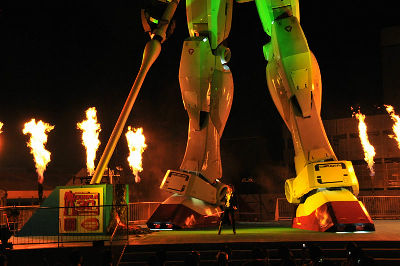 Singer Takanori Nishikawa appeared.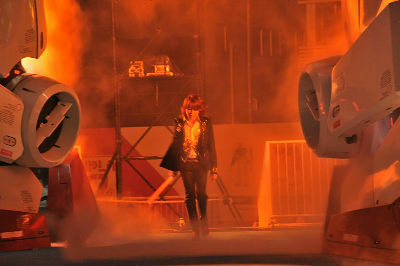 Wielding beam sabre.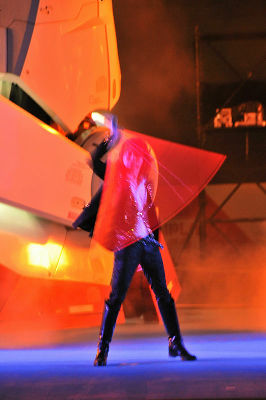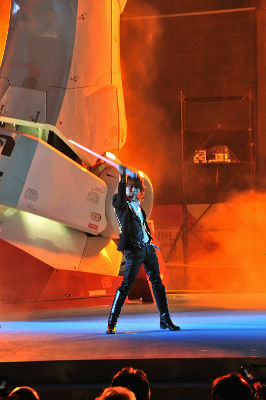 And when he thrusts his little beam sabre next to the Gundam's beam sabre...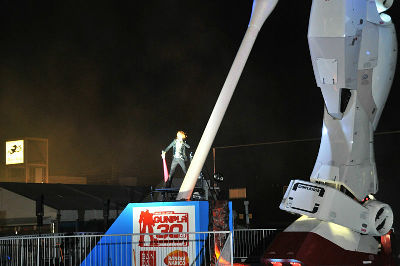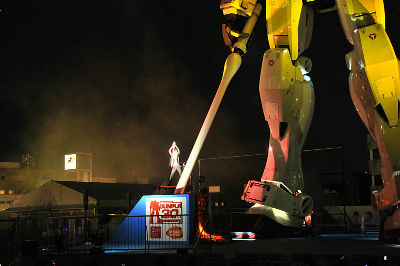 Beams of light comes out.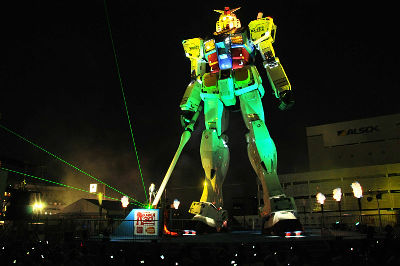 The Gundam starts moving.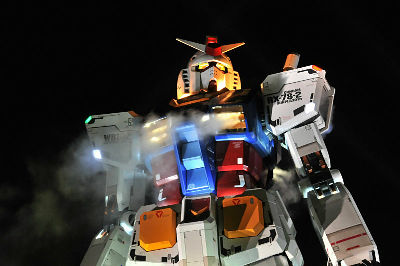 See the 1/1 Gundam in all its glory.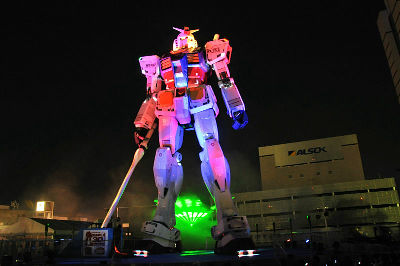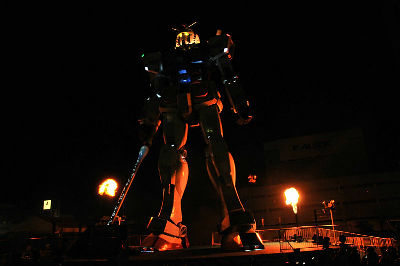 YouTube - RG 1/1 Gundam Light Up Show in Shizuoka


A Bandai draftsman who designed the first Gunpla thirty years ago came on stage.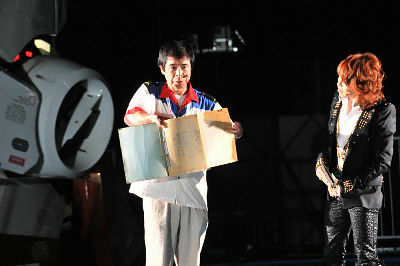 And then, Gundam creator Yoshiyuki Tomino made an appearance as a surprise guest.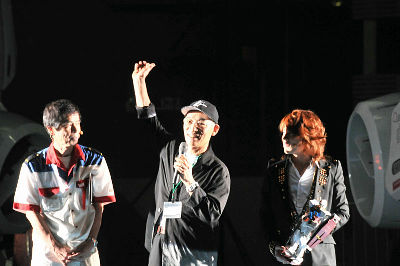 The show concluded with firecrackers.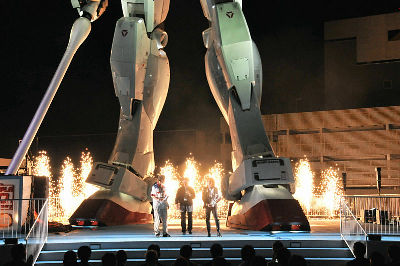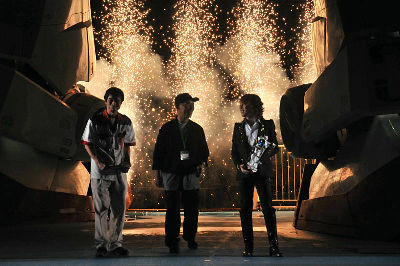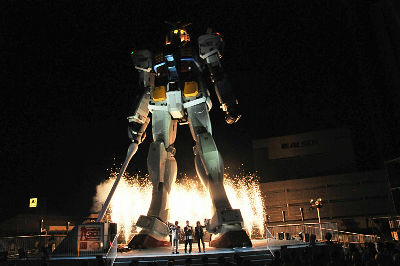 The 1/1 Gundam will stand here until January 10, 2010. The site is about a minute's walk from the north exit of Higashi-Shizuoka Station. Admission free.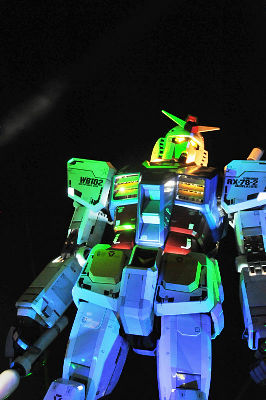 http://www.gundam-shizuoka.jp/

Related Posts:
Flight Report: ANA's Gundam Jet Tokyo-Osaka Maiden Voyage - GIGAZINE

ANA's Original Gunpla unveiled at the Launch Ceremony of Gundam Jet - GIGAZINE

Tour of Gundam Model Factory "Bandai Hobby Center" in Shizuoka - GIGAZINE

How Gundam Plastic Models are made at "Bandai Hobby Center" in Shizuoka - GIGAZINE

Gundam Cup Noodles "Chilli Tomato Noodles for Char" with Mini Gunpla - GIGAZINE