Greatest Cosplay Ever! Cute Little Girl in Arale-Chan Costume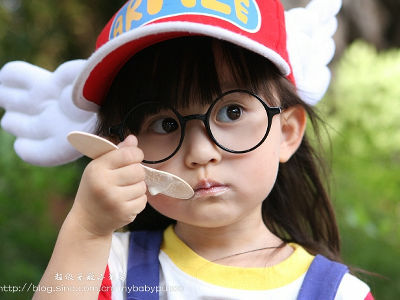 (This article was originally posted in Japanese at 10:38 July 23, 2010.)

Dr. Slump is another big-hit comic of Dragon Ball author Akira Toriyama featuring cute robot-girl Arale-chan and her(its) merry colleagues.

We have been posting some hundreds of cosplay pictures taken in various anime cons in Japan, but this Arale-chan cosplay girl should be one of the cutest of its kind. It's just comic-coming-real!

Read on for detail.

Two-year-old Chinese girl Shao Pu Tao(lit. Little Grape) cosplaying as Arale-chan.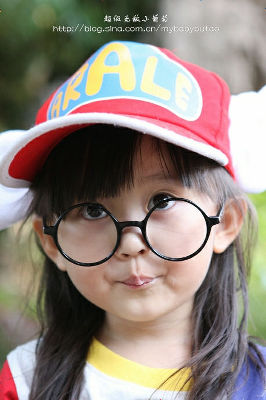 Enjoying her ice cream.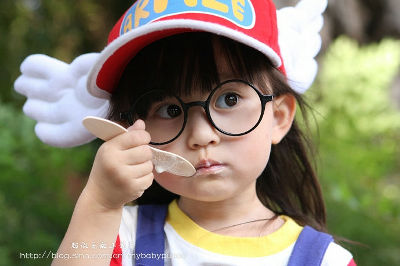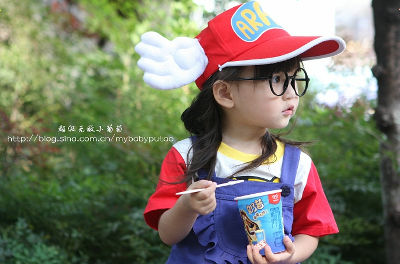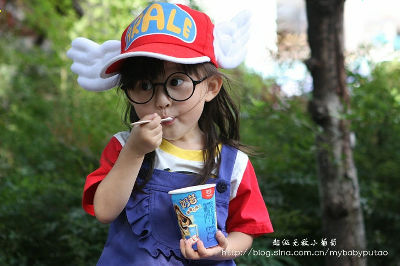 Arale-chan glance up at the camera.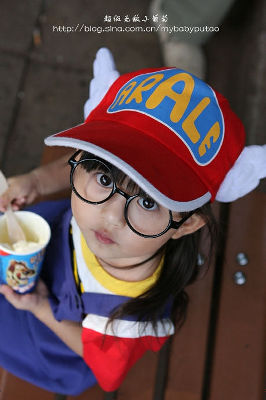 Riding on a merry-go-round.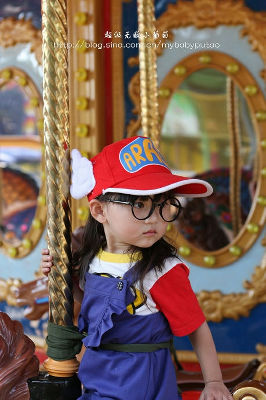 And this is her natural face. Cap and glasses makes her really Arale-chan-ish.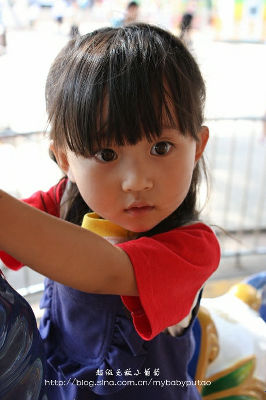 How happy she looks in her Arale-chan costume! Just for your information, here's costume recipe for followers: She wears Shima Shima Tora no Shimajiro T-shirts under blue ZARA dress bought in Hong Kong.

Here's Shao Pu Tao's blog. You can get her latest pics here.

小葡萄_新浪博客
http://blog.sina.com.cn/mybabyputao

Related Post:
"Godzilla 5th Form Pattern" is more than amazing, with Kamata, Shinagawa, Kamakura Form Figures - GIGAZINE

Interview with Mamoru Oshii: Details of Releasing "The Next Generation -Patlabor-" Director's Cut - GIGAZINE

Highway Night Bus "COCOON" by WILLER EXPRESS Secures Private Spaces For All Passengers - GIGAZINE

"Nissin Cup Noodles Matcha Seafood Flavor" Review: What Does Green Noodle Taste Like? - GIGAZINE

Interview with Fumito Ueda, "The Last Guardian" Game Director and Designer - GIGAZINE

Hot to Trot Cosplayers in the Blazing Heat - WONDER FESTIVAL 2009 [SUMMER] - GIGAZINE

More Cosplayers and Cross-dressers from MoeHaku 2010 - GIGAZINE

Booth Babes, Booth Guys, Cosplayers and Mascots from TAF2010 - GIGAZINE

Hard Core Cosplayers Risking Cold at Wonder Festival 2010 Winter - GIGAZINE

Smoking Hot Cosplayers at Itasha Exhibition Moe-Haku 2010 - GIGAZINE

No, This is NOT a Kinky Underwear! -High Quality Costume of Doronjo from YATTERMAN - GIGAZINE

Actresses in Cosplay announced "Magical Princess Minky Momo" musical at a conference - GIGAZINE

Doraemon, Ultraman and More! Let Your Baby Cosplay in Bandai's "SUTAISTYLE" Bibs - GIGAZINE