KFC's New Concept "Next-Gen" Restaurant Debut in Shibuya, Tokyo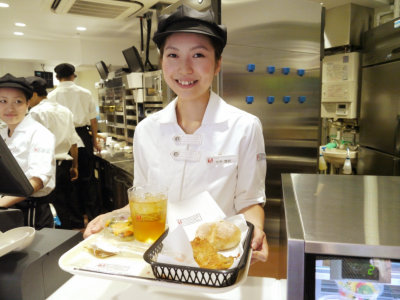 (This article was originally posted in Japanese at 19:33 July 04, 2010)

KFC's Shibuya Koen-Dori Store is to open on July 9, 2010 as the chain's first "next-gen" store, with futuristic new design equipped with digital monitors and LCD screens, introducing new "tasty and healthy" menus. The restaurant is the very first in the world to launch this new design and concept, to be followed by stores in UK, Australia, Thailand, Philippines by the end of the year, and eventually one hundred outlets in three years.

We got a chance to attend the store's press preview, so here's our coverage.

Read on for details and pics.
"Kentucky Fried Chicken Shibuya Koen-Dori Store" is located on Koen-Dori(lit. Park Street, one of the main streets in Shibuya that leads to Yoyogi Park). Jin'nan 1-21, Shibuya, Tokyo.

View Larger Map

About three to five minutes walk from Shibuya Station, depending on how crowded the streets are.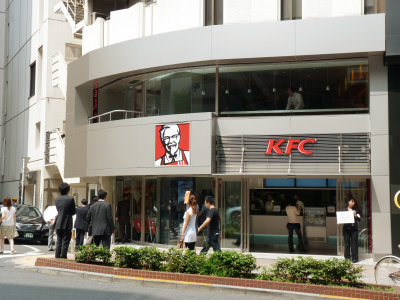 Electric signboard on the exterior.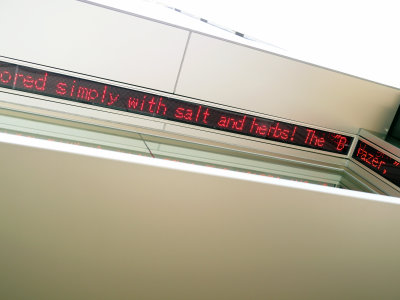 Recommending the "Oven Roasted Chicken."
YouTube - Signboard of KFC Shibuya Koen-Dori Store


You'd expect a Colonel Sanders statue guarding a Japanese KFC, but there was only his smiling face here.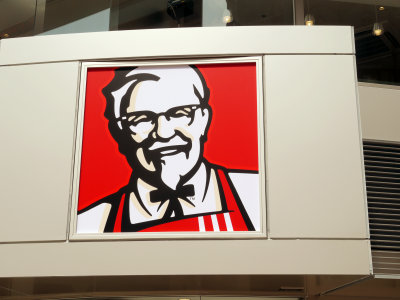 The McDonald's next to the new KFC is also a luxury "new concept" branch, but both of the fast food giants launching next-gen store on the same street was purely a coincidence, according to KFC.


This day was press preview. The store will officially open on July 9(Fri).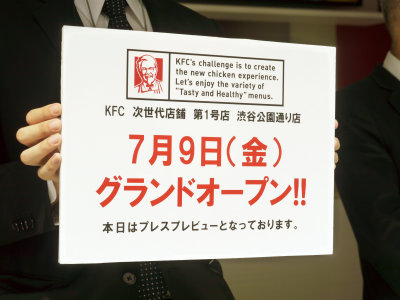 President Masao Watanabe of KFC Japan gave a speech.


There are LCD screens above the counter to show the menu, instead of the usual plastic panels,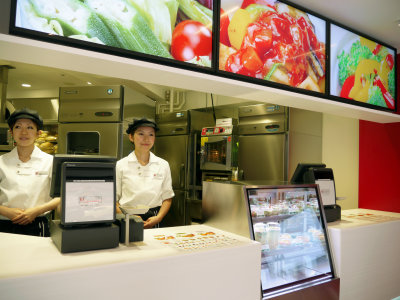 YouTube - KFC Shibuya Koen-Dori Store: Menu on LCD screens


Let's order.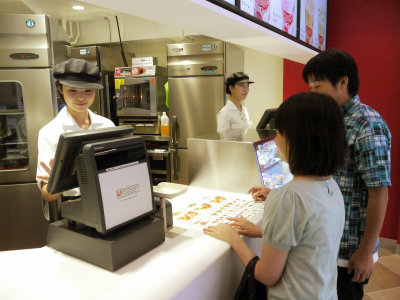 Besides the usual menu, you can see more veggier-looking stuff.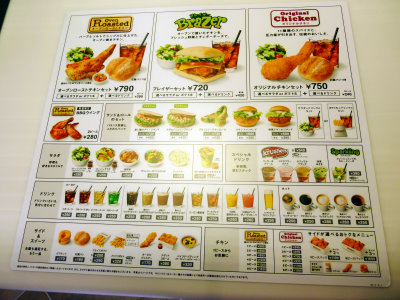 Go to the pickup counter after ordering.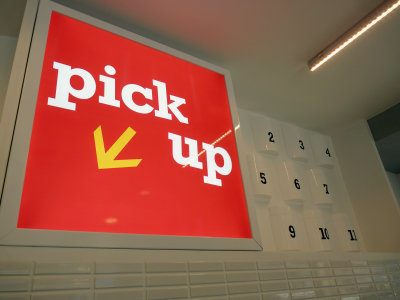 The staffs are really polite. KFC staffs from the US and other countries might be shocked to see them.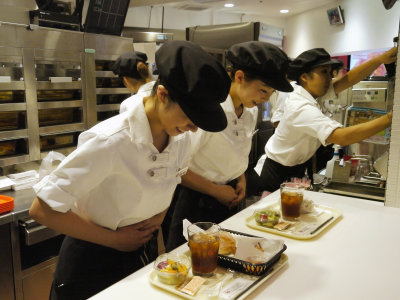 YouTube - KFC Shibuya Koen-Dori Store: Pickup Counter


The pickup counter is about five steps away from the ordering counter, bit like a Starbucks store.
YouTube - KFC Shibuya Koen-Dori Store: Order and Pickup


You can see the kitchen from the pickup counter.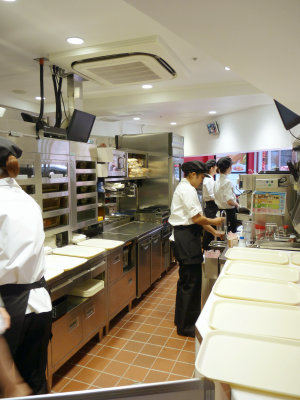 Oven for the recommended "Oven Roasted Chicken."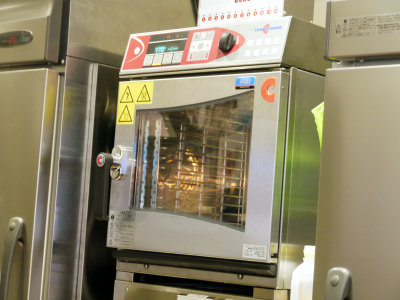 Seats on the ground floor.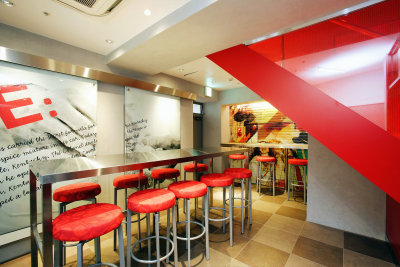 The staircase. Red is obviously the theme colour.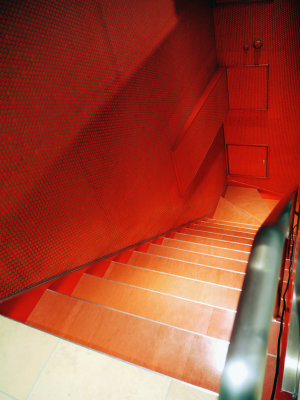 Upstairs. Seats about 80 people in all.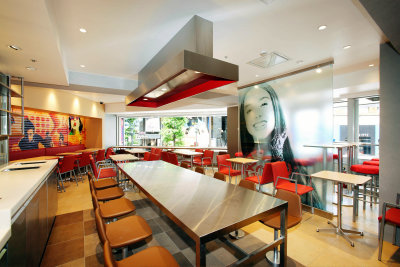 Industrial-looking table with faux leather seats.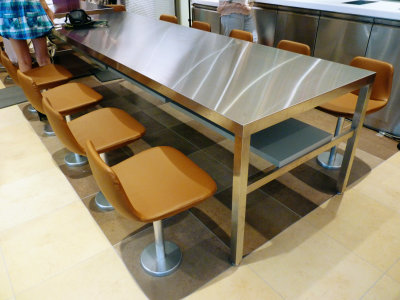 You can look down the busy street while munching.


The artwork is supposed to be depicting youths in Shibuya.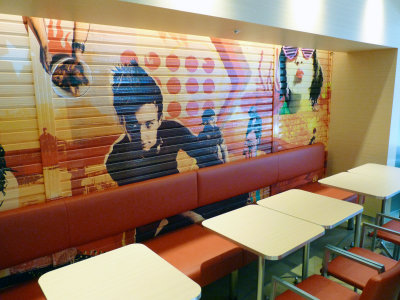 This is where you return the tray and chuck the trash. You can also wash your hands here before eating.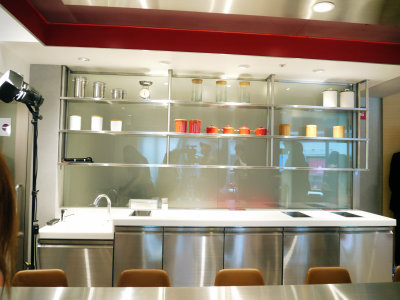 So the restaurant looks great, but how about the food? Don't miss our review on the new menus!

Related Posts:
Lotteria's "Tower Cheese Burger" is the ultimate alternative for KFC Double Down - GIGAZINE

Photo Tour on "Studio M", McDonald's Secret Laboratory - GIGAZINE

Eating "Quarter Pounder Lettuce and Tomato" at McDonald's Secret Lab - GIGAZINE