List of New Anime: Summer 2010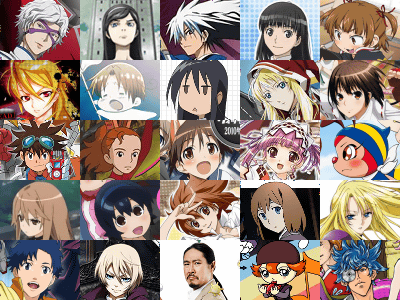 (This article was originally posted in Japanese at 00:00 June 5, 2010)

Ready for summer? Here's our trusty anime list (or at least the first part of it) for the summer anime season!

We've got 24 titles on the list so far, including TV series, movies and OVAs. This time we've included a few live-actions adapted from anime/manga. The titles are sorted by release date, and here's our index for all titles in alphabetical order.

The list shall grow as more info come out, so keep updated!

18:11 June 07, 2010: We've updated airing dates of some titles and added the movies Welcome to the Space Show and Broken Blade Chapter 2: The Parting Ways on the list.

18:15 June 09, 2010: Updated another seven movies including The Borrower Arrietty, Naruto Shippuden 4: The Lost Tower and Pokémon Diamond & Pearl: Phantom Ruler Zoroark.
---
♦Okami-San to Shichinin no Nakama-Tachi(The Wolf and Her Seven Friends)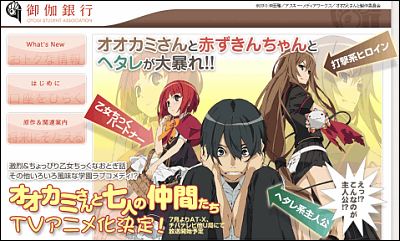 Synopsis:
In the Otogi Gakuen Highschool, there's "Otogi Ginko", a student's organization to solve students' troubles in exchange of labour or juicy gossips. Scopophobia(phobia for being looked at) boy Ryoji Morino happened to belong to this Otogi Ginko, with his crush Ryoko Ogami, a skilled boxer, and informer Ringo Akai.

Note:
Based on Masashi Okita's rom-com light novel published from Dengeki Bunko(Kadokawa Publishing).

Airing Info:
AT-X: July 1(Thu) 09:00-
Chiba TV, tvk, Teletama, TOKYO MX, TV Aichi, Sun TV

Staffs:
Original Story: Masashi Okita
Character Ideas: Unaji
Director Yoshiaki Iwasaki
Series Compoisition: Michiko Ito
Character Designs; Haruko Iduka
Animation Production: J.C.STAFF
Produce: GENCO

Cast Of Voice:
Ryoko Ogami:Shizuka Ito
Ringo Akai:Kanae Ito
Ryoji Morino:Miyu Irino
Alice Kirigi:Yui Horie
List Kirigi:Hirofumi Nojima
Otuu Tsurugaya:Ayako Kawasumi
Majolica le Fay:Kimiko Koyama
Taro Urashima:Shintaro Asanuma
Otohime Ryugu:Aki Toyosaki

♦Amagami SS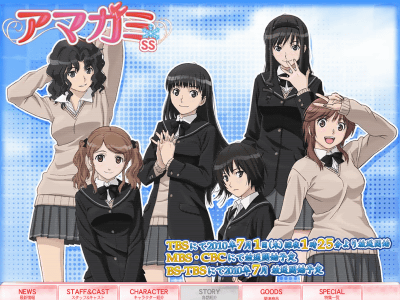 Synopsis:
Jyunichi Tachibana lives his student life feeling of estrangement in love affair, for he had a "incident" in his past Christmas. But somehow he comes to question his drained life and begins his quest, in order to spend this Christmas with the right girl.

Note:
Based on PS2 dating-sim Amagami. Different storylines are prepared to bring out each six heroines' enchantment.

Airing Info:
TBS: July 1(Thu) 25:25-
MBS, CBC, BS-TBS

Staffs:
Original Story: Enterbrain
Director, Series composition: Yoshimasa Hiraike
Screenplay: Noboru Kimura, Toko Machida
Character Designs: Hiroaki Goda
Sujpervisor: Kisai Takayama, Toshihiro Sakamoto
Animation Production: AIC

Cast of Voice:
Jyunichi Tachibana: Tomoaki Maeno
Tsukasa Ayatsuji: Kaori Nazuka
Rihoko Sakurai: Ryoko Shintani
Kaoru Tanamachi: Rina Sato
Sae Nakata: Hiromi Konno
Ai Nanasaki: Yukana
Haruka Morishima: Shizuka Ito
Miya Tachibana: Kana Asumi
Masayoshi Umehara: Takuma Terashima

♦Densetsu No Yusha No Densetu(Legend of the Legendary Braves)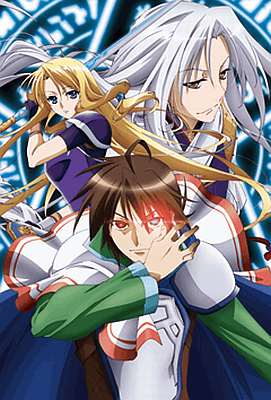 Synopsis:
Under despotism by corrupt nobles, Sion became king of Roland Empire and stood up to change the country. But ascendancy of nobles are so strong, so Sion, Sion's schoolfellow Ryner, and hereditary imperial guard Ferris go on for the search of an artifact of ancient braves, which is said to have great magical power.

Note:
Based on 11-volume light novel published from Fujimi Fantasia franchise. It will take several episodes to adopt one volume of the novel. The story mainly follows Ryner, Sion, Ferris.

Airing Info:
TV Tokyo: July 1(Thu) 26:15-
TV Osaka: July 2(Fri) 27:35-
TV Aichi: July 7(Wed) 26:58-

Staffs:
Director: Itsuro Kawasaki
Series Composition; Kiyoko Yoshimura
Character Designs; Noriko Shimazawa
Animation Production: ZEXCS

Cast of Voice:
Ryner Lute:Jun Fukuyama
Ferris Eris:Ayahi Takagaki
Sion Astal:Daisuke Ono
Lucile Eris:Tomokazu Sugita
Iris Eris:Tomosa Murata
Milk Callaud:Saki Fujita
Miran Froaude:Junichi Suwabe
Luke Stokkart:Satoshi Hino
Lear Rinkal:Nobuhiko Okamoto
Rahel Miller:Yasunori Masutani
Claugh Klom:Atsushi Imaruoka
Calne Kaiwel:Miyuki Sawashiro
Eslina Folkal:Ayana Taketatsu
Kiefer Knolles:Fuyuka Ooura
Noah Enhn:Mikako Takahashi

♦Kuroshitsuji Ⅱ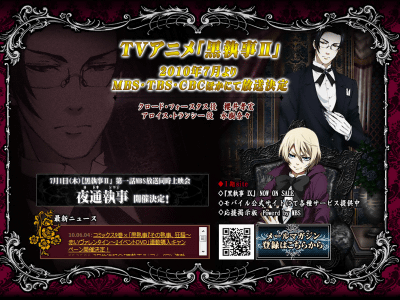 Note:
Second anime season of Kuroshitsuji(Black Butler) with new director and new protagonists. The first series was aired from Oct. 2008 to Mar. 2009, adapted from the manga series by Yana Toboso. The new protagonists, Claude Faustus and Alois Trancy, are new characters created for the anime who don't appear in the manga, and it is not made clear whether the protagonists Sebastian Michaelis and Ciel Phantomhive from the first series will be in the new anime.

Synopsis:
In late 19th century England, Lord Alois Trancy, the young head of a noble family who was kidnapped right after birth and has been missing since, returns to his manor with his butler Claude Faustus. Little is known about Claude other than his name, and the fact that he can handle all the tasks in the vast castle single-handedly with ease.

Airing:
MBS: July 1(Thu)-
TBS, CBC: TBA

Staff:
Original Story: Yana Toboso
Director: Hirofumi Ogura
Series Composition: Mari Okada
Character Design, Chief Animation Director: Minako Shiba
Supervisor: Tsuyoshi Kuma
Advertisement Producer: Kazuko Yamamoto
Producer: Mikihiro Iwata, Hiroyuki Shimizu, Hiroo Maruyama, Shunsuke Saito
Animation Production: A-1 Pictures
Production: KuroshitsujiⅡ Production Committee (Aniplex, Square Enix, Hakuhodo DY Media Prtners, Movic, Mainichi Broadcasting System)

Cast:
Claude Faustus: Takahiro Sakurai
Alois Trancy: Nana Mizuki

♦Seitokai Yakuin Domo(You Student Councils)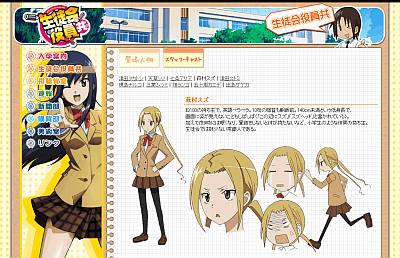 Synopsis:
Ousai Gakuen was formely a girls' school but recently it became co-ed. Along with lively Shino Amakusa, rich Aria Shichijyo, vertically challenged genious Suzu Hagimura and such, Takatoshi Tsuda, as the student council vice president, spends his schooldays chastising Shino and Aria's dirty-minded antics.

Note:
Anime adaption of four-panel comic serialized on Weekly Shonen Magazine by Tozen Ujiie, which is his first comic becoming anime. It's quite a light comedy but accompanies grandiose ED theme song by angela of Stellvia and Fafner in the Azure.

Airing Info:
tvk: July 3(Sat) 24:30-
Chiba TV: July 4(Sun) 23:30-
Teletama: July 4(Sun) 25:00-
TOKYO MX: July 5(Mon) 25:30-
Sun TV: July 5(Mon) 24:00-
KBS Kyoto: July 5(Mon) 25:00-
TV Aichi: July 6(Tue) 25:28-
AT-X: July 10(Sat) 08:30-

Staffs:
Original Story: Tozen Ujiie
Director: Hiromitsu Kanazawa
Series Composition: Makoto Nakamura
Character Designs, Animation Director: Makoto Furuta
Art Director: Masanobu Nomura
Color Composition: Sakura Komatsu
Sound Director: Hideo Takahashi
Sound Production: Dream Force
Music: Yuya Mori
Music Production: Star Child Record
Animation Production: GoHands
Production: Ousai Gakuen Student Councils

Casts:
Takatoshi Tsuda: Shintaro Asanuma
Shino Amakusa: Yoko Hikasa
Aria Shichijyo: Satomi Sato
Suzu Hagimura: Sayuri Yahagi
Kotomi Tsuda: Asami Shimoda
Naruko Yokoshima: Yu Kobayashi
Mutsumi Miwa:Chiaki Omigawa
Ranko Hata: Satomi Arai
Kaede Igarashi: Emiri Kato
Sayaka Dejima: Mutumi Tamura

OP: Triple Booking "Yamato Nadesico Education"
ED: angela "Blue Spring"

♦Sekirei - Pure Engagement -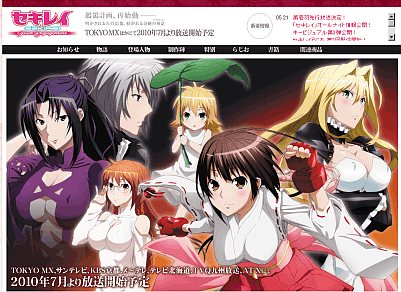 Synopsis:
At Imperial City in 2020, "Sekirei Project" is initiated, which makes 108 Sekirei, warriors with ancient power, kill each other to the last one. As a "Ashikabi", a master of Sekirei, Kaito Sahashi helped another Ashikabi Haruka and her Sekirei Kuno escape from the Imperial City with Yuu, Tsukiumi, Kusano and Matsu. Their attempt has succeeded, but a new battle is about to start again.

Note:
Based on Sakurako Gokurakuin's comic serialized in Youg Gangan. This is the 2nd season for the anime.

Airing Info
TOKYO MX: July 4(Sun) 23:30-
KBS Kyoto: July 6(Tue) 25:15- (25:00- from 2nd episode on)
TVQ Kyushu: July 6(Tue) 26:23-
TV Hokkaido: July 7(Wed) 26:20-
Nagoya TV: July 7(Wed) 27:09-
Sun TV: July 8(Thu) 26:10-
AT-X: July 15(Thu) 09:30-

Staffs:
Original Story:Sakurako Gokurakuin
Director:Keizo Kusakawa
Series Composition, Screenplay:Takao Yoshioka
Character Designs:Shinpei Tomooka
Art Director:Miki Kasai
Art Settings:Hiroshi Izumi
Color Designs:Aiko Shinohara
Filming Director:Tadashi Kitaoka
Editor:Yumiko Fuse, Yukiko Nojiri
Music:Hiroaki Sano
Sound Engineer:Jin Aketagawa
Effects:Emi Takanashi
Mixing:Ayumi Anzai
Recording:Naoki Takeda
Animation Production:Seven Arks
Production:Sekirei Project

Cast of Voice:
Kaito Sahashi: Shinnosuke Tachibana
Yuu: Saori Hayami
Tsukiumi:Marina Inoue
Kusano:Kana Hanazawa
Matsu:Aya Endo
Homura/Kagari:Yuki Kaida
Kazeha a: Yukana
Miya Asama:Sayaka Ohara
Uzume:Hitomi Nabatame
Kaori Seo:Katsuyuki Konishi
Hikari:Yuko Kaida
Hibiki:Michiko Neya
Karasuba:Romi Park
Hayato Mikogami:Jun Fukuyama
Hiroto Minaka:Toshihiko Seki
Takami:Miki Ito
Yukari Sahashi:Kana Asumi
Shiina:Sayori Ishizuka

♦Gakuen Mokushiroku: HIGHSCHOOL OF THE DEAD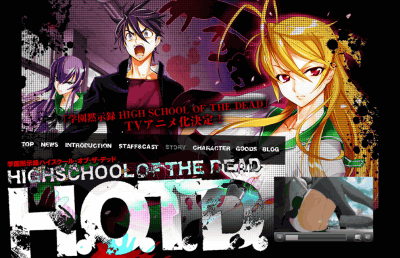 Note:
Adapted from the manga series Highschool of the Dead written by Daisuke Sato and illustrated by Shouji Sato. The character Kohta Hirano is based on manga artist Kota Hirano of Hellsing.

Synopsis:
The world is overtaken with a very deadly disease that turns humans into zombies. In Japan, several students of Fujimi High School, and the school nurse, band together to survive the present apocalypse. The story follows Takashi Komuro, one of the students who survived in the initial outbreak.

Airing:
AT-X: July 5(Mon) 11:30-
tvk: July 6(Tue) 25:45-
TOKYO MX: July 6(Tue) 26:00-
Chiba TV: July 7(Wed) 25:30-
KBS Kyoto: July 8(Thu) 25:00-
TV Aichi: July 8(Thu) 26:28-
Teletama: July 9(Fri) 25:30-
Sun TV: July 12(Mon) 26:10-

Staff:
Original Story: Daisuke Sato and Shouji Sato
Director: Tetsuro Araki
Screenplay: Yosuke Kuroda
Character Design: Masayoshi Tanaka
Production: Madhouse

Cast:
Takashi Komuro: Junichi Suwabe
Rei Miyamoto: Marina Inoue
Saeko Busujima: Miyuki Sawashiro
Saya Takagi: Eri Kitamura
Kohta Hirano: Nobuyuki Hiyama
Shizuka Marikawa: Yukari Fukui
Hisashi Igo: Mamoru Miyano
Alice Maresato: Ayana Taketatsu
Koichi Shido: Kisho Taniyama
Rika Minami: Junko Takeuchi

♦Nurarihyon no Mago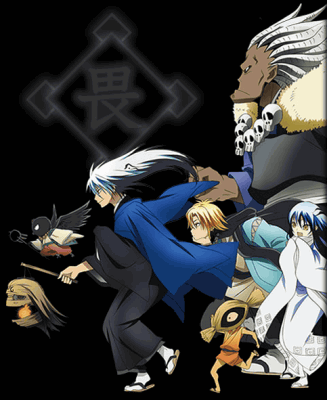 Note:
Adaptation of the manga series by Hiroshi Shiibashi serialised in Weekly Shonen Jump.

Synopsis:
Rikuo Nura is a 13-year old boy, average in most aspects except he inherited 1/4 of his grandfather's yokai(Japanese folklore spirits) blood. In times of impending danger his yokai blood awakens and he switches into his Night form who is confident, strong and inspires "Fear" amongst his allies leading many to join him. Despite his grandfather's wish to succeed him as The Master of Yokai, Rikuo comes to realise the evil nature of the yokai deeds and rejects the idea of becoming their master. He attempts to become more like a normal human by doing all sorts of good deeds.

Airing:
Yomiuri TV: July 5(Mon) 25:44-
TOKYO MX: July 6(Tue) 23:00-
BS11: July 10(Sat) 24:00-
Animax: July 19(Mon) 22:00-
Chukyo TV: TBA

Staff:
Original Story: Hiroshi Shiibashi
Director: Junji Nishimura
Series Composition: Natsuko Takahashi
Screenplay: Natsuko Takahashi, Junji Nishimura, Kazuyuki Fudeya, Mayumi Morita, Sayaka Harada, Daisuke Watanabe
Character Design: Mariko Oka
Monster Design: Shinobu Tagashira
Background Art: Studio Easter
Colour Composition: Shinji Matsumoto
Photography: Masayuki Kawaguchi
Editor: Masahiro matsumura
Composer: Kohei Tanaka
Sound Director: Hozumi Goda
Animation Production: Studio Deen
Production: Nura Clan

Cast:
Nura Rikuo: Jun Fukuyama
Ienaga Kana: Aya Hirano
Yuki Onna: Yui Horie
Aotabou: Hiroki Yasumoto
Kurotabou: Kosuke Toriumi
Kubinashi: Takahiro Sakurai
Zen: Tomokazu Sugita
Gyuki: Joji Nakata
Gozumaru: Hiroyuki Yoshino
Mezumaru: Soichiro Hoshi
Karasutengu: Junji Majima
Kappa: Masahito Yabe
Keikain Yura: Ai Maeda
Kiyotsugu: Kisho Taniyama
Maki Saori: Kana Asumi
Torii Natsumi: Mana Hirata
Shima: Tetsuya Kakihara
Mokugyo Daruma: Shinpachi Tsuji
Nattou-Kozou: Satomi Arai
Kejourou: Yumi Kakazu
Nura Wakana: Risa Mizuno
Hitotsume Nyudo: Takashi Matsuyama
Ryoutaneko: Makoto Ishii
Nurarihyon: Chikao Otsuka

Opening Theme Song: MONKEY MAJIK
Ending Theme Song: Katate☆SIZE

♦Digimon Xros Wars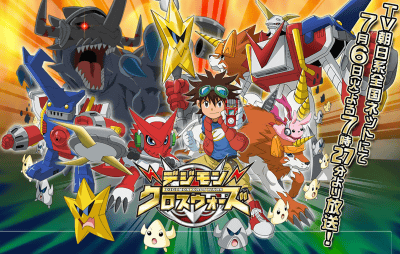 Note:
Sixth anime series in the Digimon franchise and the first to come out in HD.

Synopsis:
Taiki is an upbeat grade 7 boy who helps anyone in need. His Digimon partner possesses the ability of digivolution by combining with other Digimon through a process called "DigiCross". Chosen as the "General" of the Digimon team called Xros Heart, Taiki and his friends enter the Digital World.

Airing:
TV Asahi Network: July 6(Tue) 19:27-

Staff:
Producer: Tomoharu Matsuhisa(TV Asahi), Hiroyuki Sakurai(Toei Animation)
Series Director: Tetsuya Endo
Series Composition: Riku Sanjo
Character Design, Chief Animation Director: Akihiro Asanuma
Animation Production: Toei Animation
Production: TV Asahi, Toei Animation

Cast:
Taiki Kudo: Minami Takayama
Shoutmon: Chika Sakamoto
Akari Hinomoto: Ryoko Shiraishi
Zenjirou Tsurugi: Daisuke Kishio
Kiriha Aonuma: Takeshi Kusao
Nene Amano: Houko Kuwashima
Dorurumon: Takahiro Sakurai
Sparrowmon: Kokoro Kikuchi
Monitormon: Yuko Maruyama
Tactimon: Bin Shimada

♦Shiki(Corpse Demon)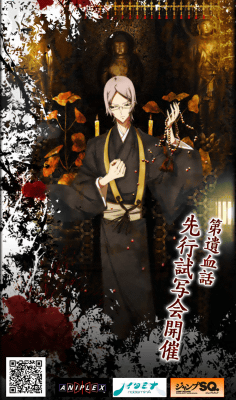 Note:
Based on Fuyumi Ono's vampire novel and its manga adaptation by Ryu Fujisaki. 22 episodes (two anime seasons).

Synopsis:
A series of mysterious deaths begin to spread in a rural village called Sotoba, at the same time when a strange family moves into a long abandoned mansion. Toshio Ozaki, dean of the only hospital in Sotoba, initially suspects an epidemic. But as investigations continue and the deaths begin to pile up, he becomes convinced that they are the work of vampires plaguing the village. Meanwhile, a teenage boy called Natsuno Yuuki, who hates living in the village, begins to be pursued and surrounded by death.

Airing:
Fuji TV: July 8(Thu) 25:15- (noitamina block)
Kansai TV, Tokai TV, BS Fuji

Staff:
Director: Tetsuro Amino
Series Composition: Kenji Sugihara
Character Design, Chief Animation Director: Shinji Ochi
Animation Production: Daume

Cast:
Natsuno Yuuki: Koki Uchiyama
Toshio Ozaki:Toru Okawa
Seishin Muroi: Kazuyuki Okitu
Megumi Shimizu: Haruka Tomatsu
Sunako Kirishiki : Aoi Yuki
Tatsumi: Wataru Takagi
Seishiro Kirishiki: GACKT

♦Asobi ni Ikuyo!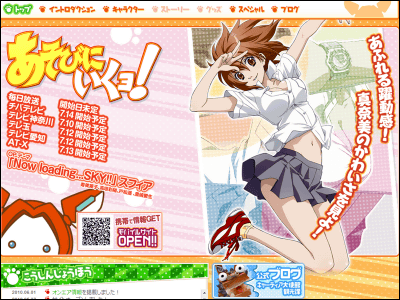 Note:
Adaptation of a popular light novel series by Okina Kamino published by Media Factory under their MF Bunko J label. More info and pics here.

Synopsis:
Kio Kakazu is an ordinary highschool student living in Okinawa. One day he receives a message from outer space saying "Asobi ni ikuyo"(I'll come by your place), and then bumps into a strange girl at a family gathering. Sporting cat-ears and tail, the girl, Elis, insists she's an alien.

Airing:
tvk: July 10(Sat)-
Teletama: July 12(Mon)-
TV Aichi: July 12(Mon)-
AT-X: July 13(Tue)-
Chiba TV: July 14(Wed)-
MBS

Staff:
Director: Yoichi Ueda
Series Composition: Katsuhiko Takayama
Anime Character Design, Chief Animation Director: Noriko Morishima
Mecha Design: Naohiro Washio
Animation Production: AIC PLUS+

Cast:
Kio Kakazu: Mutumi Tamura
Elis: Kanae Itou
Manami Kinjo: Haruka Tomatsu
Aoi Futaba :Kana Hanazawa
Kuune: Kikuko Inoue
Melvin: Aki Toyosaki
Chaica: Minako Kotobuki
Jens: Yui Horie
Maki Itokazu: Hiromi Hirata
Antonia: Iori Nomizu
Maya: Sayori Ishizuka
Sarah: Akeno Watanabe
Jack: Yukiko Monden
???: Ayahi Takagaki

Theme Song: sphere(Minako Kotobuki, Ayahi Takagaki, Haruka Tomatsu, Aki Toyosaki) "Now loading...SKY!!"

♦Hammer Session!



Note:
Live-action drama adaption of the comic serialized on Weekly Shonen Magazine by Yamato Koganemaru, Hiroyuki Yaitsu and Namoshiro Tanahashi and Takayasu Kiya. The sequel Hammer Session! In High School is now running.

Synopsis:
Goro Hachisuka is a master con man caught by the police. On his way to prison, the convoy van was involved in a traffic accident, earning him a chance to escape. He passed himself as a teacher in the highschool he fled to and solve students' problem with "Hammer Session", a lecture of devastating method.

Airing Info:
TBS July 10th(Sat.) 19:56-

Staffs:
Original Idea: Takayasu Kiya
Comics; Namoshiro Tanahashi
Screenplay: Maki Takahashi and others
Producer: Tuyoshi Sato, Yoshihiro Sato
Rendition: Manabu Aso, Yuji Nakamae
Production: Toho Co, Ltd. TBS.

Casts:
Goro Hachisuka(Otowa No. 4): Mokomichi Hayami
Kaede Tachibana: Miku Shida
Ryoko Mizuki: Manami Higa
Roku(the real Goro Hachisuka: Takeshi Murakami)
Yasuko Ota: Mari HAmada
Shohei Imamura(Asabu No. 10): Naomasa Roppei
Mizuki Kenichi: Fumiyio Kohinata

♦Sengoku Basara II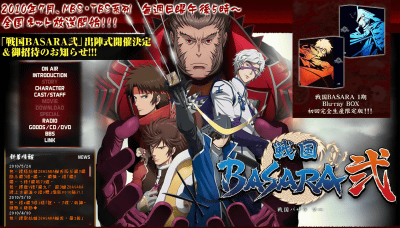 Note:
The 2nd season for an out-of-the-box anime of feudal samurai with bizarre-interpretation. It has been almost a year from the announcement.

Synopsis:
After 6th Ten-ma Ou(devilish king) Nobunaga Oda has fallen, Uesugi and Takeda has been fighting for supremacy. And Date and Sanada is also ready for their last battle. But vast number of unknown soldiers suddenly appeared and Takeda, Uesugi and Date are surrounded at Kawanakajima. They are soldiers of Hideyoshi Toyotomi, who desires a total chaos again in the land of Hinomoto.

Airing Info:
MBS, TBS network: July (Sun.) 17:00-

Staffs:
Original Game: CAPCOM
Supervisors: Hiroyuki Kobayashi, Makoto Yamamoto
Director: Kazuya Nomura
Series Composition: Yasuyuki Muto
Character Designs: Toru Okubo
Animation Production: Production I.G
Production: TEAM BASARA

Cast of Voice:
Masamune Date: Kazuya Nakai
Yukimiura Sanada: Soichiro Hoshi
Keiji Maeda: Masakazu Morita
Kojyuro Katakura: Toshiyuki Morikawa
Shingen Takeda: Tessho Genda
Sasuke Sarutobi: Takehito Koyasu
Motochika Chosokabe: Ryuzou Ishino
Motonari Mori: Shigeru Nakahara
Kenshin Uesugi: Romi Park
Kasuga: Natsuko Kuwatani
Toshiie Maeda: Tomohiro Tsuboi
Matsu: Yuko Kaida
Hanbe Takenaka: Akira Ishida
Hideyoshi Toyotomi: Ryotaro Okiayu

♦Moteki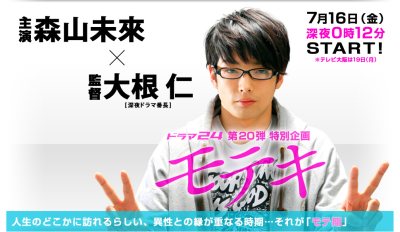 Note:
Live-action adaptation of the manga series by Mitsuro Kubo(3.3.7 Byooshi!!) serialised in Kodansha's Evening magazine during 2008 to 2009.

Synopsis:
Yukiyo Fujimoto is a 29-yr-old temp worker who's never been popular with the ladies, but suddenly, all the girls around him seem to want him. He realises this must be his "Mote-ki", the once-in-a-lifetime boom that comes for everybody.

Airing:
TV Tokyo July 16(Fri) 0:12-

Staff:
Director/Screenwriter: Hitoshi Ohne
Producer: Shinji Abe
Composer: Taisei Iwasaki

Cast:
Yukiyo Fujimoto: Mirai Moriyama
Aki Doi: Maho Nonami
Itsuka Nakashiba: Hikari Mitsushima
Natsuki Komiyama: Rio Matsumoto
Naoko Hayashida: Rinko Kikuchi
Yuichi Shimada: Hirofumi Arai

♦Tono to Issho(lit. With you, my lord)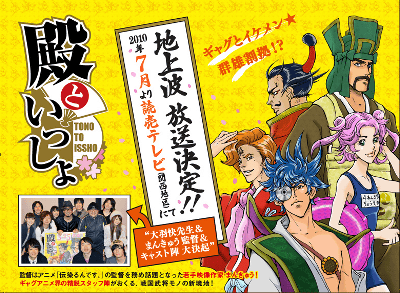 Note:
Based on a yonkoma manga series serialised in Media Factory's Monthly Comic Flapper. You can see some trailers on YouTube.

Synopsis:
Slapstick comedy set in the Sengoku period with characters based on famous warlords including Date Masamune with outrageous eyepatch, pyromaniac Oda Nobunaga, the perfect little housewife Uesugi Kenshin and misleadingly effeminate Chosokabe Motochika.

Airing:
Yomiuri Television

Staff:
Original Story: Kai Ohba
Directing/Screenplay/Storyboard: Mankyu
Music Production: Frontier Works
Production: Gathering

Cast:
Date Masamune: Tatsuhisa Suzuki
Katakura Kagetsuna: Daisuke Ono
Date Shigezane: Tomokazu Sugita
Chosokabe Motochika: Mamiko Noto
Takeda Shingen: Takashi Nagasako
Naoe Kanetsugu: Shinnosuke Tachibana
Akechi Mitsuhide: Daisuke Hirakawa
Mori Ranmaru: Yu Kobayashi
Female servant of Date household: Asuka Ito
Oda Nobunaga: Takaya Kuroda
Uesugi Kenshin: GACKT

♦Shukufuku no Campanella - la campanella della benedizione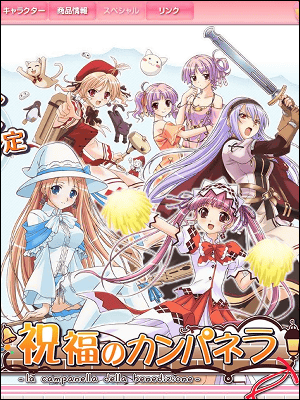 Synopsis:
There's a town surrounded by ocean called "World's Treasure Box", gathering many merchants and adventurers with ambitions from all over the world. This is a bit strange story about one of these adventurers and his fellows.

Note:
Based on R-18 visual novel in 2009 by Windmill Oasis. The game from the same studio Happiness was also adapted to anime in 2006.

Airing Info:
AT-X, CTC, TVS, TOKYO MX, TVA, SUN

Staffs:
Original Game: Windmill
Original Characters: Ko-cha
Direcor: Shiji Ushiro
Assistant Director: Kei Oikawa
Character Designs: Mariko Fujishiro
Chief Animation Director: Makoto Koga
Plop Designs: Shinobu Tsuneki
Screenplay: Kojiro Nakamura, Saharu Amiyama, Kenji Saito
Animation Production: AIC
Production: Shukufuku no Campanella Production Committee(Marvelous Entertainment, Media Factory, AIC, AT-X, Lantis)

Casts of Voice:
Leicester Maycraft: Nobuhiko Okamoto
Minette: Mai Kadowaki
Carina Verritti: Kimiko Koyama
Chelsea Arcot: Asami Imai
Agnes Boulange: Kaori Mizuhashi
Nina Lindberg:Michiru Yuimoto
Salsa Tortilla: Ari Yunohara
Ritos Tortilla: Mai Goto

♦Mitsudomoe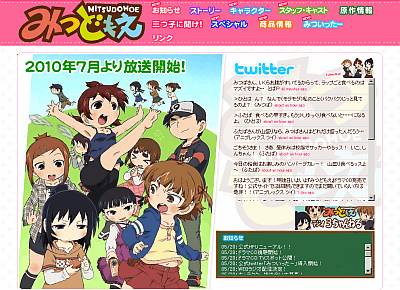 Note:
Based on the manga by Norio Sakurai serialised in Weekly Shonen Champion since 2006.

Synopsis:
A comedy centering 11-year-old triplet sisters: Mitsuba the eldest with sadistic streak, Futaba the tomboy who's obsessed about female breast, and Hitoha the shy youngest whose secret pleasure is to read porn.

Airing:
TBA

Staff:
Original Story: Norio Sakurai
Director: Masahiko Ohta
Series Composition: Takashi Aoshima
Character Design: Takaharu Ohkuma
Music Production: Lantis
Animation Production: Bridge

Cast:
Mitsuba Marui: Ayahi Takagaki
Futaba Marui: Satomi Akesaka
Hitoha Marui: Haruka Tomatsu
Satoshi Yabe: Hiro Shimono
Miku Sugisaki: Chiwa Saito
Yuki Yoshioka: Aki Toyosaki
Miyashita: Momoko Oohara
Sakiko Matsuoka: Ikumi Hayama
Shin'ya Sato: Yuko Sanpei
Yudai Chiba: Kazuomi Yamamoto

♦TV Drama Moyashimon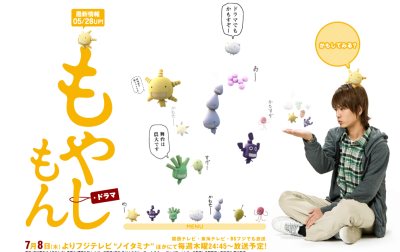 Synopsis:
Tadayasu Soemon Sawaki and Hotaru Yuki, a progeny of Sake brewery, are studying zymurgy at agricultural college. Tadayasu has a special ability to see microbes and speak with them. Seeing his ability, Professor Itsuki recruit him to his laboratory.

Note:
Live-action drama adaptation of the comic serialized in Evening by Masayuki Ishikawa. The airing is on the same slot as the anime version.

Airing Info:
TBA

Staffs:
Original Story: Masayuki Ishikawa
Series Director: Akira Iwamoto
Director: Junya Morita, Tomonori Nashiki
Series Composition: Natsuko Takahashi
Screenplay: Masayuki Ishikawa, Natsuko Takahashi
Music: Ryo
Production: Shirogumi

Casts:
Tadayasu Soemon Sawaki: Yuichi Nakamura
Aoi Muto: Chisun
Haduki Oikawa: Haneyuri
Kaoru Misato: Koji Nishida
Takuma Kawahama: Akihiro Kimura
Hotaru Yuki: Azusa Okamoto
Haruka Hasegawa: Natsuki Kato
Keizo Itsuki: Toshio Kurosawa

♦Seikimatsu Occult Gakuin(lit. End-of-Century Occult Academy)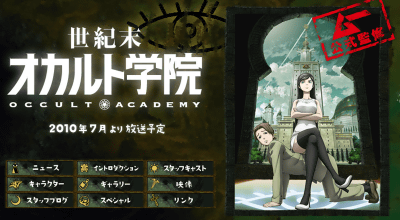 Note:
Third title in the joint project Anime no Chikara by TV Tokyo and Aniplex, following So Ra No Wo To and Senko no Night Raid.

Synopsis:
Set in 1999. Waldstein Academy located on top of Minakamisan(Mt. Minakami), Nagano, is dubbed "Occult Academy" for the frequent supernatural happenings there. Maya Kumashiro, daughter of the headmaster, despised all things supernatural and thus avoided entering the school premise at all cost. But she must visit the school when her father, who dedicated his life to studying the occult, has passed away. There she meets Fumiaki Uchida, who claims to be a Time Agent from 2012.

Airing:
TV Tokyo Network

Staff:
Original Story, Animation Production: A-1 Pictures
Director: Tomohiko Ito
Series Composition: Seishi Minakami
Character Concept: Gato Aso
Character Design, Chief Animation Director: Takahiro Chiba
Background Art Director: Yusuke Takeda
Background Composition: Yasumitsu Suetake
Prop Design: Tomotaka Shibayama
Colour Composition: Takahiro Mogi
Cinamatographer: Takaharu Ozaki
Editor: Shigeru Nishiyama
Composer: Elements Garden
Sound Director: Kazuya Tanaka
Prodution Assisted by: Xebec
Advisor: Hiroyuki Kitakubo
Production: Aniplex, TV Tokyo

Casts:
Maya Kumashiro: Yoko Hikasa
Fumiaki Uchida: Takahiro Mizushima
Mikaze Nakagawa: Minori Chihara
Ami Kuroki: Ayahi Takagaki
Kozue Naruse: Kana Hanazawa
JK: Takehito Koyasu
Smile: Hiroki Takahashi

♦Strike Witches 2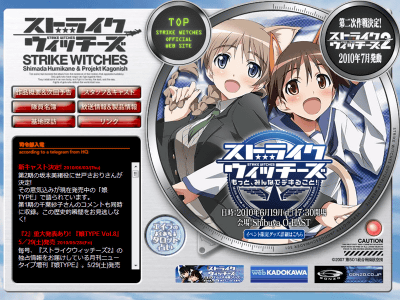 Note:
Sequel to the first series aired in 2008. The studio changed from Gonzo to AIC and one of the heroine Mio Sakamoto, voiced by Saeko Chiba in the first season, will be voiced by Saori Seto. Other than that, the main staff and cast members are pretty much the same.

Synopsis:
Set in a world similar to Earth in the mid twentieth century, Strike Witches tells the story of a fight to protect that world using a combination of magic and technology. The titular Strike Witches are young women with high magical potential who are recruited into militaries around the world to fight against the enigmatic Neuroi. Six months after the victory in Gallia, the battles continue in Adriatic Sea.

Airing:
TBA

Staff:
Director, Anime Character Design: Kazuhiro Takamura
Original Character Design: Fumikane Shimada
Series Composition: Striker Unit
Military Advisor: Takaaki Suzuki
Original Story: Fumikane Shimada&Project kagonish
Animation Production: AIC

Cast:
Yoshika Miyafuji: Misato Fukuen
Mio Sakamoto: Saori Seto
Lynette Bishop: Kaori Nazuka
Perrine-H. Clostermann: Miyuki Sawashiro
Minna-Dietlinde Wilcke: Rie Tanaka
Gertrud Barkhorn: Mie Sonozaki
Erica Hartmann: Sakura Nogawa
Francesca Lucchini: Chiwa Saito
Charlotte E.Yeager: Ami Koshimizu
Sanya V. Litvyak: Mai Kadowaki
Eila Ilmatar Juutilainen: Ayuru Ohashi

---
♦Giinmaku Hetalia: Axis Powers Paint it. White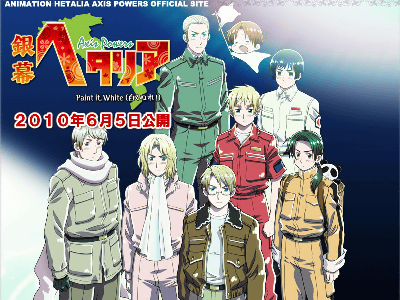 Synopsis:
Human beings are in danger of being eroded because of mysterious incidents all over the world. America convened the emergency meeting spieling "Let's save the world, under my command!" but no other country takes him seriously, as usual. Can they really save the world?

Note:
Theater adaption of Web anime. The majority of its fans are female and to be aired on television from July 9th. 60 minutes of the movie is made totally new while 20 minutes are re-mastered sequences chosen as favored scene by actors and staffs.

Opening Dates:
June 5th(Saturday): Cinema Sunshine Ikebukuro, Movix Saitama, Kawasaki Cinecitta, TOHO Cinemas Lalaport Yokohama, Gold Theather, Umeda Burg 7, T. Joy Kyoto, Cinema Sunshine Kitajima, United Cinema Sapporo, United Cinema Canal City 13.

Staffs:
Original Comic: Hidekazu Himaruya
Director: Bob Shirohata
Screenplay: Takuya Hiramitsu

Cast of Voice:
Italy:Daisuke Namikawa
German:Hiroki Yasumoto
Japan:Hiroki Takahashi
USA:Katsuyuki Konishi
England:Noriaki Sugiyama
France:Masaya Onosaka
Russia:Yasuhiro Takato
China:Yuki Kaida

Main Theme Song World 8(Daisuke Namikawa, Hiroki Yasumoto, Hiroki Takahashi, Katsuyuki Konishi, Noriaki Sugiyama, Masaya Onosaka, Yasuhiro Takato, Yuki Kaida)

♦Welcome to the Space Show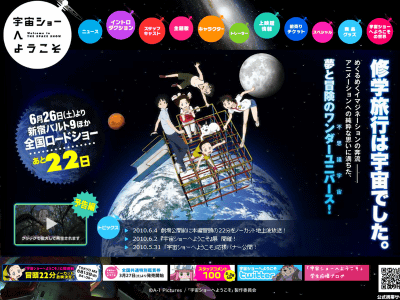 Note:
Latest story by Kamichu! creators Bésame Mucho(Koji Masunari and Hideyuki Kurata) who are also behind the Read or Die franchise. More info and pics here.

Synopsis:
There are only five pupils in the primary school in rural village Murakami, including 5th grader Natsuki Koyama, new girl from the city. The five gathers at school for the annual children-only summer camp, and enter the bushes behind the school in search of their missing pet rabbit. There they encounter a speaking dog who calls himself "Pochi", an alien from Planet One.

Release date:
June 26(Sat): Shinjuku Wald 9, Cine Libre Ikebukuro, and others.

Staff:
Director: Koji Masunari
Screenplay: Hideyuki Kurata
Character Design, Animation Director: Masashi Ishihama
Screen Image Design: Shiho Takeuchi
Mechanic Design: Koji Watanabe
Production Design: okama, Noriyuki Jinguji, Shiho Takeuchi, Koji Watanabe
Sub-character Design: Koji Yabuno, Makoto Morisaki
Episode Direction: Hiroyuki Hata
Colour Composition: Ritsuko Utagawa
Director of Background Art: Kazuo Ogura
CG Director: Shinji Nasu
Director of Photography: Takaharu Ozaki
Editing: Masahiro Goto
Composer: Yoshihiro Ike
Sound Director: Hiromi Kikuta
Recording Mixer: Yasushi Nagura
Sound Effect: Hiromune Kurahashi
Original Story: Besame Mucho
Animation Production: A-1 Pictures
Production: "Welcome to the Space Show" Production Committee
Distributed by: Aniplex

Cast:
Natsuki Koyama: Tomoyo Kurosawa
Amane Suzuki: Honoka Ikezuki
Kiyoshi Sato: Shotaro Uzawa
Noriko Nishimura: Tamaki Matsumoto
Koji Harada: Takuto Yoshinaga
Pochi Rickman: Keiji Fujiwara

♦Break Blade Dainisho "Ketsubetsu no Michi"(Broken Blade Chapter 2: The Parting Ways)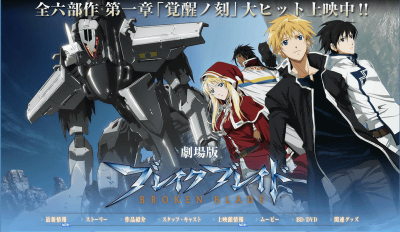 Note:
Second film in a hexalogy, following the first part that premiered in Japan on May 29. More info and pics here.

Synopsis:
Rygart Arrow is an "un-sorcerer", a one-in-a-million oddity in a world full of magic users. When Rygart is reunited with his old friend Hodr, who happens to be the current King of his country Krisna, he learns the Athens Commonwealth has just declared war on Krisna. Rygart joins the army upon learning that his un-sorcerer ability allows him to pilot an ancient, effective, mecha that cannot be piloted by magic users. In the battlefield, he finds out that the unbeatable officer leading his enemy is Zess, another old friend of his.

Release Date:
June 26(Sat): Cinema Sunshine Ikebukuro, Fushimi Million Theater, [email protected] Shinsaibashi, Hiroshima Salon Cinema, Fukuyama Picadilly Theatre, Forum Sendai, United Cinemas Sapporo, United Cinemas Canalcity 13

Staff:
Original Story: Yunosuke Yoshinaga
Supervising Director: Tetsuro Amino
Director: Nobuyoshi Habara
Screenplay: Masashi Sogo
Character Design: Takushige Hikita
Mechanic design: Takayuki Yanase
Mechanic Director: Takuya Matsumura
Animation Production: Production I.G, Xebec
Production: Broken Blade Production Committee
Distributor: KlockWorx

Cast:
Rygart Arrow: Soichiro Hoshi
Sigyn Erster: Chiwa Saito
Hodr: Yuichi Nakamura
Zess: Hiroshi Kamiya
Cleo Saburafu: Kana Hanazawa
Lee: Yuko Kaida
Erekt : Hideyuki Umezu
Argath : Kenji Takahashi
Narvi: Marina Inoue
Nair: Minoru Shiraishi
Logen: Tomoya Kawai
Baldr: Masashi Sugawara
True: Kenichi Ogata
Sakura: Nanaho Katsuragi
Regats: Masumi Asano
Rokis: Takaya Hashi

Title Theme: Kokia "Fate"
End Title Theme: Faylan "SERIOUS-AGE"

♦Pocket Monsters Diamond & Pearl the Movie: Phantom Ruler: Zoroark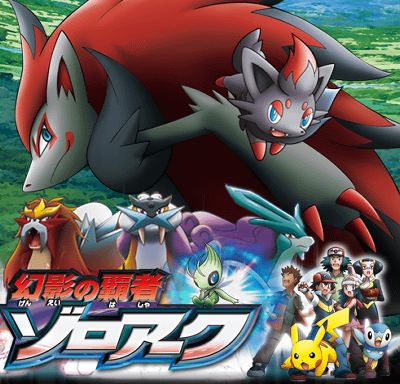 Note:
13th movie in Pocket Monster franchise. The movie's fictitious setting is based on various locations in The Netherlands and Belgium. Among the locations used as inspiration for the movie were the Magere Brug, Amstel River, Kinderdijk, and Brussels.

Synopsis:
Satoshi and his friends head to Crown City to attend the Pokémon Baccer World Cup. On their way, they befriend Zorua, a pokémon looking for his mates. Meanwhile, a powerful pokémon called Zoroark is demolishing the Crown City, desguised as Raikou, Entei, and Suicune. Legendary pokémon Celebi is also visiting Crown City for the first time in 20 years.

Release Date:
July 10(Sat): Theatre list here

Staff:
Original Concept: Satoshi Tajiri
Supervisor: Tsunekazu Ishihara
Director: Kunihiko Yuyama
Production: Pikachu Project
Distributor: Toho

Cast:
Satoshi: Rica Matsumoto
Pikachu: Ikue Otani
Takeshi: Yuji Ueda
Hikari: Megumi Toyoguchi
Bocchama: Etsuko Kozakura
Musashi: Megumi Hayashibara
Kojiro: Shin-ichiro Miki
Nyarth(Meowth): Inuko Inuyama
Greggle(Croagunk):Katsuyuki Konishi
Kodai: Takanori Jinnai
Goon:Koichi Yamadera
Rioka:Natsuki Kato
Kurt: Takashi Tsukamoto
Proof: Shoko Nakagawa
Zoroark: Romi Park
Zorua: Kurumi Mamiya

Ending Theme Song: Sukima Switch "Icecream Syndrome"

♦Sore Ike! AnPanMan Black Nose and Magical Sing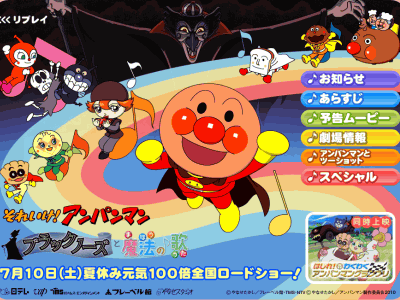 Synopsis:
Quena, an avatar of a bird, is raised by Black Nose, the queen of darkness. Black Nose has taught her that "Songs, dances and delicious breads are oblique happiness" and made her play the "flute of darkness" to deprive people of happy feelings. When she finds out the lesson was lie, the world gets completely surrounded by darkenss.

Note:
The 22nd movie of Anapanman. In 2009, the anime became the verified Guinness World Record Holder for the highest number of characters in an animated franchise. Hashire! Wakuwaku Anpanman Grand Prix is to be screened together.

Opening Date:
July 10, 2010(Sat.)

Staffs:
Executive Producer: Tadahito Matsumoto
Planning: Seiji Okuda
Original Story: Takashi Yanase
Producer: Toshio Nakatani, Kazuhiko Yanai, Tomoko Yoshino, Megumi Hoshino
Director: Hiroyuki Yano
Screenplay: Tomoko Kanaharu
Music: Taku Izumi, Hiroaki Kondo
Character Designs, Animation Director: Minoru Maeda
Artwork: Tsutomi Ishigaki, Yuki Oyamada
Color Composition: Yukiko harada
Filming: Hitoshi Shirao
Sound Engineeer: Tomoaki Yamada
Music Director: Seiji Suzuki
Sound Effects: Yoshiyuki Itokawa
Editing: Yoshihisa Tsurubuti, Kazuko Tsurubuchi
Animation Production: Tokyo Movie
Production: NTV, VAP, TMS Entertainment, Froebel-Kan, Yanase Studio
Cooperation: Yomiuri Shinbun Co, LTD.

Castg of Voice:
Anpanman:Keiko Toda
Baikinman:Ryusei Nakao
Quena:Miki Nakatani

Theme Song: VAP "Wakaranai Ka-na(Quena, Wavering)"

♦The Borrower Arrietty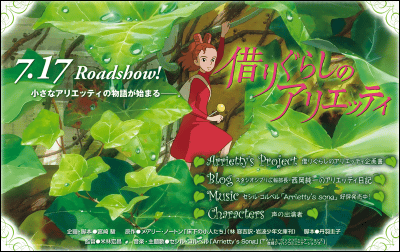 Note:
Latest Ghibli film, based on the fantasy novel The Borrowers by Mary Norton, directed by not Hayao Miyazaki but his protégé Hiromasa Yonebayashi.

Synopsis:
The story will take place in 2010 in Koganei, Tokyo and like the novel will revolve around a group of creatures that live under the floorboards, and where a friendship is created between a human and the borrower Arrietty

Release Date:
July 17(Sat)

Staff:
Supervisor: Hayao Miyazaki
Original Story: Mary Norton
Director: Hiromasa Yonebayashi
Animation Production: Studio Ghibli
Distributor: Toho

Cast:
Arrietty: Mirai Shida
Sho:Ryunosuke Kamiki
Homily: Shinobu Otake
Sadako: Keiko Takeshita
Pod: Tomokazu Miura
Haru: Kiki Kirin

Theme Song: Cécile Corbel "Arrietty's Song"

♦Naruto Shippuden The Movie: The Lost Tower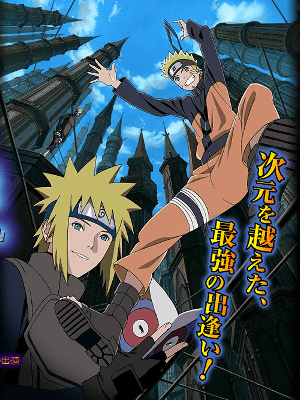 Note:
Fourth feature film of Naruto: Shippuden.

Synopsis:
Assigned on a mission to capture Mukade, a missing-nin, Naruto Uzumaki sets out for the once glorious historic ruins of "Loulan", where he pursues and corners the rogue ninja. Mizukade's goal is revealed to be a dormant leyline within the ruins; he unleashes the power of the leyline, causing a light to envelop Naruto, sending him into the past, 20 years before the series began. When Naruto awakens, he comes into contact with his father, the Fourth Hokage, Minato Namikaze.

Release Date:
July 31(Sat)

Staff:
Original Story: Masashi Kishimoto
Director: Masahiko Murata
Screen Play: Junki Takegami
Character Design: Tetsuya Nishimoto
Production: Naruto The Movie Production Committee (TV Tokyo, Shueisha, Studio Pierrot, Aniplex, Dentsu, Bandai)

Cast:
Naruto Uzumaki: Junko Takeuchi
Minato Namikaze: Toshiyuki Morikawa

♦Konchu Monogatari Mitsubachi Hutch -Yuki no Melody(Insect Story Honeybee Hutch: Melody of Courage)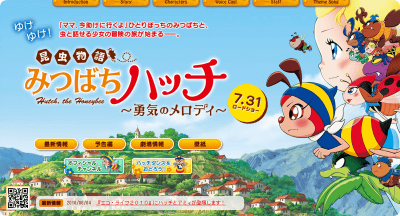 Note:
Movie based on the '70s TV series The Adventures of Hutch the Honeybee and its remake Konchu Monogatari: Minashigo Hutch. With the first human characters in the series' history. More info and trailers here.

Synopsis:
Hutch the Prince of Honeybee Kingdom is still searching his mother. At a town called Sepiatown he befriends Amy, a kindhearted human girl who can talk with insects. Amy aids him in fighting the mean praying mantis Kamakichi, and promises to help Hutch find his mother.

Release Date:
July 31(Sat): list of theatres here

Staff:
Production Supervisor: Kundo Koyama
Director: Tetsuro Amino
Screen Play: Bochibochi Uchida, Juri Takeda, Kundo Koyama
Character Concept Design: Noah Kawai
Composer: Kohichi Tsutaya
Original Story: Tatsunoko Production
Animation Production: Tatsunoko Production, Group TAC
Production: Honeybee Hutch The Movie Production Committee
Distributor: Shochiku

Theme Song: Yui Aragaki "WALK"

Cast:
Hutch: Ayaka Saito
Amy: Ayaka Wilson
Kunekune: Naoki Tanaka
Arikon: Kon Arimura
Victor: Ikuji Nakamura
Poncho: Jun Komori
Koganenashi: Eiji Bando
Dokumo: Akira Emoto
Pico: Asami Usuta
Kamakichi: Nakamura Shido
Hutch's Mum: Narumi Yasuda

♦Mokei Senshi GUNPLA BUILDERS Beginning G Part A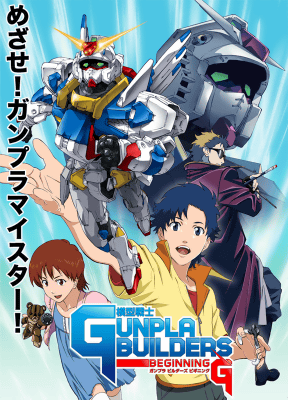 Note:
Gunpla(Gundam Plastic Model)-themed anime to celebrate the 30th anniversary of Gunpla. Part A, first episode of the three-parter, will premiere at Gundam Super Expo held this summer. More info and pics here.

Synopsis:
Set in a world where Gunpla-building is popular as a hobby and kids compete in "Gunpla Battle". Hal Irei comes by a rare plastic model of "Beginning Gundam" by chance and becomes a Gunpla-builder, entering the world of Gunpla Battle with Gunpla-fanatic best friend Kenta and curious girl Lina.

Release Date:
August 10(Tue): Gundam SUPER EXPO 2010(Aug. 10-19 at Tokyo Dome City)

Staff:
Production: Sunrise
Director: Koh Matsuo
Screenplay: Yosuke Kuroda
Character Design: Kaichiro Terada
Mechanical Design: Kunio Okawara, Atsushi Shigeta, Kanetake Ebikawa, Jun'ichi Akutsu

Cast:
TBA

♦Kaidan Restaurant: The Movie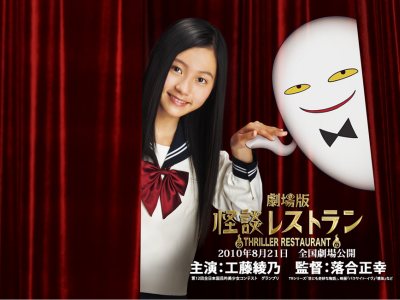 Note:
Live-action/animated film based on popular horror storybook series Kaidan Restaurant aimed at grade school kids. The first book in the series was published in 1996, and the series reached its 50th volume in 2007. Ayano Kudo stars as the live-action heroine Haru Amano, alongside the anime characters Aco, Sho and Reiko from the ongoing anime series.

Synopsis:
People are disappearing in Yamazakura City. There's a rumour going around the town that you'd get spirited away if you can't reply an email from the Death correcctly. When Aco's friend Mai goes missing, Aco, Sho and Reiko visits the haunted "Kaidan Restaurant" in search. Meanwhile, Mai's older sister Haru Amano starts investigating the case, trying to figure out the truth behind "Death's email".

Release Date:
August 21, 2010

Staff:
Director: Masayuki Ochiai(Shutter, Infection)
Screenplay: Shoji Yonemura

Cast:
Haru Amano: Ayano Kudo

♦Colorful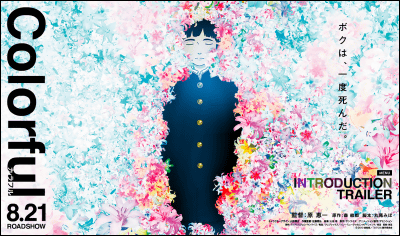 Synopsis:
"Me" died for great sin and lost all of his memories. His soul was supposed to be rejected from the cycle of reincarnation but he fortunately won a lottery and gained a chance to retry. In order to recover, he has to recall his previous life and realize sinfulness with his soul in other's body. So he started a life as Makoto Kobayashi, a 14-year old boy who just committed suicide.

Note:
Based on Eto Mori's novel selected as the winner of 46th Sankei Children's Publishing Culture Award. Adapted to live-action movie in 2000.

Opening Date:
Aug. 21(Sat.): Toho and network theaters.

Staffs:
Original Story: Eto Mori
Director: Keiichi Hara
Screenplay: Miho Maruo
Character Designs: Atsushi Yamagata
Animation Director: Masahiro Sato
Production: Sunrise
Animation Production: Ascension
Production: Fuji Television, Sunrise, Dentsu, Aniplex, Sony Music Entertainment, Toho
Distribution: Toho

Casts:
Makoto Kobayashi: Kazato Tomizawa
Pura-Pura: Michael
Makoto's mother: Kumiko Aso
Makoto's Father: Katumi Takahashi
Mitsuru Kobayashi: Akiyoshi Nakao
Shoko Sano: Aoi Miyazaki
Hiroka Kuwahara: Akina Minami
Saotome: Jingi Irie
Mr. Sawada: Keiji Fujiwara

♦Gekijoban Metal Fight Beyblade VS Taoyo - Shakunetsu no Shinryakusha Sol Blaze(Metal Fight Beyblade VS the Sun the Movie: Sol Blaze, the Scorching-hot Invader)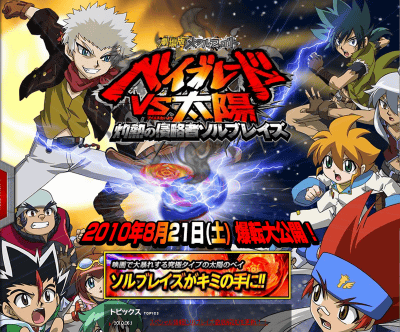 Note:
Second movie in the Beyblade franchise, adapted from the ongoing TV series Beyblade: Metal Fusion(known in Japan as Metal Fight Beyblade).

Synopsis:
Blader Ginga Hagane encounters Helios, a mysterious boy wielding scorching-hot beyblade Sol Blaze. Ginga fights him off with his Galaxy Pegasus.

Release Date:
August 21(Sat)

Staff:
Original Story: Takafumi Adachi
Production: Metal Fight Beyblade The Movie Production Committee

Cast:
Ginga Hagane: Aki Kaneda
Helios: Tomoaki Maeno
Benkei Hanawa: Kenta Miyake
Kenta Yumiya: Emiri Kato
Tsubasa Otori: Miyu Irino
Masamune Kadoya: Yuko Sanpei
Yu Tendo:Kaori Nazuka
Kyoya Tategami: Satoshi Hino
Madoka Amano: Kei Shindo

♦Loup Garou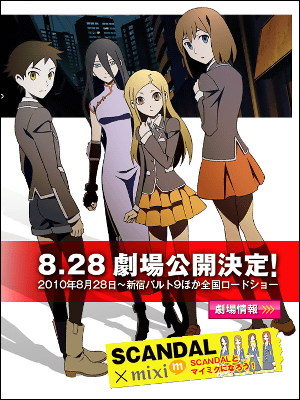 Note:
Adaptation of mystery novel by best-selling author Natsuhiko Kyogoku known for his yokai story. Loup Garou means werewolf in French.

Synopsis:
Several decades in the future, children in Japan are protected by intricately designed surveillance system. There are no schools, and pupils get educated through their communication device, which also monitor them. Most human interactions are made through the screen of the devices, and the only time they meet people face to face is during the once-a-week "real communication training" class held at the "communication centre". But the safe and secure society is threatened when suddenly a series of murder breaks out. The victims are young boys and girls, who were supposed to have been protected under the surveillance.

Release Date:
August 28(Sat): List of theatres

Staff:
Original Story: Natsuhiko Kyogoku
Director: Junichi Fujisaku
Screen Play: Midori Goto, Sayaka Harada
Character Concept: Chizu Hashii
Character Design, Chief Animation Director: Akeharu Ishii
Animation Production: Production I.G, TRANS ARTS
Production: Loup Garou Production Committee

Cast:
Hazuki Makino: Kanae Oki
Ayumi Kohno: Hiromi Igarashi
Mio Tsuzuki: Marina Inoue
Lay Myao: Miyuki Sawashiro
Yuko Yabe: Kana Uetake
Riichiro Ishida: Yutaka Aoyama
Kunugi: Kunihiro Kawamoto
Shizue Fuwa :Eriko Hirata
Bureau Chief: Tomomichi Nishimura
Foster Father: Haruo Sato
Kawabata: Manabu Sakamaki
Nakamura: Kiyoshi Katunuma

OVAs

---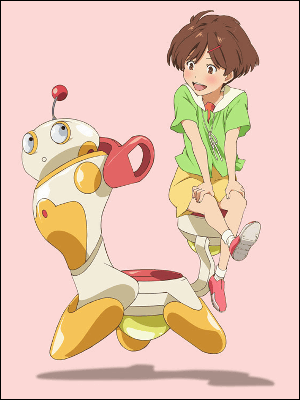 Notes:
Shown in the art exhibiton of the same title "Robot and Art" starting from July 10. Official twitter account is @robots_and_arts.

Synopsis:
TBA

Opening Info:
Aomori Museum of Art: July 10 - Aug. 29
Shizuoka Prefectural Museum of Art: Sept. 18 - Nov. 7
Iwami Art Museum: Nov. 20 - Jan. 10, 2010

Staffs:
Original Story: TriMega(Yuri Kawanishi, Takeshi Kudo, Kei Murakami)
Series Director: ROMANoV HiGA
Screenplay: Hiroaki Yuasa
Character Ideas: D.K
Character Designs: Masaki Tanaka
Mechanical Designs: Kenji Teraoka
Animation Production: Athleed, Studio RF
Production: Chara-Ani, "Robot and Art" Execution Committee

Cast of Voice:
TBA

♦Henzemi(the Abnormal Physiology Seminar)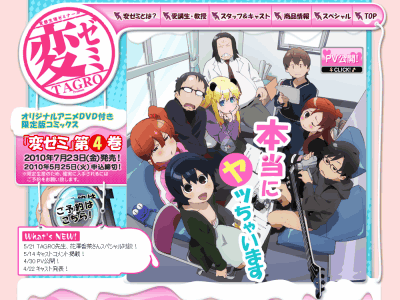 Synopsis:
Henzemi, the Abnormal Physiology Seminar led by Prof. Kenji Meshiya is full of people with fetishes. Falling in love with the cool-looking but totally abnormal Komugi Musashi, Nanako Matsutaka decides to participate in the seminar and witnesses so many abnormal activities.

Note:
Anime adaption of the 1st volume of the comic serialized on Morning Two by TAGRO.

Release Date:
To be attached to the limited edition of the 4th volume of the comic to be sold on July 23(Fri).

Staffs:
Original Comic: TAGRO
Director: Ryoki Kamitsubo
Screenplay: Takamitsu Kono
Character Designs: Sunao Chikaoka
Sound Director: Toshiki Kameyama
Musics: Kei Haneoka
Music Production: Star Child Record
Animation Production: XEBEC

Cast of Voice:
Nanako Matsutaka: Kana Hanazawa
Komugi Musasi: Akira Ishida
Miwako Mizukoshi: Yukiko Takaguchi
Yesterday Taguchi: Minoru Shiraishi
Makiko Gregory: Shiho Kawaragi
Hishiyasu Ichikawa: Norihisa Mori
Kenji Meshiya: Takashi Matsuyama

- Index in Alphabetical Order-
- TV animes -
♦Amagami SS
♦Asobi ni Ikuyo!
♦Densetsu No Yusha No Densetu(Legend of Legendary Braves)
♦Digimon Xros Wars
♦Gakuen Mokushiroku: HIGHSCHOOL OF THE DEAD
♦Hammer Session!
♦Kuroshitsuji Ⅱ
♦Mitsudomoe
♦Moteki
♦TV Drama Moyashimon
♦Nurarihyon no Mago
♦Okami-San to Shichinin no Nakama-Tachi(The Wolf and Her Seven Friends)
♦Seitokai Yakuin Domo(You Student Councils)
♦Sekirei - Pure Engagement
♦Seikimatsu Occult Gakuin
♦Sengoku Basara II
♦Shiki
♦Shukufuku no Campanella - la campanella della benedizione
♦Strike Witches 2
♦Tono to Issho

- Movies -
♦Giinmaku Hetalia: Axis Powers Paint it. White
♦Kaidan Restaurant: The Movie
♦Sore Ike! AnPanMan Black Nose and Magical Sing

- OVAs -
♦Henzemi(the Abnormal Physiology Seminar)

Related Posts:
"Godzilla 5th Form Pattern" is more than amazing, with Kamata, Shinagawa, Kamakura Form Figures - GIGAZINE

Interview with Mamoru Oshii: Details of Releasing "The Next Generation -Patlabor-" Director's Cut - GIGAZINE

Highway Night Bus "COCOON" by WILLER EXPRESS Secures Private Spaces For All Passengers - GIGAZINE

"Nissin Cup Noodles Matcha Seafood Flavor" Review: What Does Green Noodle Taste Like? - GIGAZINE

Interview with Fumito Ueda, "The Last Guardian" Game Director and Designer - GIGAZINE

List of New Anime: Spring 2010 - GIGAZINE

List of New Anime: Winter 2010 - GIGAZINE

List of New Anime: Autumn 2009 - GIGAZINE

List of New Anime: Summer 2009 - GIGAZINE

List of New Anime Series launching Spring 2009 - GIGAZINE

in Anime, Posted by darkhorse_log