Gundam Model-themed anime "Mokei Senshi Gunpla Builders" to Celebrate the Toy's 30th Anniversary

(This article was originally posted in Japanese at 11:24 May 13, 2010)

The first model of Bandai's Gunpla(Gundam plastic model kits) came out in July, 1980, so this year's the 30th anniversary of the line. Naturally, we've expected some kind of special event to commemorate the year, but who could've seen this one coming?

New anime project Mokei Senshi GUNPLA BUILDERS -Beginning G (lit. Model Fighter Gunpla Builders: Beginning G) was unveiled today at Shizuoka Hobby Show 2010. As you can tell from the title, it's not a Gundam anime but a Gunpla anime! What does it mean?

Read on for details and pics.
The anime's poster at Bandai's booth. From what we can tell, the anime is set not in the Gundam universe but a universe where Gunpla-building is popular as a hobby and kids compete in "Gunpla Battle". Kind of like Plawres Sanshiro or Bakuso Kyodai Let's & Go!!.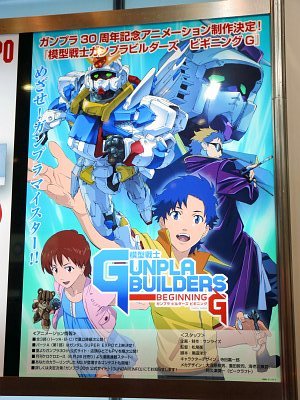 A manga series will be launched in August's issue (published on June 26) of Kerokero Ace magazine.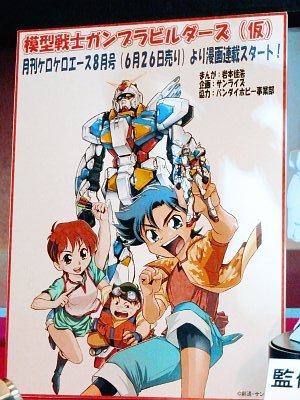 Protagonist Hal Irei(left), heroine Lina Noyama and sidekick Kenta Sakazaki. Hal comes by a very rare Gunpla called "Beginning Gundam" by chance, and becomes a Gunpla builder.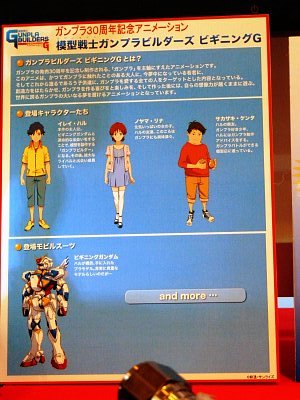 Seems like the story's about Hal's quest to become a "Gunpla Meister". The mysterious-looking guy on the right might be his mentor, judging by the paintbrush he holds.


Prototype of 1/144 Beginning Gundam model was on display.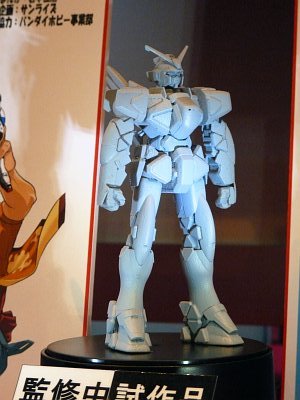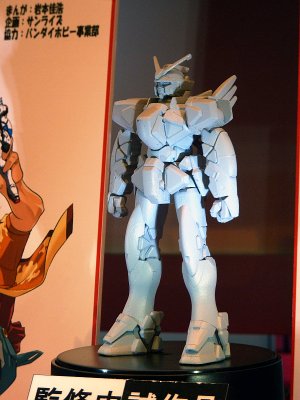 It's got wing-like stuff.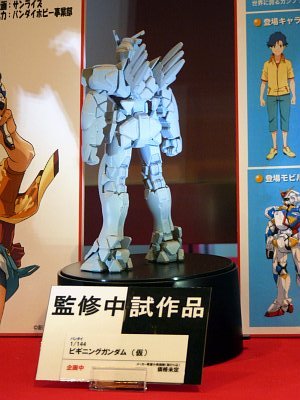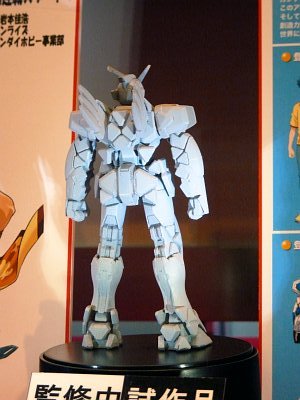 The three-episode anime will come out as "Part A", "Part B" and "Part C", starting this summer, though it's still unclear whether it'll come out as a TV anime, a theatrical release or OVAs. A special teaser programme will be aired this summer on NHK's BS11 Digital.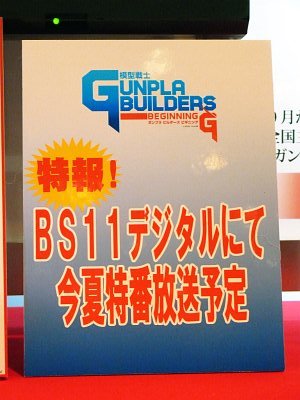 Staff:
Studio: Sunrise
Director: Koh Matsuo
Screenplay: Yosuke Kuroda
Character Design: Kaichiro Terada
Mechanical Design: Kunio Okawara, Atsushi Shigeta, Kanetake Ebikawa, Jun'ichi Akutsu

More info will be gradually unveiled on Gunpla's 30th anniversary special website.
http://www.gunpla30th.net/

Related Posts:
Tour of Gundam Model Factory "Bandai Hobby Center" in Shizuoka - GIGAZINE

How Gundam Plastic Models are made at "Bandai Hobby Center" in Shizuoka - GIGAZINE

Black Means Green in Eco GUNDAM Plastic Model - GIGAZINE

The Most Campiest Mobile Suit Ever! Pink Gundam with Lace Garters - GIGAZINE

"Mobile Suit Gundam 00: Awakening of the Trailblazer" featured in TAF2010, with 1/10 scale 00 Gundam - GIGAZINE