Unit 01 Generating AT Field, Voluptuous Asuka and More Evangelion Products at Shizuoka Hobby Show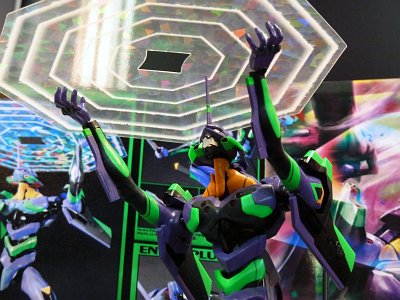 (This article was originally posted in Japanese at 20:12 May 13, 2010)

Here are the Evangelion products we've seen at Shizuoka Hobby Show 2010, including a model capturing the moment of movie-version Unit 01 generating AT Field, a sexy figure of grown-up Asuka Langley and many more!

Pics after the cut!
Evangelion Unit 01 (Evangelion: 2.0 You Can (Not) Advance Version) on display at Bandai's booth.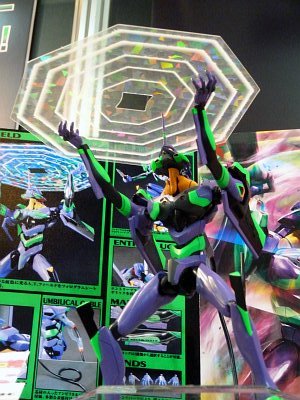 To be released on May 28, 2010 for 3,990 yen (about $43).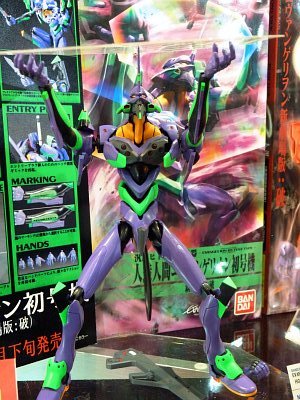 AT Field from above.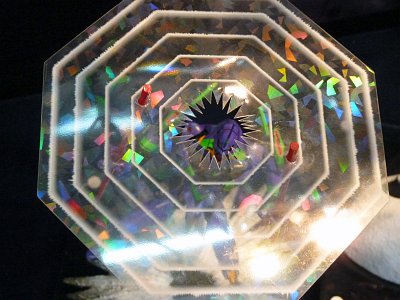 Package illustration.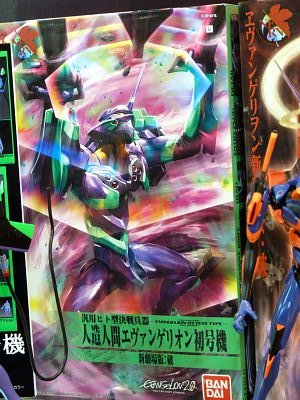 The kit includes Progressive Knife, Entry Plug and Umbilical Cable as well.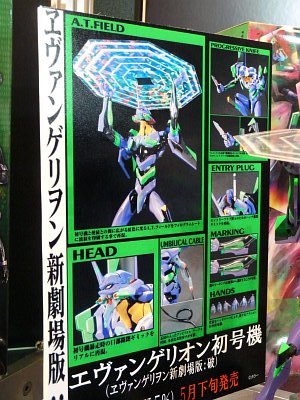 Representing a scene from the movie.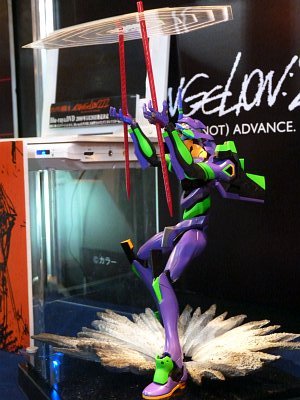 "Evangelion Unit 02 (Evangelion: 2.0 You Can (Not) Advance Version)", also by Bandai.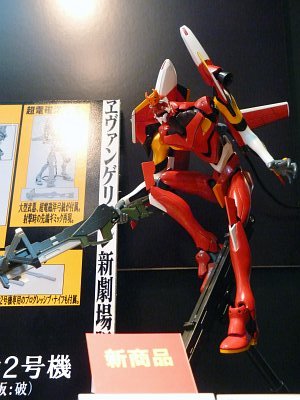 To come out in June, 2010. 5,040 yen ($55).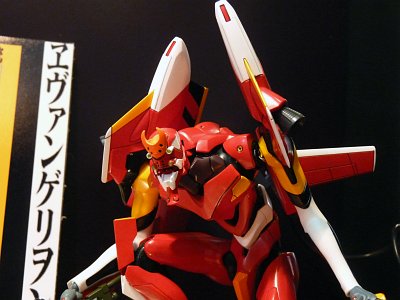 Comes with interchangeable hands and weapons including Thunder Spear and Progressive Knife.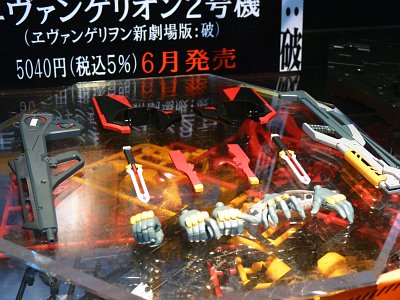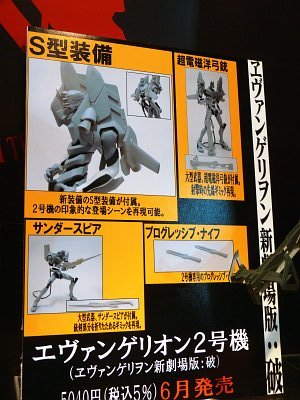 This awesome display captures the moment Unit 02 attacks Zeruel with Thunder Spear (a new weapon that appeared in the movie).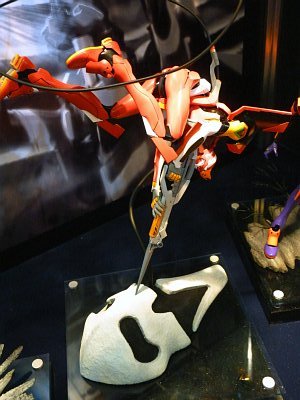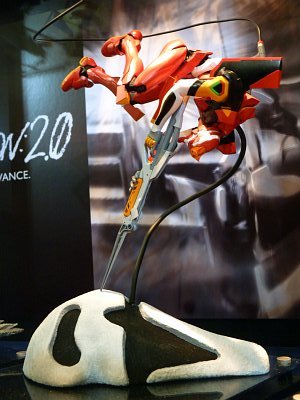 "Evangelion Unit 02 (Evangelion: 2.0 You Can (Not) Advance Version)", release date TBA.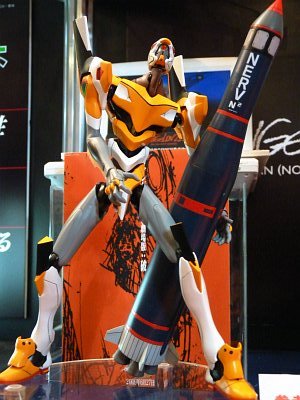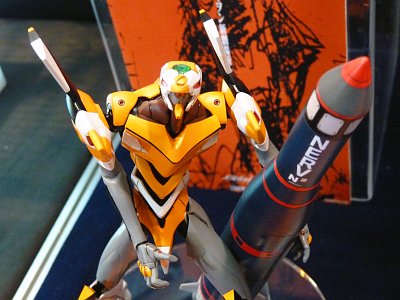 "Neon Genesis Evangelion Asuka Langley Soryu Garage Kit" at YAMATO's booth. An uncoloured prototype was displayed at Wonder Festival 2010 Winter but this time we could see the finished version.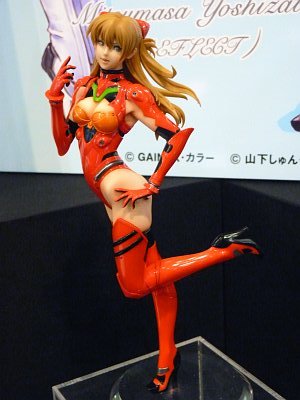 To be on sale in July, 2010 for 12,600 yen ($137).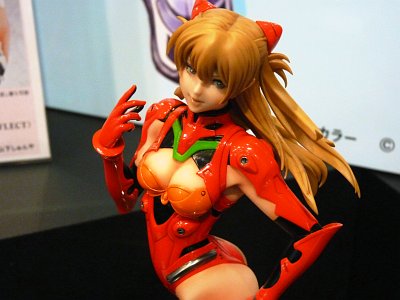 A collaborative work by Shunya Yamashita and sculptor Mitumasa Yoshizawa.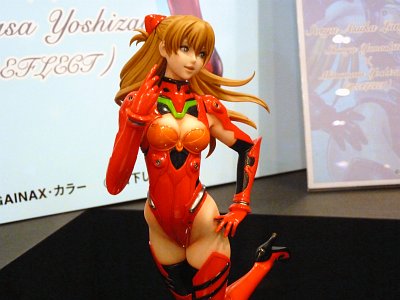 "Rebuild of Evangelion No.03 Unit 02 Entry Plug Asuka Langley Shikinami" at Aoshima Bunka Kyozai's booth.


A non-scale model, 50cm long. 9,240 yen ($100).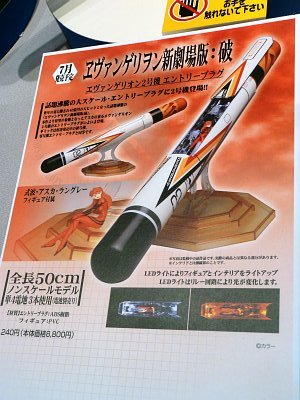 With a figurine of Asuka Langley Shikinami.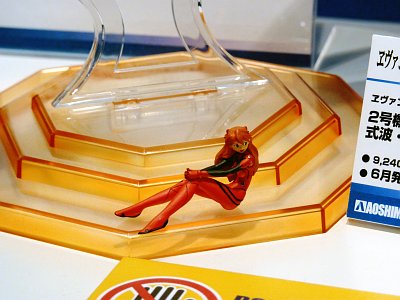 The Asuka figurine can sit inside, and you can also illuminate the interior with multi-coloured LED.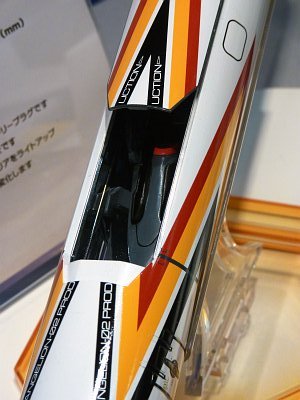 Related Posts:
Evangelion-themed Convenience Store "Lawson Tokyo-3 Shop" Opened in Hakone - GIGAZINE

Evangelion Bottled Water shaped like Asuka and Ayanami's plug suit - GIGAZINE

Team Evangelion Entering Super GT Race with "Evangelion RT Unit 01 apr Corolla" - GIGAZINE

EVANGELION Boxer Shorts: You Can (Un) Dress to Kill! - GIGAZINE