Life-Sized Evangelion-01 to be in Amusement Park in July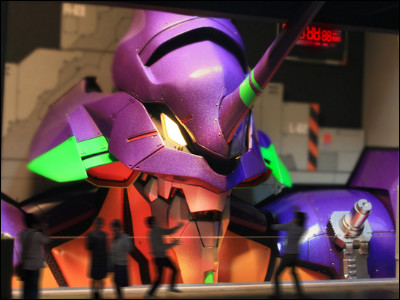 (This article was originally posted in Japanese at 16:10 May 12, 2010.)

It is still fresh in our mind that life-sized Gundam statue in Odaiba, Tokyo gathered more than 4 million audiences from all over Japan. And there seems to be another super robot-themed scenic site to come.

In July, we will be able to see life-sized Evangelion in Fujikyu Highland, an amusement park at the foot of Mt. Fuji. The boom still seems to be going.

Read on for detail.

(PDF File)EVANGELION : WORLD Life Size Unit-01 Building Project

According to the press release by Fuji Kyuko Co, Ltd., the operating company of the park, the opening date for life-sized Evangelion Unit-01 exhibition will be July 23th(Fri.).

Regretfully there will be only a bust of Unit-01, not the whole body. But they are to present this at the stage reproducing "7th cage", an underground hanger where protagonist Shinji Ikari and Evangelion Unit-01 first met.

Also life-sized Unit-01 cockpit and a life-sized statue of Kaworu Nagisa are to be exhibited alongside. Of course there will be museums, photo spots and souvenir shops.

They now have the official site for the project and showing videos and documents about the exhibition.

Fujikyu Highland | Life Size Unit-01 Building Project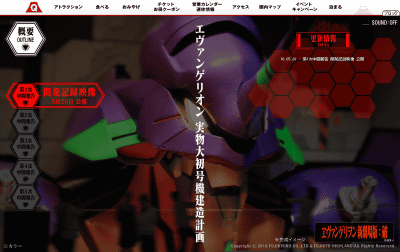 Also, Yahoo! JAPAN is publishing special page themed "Evangelion 2010" featuring much about the boom.

Evangelion 2010 - Yahoo! JAPAN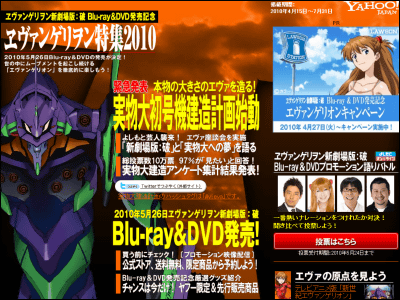 Related Post:
Unit 01 Generating AT Field, Voluptuous Asuka and More Evangelion Products at Shizuoka Hobby Show - GIGAZINE

Pilgrimage to Tokyo-3, with "Evangelion Hakone Hokan Map"(1/2) - GIGAZINE

Team Evangelion Entering Super GT Race with "Evangelion RT Unit 01 apr Corolla" - GIGAZINE

Evangelion Bottled Water shaped like Asuka and Ayanami's plug suit - GIGAZINE

Evangelion-themed Convenience Store "Lawson Tokyo-3 Shop" Opened in Hakone - GIGAZINE

Beautiful Stainless Steel Unit-00 of "Evangelion SUS Figure Project" - GIGAZINE

"MAGI System" the Supercomputer of EVANGELION Actually Exists! - GIGAZINE

Asuka the Pilot of Unit-04? Bizarre Question in the Listening Section of JLPT - GIGAZINE

Sexy "Evangelion" figurines of heroines exhibited in Wonder Festival 2010 - GIGAZINE

NTT docomo's EVANGELION Phone Unveiled! - GIGAZINE