Lotteria's "Tower Cheese Burger" is the ultimate alternative for KFC Double Down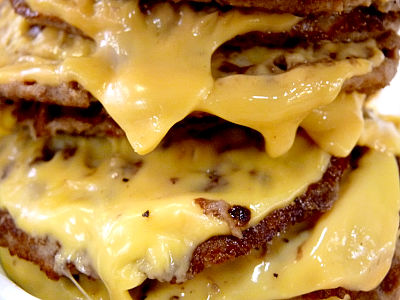 (This article was originally posted in Japanese at 12:45 May 06, 2010.)

Recently KFC's Double Down Chicken Sandwich has been a hot topic all around the Internet for its mouth-watering appearance and horrible amount of calorie.

Following its huge success, Lotteria chain has brought "Tower Cheese Burger" to the proving ground. It's an ordinary single 160 Yen cheese burger but you can stack up to 10 patties for 100 Yen each.

We found our nearby Lotteria is providing this so we went for it and stacked patties as high as we could.

Read on for detail.

LOTTERIA

One of the most unrealistic hamburger ad. But this is the actual product we were going to try.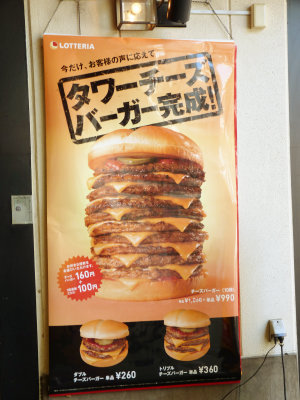 Tower Cheese Burger consists of a single cheese burger(160 Yen) and maximum 10 patties(100 Yen each). You will get a little discount when you order 10 patties.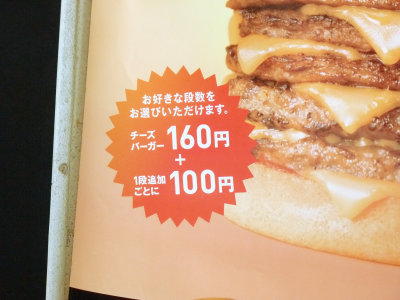 Another poster.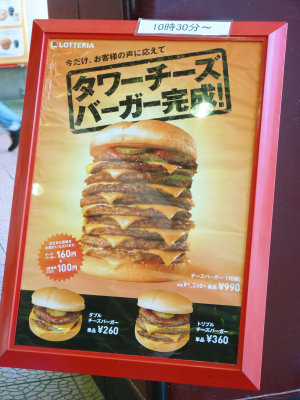 This is their normal cheese burger.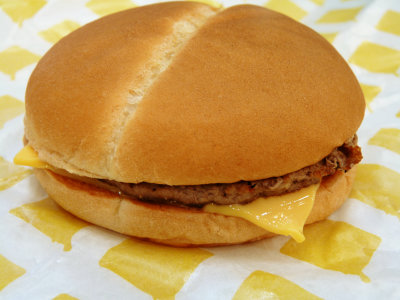 Yes, this is the cheese burger we used to.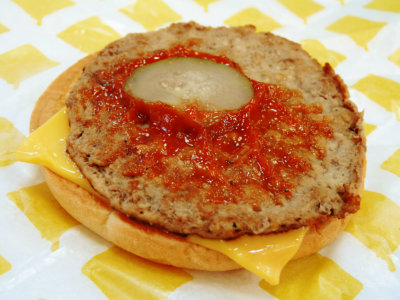 And this chunk is "Tower Cheese".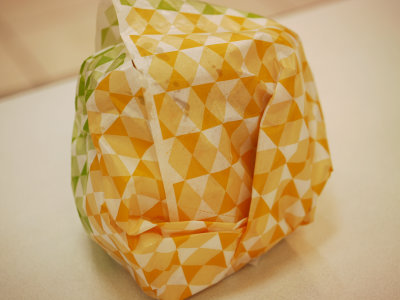 Breaking the seal...awful looking.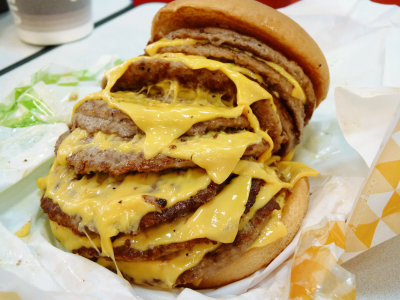 It needed some support to stand.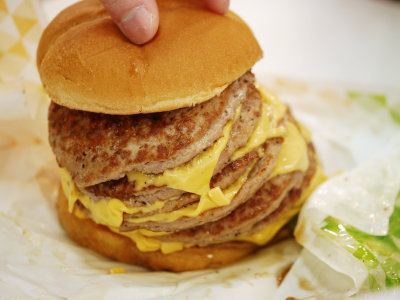 It's all about patties and cheese.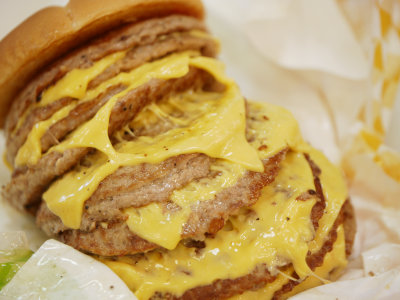 We gave it another try.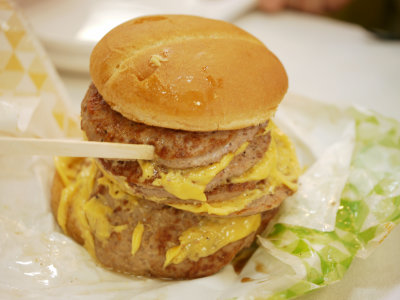 Now it stands alone.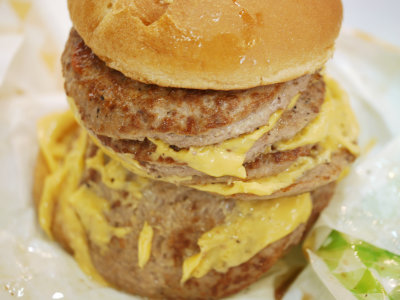 Cheese worked as good glue.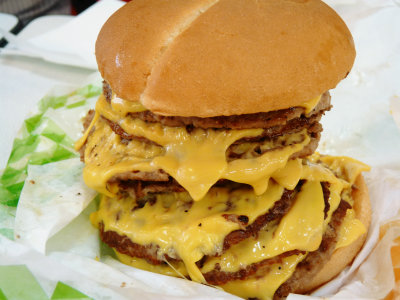 Absolutely cheesy.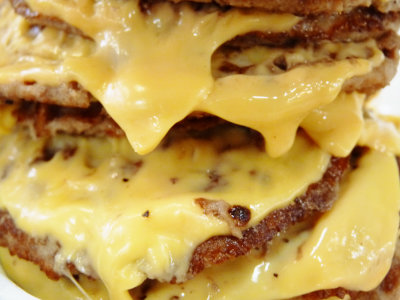 Normal cheese burger weights 105 grams(about 3.7 Oz.)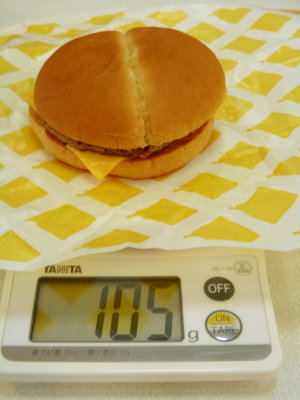 And this Tower Cheese Burger weighs 579 grams(about 20.4 Oz.). About 6 times heavier than the normal one.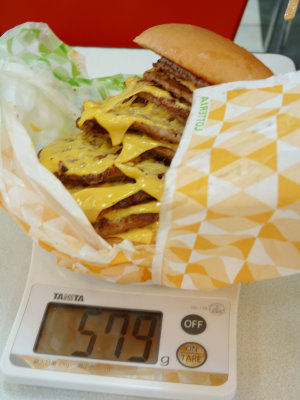 And wrapping paper weighs 12 grams(about 0.4 Oz.), a bit heavy for it's soaked by oil.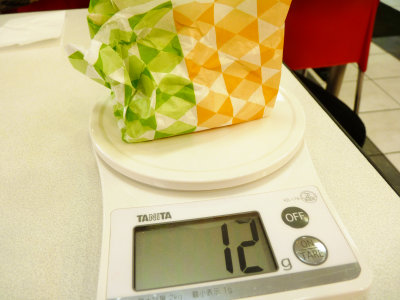 And the height is 10 cm(about 4")


The normal one is about 4.5cm(about 1.7") tall.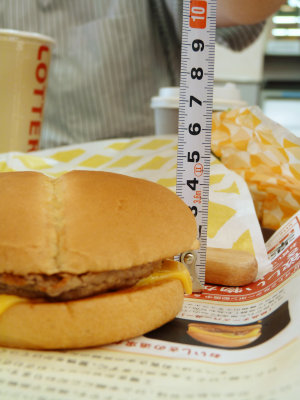 Yummy looking for cheese addicteds.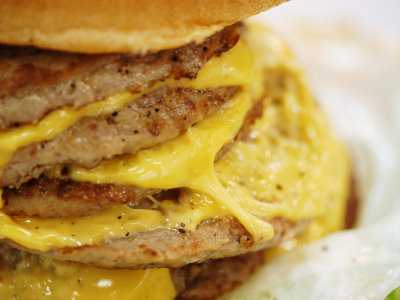 Pickles were getting a rough deal.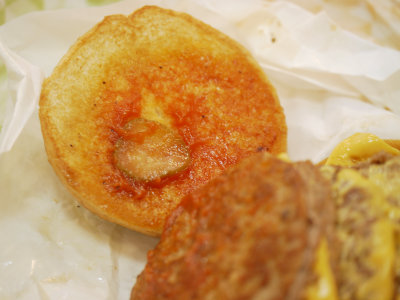 No vegetables. Only pickles, patties, cheese and ketchup.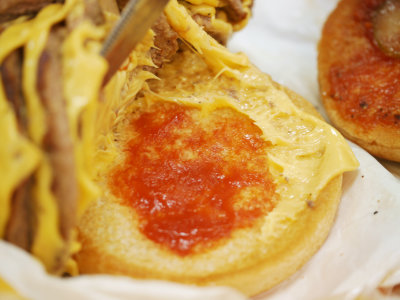 No signs of other ingredients.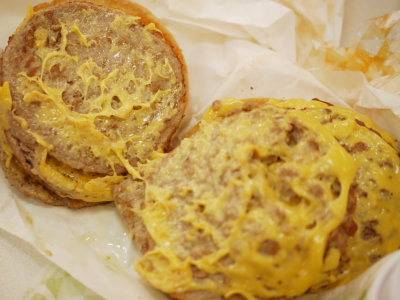 Anyway let's start eating.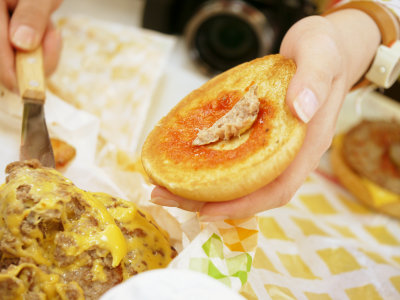 You never tried eating hamburger like this.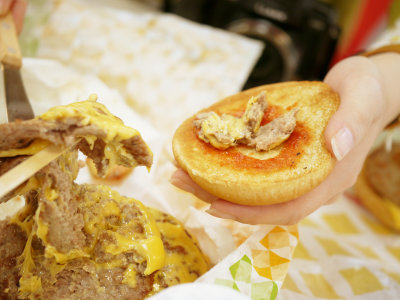 These patties are quite juicy.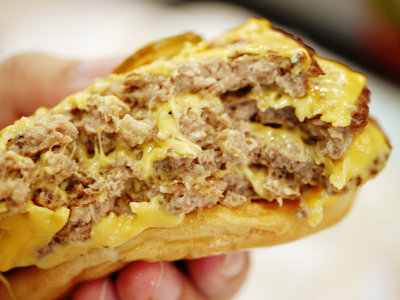 But its juiciness is the problem.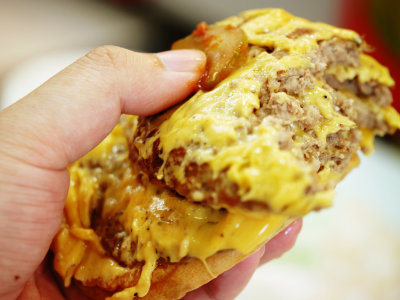 Finishing.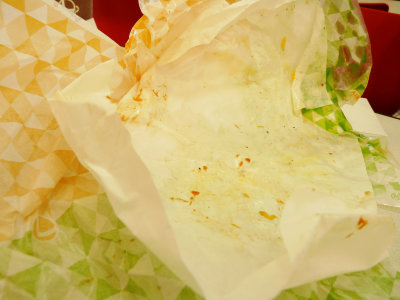 Again the menu is "experimental" so they provide this only in limited Lotteria restaurants. If you want to try this, you had better call before you visit the store.

Related Post:
Photo Tour on "Studio M", McDonald's Secret Laboratory - GIGAZINE

Toys, Not Food: Ingenious Balloon Models of Vacuum Packed Foods - GIGAZINE

Lotteria to proudly release REFUNDABLE "Irreproachable BLT Burger" - GIGAZINE

Never Call this a "Fast Food"; Eating "Windows 7 Whopper" is like an endless hill climbing - GIGAZINE

Review on the Hamburger Awarded the Tokushima Hamburger Prize - GIGAZINE
in Posted by darkhorse_log