New Chapter of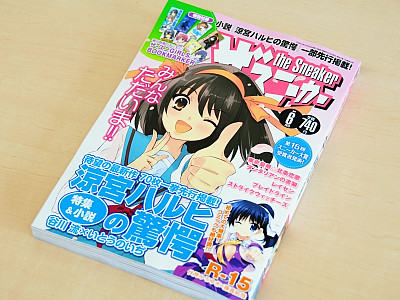 (This article was originally posted in Japanese at 11:47 Apr. 30, 2010.)

Following the movie, some merry news seem to continue for Haruhi fans. Breaking 3 years silence, a new "Haruhi Suzumiya" story has come out on The Sneaker magazine, planned to be published in winter 2007 but has been put off since then.

Read on for detail.

The Sneaker | Kadokawa Shoten, Kadokawa Group

The cover had an adorable image of Haruhi drawn by original illustrator Noizi Ito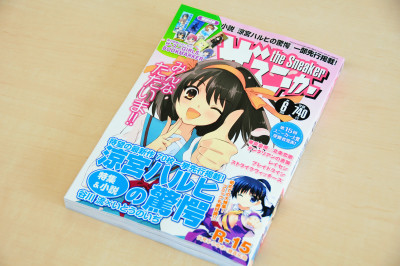 The new episode is named The Surprise of Haruhi Suzumiya. There are also some information about the 2nd season anime of Strike Witches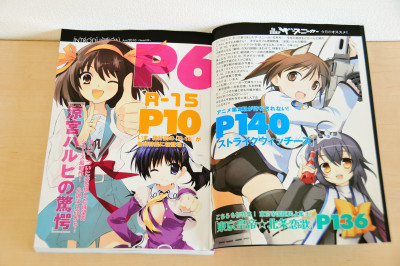 The magazine has a comment of author Nagaru Tanigawa, info about tie-in commercial with AQUO chewing gum and Kire-to Lemon drink.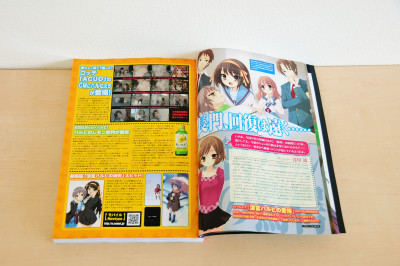 The episode starts from p.68 and it's 70 pages long.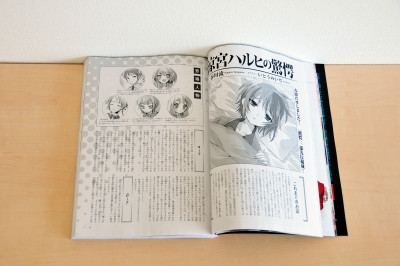 The sequel is to be included in the next volume of the novel series scheduled within 2010.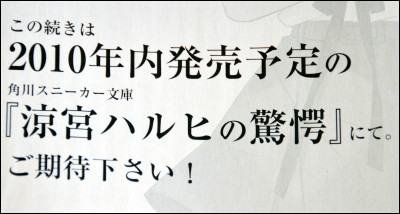 The new episode means the possibility of new episodes for the anime to come. The Sneaker reaches the 100th issue next month. There will be more of important news.

Related Post:
No More Trespassing! Haruhi Suzumiya's High School fed up with Anime Pilgrims - GIGAZINE

Promotional Video for "Vanishment of Haruhi Suzumiya" Soundtrack Came Out! - GIGAZINE

Haruhi Game "The Day of Sagittarius III" for iPhone/iPod touch - GIGAZINE

Haruhi Suzumiya "Sasanoha Rhapsody" version Nendoroid Petit for Anime Newtype Channel Subscribers - GIGAZINE