Cuddly Stuffed Toys and Figurines of New Pokémons Zorua and Zoroark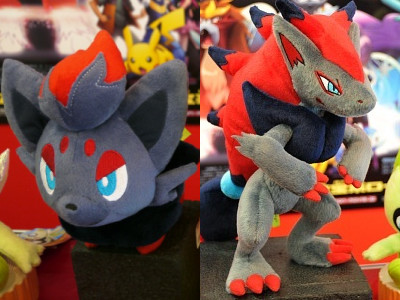 (This article was originally posted in Japanese at 20:12 Apr. 21, 2010)

Zoroark is a new Dark-type Pokémon that evolve from another Pokémon named Zorua. Both of them will appear in the upcoming Pokémon anime film Pocket Monsters Diamond & Pearl the Movie: Phantom Ruler: Zoroark(due July 10, 2010).

Various soft toys and figurines of the two new Pokémons were on display at Takara Tomy's Business Show 2010 Summer.

Read on for details and pics.
The movie was advertised at the booth.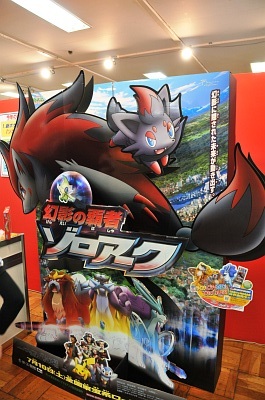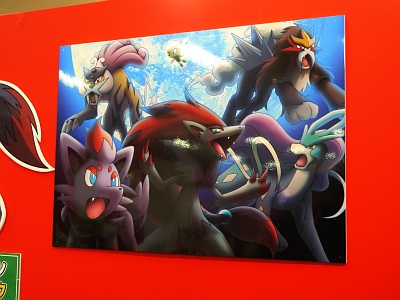 "Warugitsune Pokemon Zoroa no Oshaberi Nuigurumi" (lit. Naughty Fox Pokémon Zorua's Talking Stuffed Toy), 4,179 yen (about $44). To be released in July, 2010.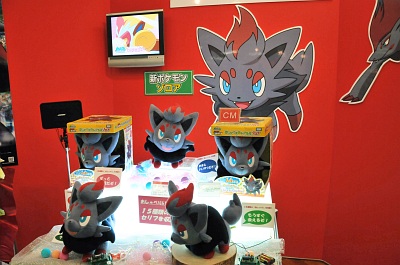 Reacts to cuddling and squeezing by speaking more than ten variations of phrases.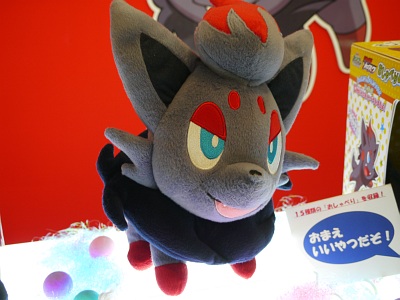 Zorua's character design in the anime.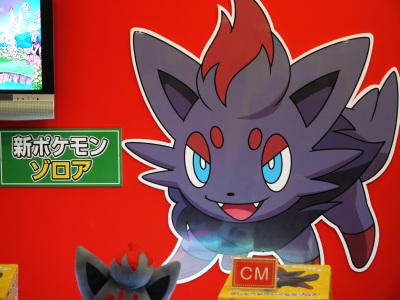 The Pokémons to play major role in the movie. These toys will come out before the movie, so you can carry them to the premiere.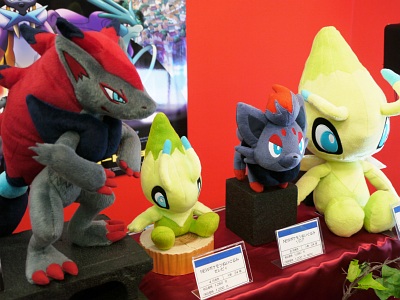 "Pokémon Nuigurumi DP Zoroark", due June, 2010.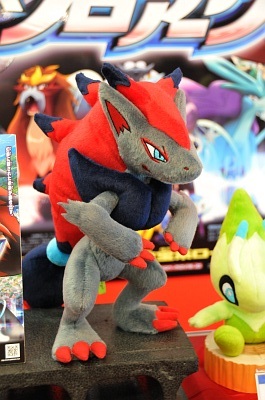 Zoroark evolves from Zorua.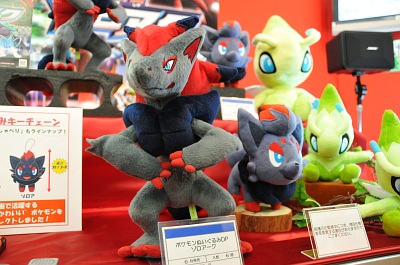 Zoroark from the anime.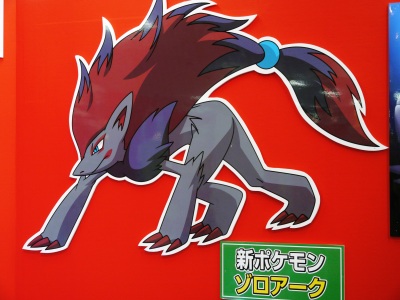 "NEW Pokémon Nuigurumi Zorua", 1,260 yen(about $13), due June, 2010.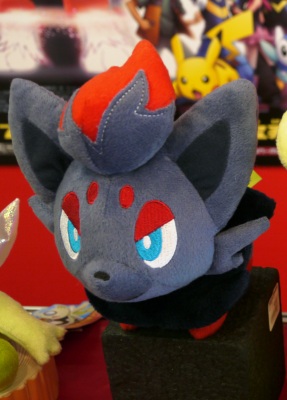 "Okkina Nuigurumi Celebi"(Big Stuffed Toy Celebi), now on sale for 5,040 yen($53).


"NEW Pokémon Nuigurumi Celebi" is also already available at shops for 1,260 yen.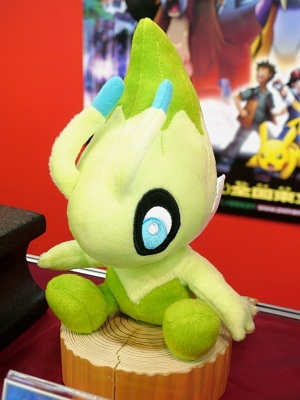 Celebi from the anime.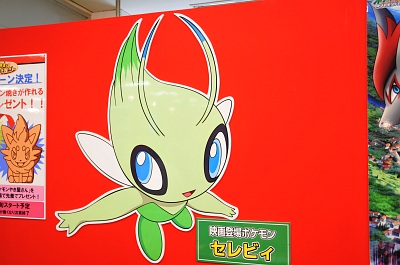 "Pokémon Soft Vinyl Figure Zoroark", 1,050 yen (about $11). To come out in June, 2010.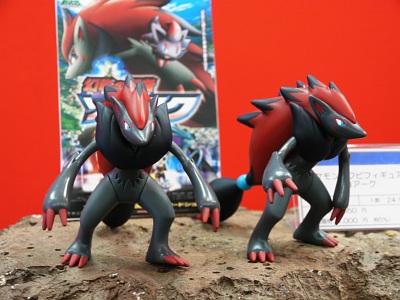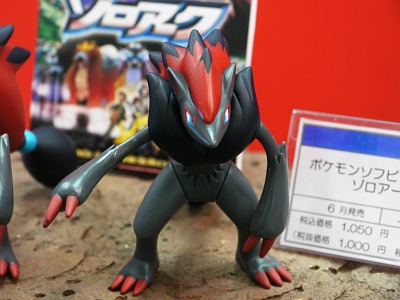 Ouchi de Kaiten! Pokemon-yaki ya san(Open your Pokémon-yaki Shop at Home!) is a kit to make Pokémon-yaki (Pokémon-shaped tiny pancakes) in microwave, with wrappers and stuff to play make-believe Pokémon-yaki shop. On sale at 3,780 yen ($40).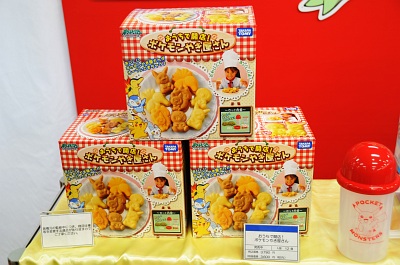 Molds to make Zorua-shaped Pokémon-yaki will be given away to purchasers of the toy this summer, starting in early July.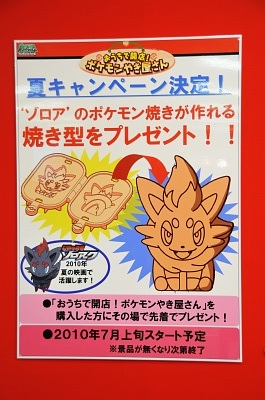 Zorua-yaki pancakes were on display.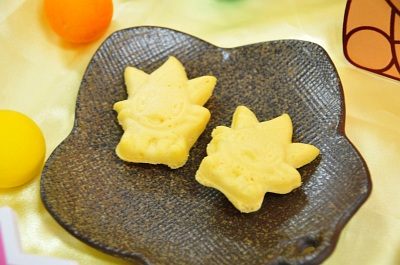 "MonColle Zorua" and "MonColle Zoroark" figurines, 294 yen (about $3.12) each, due June. MonColle is abbreviation of Pokémon Collection.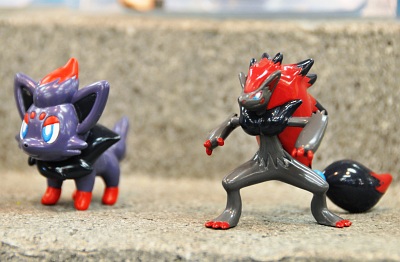 "MonColle Movie Set Phantom Ruler: Zoroark" featuring ten Pokémons from the movie. 2,940 yen($31), due July.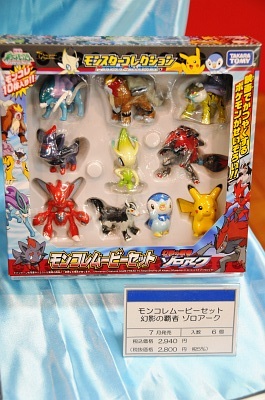 As for video games, Zorua and Zoroark will make their debut in upcoming Pokémon Black and White.


Related Posts:
Anime Series "Pokémon: Diamond and Pearl" Concludes This Autumn - GIGAZINE

151 Pokemons Parade as Yokai in Traditional Ukiyo-e Style Paintings - GIGAZINE

POKEMON X-Ray to ease the children's anxiety - GIGAZINE