"Fullmetal Alchemist" Postage Stamp to be released in JP Post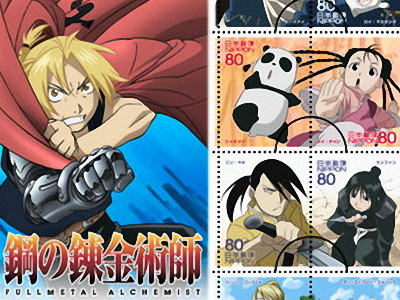 Following the Sgt. Frog stamps released this January, Fullmetal Alchemist is to be the next installment in JP Post's Anime Hero/Heroine Series.

Read on for details.
(Japanese)Special Stamps "FULLMETAL ALCHEMIST" To Be Released - JP Post

The Anime Hero/Heroine Series postage stamps were launched in 2005 with the first installment featuring Pokémon. Fullmetal Alchemist will be the 13th in the series, to be released on June 14, 2010. It will be the first ever postage stamps of the popular anime.

The manga Fullmetal Alchemist by Hiromu Arakawa has been serialised in Monthly Shonen Gangan since 2001 and it has been adapted to a TV anime series by Bones in 2003, followed by a film sequel in 2005 and a second TV series, the ongoing Fullmetal Alchemist: Brotherhood, launched in April, 2009.

The stamps features characters in anime version. From top left: Edward Elric, Alphonse Elric, Riza Hawkeye, Roy Mustang, Xiao Mei, May Chang, Lin Yao, Lan Fan, Winry Rockbell, Edward Elric.


The sheet consists of ten 80-yen stamps. To be available for 800 yen (about $8.60) in post offices throughout Japan from June 14, 2010.

Related Posts:
Postage Stamp Collections featuring Manga Characters from SHONEN SUNDAY and SHONEN MAGAZINE - GIGAZINE

Second Collection of SHONEN MAGAZINE and SHONEN SUNDAY Postage Stamp - GIGAZINE

NARUTO to be the next in JP Post's Anime Hero/Heroine Series Postage Stamp - GIGAZINE

TAF 2009: FULLMETAL ALCHEMIST featured in Aniplex booth with gigantic Gate and life-sized statue - GIGAZINE

Free comic-strips and novel of FULL METAL ALCHEMIST available online - GIGAZINE
in Anime, Posted by darkhorse_log