Tour of Gundam Model Factory "Bandai Hobby Center" in Shizuoka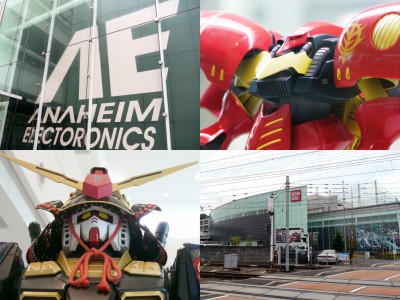 (This article was originally posted in Japanese at 22:00 Apr. 19, 2010)

Mobile Suit Gundam started airing in 1979 so the year 2009 was the series's 30th anniversary, as you can recall many commemorative events held last year, including the life-sized Odaiba Gundam exhibit.

As for this year, 2010 is the 30th anniversary year of Gunpla(Gundam plastic model kits), the first of which came out in July, 1980.

Gunpla is undoubtedly one of the most successful lines of products by Bandai. Unlike Bandai's many other products manufactured overseas, Gunplas are produced exclusively in Japan at Bandai Hobby Center in Shizuoka, the sole Gunpla factory in the world. Lately we visited there on business and took a tour, looking back at the 30 years history.

Read on for details and pics.
Bandai Hobby Center is located in Aoi-ku, Shizuoka, Shizuoka.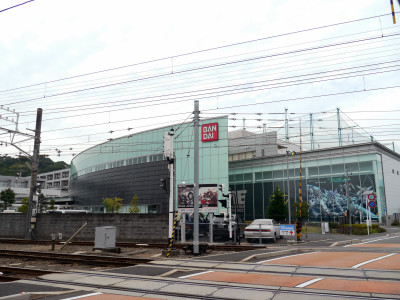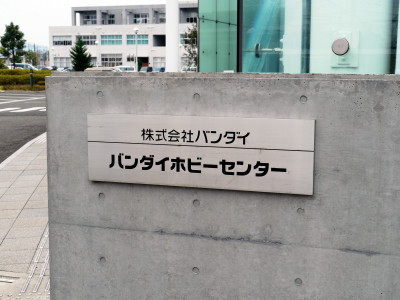 1-minute walk from Naganuma Station of the Shizuoka Railway Shizuoka-Shimizu Line.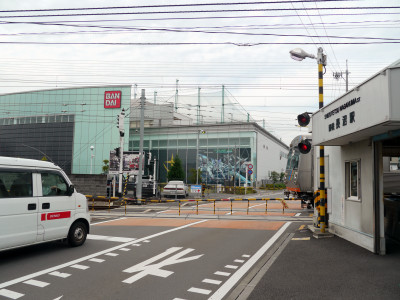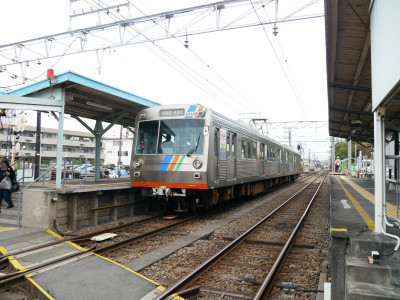 An empty car with Coca Cola ad was being towed to Shizuoka Railway's Naganuma Factory next to the station.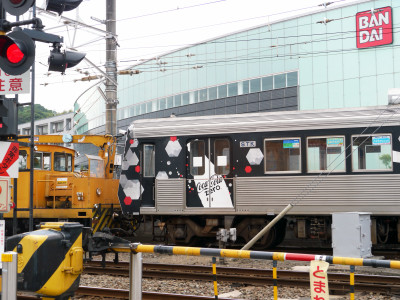 Wall of solar panels.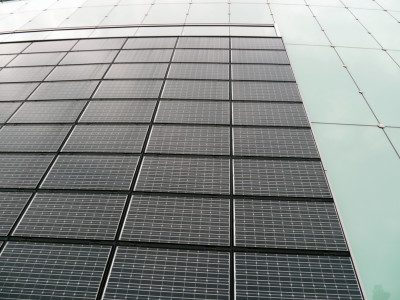 The energy production was monitored.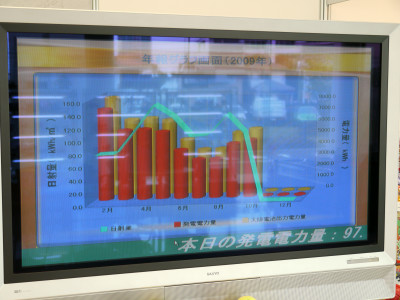 Symbol of the Earth Federation and a poster showing mobile suits from Gundam 00.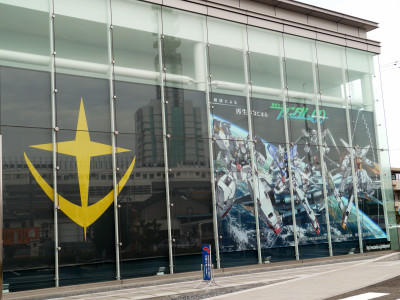 We thought this was Bandai's factory, but in fact it might be Anaheim Electronics'.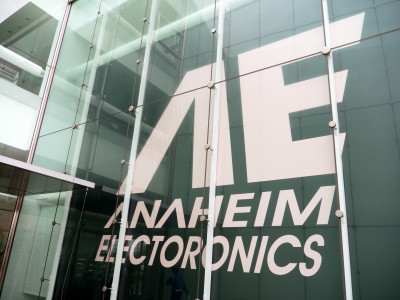 Let's get inside.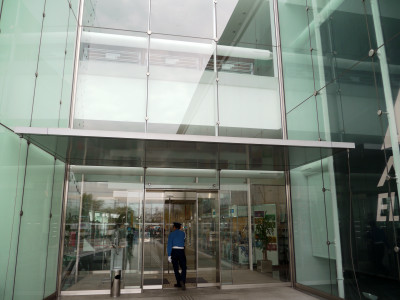 Char's Commander type Zaku and RX-78 Gundam greets you at the entrance.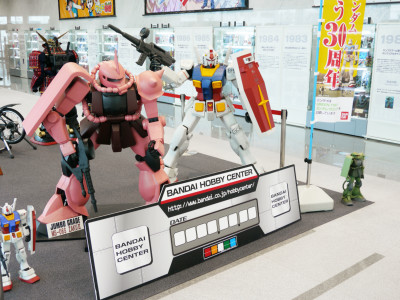 Next to a Gundam bicycle was a Gundam in samurai armour.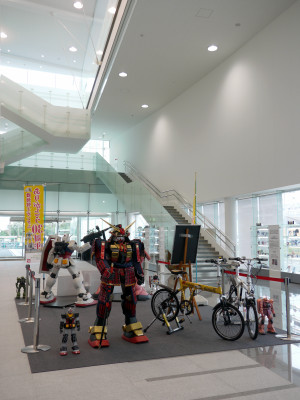 Larger version of Musha Gundam in SD Sengokuden super deformed Gundam model line.


About 6 foot tall.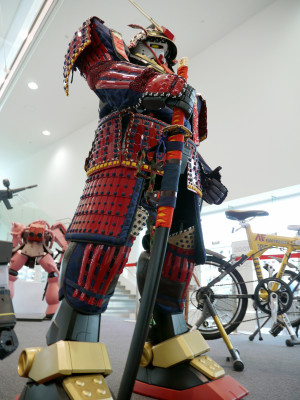 Look like real human-sized kabuto helmet.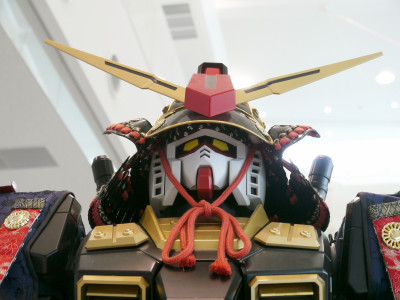 Is he able to see?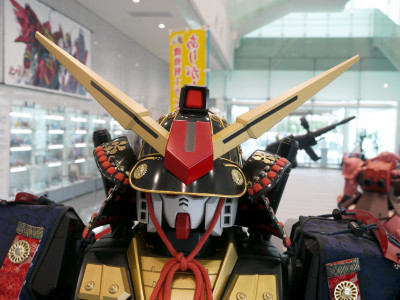 Sgt. Frog Halloween decoration was stashed away upstairs.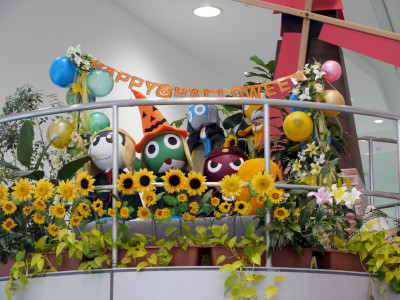 Diorama showing the Battle of Jaburo.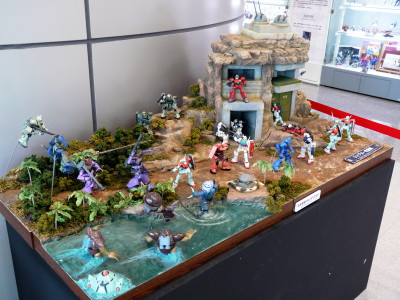 RGM-79 GM fending off Z'Gok.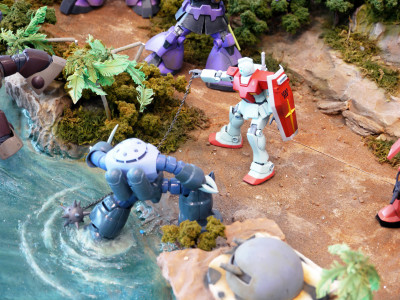 Gundam VS Zaku.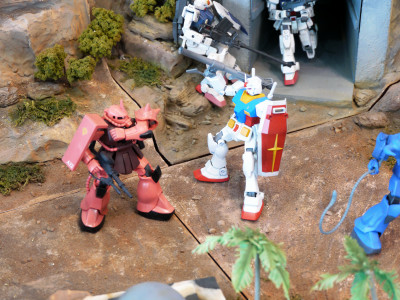 Acguy falling down.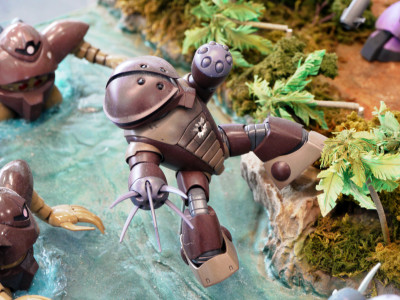 Diorama of Nausicaa of the Valley of the Wind.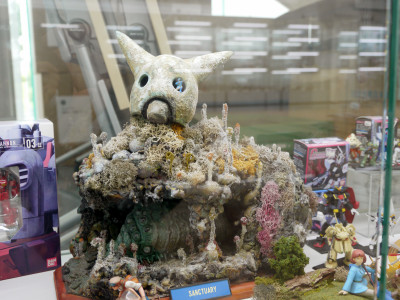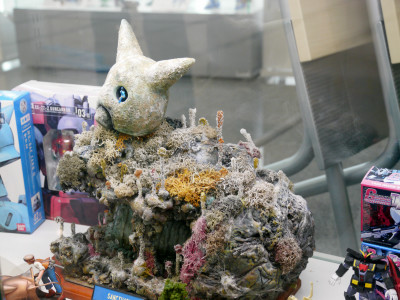 Nausicaa looking down from the eye socket of the corpse of a Giant Warrior.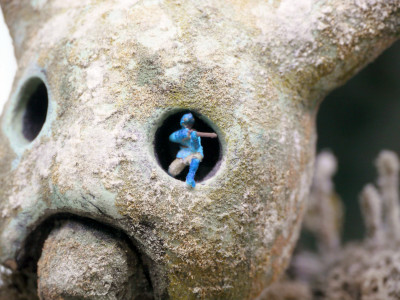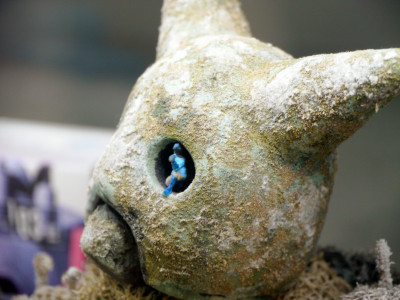 Ohmu.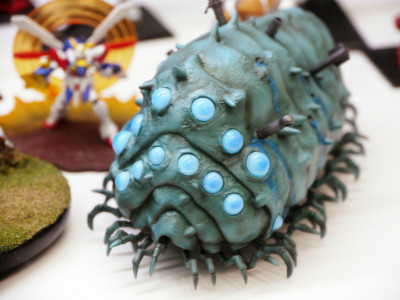 Collection of Bandai's plastic models from the past were on display by the surrounding walls.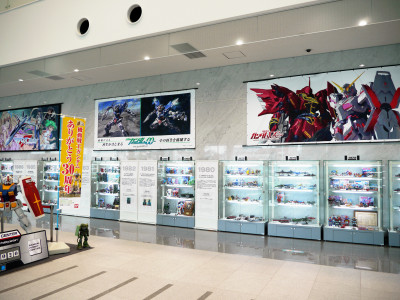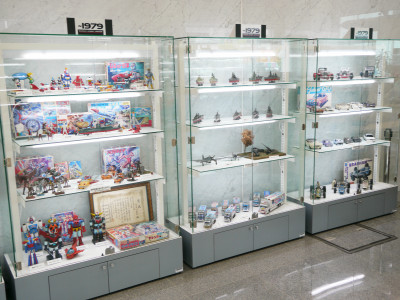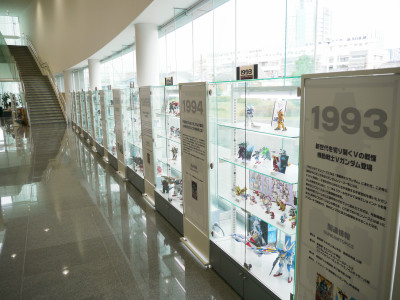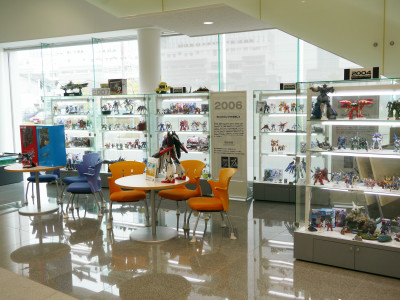 Classic model cars were a big part of Bandai's products back in the '70s.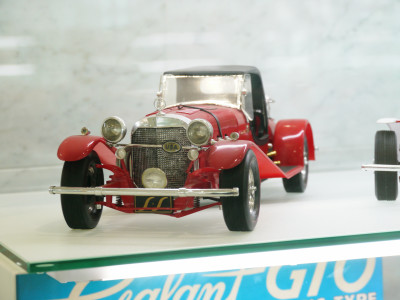 Models of war vessels in various scales.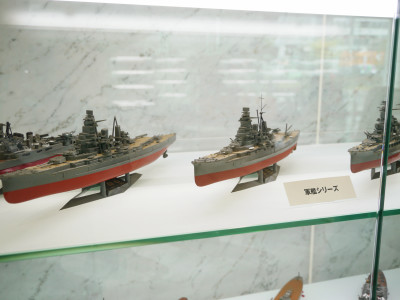 Super Robots.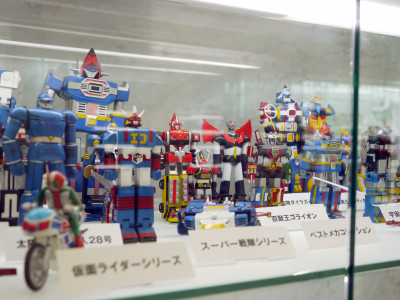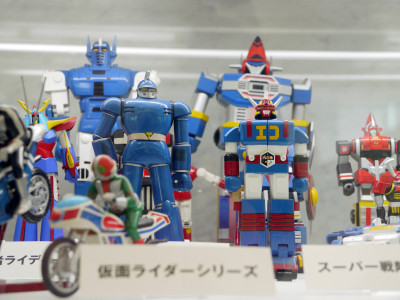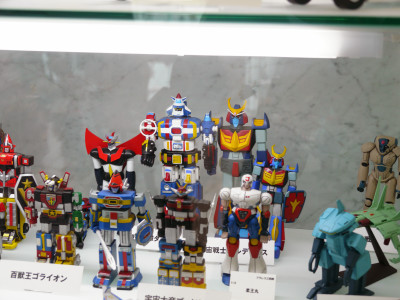 In 1980, the very first Gunpla came out.


1/144 scale RX-78.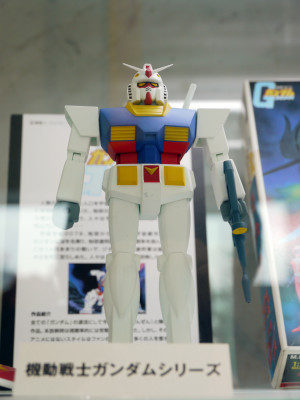 Magella attack tank and MSM-04 Acguy.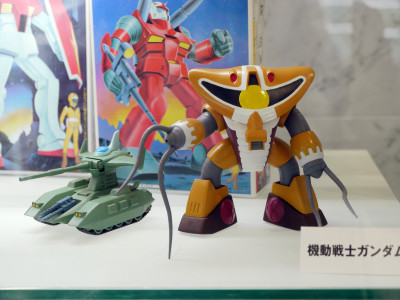 In 1983 the MSV(Mobile Suit Variation) series plastic models of custom and prototype mobile suits were introduced.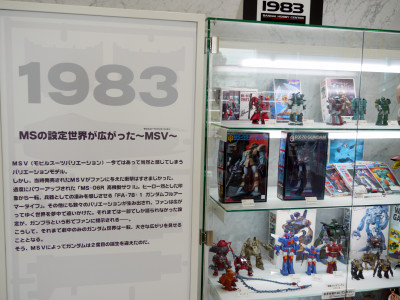 This crimson red Zaku with yellow epaulettes looks like Johnny Ridden's custom model, but the box behind it was of Char's Zaku.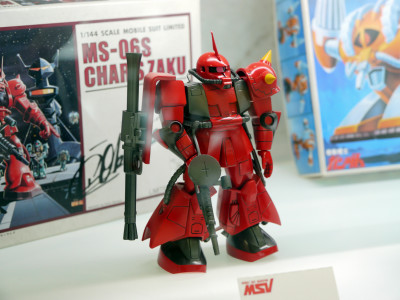 Autographed by mechanical designer Kunio Okawara.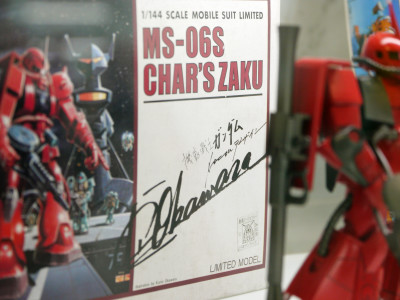 "Silhouette Formula" series of 1992 was based on the anime film Mobile Suit Gundam F91.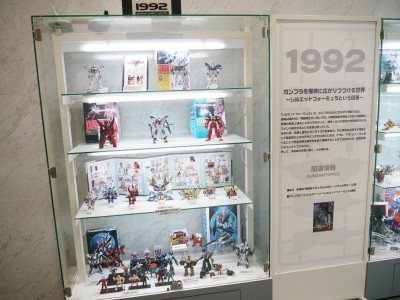 The description board says "RXF91" but it's actually RX-99 Neo Gundam on display, according to our tour guide.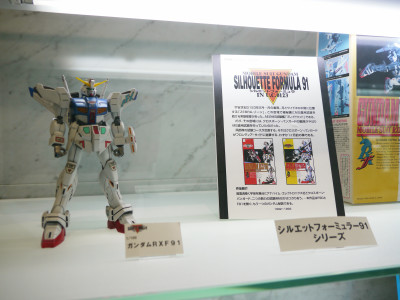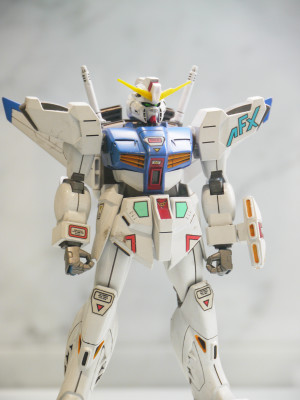 RXF-91A Silhouette Gundam Advanced.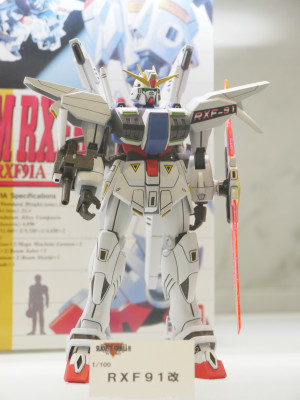 Bandai's also been producing Saint Seiya action figures for long.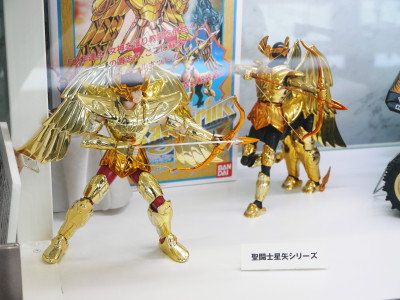 Puru Two's custom Qubeley mk-II in Bandai's "Master Grade" Gunpla line.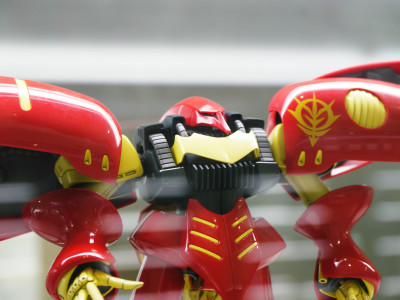 With Zeon's emblem.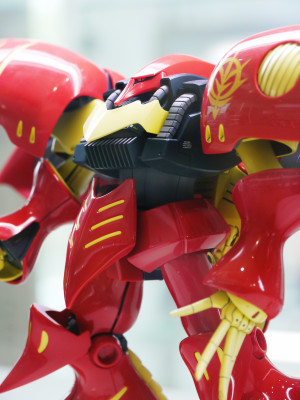 Equipped with funnels.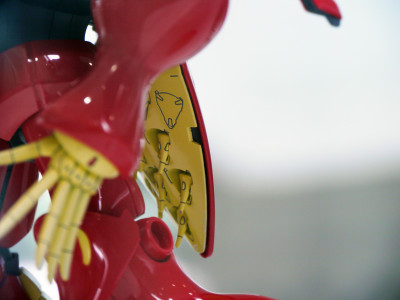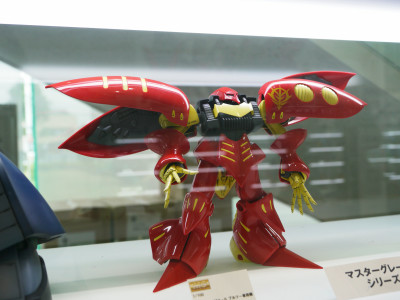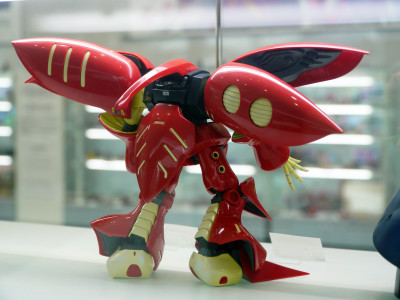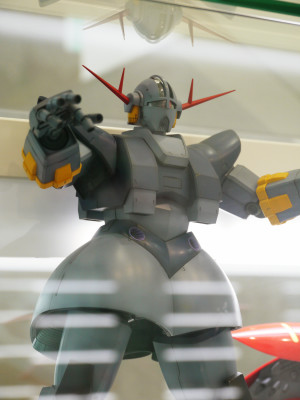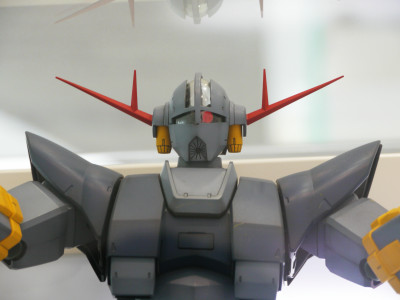 Its original appearance in Mobile Suit Gundam was still huge without the legs. Legged, a Zeong will tower over Qubeley.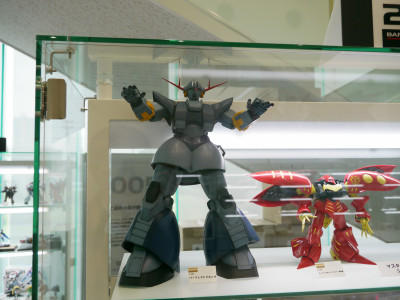 Golden Gundam.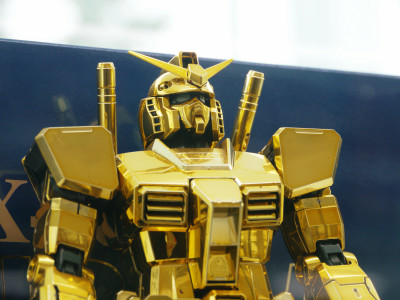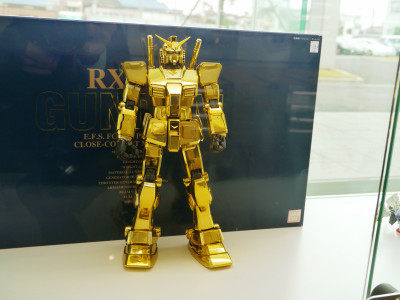 Various Evangelion products.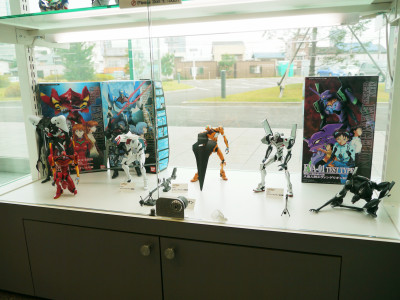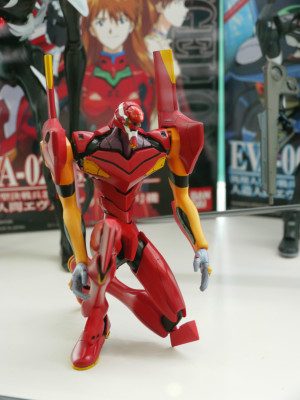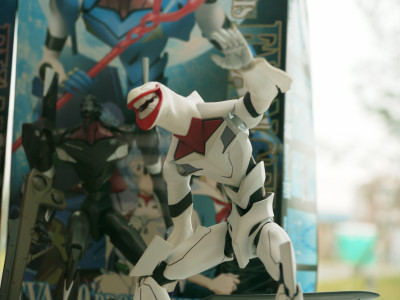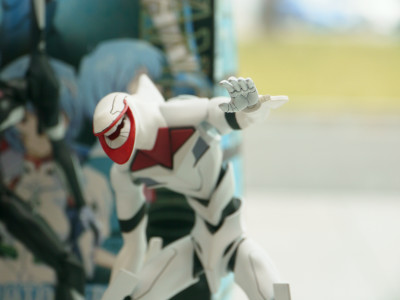 These are the products released in 2009.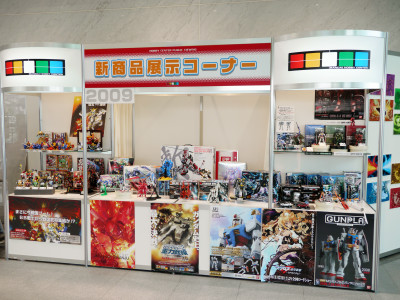 Gundam Exia and 0 Gundam.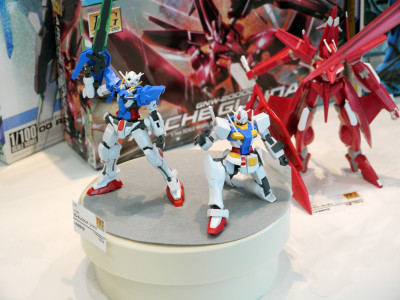 Four Gundams from Mobile Suit Gundam 00.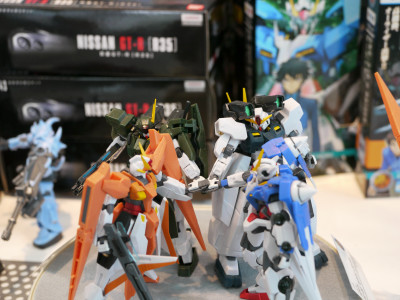 Posters of Gundam Unicorn.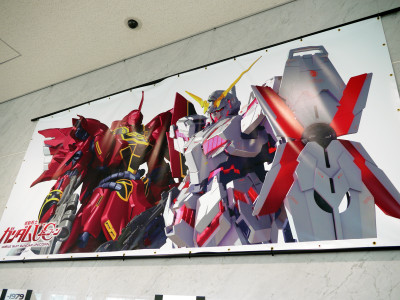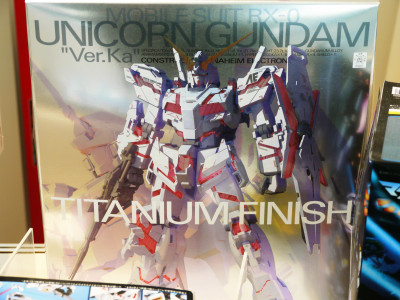 Shin Musha Gundam.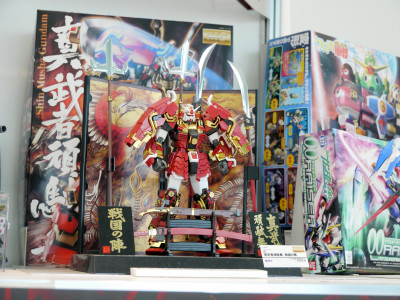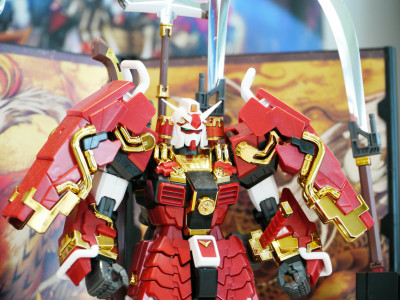 Sgt. Keroro and his subordinates.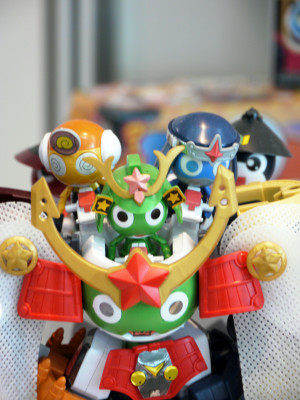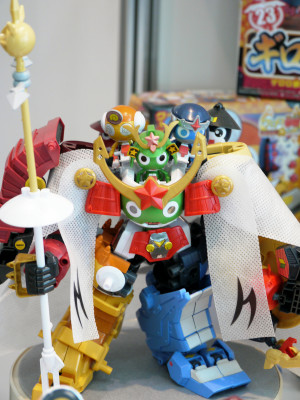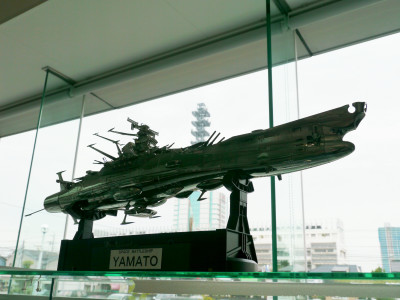 With Wave Motion Engine.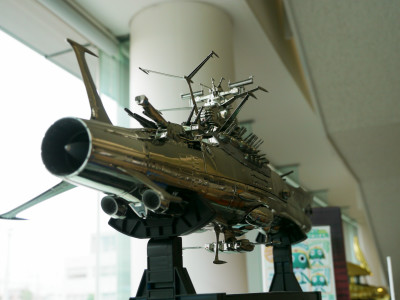 Weaponry.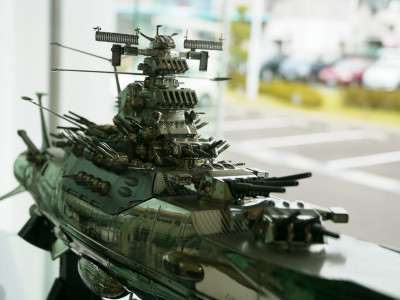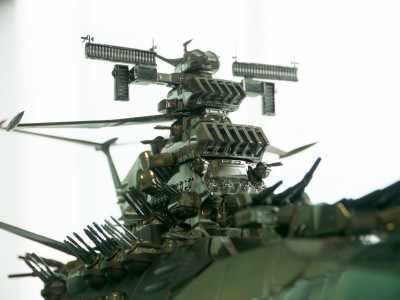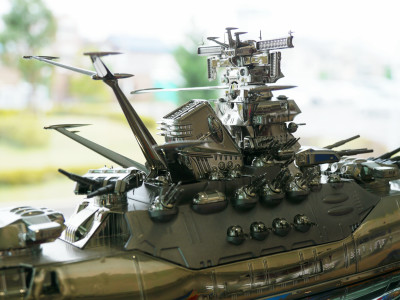 Beautifully detailed.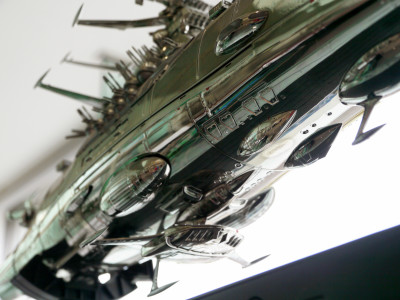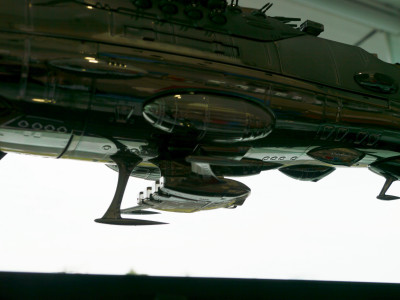 Golden Zaku's head.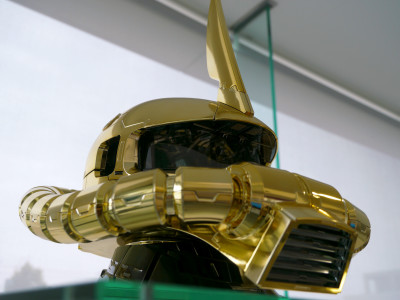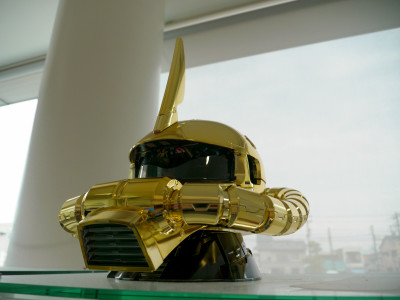 Unfortunately, you can't wear this as a helmet.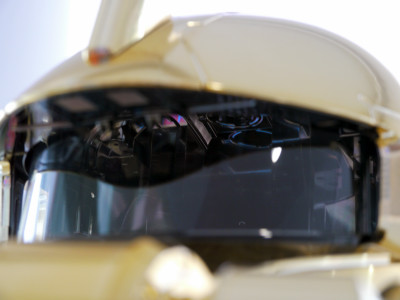 Ecopla line made of recycled plastic.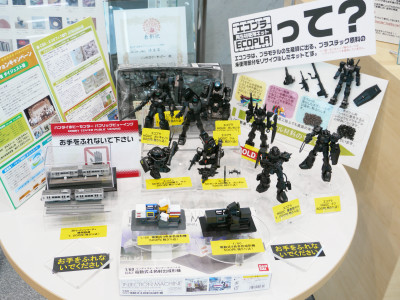 These strange looking plastic models were standing out from the others.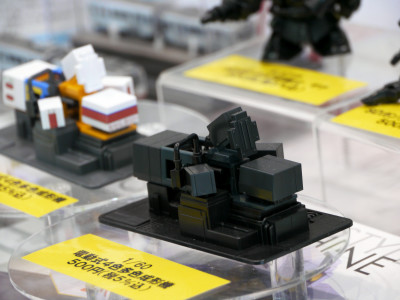 Apparently, these are 1/60 scale models of an injection molding machine in Bandai's factory. So the machine managed to mold plastic models of itself.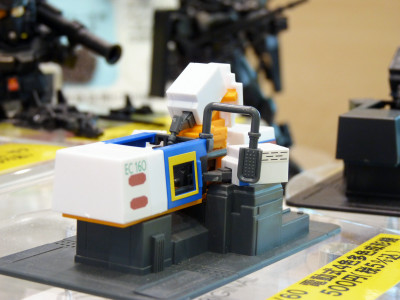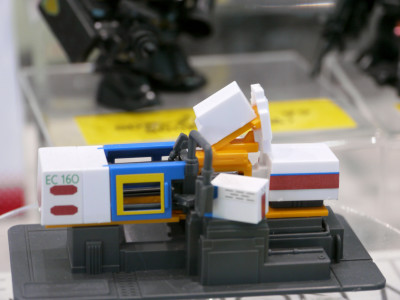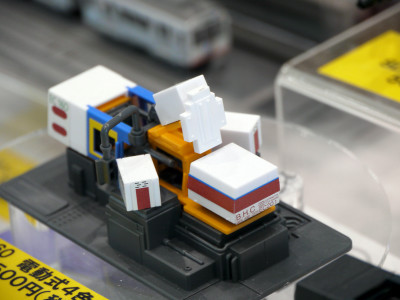 B Train Shorty series.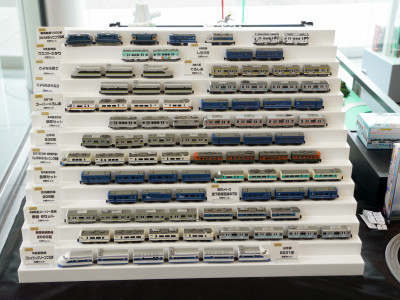 The town of Shizuoka.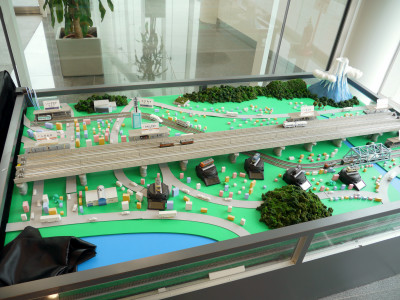 Bandai Hobby Center.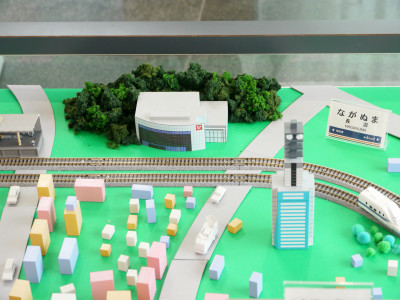 The tour will continue upstairs. The factory used to welcome visitors for scheduled tours but it hasn't been since September, 2009. When the tours reopen, the schedule will be posted on their website.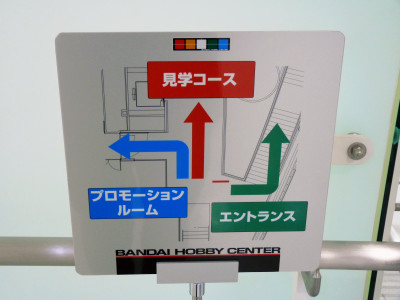 Next...
How Gundam Plastic Models are made at "Bandai Hobby Center" in Shizuoka - GIGAZINE

Related Posts:
"Godzilla 5th Form Pattern" is more than amazing, with Kamata, Shinagawa, Kamakura Form Figures - GIGAZINE

Interview with Mamoru Oshii: Details of Releasing "The Next Generation -Patlabor-" Director's Cut - GIGAZINE

Highway Night Bus "COCOON" by WILLER EXPRESS Secures Private Spaces For All Passengers - GIGAZINE

"Nissin Cup Noodles Matcha Seafood Flavor" Review: What Does Green Noodle Taste Like? - GIGAZINE

Interview with Fumito Ueda, "The Last Guardian" Game Director and Designer - GIGAZINE

BANDAI's "Gundam 30th Anniversary Collection" Toys - TOKYO TOY SHOW 2009 - GIGAZINE

"Mobile Suit Gundam 00: Awakening of the Trailblazer" featured in TAF2010, with 1/10 scale 00 Gundam - GIGAZINE

Gundam and Kamen Rider Advent Calendar "Minna no Advent" by Bandai - GIGAZINE

The Most Campiest Mobile Suit Ever! Pink Gundam with Lace Garters - GIGAZINE

Bandai's Official Gundam Cafe Opens in Akihabara on April 24 - GIGAZINE

Saint Seiya's "Libra's Gold Cloth" reconstructed in Life Size - GIGAZINE

Find Your Star Sign! Complete Collection of Saint Seiya's Gold Cloth Figure - GIGAZINE

Beautiful Dioramas by Saint Seiya Enthusiasts Capcinteam from France - GIGAZINE