Anime Series "Pokémon: Diamond and Pearl" Concludes This Autumn

(This article was originally posted in Japanese at 11:36 Apr. 16, 2010)

It became clear that Pokémon: Diamond and Pearl, the third series in the Pokémon anime series airing since 1997, is going to conclude this autumn.

Diamond and Pearl started in September 2006 coinciding the release of the Pokémon video game of the same title, so it looks safe to assume the next TV series will be based on upcoming Pokémon Black and Pearl video games.

Read on for details and pics.
(Japanese)TV Tokyo::Anime::Pocket Monster Diamond and Pearl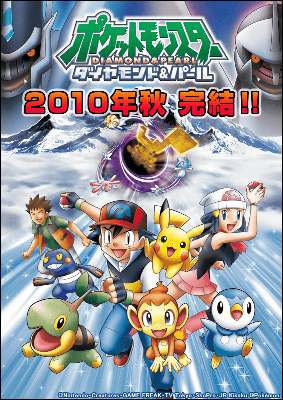 According to the anime's official website, ongoing Diamond and Pearl series will conclude this autumn. (The red letters on the screenshot above says "Autumn 2010 Conclusion!!")

No words on the next season yet, but considering that the Diamond and pearl anime series launched in September 2006 coinciding the video game's release, and the launch of preceding Advanced Generation series coincided the release of video game Pokémon Ruby and Sapphire in November 2002, it's highly likely that the next anime series will be Black and White.

By the way, the thirteenth Pokémon anime film Pocket Monsters Diamond & Pearl the Movie: Phantom Ruler: Zoroark is to come out on July 10, 2010.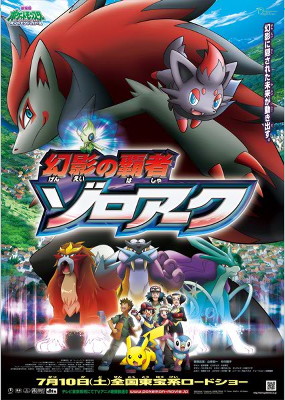 You can see the trailers on the official website.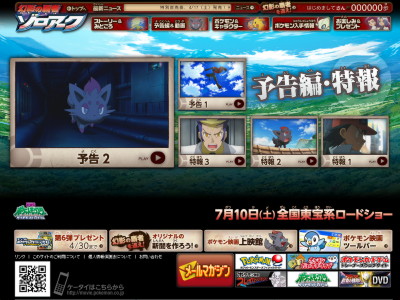 And since Zoroark and Zorua, the new Pokémons featured in the movie, can be seen in a screenshot released on the upcoming games' official website, these two might also have major roles in the next anime series.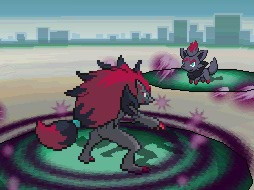 Related Posts:
151 Pokemons Parade as Yokai in Traditional Ukiyo-e Style Paintings - GIGAZINE

POKEMON X-Ray to ease the children's anxiety - GIGAZINE

List of New Anime: Spring 2010 - GIGAZINE
in Anime, Posted by darkhorse_log