Team Evangelion Entering Super GT Race with "Evangelion RT Unit 01 apr Corolla"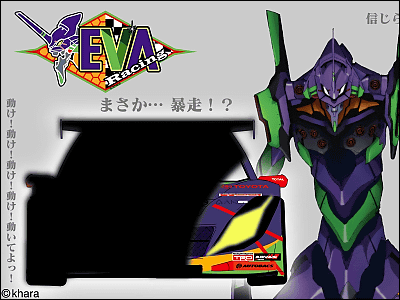 (This article was originally posted in Japanese at 00:00 Apr. 15, 2010)

The Evangelion franchise formed racing team Evangelion Racing to enter Super GT, the most popular grand touring car race series in Japan.

Their machine Evangelion RT Unit 01 apr Corolla will make its debut on Fuji Speedway in SUPER GT Round 3 FUJI GT 400km RACE on May 1, 2010.

Read on for details and pics.
(Japanese)Press Release: "Evangelion Racing" Startup!

Here's the team's official website.

TEAM RUN'A EVANGELION Racing
http://eva-racing.com/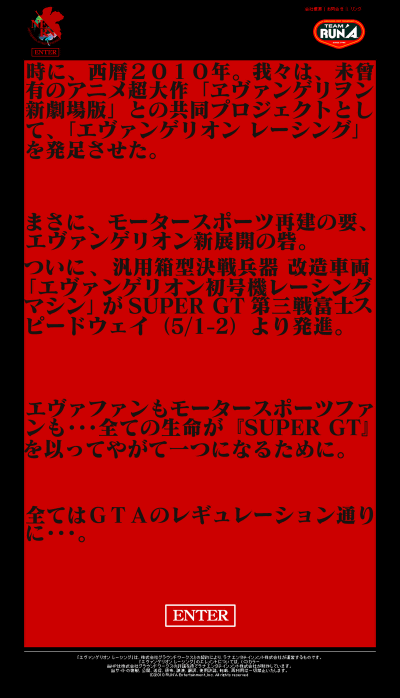 Evangelion Racing is part of the automotive tuning company apr's motorsports division, and the machine is to be driven by Kosuke Matuura or Kohki Saga. The machine, based on Toyota Corolla, will be entering the GT300 class. Following its debut on Fuji Speedway, the machine is to fly to Malaysia for the 4th round held at Sepang International Circuit on June 19.

Here's the team's logo. The team will start recruiting Eva Racing Supporters(sponsors) from April 26.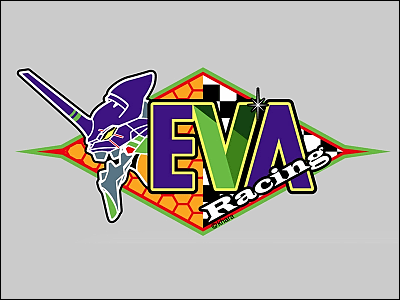 As an Evangelion-themed racing team, maybe the race queens will be cosplaying as Asuka or Ayamani...

Related Posts:
Evangelion Bottled Water shaped like Asuka and Ayanami's plug suit - GIGAZINE

EVANGELION Boxer Shorts: You Can (Un) Dress to Kill! - GIGAZINE

Itasha, Itansha and Itachari Exhibition "Moe-Haku 2010" at Makuhari Messe: Table of Contents - GIGAZINE

Table of Contents: Tokyo Motor Show 2009 - GIGAZINE