Character Design and Stills from Upcoming Production I.G Film "Bungaku Shojo"

(This article was originally posted in Japanese at 09:00 Apr. 13, 2010)

Production I.G's new anime film Bungaku Shojo adapted from the popular light novel series by Mizuki Nomura is to hit the theatres in Japan on May 1, 2010.

Some previously unreleased stills and character design images came out.

Pics after the cut!
(Japanese)Gekijoban Bungaku Shojo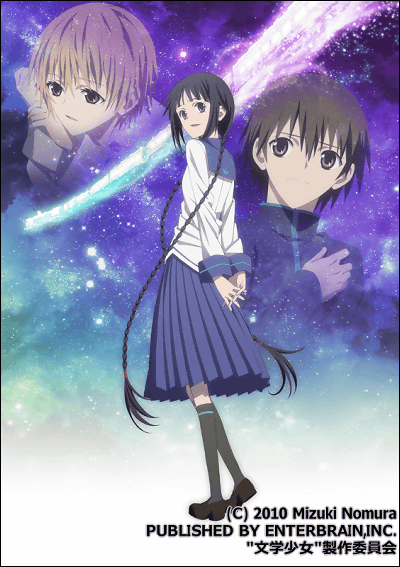 Here are the character design of the nine main characters.

♦Toko Amano (voiced by Kana Hanazawa)
Chair of the school's Literature Club who describes herself as "the literature girl", and literally lives on literature - as in, she eats books.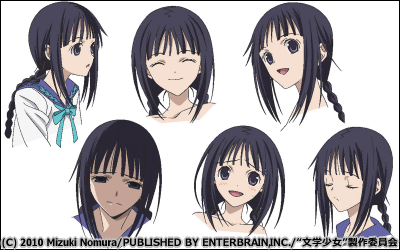 ♦Konoha Inoue (Miyu Irino)
An ex-bestselling author who used to write under the pseudonym "Miu Inoue" (it's a girl's name). He stopped writing after a traumatic event in middle school and now keeps a low profile, but upon finding Toko's secret he's forced to join the Literature Club and write daily snacks (short stories) for Toko to munch on.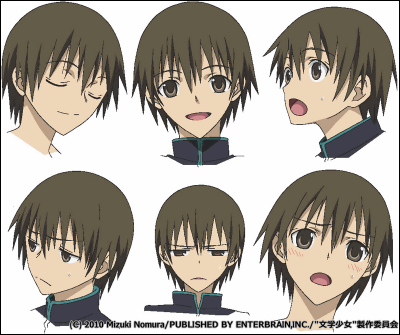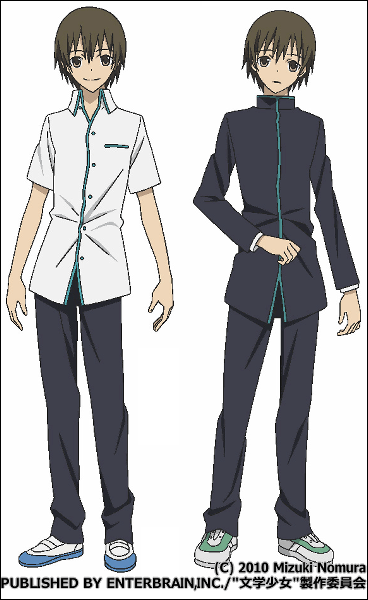 ♦Miu Asakura (Aya Hirano)
Konoha's childhood friend and former crush. They used to be inseparable but grew apart after an incident in middle school.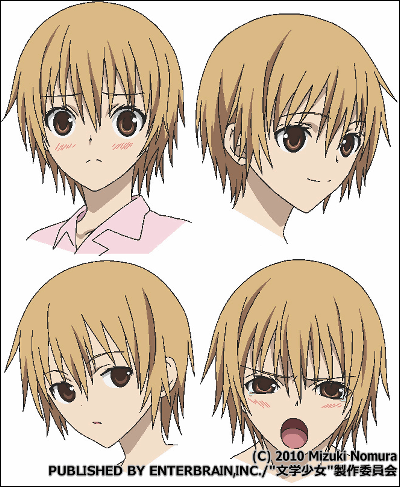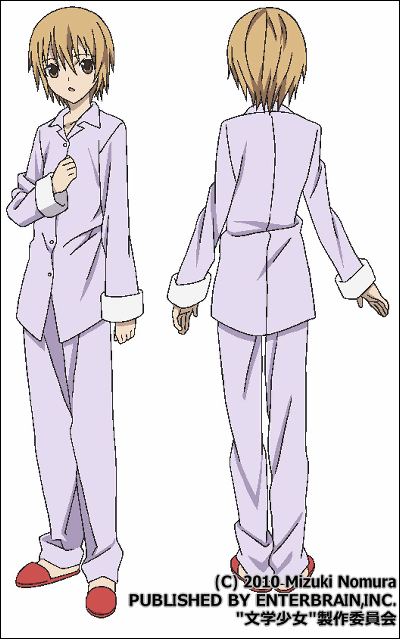 ♦Nanase Kotobuki (Nana Mizuki)
Konoha's classmate who's hot and popular but acts all awkward around Konoha.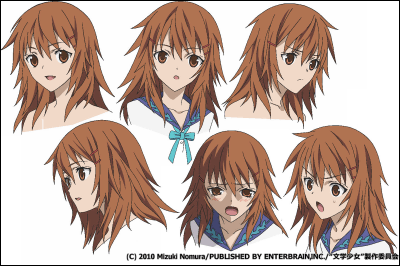 ♦Kazushi Akutagawa (Daisuke Ono)
Konoha's classmate and best friend. Brainy but athletic, handsome, quiet and level-headed.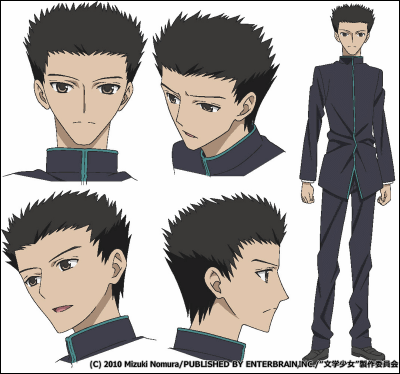 ♦Maki Himekura (Shizuka Ito)
Grand daughter of the school's owner, member of the school's orchestra. She's an artist and always trying to make Toko pose nude for her paintings.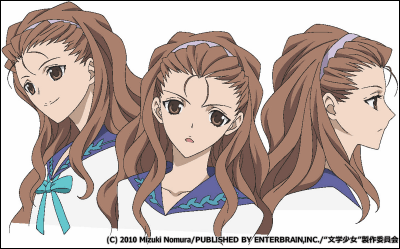 ♦Chia Takeda (Aki Toyosaki)
First year student (grade 10) at Konoha's school. A petite girl, somewhat clumsy and cute as a puppy, but that might be a facade.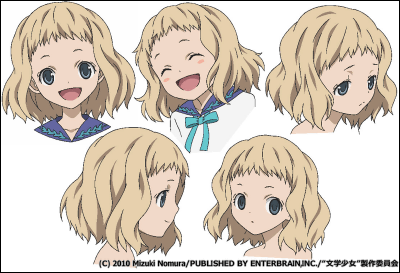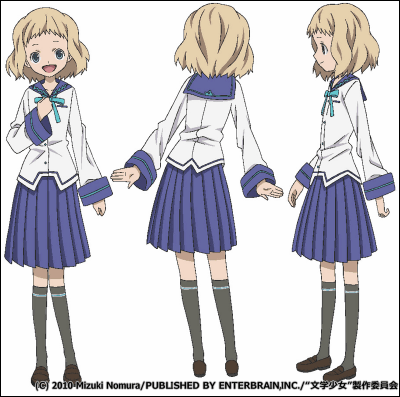 ♦Ryuto Sakurai (Mamoru Miyano)
First year student at Konoha's school who can pass as a uni student. A social butterfly and a total womaniser. Toko lodges in his parents' house. She's like a big sister to him and he looks up to her.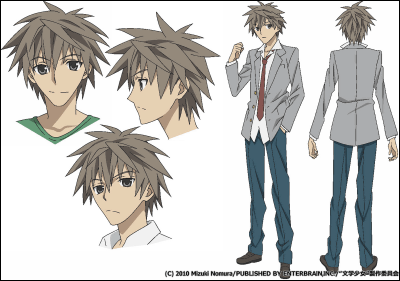 ♦Mori chan (Asami Shimoda)
Nanase's best friend who hates to be called by her given name with a passion.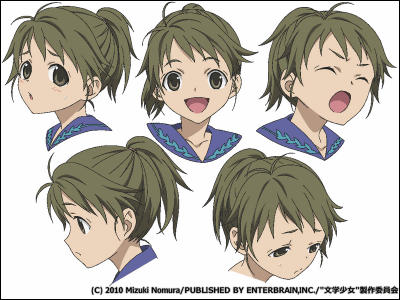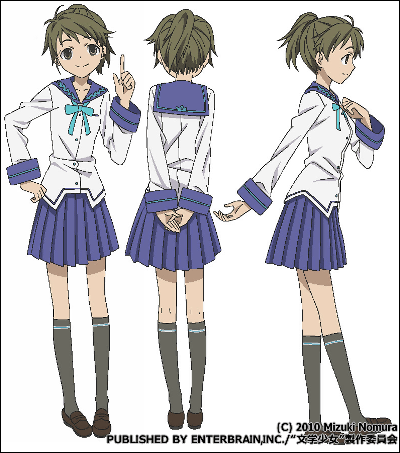 Here are the new stills. Protagonist Konoha Inoue.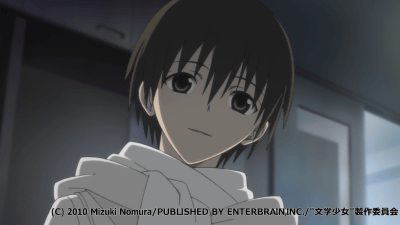 This must be where Konoha meets Toko for the first time.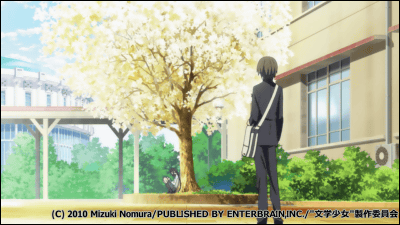 Miu seems angry here.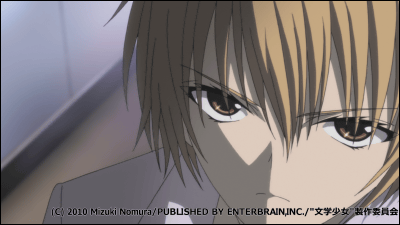 Some confrontation between Miu and Konoha.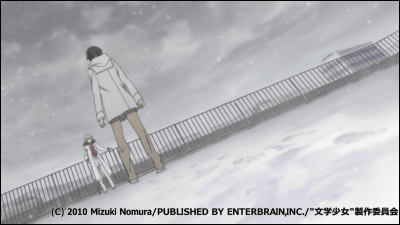 Nanase obviously likes Konoha, but can't even talk to him without turning into a flustered, stuttering mess.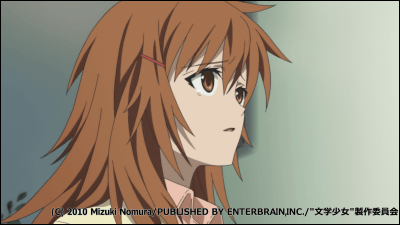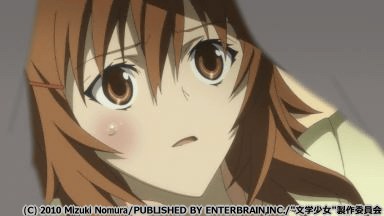 Kazushi Akutagawa.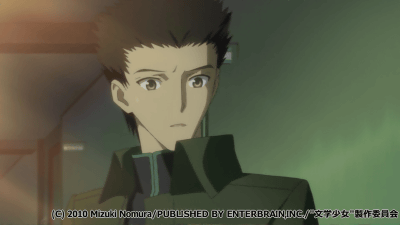 Miu on a wheelchair.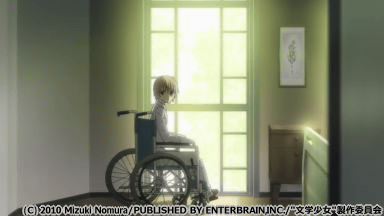 The hand seems to belong to a smiling Toko.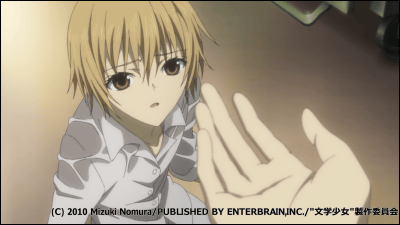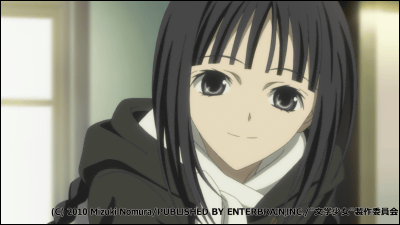 Here's some stills from the trailer.

YouTube - Bungaku Shojo Trailer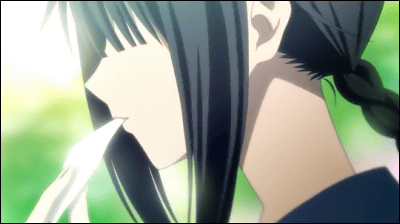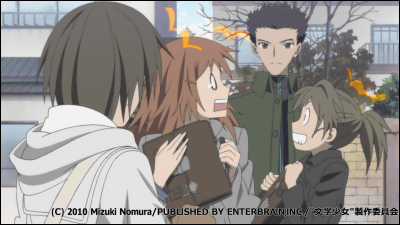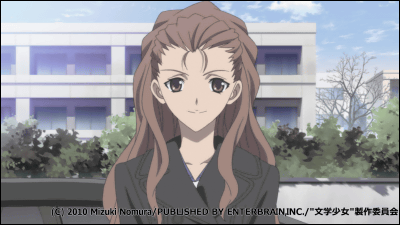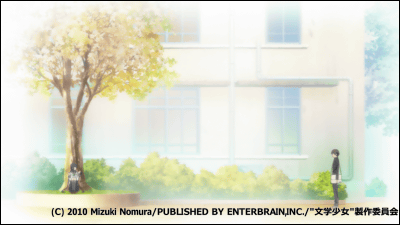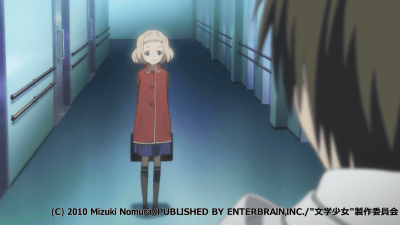 "Premium Ticket", a framed set of four advance tickets illustrated by Miho Takeoka(the light novel's illustrator), Rito Kosaka(illustrator of a manga adaptation), Akira Hiyoshimaru(illustrator of the other manga adaptation) and Keita Matsuoka(anime's character designer) is now available on ebten for 9,450 yen($101).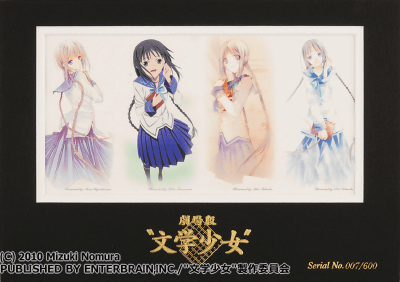 Special advance ticket that comes with a book of rough sketches, and another version with a poster, are available at theatres for 1,500 yen ($16).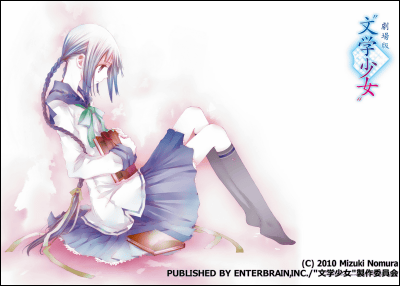 Illustration on the ticket.



The theatrical version will center on Konoha Inoue, but three OVA episodes centering on the heroines Toko Amano, Miu Asakura and Nanase Kotobuki respectively will come out as Bungaku Shojo Memoir series DVDs, 6,090 yen ($65) each.

YouTube - Bungaku Shojo Memoir PV I, II, III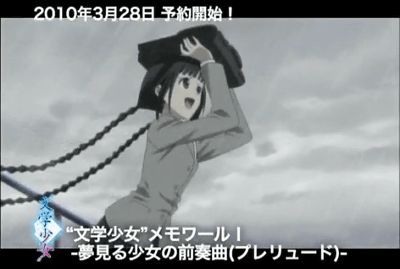 The release dates are June 25 for Bungaku Shojo Memoir I: Prelude of a Dreaming Girl featuring Toko Amano, October 29 for Bungaku Shojo Memoir II: Requiem for a Angel in the Sky featuring Miu Asakura, and December 24 for Bungaku Shojo Memoir III: Rhapsody of a Girl In Love.

A younger Miu with ponytail can be seen in Bungaku Shojo Memoir II.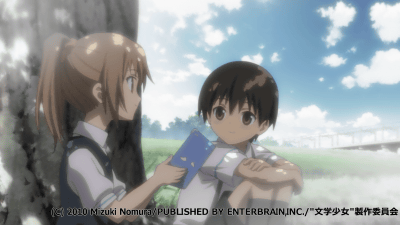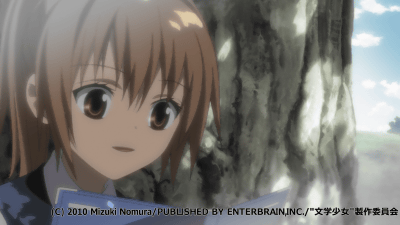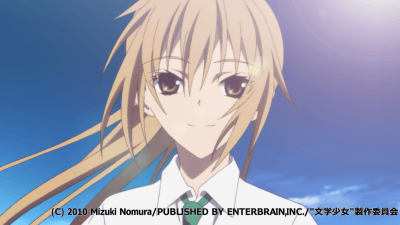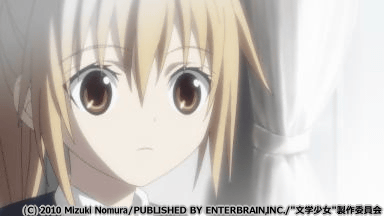 © 2010 Mizuki Nomura/PUBLISHED BY ENTERBRAIN,INC./ "Bungaku Shojo" Production Committee

Related Posts:
Teen Mystery Novel "Bungaku Shojo" Series Adapted to Anime Film by Production I.G - GIGAZINE

"Eden of the East the Movie II: Paradise Lost" to come out on March 13 - GIGAZINE

"Broken Blade" Anime Film Hexalogy on its way by ProductionI.G and XEBEC - GIGAZINE

List of New Anime: Spring 2010 - GIGAZINE