"Clash of the Titans" Posters Illustrated by "Saint Seiya" Creator Masami Kurumada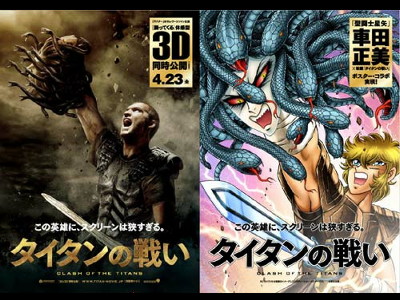 During an interview at the film's world premiere in London, director Louis Leterrier of Clash of the Titans revealed that he is a big Saint Seiya fan and admitted that the medieval-looking armour (instead of ancient Greek ones) that the gods wear in his film was influenced by the "Cloths" the heroes wear in Saint Seiya. The film's distributor Warner Brothers then asked author Masami Kurumada of Saint Seiya to collaborate on the film's poster art in Japan.

The four versions of Clash of the Titans posters illustrated by Kurumada were unveiled today.

Pics after the cut!
(Japanese)"Clash of the Titans" Posters by Masami Kurumada Unveiled! ::MOVIE Collection

Four versions of the special posters illustrated by Kurumada will appear at 10 major railroad stations in Tokyo including Shibuya Station and Shinjuku Station, 11 subway stations in Osaka including Umeda Station and Namba Station, 5 subway stations in Nagoya including Nagoya Station and Sakae Station, Sapporo Station and Odori Station in Sapporo, Nishitetsu Tenjin Station in Fukuoka.

Medusa version.


Pegasus.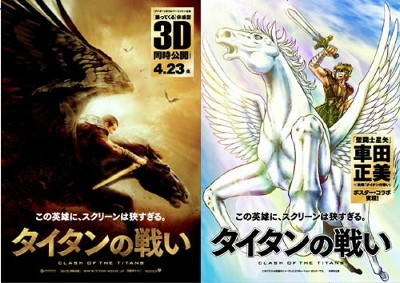 Kraken.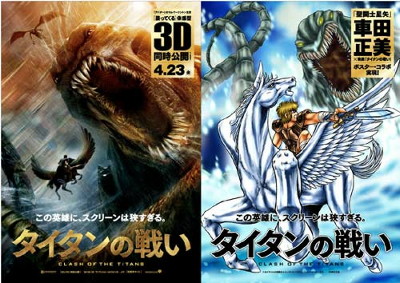 Scorpion.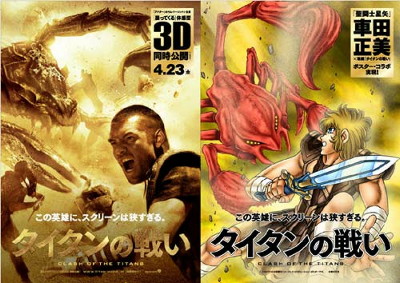 The film is to premiere on April 23 in Japan and the special posters can be seen until around April 25.

Related Posts:
Beautiful Dioramas by Saint Seiya Enthusiasts Capcinteam from France - GIGAZINE

Saint Seiya's "Libra's Gold Cloth" reconstructed in Life Size - GIGAZINE

Find Your Star Sign! Complete Collection of Saint Seiya's Gold Cloth Figure - GIGAZINE

Painstakingly Detailed Action Figures of the "Hades" Arc of Saint Seiya - GIGAZINE

Another Chinese rip-off? Online Game "Saint Warrior" bears striking resemblance to a Japanese Anime - GIGAZINE