What If Saint Seiya Characters Played Basketball? Here are the NBA Gold Saints!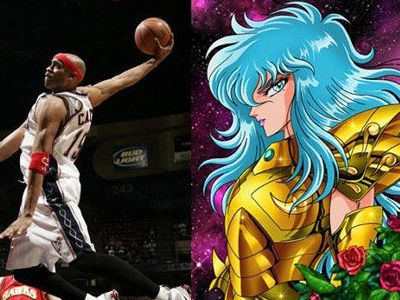 (This article was originally posted in Japanese at 11:57 Apr. 09, 2010)

Have you ever been so obsessed with an anime (or any form of fiction) that everyone you see you can't help comparing to a character?

A Saint Seiya fan in China who's apparently also quite into basketball came up with who must be who if NBA players were reincarnations of Saint Seiya Gold Saints (or vice versa) based on their characteristics and playing style, giving us fresh insight into both the players and the characters.
(Chinese)NBA十二大黄金聖斗士 姚明相配指数最高(圖) - 猫撲体育頻道

Steve Nash/Aries Mu
Looks can be deceiving. Their opponents can easily underestimate them if they don't know them. Steve Nash is white, he's slight (sure, he's 6'3" and well-muscled but still kind of looks small amongst 7ft players) and doesn't look all that aggressive, but in fact he's known for his high-tempo offence, outrunning and outshooting his opponents. Aries Mu is not only slight but he looks feminine to the point where anyone unfamiliar with Saint Seiya can mistake him for a girl. But he's the definition of "invincible", as you can see in Hades arc.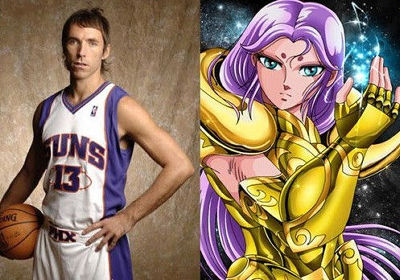 Yao Ming/Taurus Aldebaran
Tall, powerful, tenacious and persistent. You can easily make the connection here.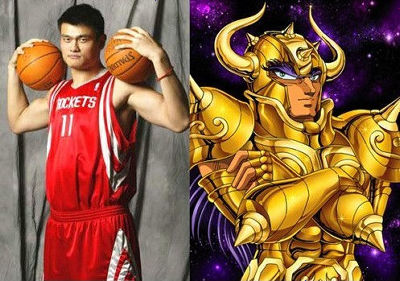 Tracy McGrady/Gemini Saga
Despite being a seven-time All-Star and a seven-time All-NBA Team member, and despite being an unselfish player who puts the team's victory over his personal record, his teams did not always do all that well and it was only last year that he finally advanced past the first round of the playoffs for the first time in his career. Gemini Saga was undoubtedly one of the most strongest warriors but he couldn't use his ability for the Sanctuary.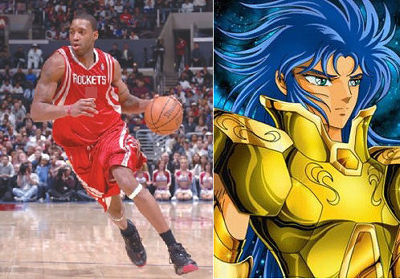 Ron Artest/Cancer Deathmask
Two words: Bad boys.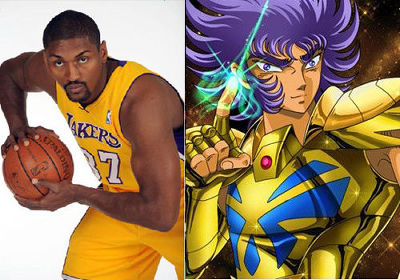 Dwyane Wade/Leo Aiolia
Nicknamed Flash, Wade's speed could be compared to the "Lightning bolt" punches of Leo Aiolia.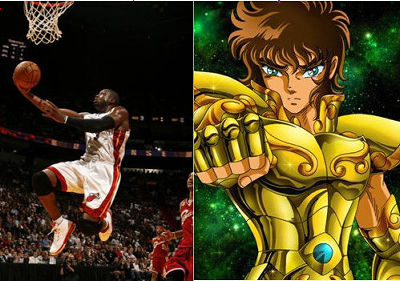 Kobe Bryant/Virgo Shaka
Calm, quiet, level-headed, un-showy, clever and skilled.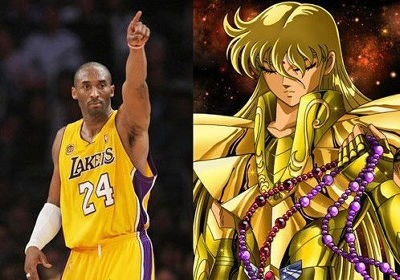 Kevin Garnett/Libra Dohko
Powerful but flexible, plays well on both offense and defense, almost flawless. Kevin Garnett reminds you of Libra Dohko who's Cloth(armour) was made of weapons that can both protect him and attack his opponent at the same time.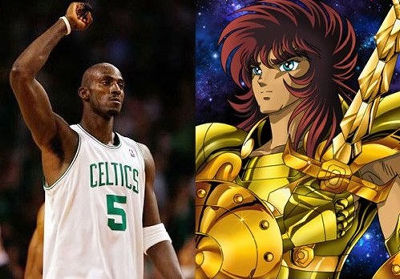 Allen Iverson/Scorpio Milo
Despite being one of the best long range shooters, Iverson does have several weak points including his small(6'0") stature. But that doesn't hold him back from exceeding amongst the giants. Reminds you of Scorpio Milo whose nobility made him stand apart from the others.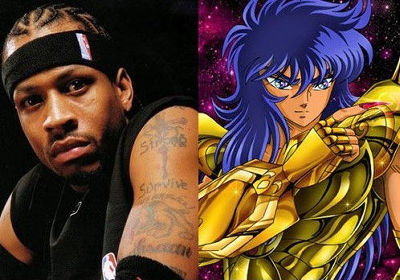 Ray Allen/Sagittarius Aiolos
They both have the qualities of a true gentleman. Charming, polite, graceful and dedicated.


Manu Ginobili/Capricorn Shura
The sharpness of his powerful, accurate shots can be compared to Capricorn Shura's Excalibur, the holy sword.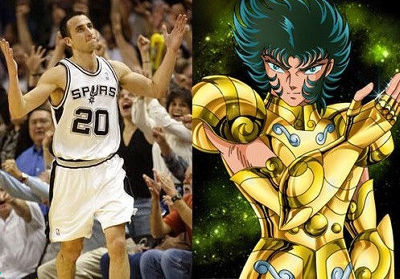 Tim Duncan/Aquarius Camus
Hard as a rock, Tim Duncan's unbreakable defense can be compared to Aquarius Camus' Freezing Coffin technique to lock a body inside a block of ice.


Vince Carter/Pisces Aphrodite
The fluid movement of Vince Carter's beautiful, artistic dunks must be up to the aesthetic standard of Pisces Aphrodite who considers victory as the greatest beauty of all.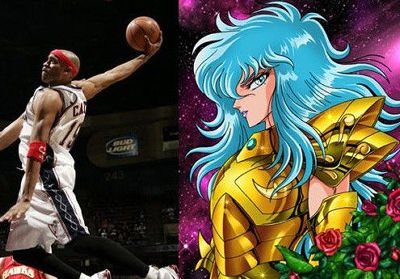 Related Posts:
"Clash of the Titans" Posters Illustrated by "Saint Seiya" Creator Masami Kurumada - GIGAZINE

Beautiful Dioramas by Saint Seiya Enthusiasts Capcinteam from France - GIGAZINE

Action Figure Now and Then: Asgard Arc and Poseidon Arc of Saint Seiya - GIGAZINE

Saint Seiya 25th Anniversary "Saint Pins Collection" by BANDAI - GIGAZINE

Another Chinese rip-off? Online Game "Saint Warrior" bears striking resemblance to a Japanese Anime - GIGAZINE