Demonstration of Japanese Miso Soup Vending Machine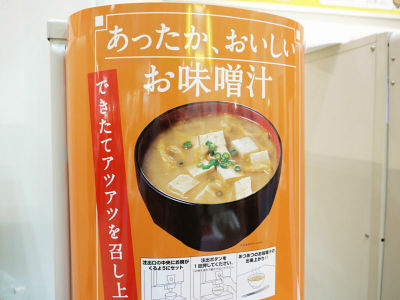 (This article was originally posted in Japanese at 21:33 Apr. 07, 2010.)

Everything is going automatic in Japan and daily food is not an exception. As a Miso industry giant, Marukome developed a miso soup vendor machine.

Read on for detail.

Marukome Miso Soup Machine
http://misoshiru-machine.jp/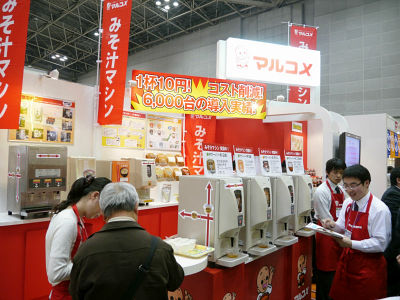 The machine doesn't use pre-cooked concentrated miso soup thing. You set raw miso paste like this and the machine actually cooks miso soup.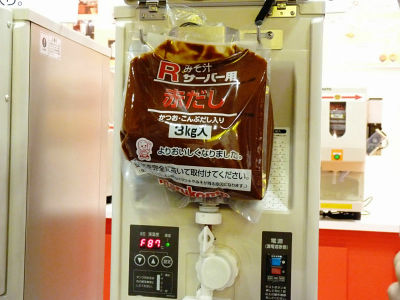 Looks just like an ordinary soft drink server.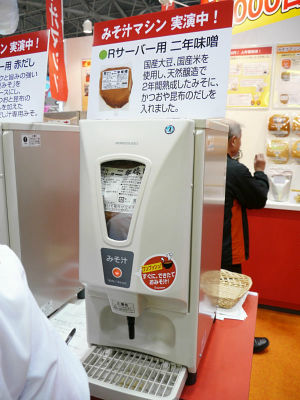 Changing miso paste can change flavor of the soup.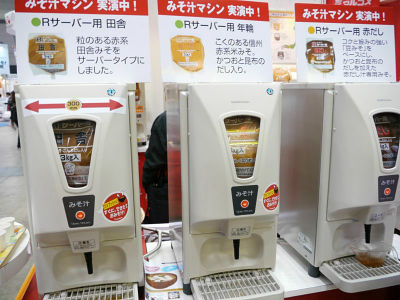 It takes 3.5-4 secs per serving.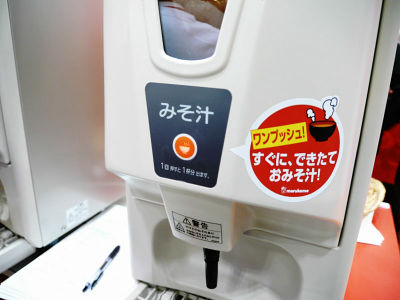 You can also use akadashi-miso(a blend of soy beans origin miso and rice origin miso. Saltier than normal miso.)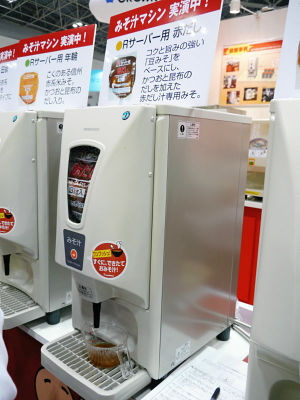 Miso and dried ingredients for servers.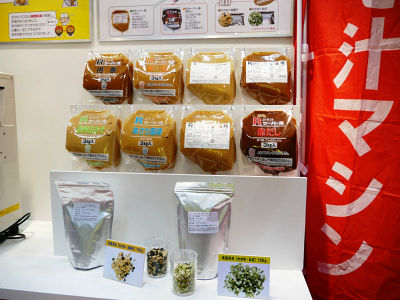 Dried seaweed and cibol.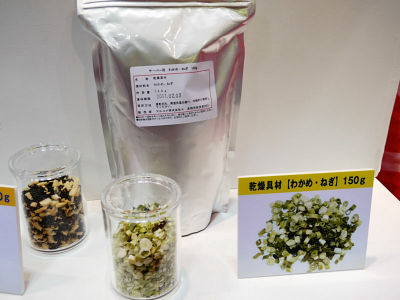 These will be placed near the machine. You put it in a bowl and then pour miso soup on it.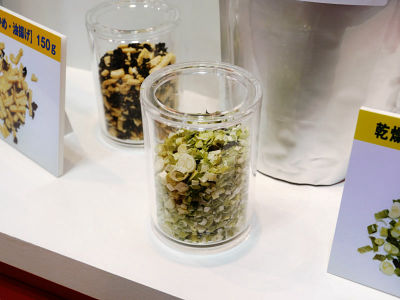 Dried seaweed and deep-fried tofu.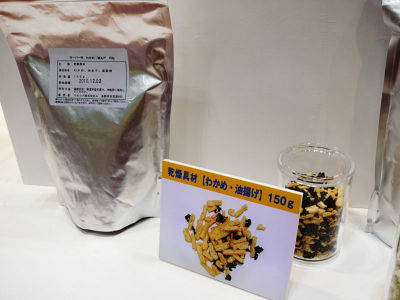 Quite traditional combination for miso soup ingredients.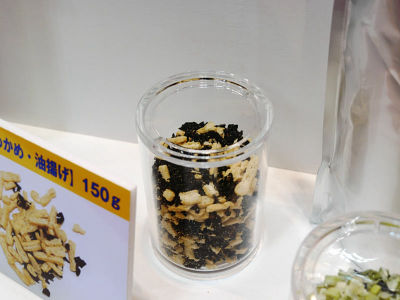 Apparently there are eight misos prepared for the machine.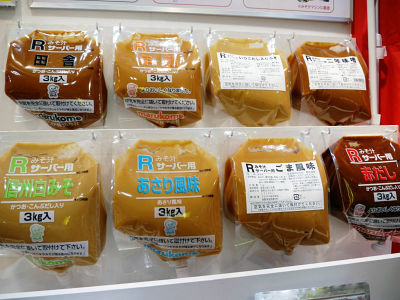 Which miso is more preferred differs according to the area.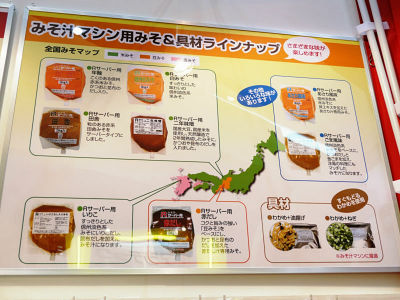 As one of the most popular food in Japan, there are so many restaurants serving miso soup. So there's a huge demand for a method which can make better miso soup cheaper and faster. Marukome says that when you cook 200 servings of miso soup, the machine can save 86% of the cost consumed when you do it by human labor.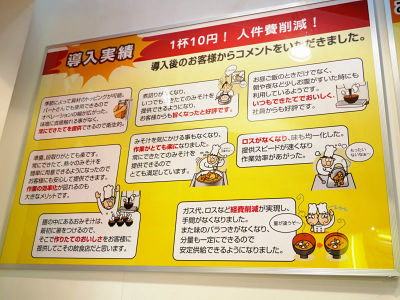 So many restaurants have installed the machine.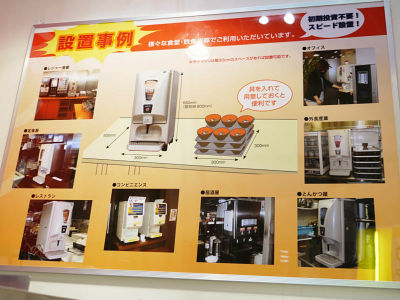 There are miso soup server with different size and extraction speed.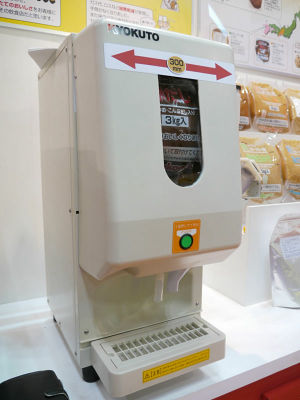 These variation enables existing restaurants to install them easily.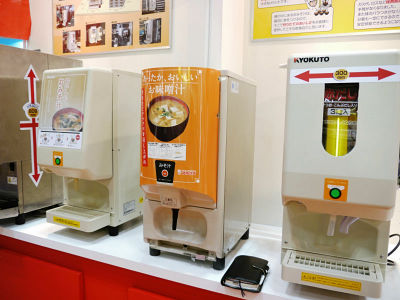 The machine with colorful advertisement.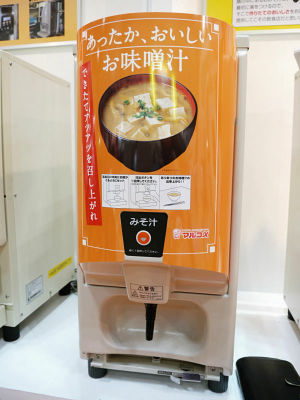 Another version with advertisement.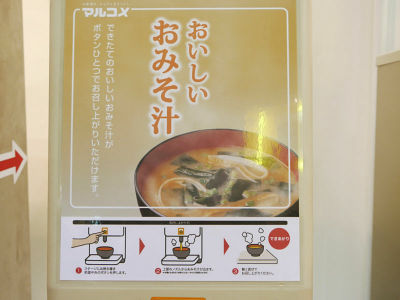 Compact version of the machine.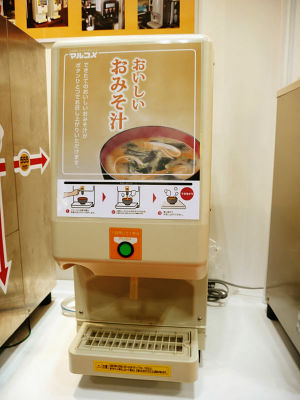 The 3-in-1 version.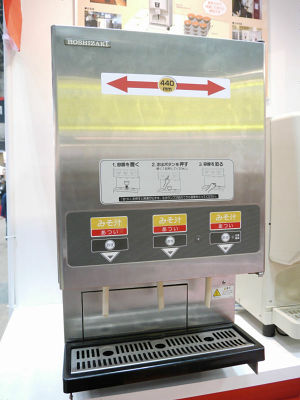 Marukome exhibited some other miso-related products.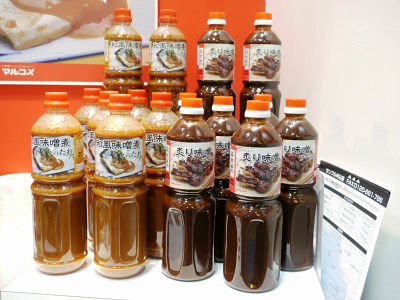 The Aburi-Miso Sauce(grilled-miso flavored sauce). This can make boil-in-bag hamburger steak taste like it's actually grilled.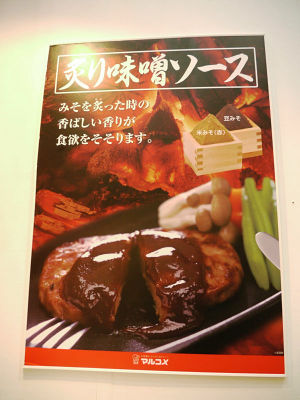 Seasoning for boiled foods.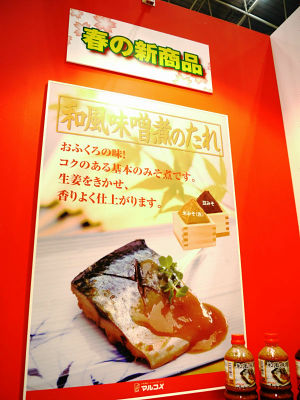 Here's the sample of Aburi-Miso Sauce. You will be surprised that the sauce reproduces the flavor of meats grilled on hot coal.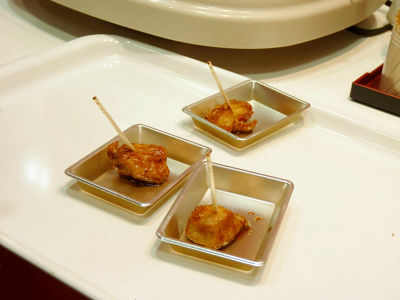 Related Post:
Photo Tour on "Studio M", McDonald's Secret Laboratory - GIGAZINE

How to soften meat in easy step with totally safe chemical - GIGAZINE

Compact and Up-To-Date Hydroponics Kit makes your kitchen a "food factory" - GIGAZINE

Never Call this a "Fast Food"; Eating "Windows 7 Whopper" is like an endless hill climbing - GIGAZINE