"Trigun" fanart by Manga Artists of Fullmetal Alchemist, Ruroni Kenshin, Oh My Goddess and more!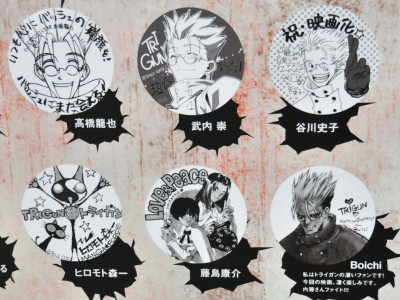 (This article was originally posted in Japanese at 07:37 Mar. 28, 2010)

Anime film Trigun: Badlands Rumble is to hit the theatres on April 24, 2010.

Reflecting the popularity of the franchise among anime/manga creators and their anticipation for the upcoming film, a fan message board was on display at Tokyo International Anime Fair 2010, including messages written and illustrated by manga artist Kosuke Fujishima(Oh My Goddess!), Nobuhiro Watsuki(Rurouni Kenshin), Yun Koga(Loveless), Hiromu Arakawa(Fullmetal Alchemist) and many more!

Pics after the cut!
The panel at KlockWorx's booth.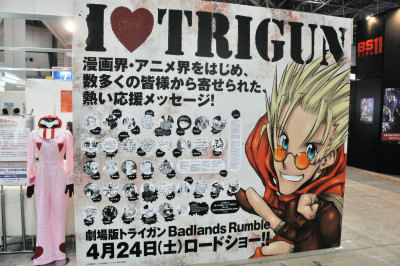 Top row(left to right): Illustrator/character designer Toshinao Aoki, action figure sculptor Maki Asai, manga artist Hiromu Arakawa(Fullmetal Alchemist), anime director Tetsuro Araki(Death Note), manga artist Masakazu Ishiguro.
Middle: Anime mechanical designer Kanetake Ebikawa(Mobile Suit Gundam 00: Awakening of the Trailblazer), screenwriter Ichiro Okouchi(Code Geass), anime director Yoshimitsu Ohashi(Witchblade), novelist Hideyuki Kurata(Read or Die), screenwriter Yosuke Kuroda(Mobile Suit Gundam 00).
Bottom: Manga artist Nobuyuki Takagi(Kokoro Library), screenwriter Tatsuya Takahashi, illustrator/character designer Takashi Takeuchi(Fate/stay night), manga artist Fumiko Tanigawa, manga artist Yasunari Toda(Giant Robo: The Day the Earth Burned).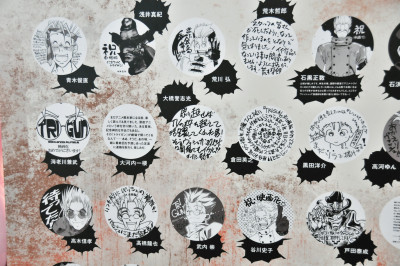 Animator Masashi Ishihama, manga artist Mami Ito, Ilustrator Taraku Uon, manga artist Yun Koga, novelist Daisuke Sato, anime director Tatsuo Sato(Martian Successor Nadesico).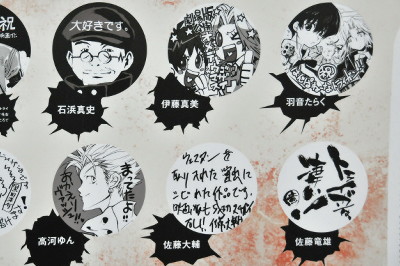 Manga artist Hekiru Hikawa, manga artist Shin'ichi Hiromoto, manga artist Kosuke Fujishima(Oh My Goddess!), manga artist Boichi, anime director Koh Matsuo(Rozen Maiden), manga artist Daisuke Moriyama(Chrono Crusade), mecha designer Takayuki Yanase(Broken Blade), manga artist Shutaro Yamada, manga artist Hajime Yamamura, manga artist Rikdo Koshi(Excel Saga).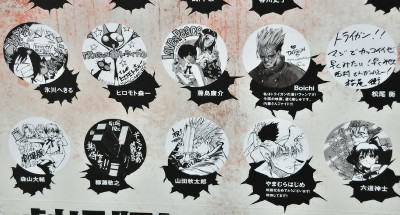 Manga artist Takaharu Matsumoto(Agharta), anime director Seiji Mizushima(Mobile Suit Gundam 00), character designer Tohru Minazuki(To Heart), manga artist Mook, manga artist Nobuhiro Watsuki(Rurouni Kenshin).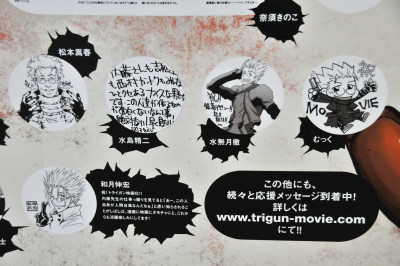 Screenwriter/novelist Gen Urobuchi(Fate/zero) of Nitroplus submitted a long, enthusiastic fan letter.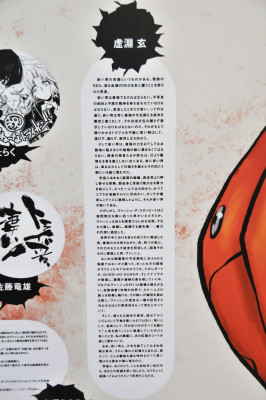 Novelist Kinoko Nasu(Kara no Kyōkai)'s letter.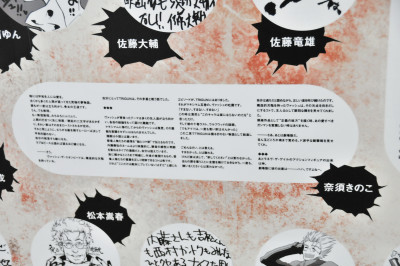 Vash the Stampede was handing out flyers at the booth.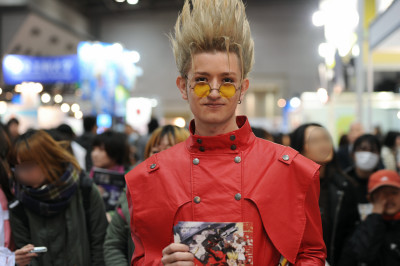 Related Posts:
"The $$60 billion Man" Vash the Stampede is Back! "Trigun: The Movie" to Come Out in 2010 - GIGAZINE

Illustrations and Autographs of Manga Artists and Voice Actors at Machi★Asobi Anime Festival - GIGAZINE

Tokyo International Anime Fair 2010: Table of Contents - GIGAZINE