"Thermae Romae" by Mari Yamazaki won Manga Taisho 2010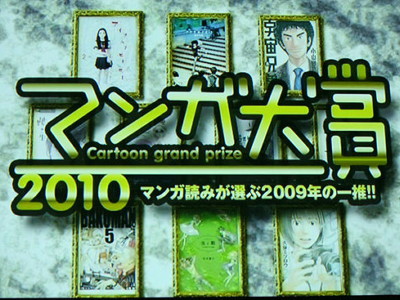 Manga Taisho(Cartoon Grand Prize) is an annual Japanese manga award established in 2008. The relatively new award is strongly bookshop-oriented: the judges are chosen from shop clerks and the nominees are limited to relatively short or recently launched mangas (up to eight volumes in comic books) so it's easy for a customer to pick up on a whim, thus easy to sell.

This year's Grand Prize went to Mari Yamazaki's Thermae Romae, a gag manga about a time-slipping Roman architect getting ideas from modern Japanese sento(public bath) and making innovative thermae.

Read on for details and pics.
(Japanese)Manga Taisho::Manga Taisho 2010 Announced!

All the judges of Manga Taisho vote for their choice of best three among the ten nominees, in terms of which title they'd like to recommend to a friend. 3 points are given for the first choice, 2 points for second, 1 point for third. Thermae Romae won the Grand Prize with 94 points, with Uchu Kyodai by Chuya Koyama a close second with 89 points.

Thermae Romae has been serialised in Enterbrain's Monthly Comic Beam since 2008. The first volume tankobon was published in November, 2009. The story was born from author Mari Yamazaki's craving for Japanese baths: she's been living abroad for the better part of her life and currently resides in Lisbon, Portugal, where she doesn't own a bathtub, with her history-buff Italian husband who speaks of ancient Rome as if he's been there himself just yesterday, but unlike Romans, doesn't care for bathing.


Roman architect Lucius Modestus specialises in bathroom and public baths. Sucked into a hole he found in a corner of the thermae he was working on, Lucius finds himself in a modern day Japanese sento. After the first timeslip incident Lucius becomes somehow timeslip-prone, but only between Roman thermae and Japanese baths. Though he is traveling through time and space, he's unaware of the "time" part, believing he's only warping to a faraway country inhabited by uncivilised "flat-faced" tribe. Inspired by Japanese baths, Lucius designs many innovative thermaes and becomes a renowned architect, gets hired by the emperor Hadrian himself, but he feels kind of guilty for copying the flat-faced's baths.

The prize-giving ceremony was held in Tokyo on Wednesday, March 17.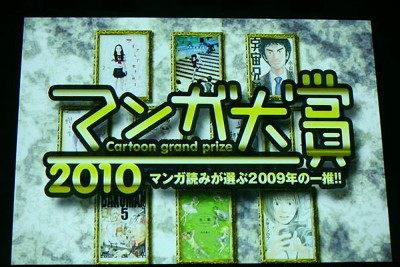 The nominees on display.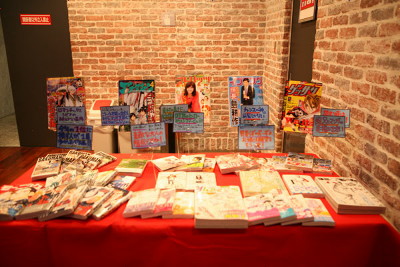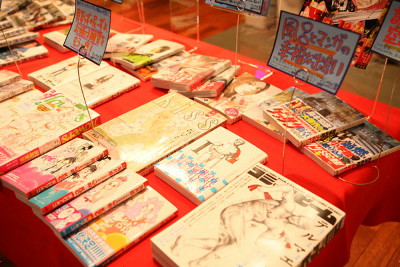 Manga artist Yuki Suetsugu of Chihayafuru, last year's winner, made an appearance as the presenter.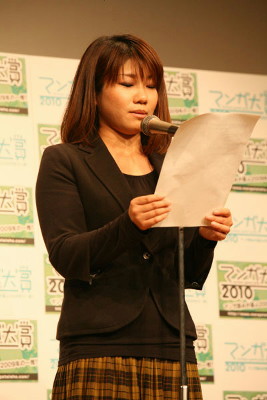 Since Yamazaki lives in Lisbon, she appeared live via Skype.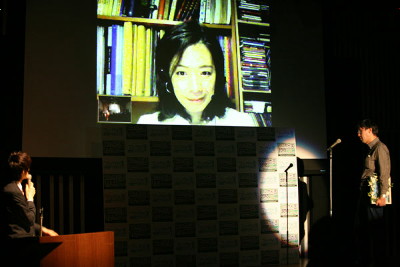 But she sent this illustration to offer her thanks.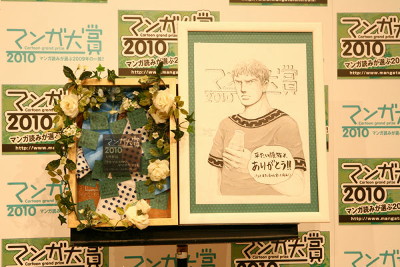 He's saying "Thank you, flat-faced people!!" You can see the picture in full size here(PDF).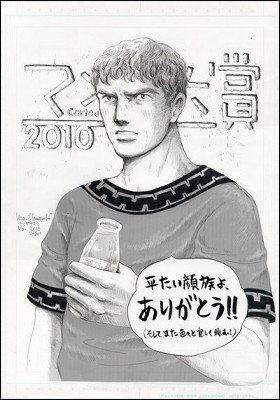 Mari Yamazaki and Katsuhiko Okumura, editor-in-chief of Monthly Comic Beam who accepted the award on her behalf.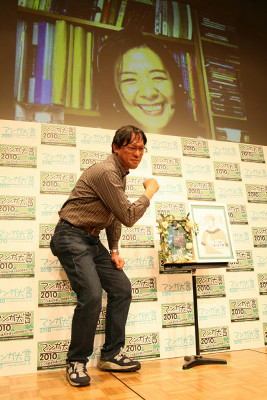 Here's the final results.

#1. Thermae Romae by Mari Yamazaki (94 pts.)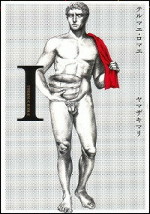 #2. Uchu Kyodai by Chuya Koyama (89pts.)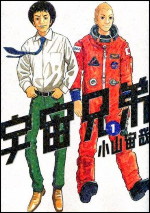 #3. Bakuman by Tsugumi Ohba and Takeshi Obata (60pts.)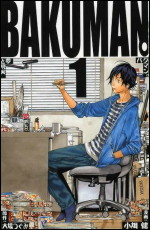 #4. I Am a Hero by Kengo Hanazawa (55pts.)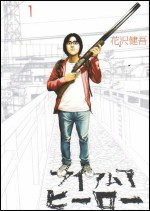 #5. Otoko no Issho by Keiko Nishi (48pts.)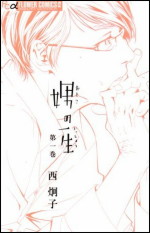 #6. Mushi to Uta by Haruko Ichikawa (47pts.)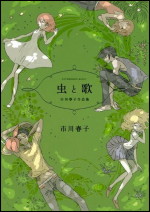 #7. Kuragehime by Akiko Higashimura (46pts.)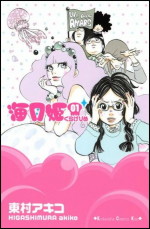 #8. Moteki by Mitsuro Kubo (44pts.)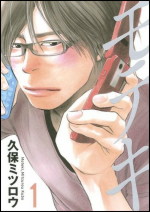 #9. Koko Kyuji Zawa-san by Eriko Mishima (25pts.)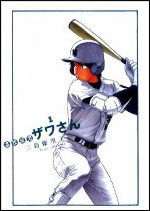 #10. Aoi Hono by Kazuhiko Shimamoto (23pts.)


Related Posts:
Top 15 Most Captivating Manga at the Moment - GIGAZINE

Shortlist of "Cartoon Grand Prize 2009" announced - GIGAZINE

The 54th Shogakukan Manga Award announced - GIGAZINE

Original manga manuscripts and enlarged panels at Japan Media Arts Festival - GIGAZINE
in Note, Posted by darkhorse_log