"Basilisk" Blu-ray Box Came Out: Compare the Image Quality with DVD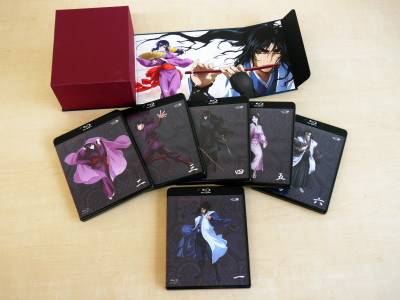 (This article was originally posted in Japanese at 22:34 Feb. 23, 2010)

Basilisk is a ninja action anime series adapted from Masaki Segawa's manga (which itself was based on the novel The Kouga Ninja Scrolls by Futaro Yamada. Aired in 2005, the series was released as a DVD box set in 2007, and it came out again as a six-volume Blu-ray box set today on February 24.

Anime studio Gonzo lend us a copy before the release, so we compared the image quality of Blu-ray and DVD, and also took a bunch of pics of the gorgeous package and label for you to ogle.

Pics after the cut!
(Japanese)Amazon.co.jp: Basilisk Kouga Ninpocho [Blu-ray]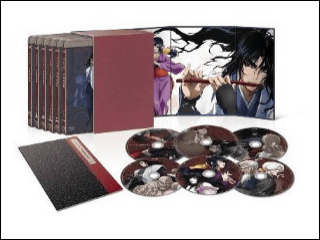 The package arrived in bubble wrap.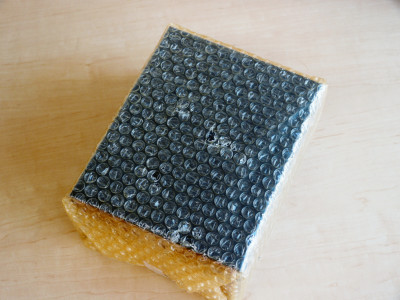 The box looks plain on the outside.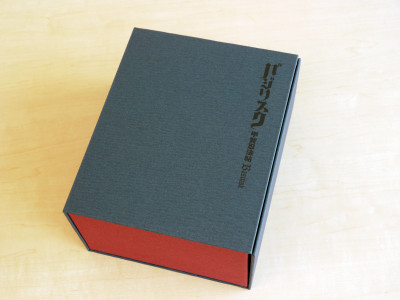 But gorgeous on the inside.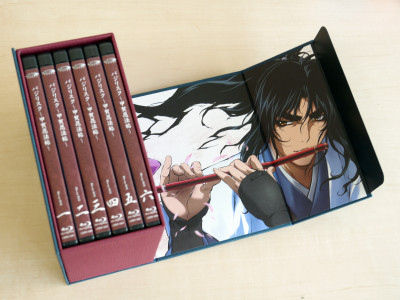 Inside the lid is a special illustration by character designer Michinori Chiba.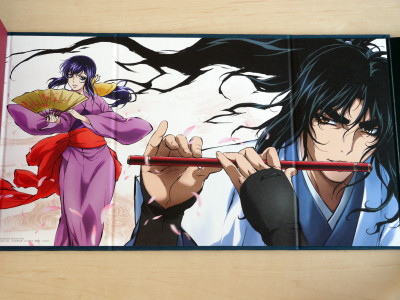 Cover art of the six volumes.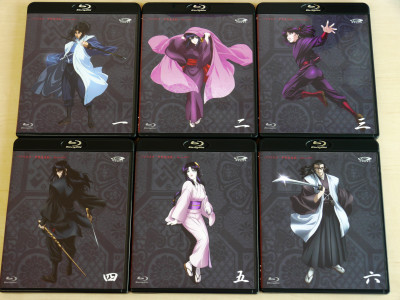 The discs.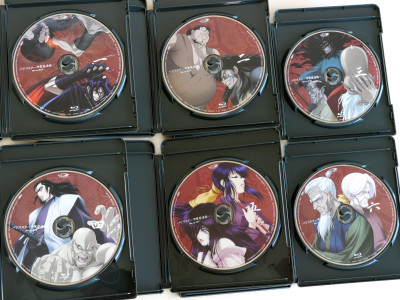 Protagonist Kouga Gennosuke adornes the package of Vol. 1.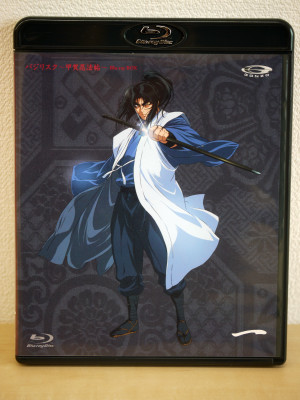 Kazamachi Shogen and Yashamaru on the disc.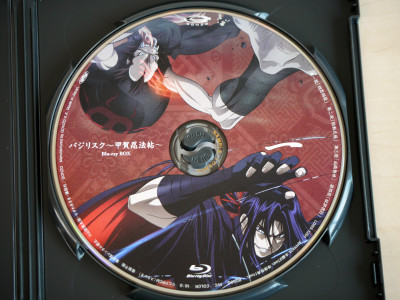 Vol. 1 includes the first four episodes: "Destiny", "Last Rendezvous", "The Onslaught of War" and "The Horned Owl".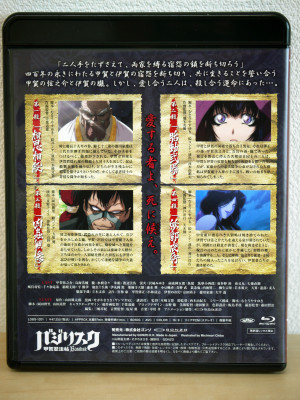 Cover art of Vo. 2 features heroine Oboro.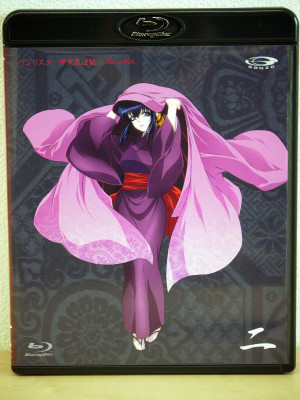 Udono Jousuke and Jimushi Jubei.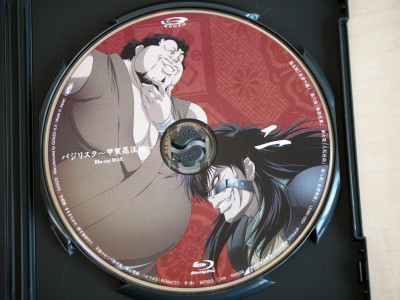 Includes "The Surprise Attack", "Longing in the Rain", "The Bloodsucking Seductress" and "Cage of Blood".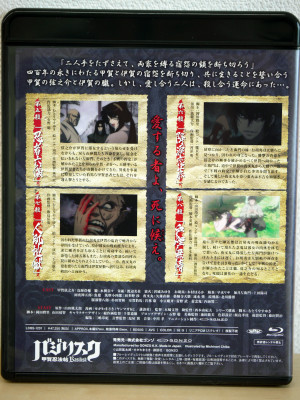 Vol. 3 features Hotarubi.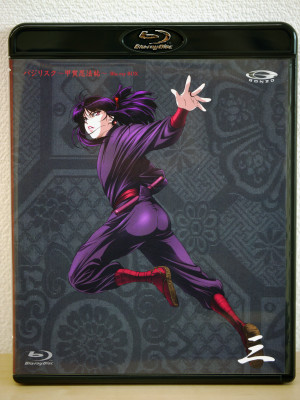 Mino Nenki, Azuki Rousai and Amayo Jingoro.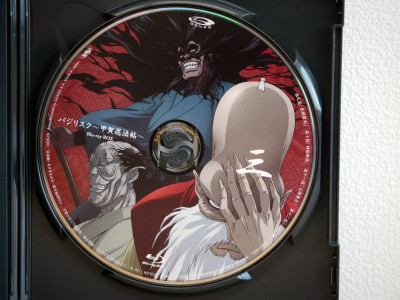 "Farewell", "Divine Mandate", "On Their Own" and "Remembrance".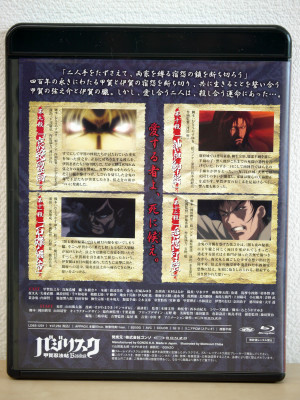 Vol. 4 features Muroga Hyouma.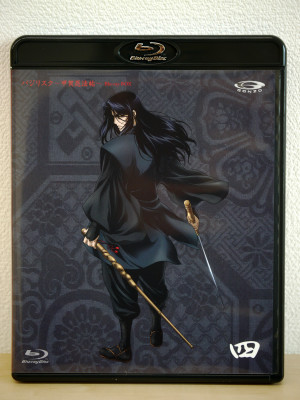 Yakushiji Tenzen and Kasumi Gyobu.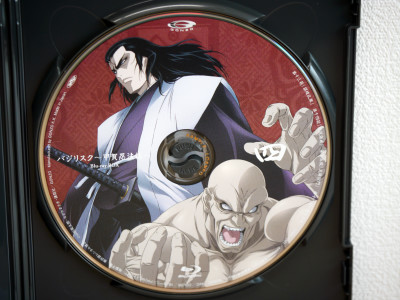 "A Swarm of Butterflies", "Fallen Flower", "Reckoning" and "First Impressions".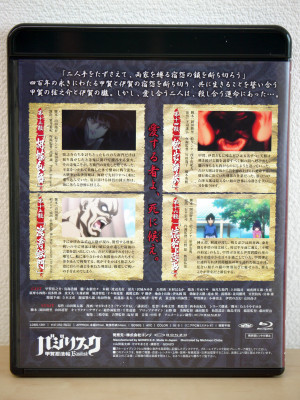 Vol. 5 features Kagerou.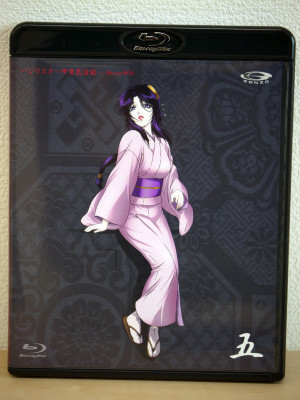 Kagerou and Oboro. Kagerou is madly in love with her cousin Gennousuke, while Oboro is engaged to Gennosuke for political reasons.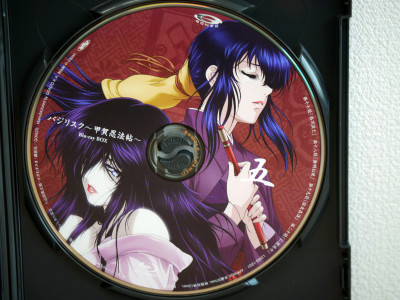 Includes "Wandering Hearts", "A Dawn Without Light", "Conspiracy" and "River of Deceit".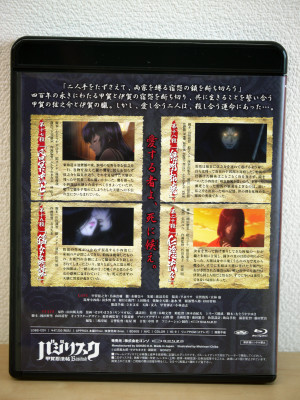 Antagonist Yakushiji Tenzen is featured on the cover art of Vol. 6.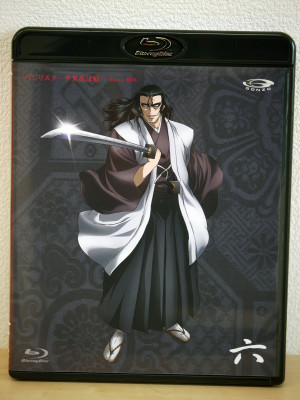 Kouga Danjo and Ogen.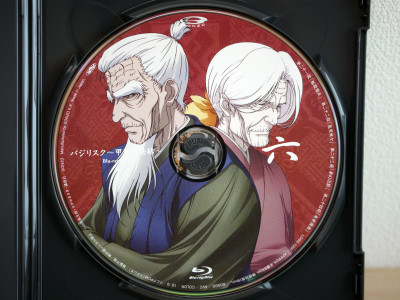 Includes "With All Her Heart", "The Haunted", "Emancipation" and final episode "Requiem".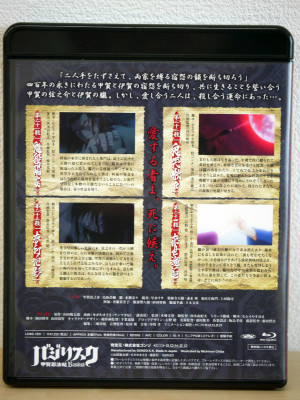 We compared the Blu-ray's image quality with the DVD released in 2007.

Gennosuke's closeup in the opening animation. This one's from the DVD.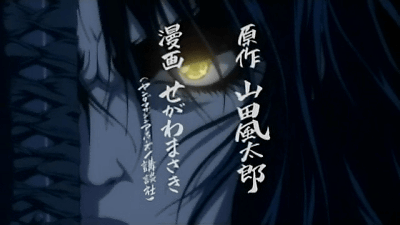 Here's the Blu-ray version. Click to enlarge.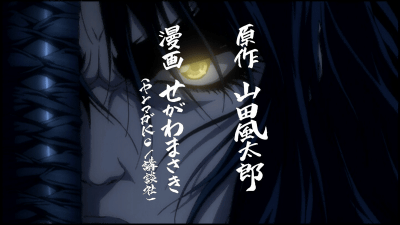 Oboro from the opening, DVD(above) and Blu-ray. The difference is quite obvious.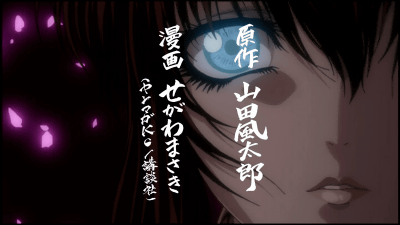 By the way, the first episode Destiny is posted on YouTube by GONZO.
YouTube - Basilisk Episode 1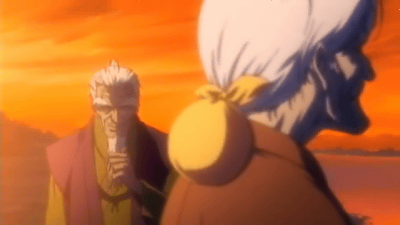 © Futaro Yamada/Masaki Segawa/Kodansha/GONZO

Related Posts:
Ninja Movie "Kamui" hitting Film Festivals in London and Toronto - GIGAZINE

TAF 2009: GONZO booth with Armour from "The Tower of Druaga" and uniform from "Linebarrels of Iron" - GIGAZINE

"Goldfish Scooping" iPhone App by GONZO Founder Shoji Murahama's New Studio - GIGAZINE
in Anime, Posted by darkhorse_log