Vocaloid Gets "Super Robot" Taste in "Go-kin Hachune Miku"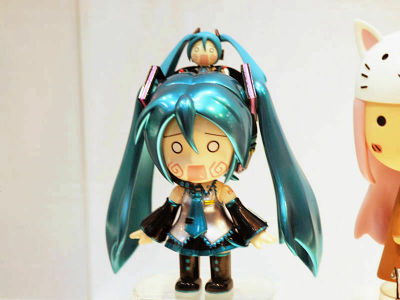 (This article was originally posted in Japanese at 14:24 Feb. 07, 2010.)

Seeing number of Vocaloid related goods in Wonder Festival 2010 Winter, we couldn't consider them as one-hit wonders any more. Among many items, this "Gokin Hachune Miku" is a unique interpretation of deformed Hatsune Miku into Super Robot franchise, with "Pilder on!" action, Hachune Miku on Giant Hachune Miku.

Read on for detail.

Good Smile Company exhibited it as a sample product.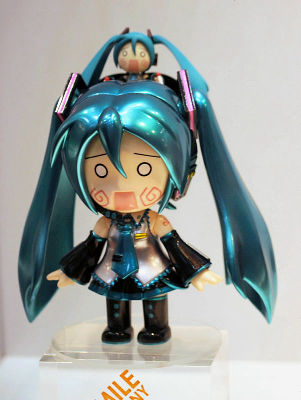 Deformed Miku on larger deformed Miku.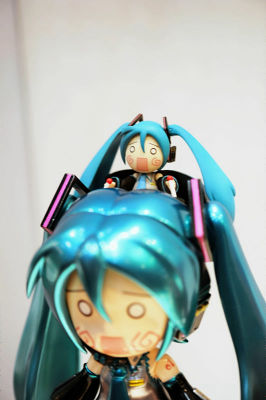 Fear the Vocaloid!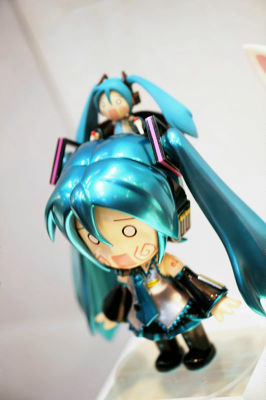 There should be even smaller Miku inside the small Miku, like Russian Matryoshka doll.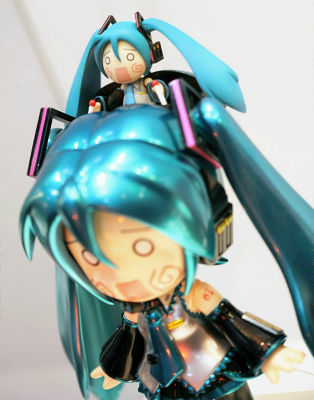 Related Post:
Wonder Festival 2010 Winter: Table of Contents - GIGAZINE

Figures of Vocaloids themed on their Great Tunes and other goodies - GIGAZINE

Figurines of Vocaloid Hatsune Miku seen in Wonder Festival 2009 [Summer] - GIGAZINE

Vocaloid software makes Android a true Diva: CEATEC JAPAN 2009 - GIGAZINE

Toei Robot Girls Laboratory opened featuring Super Robots personified as Cute Girls - GIGAZINE

TAF 2009: Moe-personification of Super Robot!? "Toei Robot Girls" launched - GIGAZINE