Not a saucer, Not a pancake! "Flying Panty" flaps in the sky in Wonder Festival 2010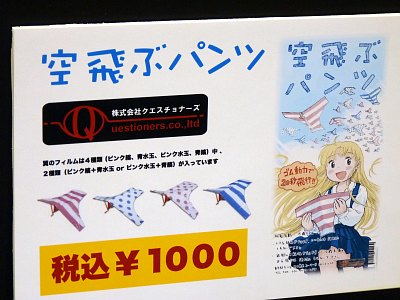 (This article was originally posted in Japanese at 10:38 Feb. 07, 2010.)

Among many bizarre expressions, last autumn's anime Sorano Otsohimoto's band of flapping panties flying in the sky could be the weirdest anime scene ever. We are still not sure what it was trying to say, but its silent message did inspire some of the viewers.

Utilizing his knowledge on aerospace dynamics, Housuke Nojiri, a leading Sci-Fi author in Japan, realized flapping panties in the air and displayed that odd object in Wonder Festival 2010.

Read on for detail.

Flying Panty Questioners co, ltd.

Blue stripe version was displayed at the booth.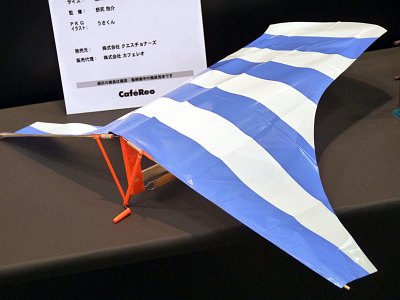 It's quite moe-inducing, for some people.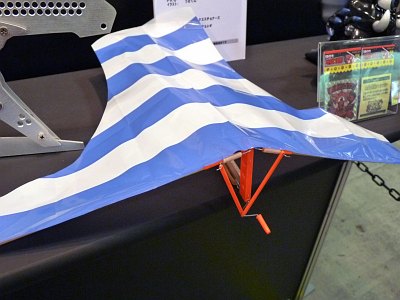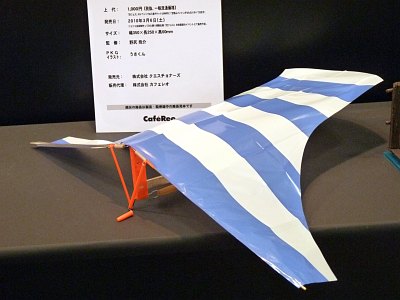 It's a modification from Ornithopter.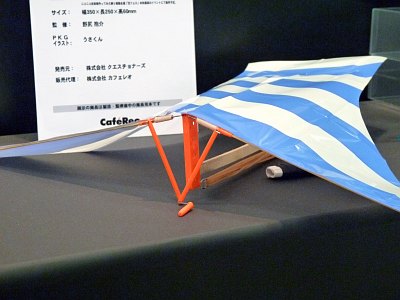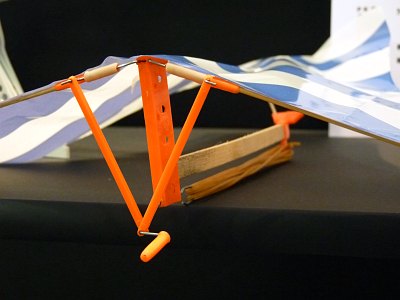 There are 4 kinds of panties(or wing markings).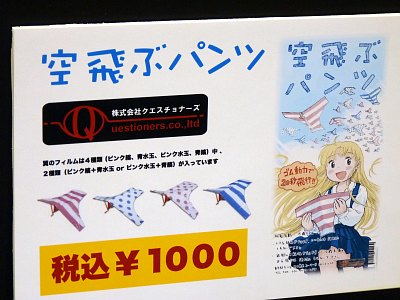 To be released in Mar 6th from Questioners at 1000 Yen(about $10 USD) for a pair.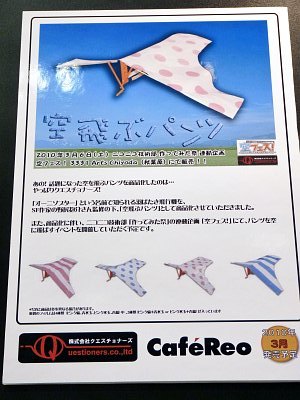 At Nico Nico Douga, you can see Flying Panties actually flying in the park.
[Soranootoshimono] Thins like a Flying Panty[Realization] - Nico Nico Douga(9)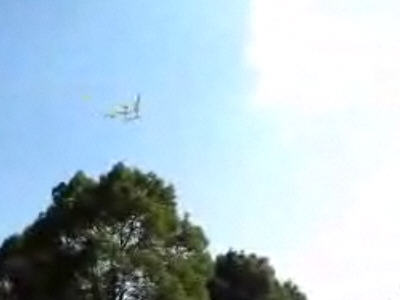 For those who don't have user accounts, here's YouTube version.
YouTube - [Soranootoshimono] Thins like a Flying Panty[Realization]

Related Post:
Wonder Festival 2010 Winter: Table of Contents - GIGAZINE

List of New Anime: Autumn 2009 - GIGAZINE