$4,800 Asuka Langley from EVANGELION and other life-sized models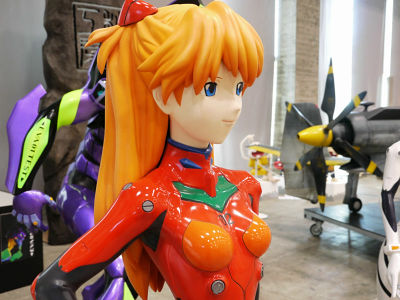 (This article was originally posted in Japanese at 12:43 Feb. 07, 2010)

Life-sized models of various anime characters by Akiyama Kobo including Asuka Langley Shikinami and Rei Ayanami from Evangelion: 2.0 You Can (Not) Advance, Astro Boy, and characters from Tensai Bakabon were on display at Wonder Festival 2010 Winter.

Read on for details and pics.
:::::AKIYAMAKOBO Online Shop:::::
http://www.akiyamakobo.co.jp/shop/index.html

Akiyama Kobo's booth.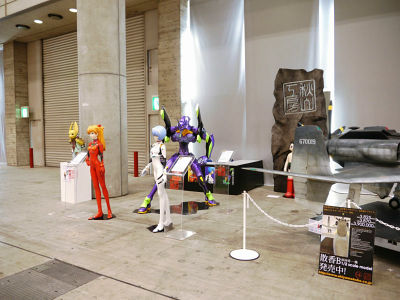 The giant life-sized figures were hard to miss.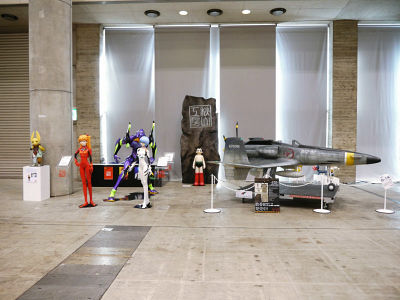 Rei Ayanami Life-Sized Figure [plugsuit version], supervised by Evangelion's character designer Yoshiyuki Sadamoto.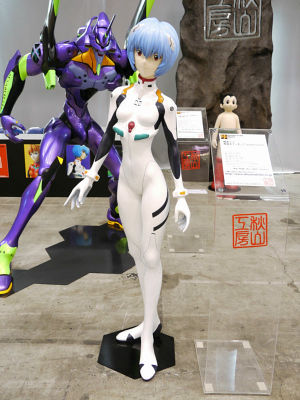 W58×D45×H163cm.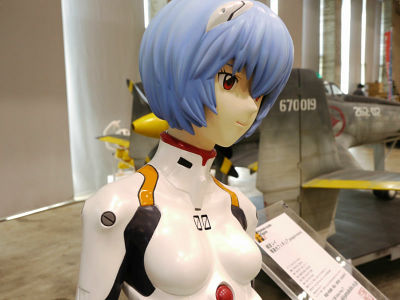 Weighs 6kg, with 3kg pedestal. 430,000 yen (about &4,800), coloured and finished.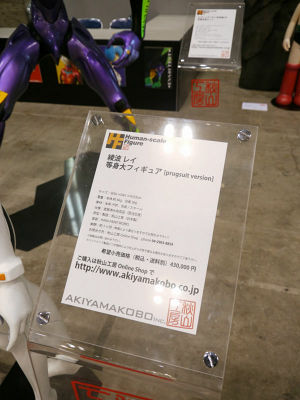 Asuka Langley Shikinami Life-Sized Figure [plugsuit version]. Asuka is rather petite in person, after all she's only 14.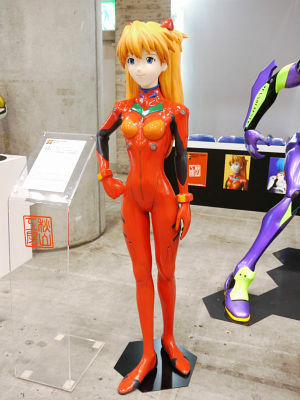 Asuka is a bit shorter than Ayanami. W50×D40×H160cm, 430,000 yen.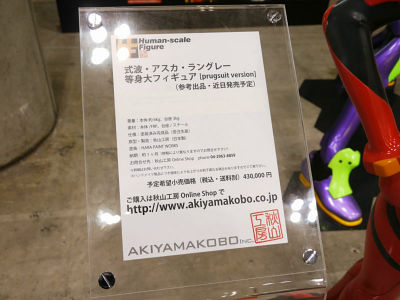 Evangelion Unit 01 Human Scale Figure.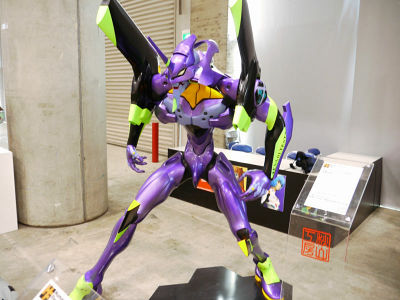 Not life-sized but nevertheless huge human-scale model of Unit 01. W170×D80×H209cm, 20kg. The base (W1860×D1000) weighs about 25kg. 1,250,000 yen (about $14,000).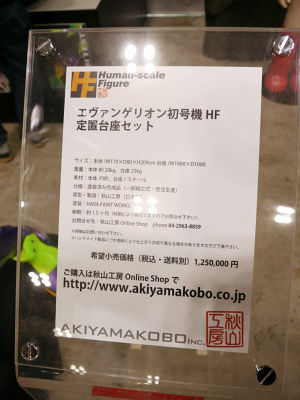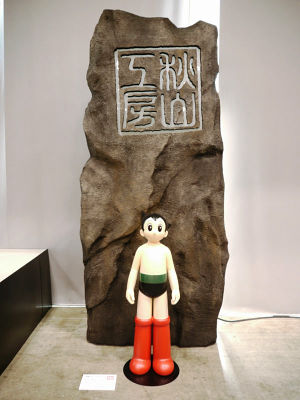 About the hight of a six-year-old kid.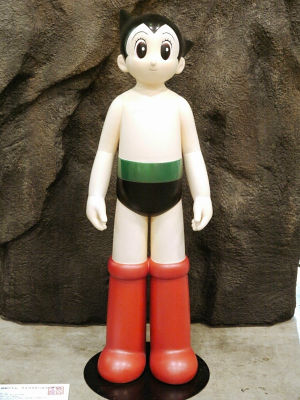 350,000 yen ($3,900).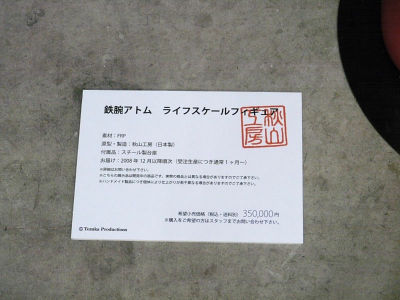 Life-sized model of Theo from anime film Oblivion Island: Haruka and the Magic Mirror.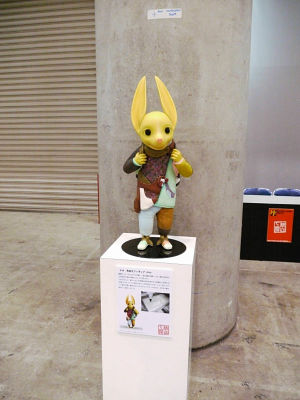 Realistic.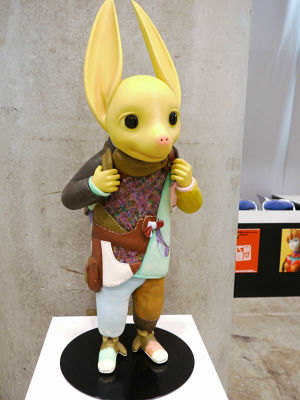 This one is not for sale. Oblivion Island was set in Iruma, Saitama where Akiyama Kobo is located.


There was also a fighter aircraft, quite huge and painstakingly detailed.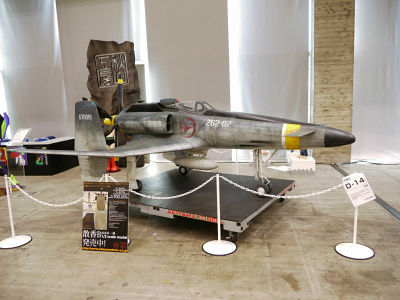 It was a 1/2 scale model of Sanka Mark II from The Sky Crawlers. 3,900,000 yen (about $4,350,000).


Tensai Bakabon Series featuring famous characters from Fujio Akatsuka's comedy classic.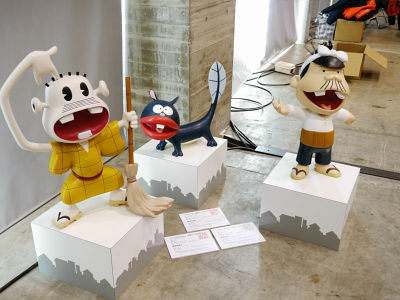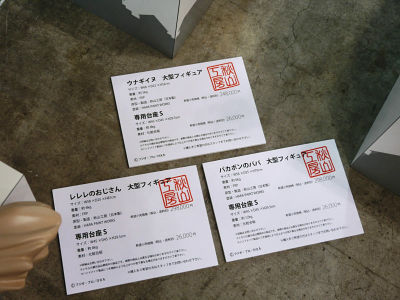 Old Man Rerere was about 1/3 scale, W58×D25×H87cm, 6kg. 298,000 yen ($3,325).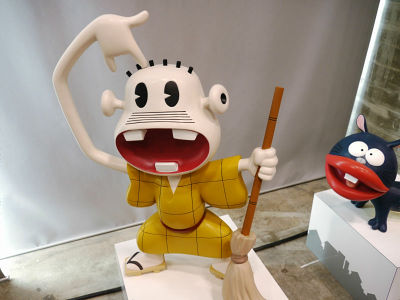 Unagi-Inu (Eel Dog) seemed to be life-sized, W66×D22×H52cm, 5kg. 248,000 yen ($2,770).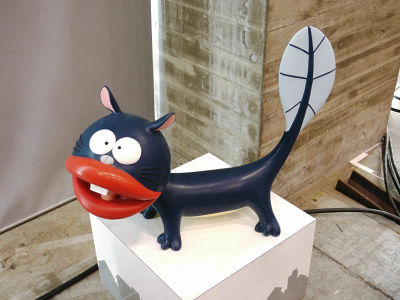 Bakabon's Papa, 298,000 yen. W56×D35×H70cm, 5kg.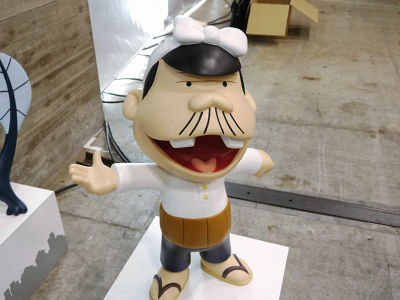 Related Posts:
Beautiful Stainless Steel Unit-00 of "Evangelion SUS Figure Project" - GIGAZINE

Splendid Figure of Unit-01 and Life-sized Asuka and Ayanami from EVANGELION 2.0 -AMS 2009 - GIGAZINE

1 metre tall "GIGANGELION" Unit-01 and Evangelion Mini 4WD at WONDER FESTIVAL 2009 [SUMMER] - GIGAZINE

New Lineups of Kaiyodo's REVOLTECH Action Figures featuring "Evangelion: 2.0" - GIGAZINE

Life-sized model of Natsuko from the iron work manga "Natchan" - GIGAZINE