NTT Docomo announced Android Phone "Xperia" by Sony Ericsson

(This article was originally posted in Japanese at 13:57 Jan. 21, 2010)

Sony Ericson's Google Android-powered smartphone Xperia (SO-01B) with 4.0 inch touchscreen LCD and 8.1 megapixel camera was announced today by NTT docomo at their press conference.

Read on for details and pics.
Pamphlet distributed at the conference.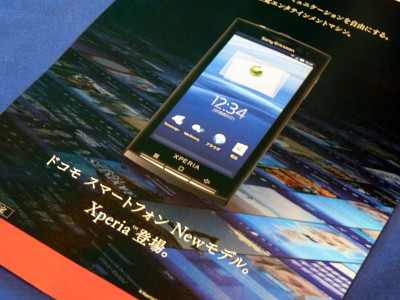 To be released this April.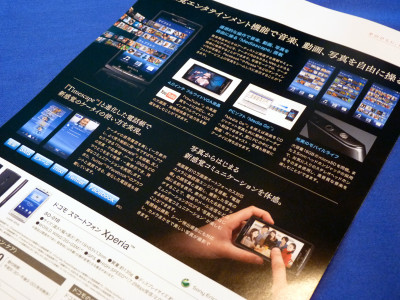 Spec sheet. Based on the global model, Xperia(SO-01B) runs on Android1.6 OS, with 4.0 inch(854×480) full-wide VGA LCD, 8.1 megapixel camera, wireless LAN(IEEE802.11 b/g), Bluetooth, microSDHC card slot(comes with 16GB card).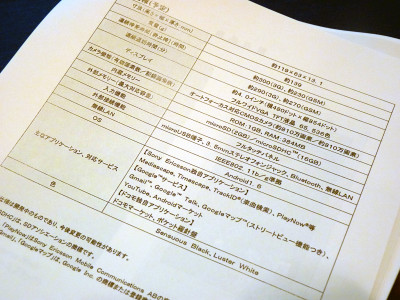 Sony Ericsson modified the Android1.6 interface. Mediascape allow seamless and smooth access to the music, videos and pictures on your phone and online.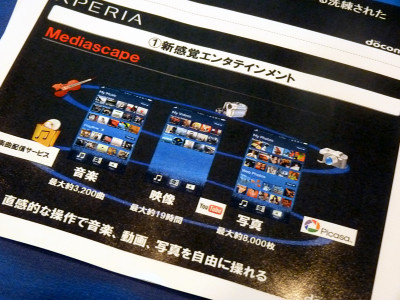 You can access related materials online or other local contents while listening to a song.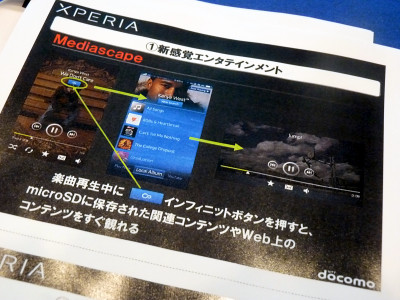 Load pictures, video and music from your PC via Sony's Media Go.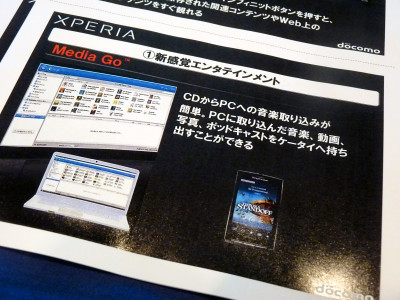 Advanced face recognition allow you to call or text your friend by tapping their picture.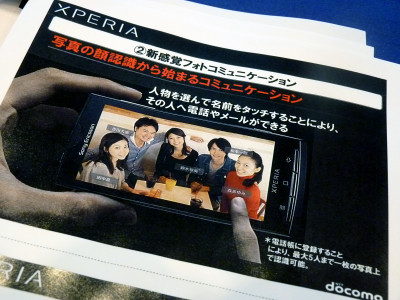 You can also check your call history and other interactions with that friend while viewing a picture.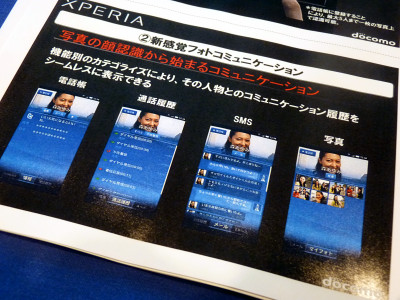 Timescape aggregates all of your communications on the phone: text, phone call, twitter, facebok...so you can choose whichever way to communicate with your friend while viewing their picture.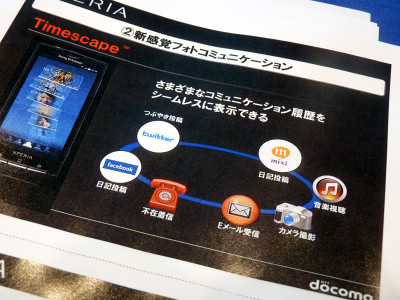 1GHz CPU allows HD YouTube watching on 4.0 inch screen.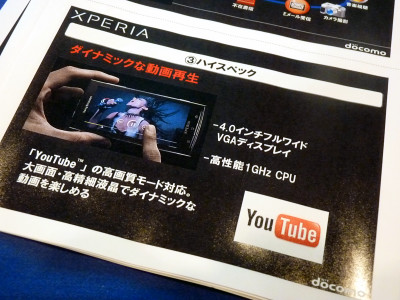 High-Speed Uplink Packet Access(max 2.0Mbps uplink) and wireless LAN allow swift uploading to YouTube or Picasa.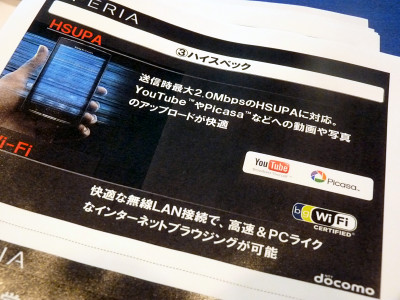 "Whole new entertainment experience", "whole new photo communication", and "high-spec" are the three points Xperia emphasised.


Xperia comes in two colours: Sensuous Black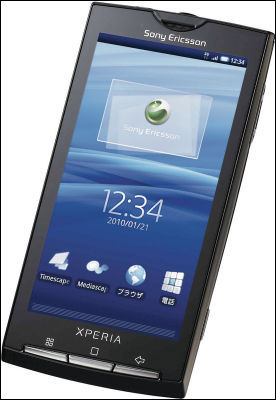 and Luster White.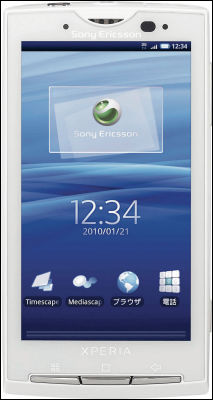 Front and back.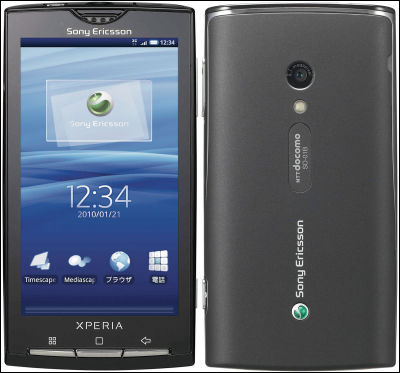 You can see more pics on Xperia's official site.

(Japanese)Xperia (TM) :: Product :: NTT docomo

Xperia(SO-01B) is based on the global model Xperia X10 but they emphasised on smooth Japanese input.

Xperia is expected to compete with iPhone (which is sold by SoftBank Mobile in Japan), but president and CEO Ryuji Yamada of NTT Docomo stated that he thinks "Xperia is competitive to iPhone in both the hardware and software aspects", mentioning the 7.2Mbps downlink speed, high-resolution display and camera for hardware and multitaskability for software.

Related Posts:
All NTT Docomo's Winter 2009/Spring 2010 Model Cellphone Handsets Vol. 1/3 - GIGAZINE

All NTT Docomo's Winter 2009/Spring 2010 Model Cellphone Handsets Vol. 2/3 - GIGAZINE

All NTT Docomo's Winter 2009/Spring 2010 Model Cellphone Handsets Vol. 3/3 - GIGAZINE

Looks Delicious! Chocolate-like Cell Phone "SH-04B" by NTT docomo - GIGAZINE

Wooden Cell Phone "TOUCH WOOD" by NTT docomo: CEATEC JAPAN 2009 - GIGAZINE