Treat Your Doggie with "Dog Pets" Pez Dispenser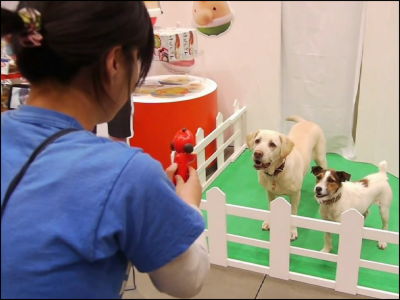 (This article was originally posted in Japanese at 23:00 Jan. 18, 2010)

Playing fetch with your dog is fun but throwing frisbee or ball requires vast space, and it's not everyday you can walk your dog to the park. You can try tossing a chew toy or dog biscuit in your living room but once the dog catch it, he'll just keep chewing it on his own, cutting short your bonding time.

PEZ dispenser-like "Dog Pets" doggie snack dispenser by Takara Tomy (of dog-to-human language translator BowLingual) can turn your dog's snack time into a whole new indoor quality time experience.

Pics and video after the cut!
"Dog Pets" was demonstrated at TOY Forum 2010. It's a PEZ dispenser-like device to shoot a snack cube for your dog to catch mid-air.

Dogs are nearsighted and not very good at focusing, but the clicky sound will get his attention and help him focus.
YouTube - "Dog Pets" Dog Snack Dispenser


Comes in three colours, to be on sale on March 25, 2010 for 1,394 yen (about $15).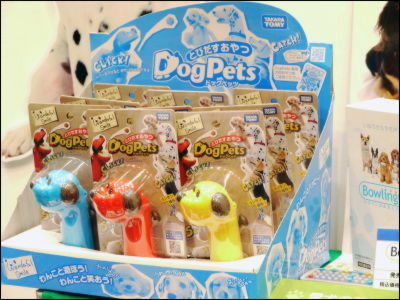 The snack cubes comes in two flavours, "Chicken&Cheese" and "Beef&Milk", 105 yen per pack.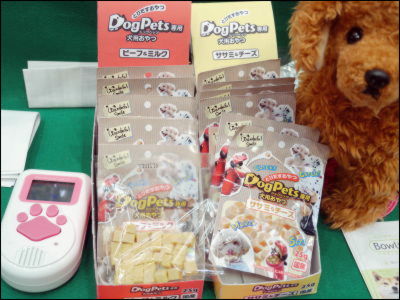 The cartridge can hold six cubes.


BowLingual's successor BowLingual Voice was also on display.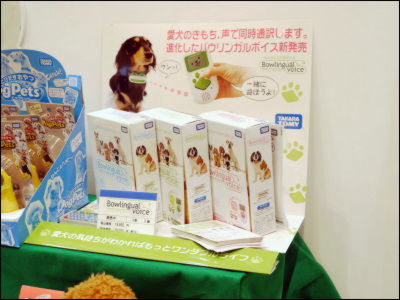 Related Posts:
No More Greasy Keyboard! Purpose-Built Lazy-Hand "Potechi no Te" for Potato Chips - GIGAZINE

Bath Products "Cup Nyuyoku" Nearly Identical to Myojo's Instant Ramen - GIGAZINE

The Future is Now! RC Car "ene Cargo" Runs On Coke with Sony's Bio-Battery - GIGAZINE