TOY Forum 2010: Table of Contents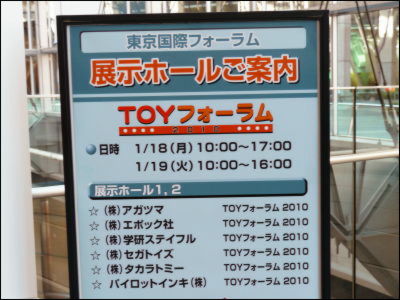 (This article was originally posted in Japanese at 11:22 Jan. 18, 2010)

"TOY Forum 2010" is a trade show for toy dealers and distributors held at Tokyo International Forum on January 18th and 19th.

Bunch of new products to come out this year are showcased there, so we'll be posting coverage from the site. For your convenience, all posts related to TOY Forum 2010 will be linked from this "Table of Contents" post.

Read on for details and pics.
Tokyo International Forum, located near Yurakucho Station, Tokyo.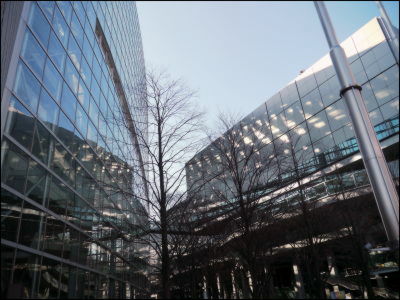 Beautiful building, designed by Urguayan-born architect Rafael Vinoly.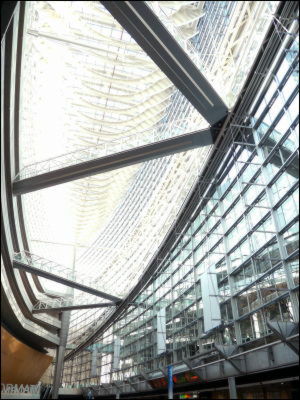 Reception for TOY Forum 2010.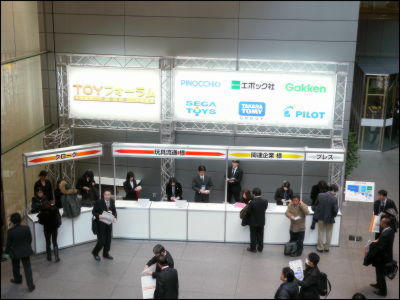 The site before opening.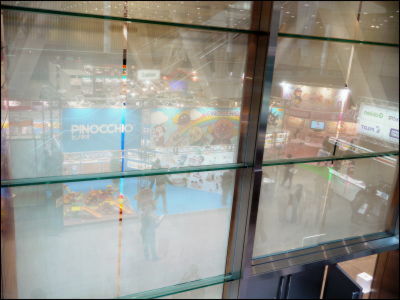 Map of the booths.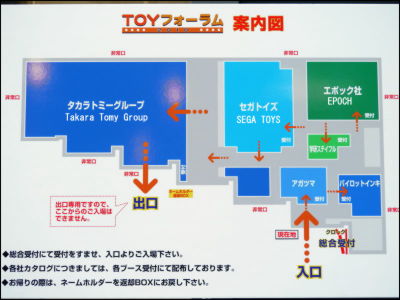 Jan 18, 2010 14:14:45
Retro Games Immortalised as Solar-Powered Miniature "Game & Watch" by Takara Tomy - GIGAZINE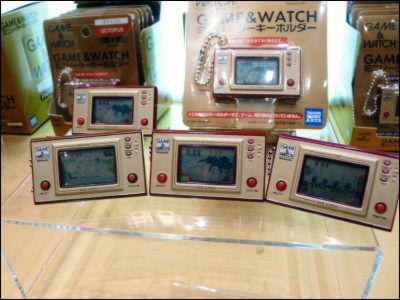 Jan 18, 2010 16:17:17
Bath Products "Cup Nyuyoku" Nearly Identical to Myojo's Instant Ramen - GIGAZINE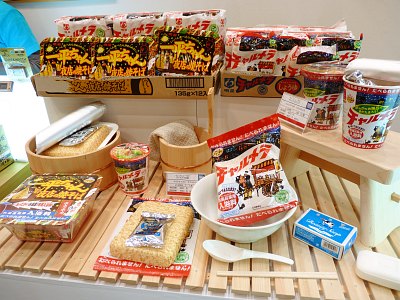 Jan 19, 2010 17:02:58
The Future is Now! RC Car "ene Cargo" Runs On Coke with Sony's Bio-Battery - GIGAZINE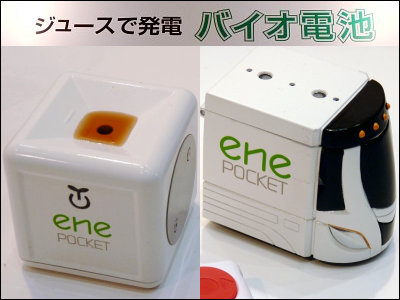 Jan 20, 2010 12:31:45
No More Greasy Keyboard! Purpose-Built Lazy-Hand "Potechi no Te" for Potato Chips - GIGAZINE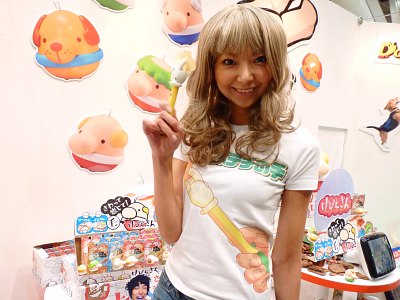 Jan 20, 2010 18:11:23
Treat Your Doggie with "Dog Pets" Pez Dispenser - GIGAZINE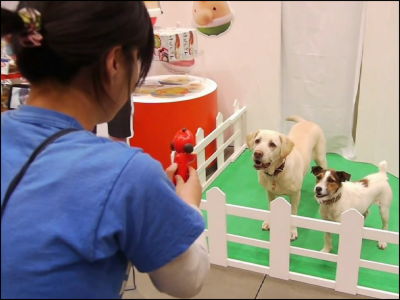 Related Posts:
"Fantasy Universe" Globe that Floats in the Air - TOKYO TOY SHOW 2009 - GIGAZINE

BANDAI's "Gundam 30th Anniversary Collection" Toys - TOKYO TOY SHOW 2009 - GIGAZINE

Koala's March Bath Bombs by BANDAI - TOKYO TOY SHOW 2009 - GIGAZINE

TAKARA TOMY's "Taiken-Oh" Kit to Play CSI - TOKYO TOY SHOW 2009 - GIGAZINE

SEGA's Indoor Fireworks Projector "Uchiage Hanabi" at TOKYO TOY SHOW 2009 - GIGAZINE

SIGGRAPH ASIA 2009: Table Of Contents - GIGAZINE

Tokyo Game Show 2009: Table of Contents - GIGAZINE

Table of Contents: 47th Amusement Machine Show - GIGAZINE

Table of Contents - CEATEC JAPAN 2009 - GIGAZINE

Table of Contents: Tokyo Motor Show 2009 - GIGAZINE