Illustrations and Autographs of Manga Artists and Voice Actors at Machi★Asobi Anime Festival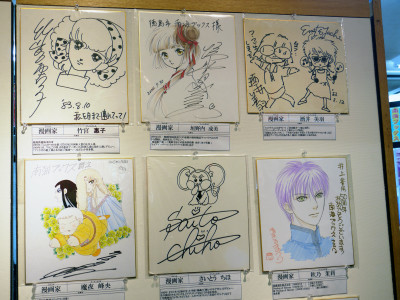 (This article was originally posted in Japanese at 13:00 Jan. 18, 2010)

Illustrations and autographs of various manga artists and voice actors/actresses as well as some rare anime posters are on exhibit at anime festival Machi★Asobi Vol.2 held in Tokushima.

Pics after the cut!
Shopping town Poppo Gai, one minute on foot from Tokushima Station.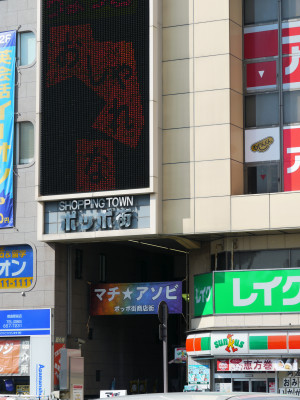 Poppo Gai is sort of like the Akihabara of Tokushima, since anime shop Animate Tokushima and manga store Nankai Books are located here.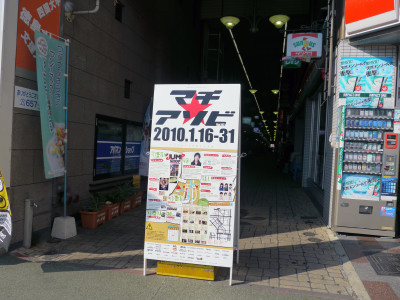 The exhibit is held until January 31. You can find the site on your right about midway through the arcade.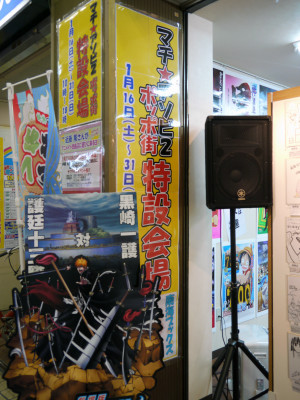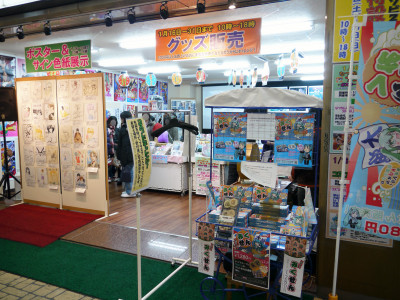 Open from 10:00 to 18:00.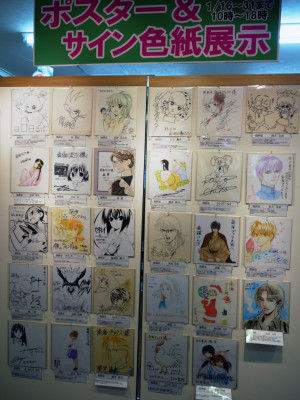 Illustrations by manga artist Akira of Kyoran Kazoku Nikki, Yuki Hijiri(Locke the Superman), Akane Nagano(Minna no Ofuro), Ryuta Amazume(Toshiue no Hito), Yuji Iwahara(King of Thorn) and Kaoru Mori(Emma).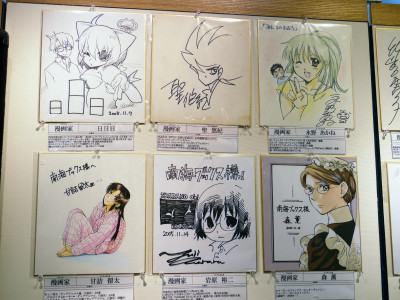 Sennendo Taguchi(Yoshinaga-san Chi no Gargoyle), Eichi Shimizu & Tomohiro Shimoguchi(Linebarrels of Iron), Sakurako Gokurakuin(Sekirei), Ichiro Sakaki (Magician's Academy), Yuki Yogo(Akumetsu) and animator Hiroshi Watanabe(Magical Princess Minky Momo, Ginga Hyoryu Vifam).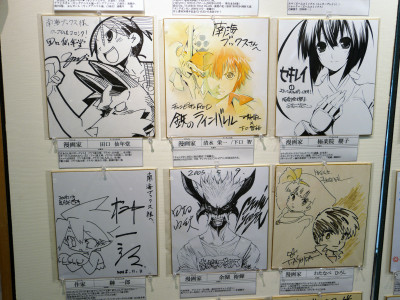 Dall-Young Lim & Park Sung-woo(Black God), Takako Shimura(Hōrō Musuko) and Mami Hashiba(Tokyo Ghost Trip).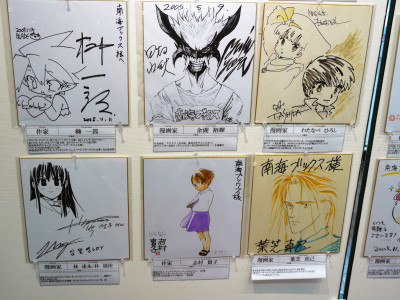 Renowned manga artist Keiko Takemiya from Tokushima, Narumi Kakinouchi(Vampire Princess Miyu), Miwa Sakai(Milk Time ni Sasayaite), Mineo Maya (Patalliro!), Chiho Saito(Revolutionary Girl Utena) and Matsuri Akino(Reikan Shouhou Kabushikigaisha).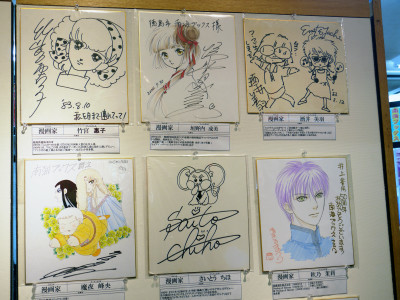 Kazumi Tojo(Igyo no Kage), Ken Saito(Hana no Namae), Mecha Tanaka(Omukaedesu).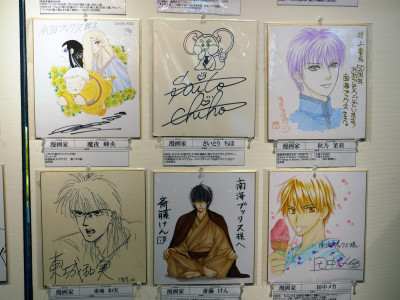 Ko Yumeji(Ano Yama Koete), Hari Tokeino(Me & My Brothers), Yugi Yamada(Dare ga Omae wo Sukidato Itta), Fumiyo Kono(Kokko-san), Kuya Matsunaga(Tokaido HISAME).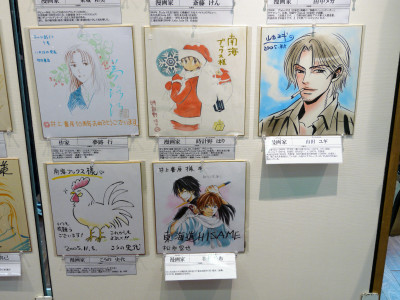 On the other side of the board were voice actors' autographs.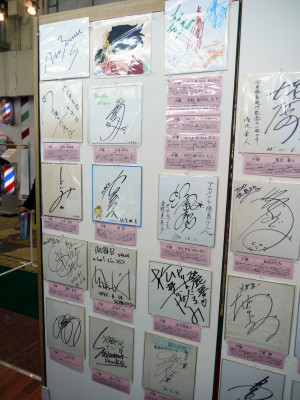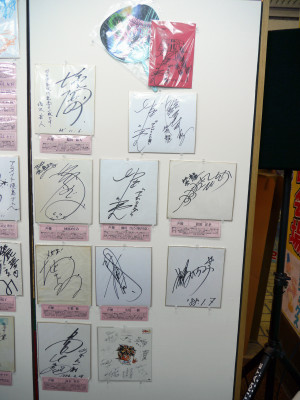 There were also a celluloid picture autographed by voice actor .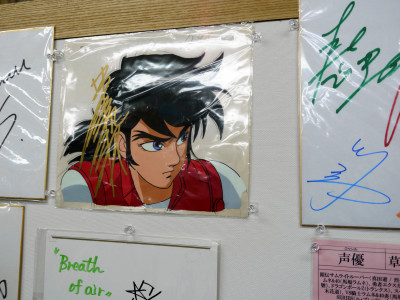 The multi-coloured one is autographed by five voice actors who did the five heroes in Ronin Warriors: Takeshi Kusao, Hiroshi Takemura, Tomohiro Nishimura, Nozomu Sasaki and Daiki Nakamura. Takeshi Kusao also autographed the cell picture.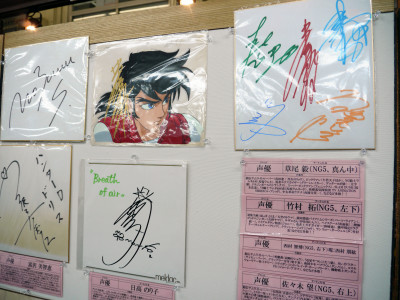 Michie Tomizawa, Noriko Hidaka, Mika Doi, Tomokazu Seki and Rika Fukami.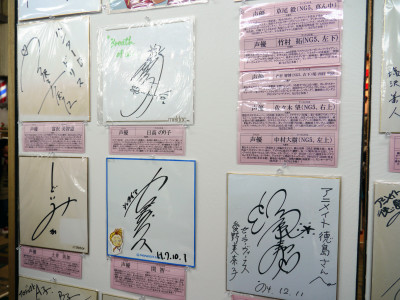 Emi Shinohara, Miina Tominaga, Naoko Matsui, Takako Ohta, Kazuko Sugiyama, Akari Hibino.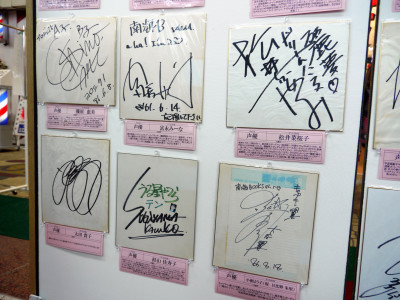 Kaneto Shiozawa(left), Ryo Horikawa and Hirotaka Suzuoki(right). The three voice actors co-starred in Saint Seiya as Aries Mu, Andromeda Shun and Dragon Shiryu.


Megumi Hayashibara, Ryo Horikawa, Hirotaka Suzuoki, Shigeru Chiba, Kazuki Yao and Hiromi Tsuru.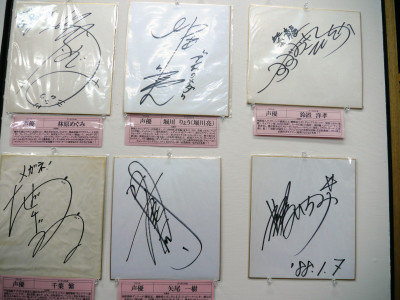 Sumi Shimamoto's autograph was dated March 27, 1986, day after the first airing of Maison Ikkoku in which she played the heroine Kyoko Otonashi. Autographs of the cast members from Mashin Hero Wataru surrounds an illustration by character designer Toyoo Ashida.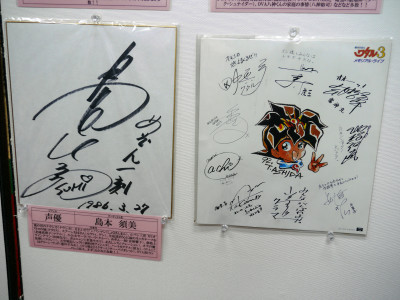 Various anime posters were on display.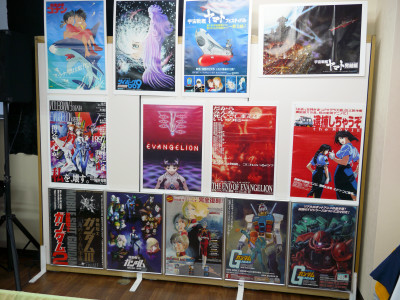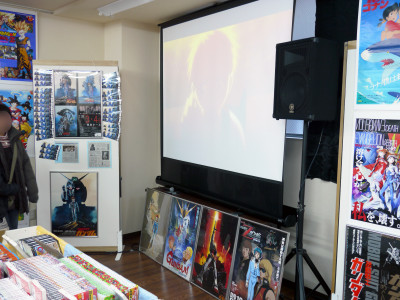 Here are some '90s-'00s titles like Sailor Moon, Ojamajo Doremi, InuYasha, and Cardcaptor Sakura.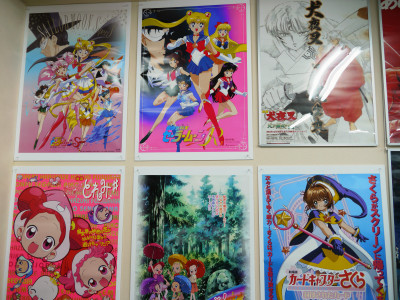 And these classic ones including Galaxy Express 999, Tomorrow's Joe and The Super Dimension Fortress Macross are from Ufotable president Hikaru Kondo's collection.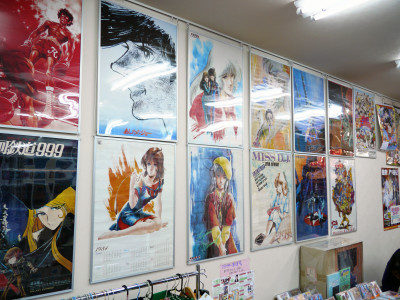 They were also lending out costumes to take pictures. This one is Shinsengumi's uniform from Gintama.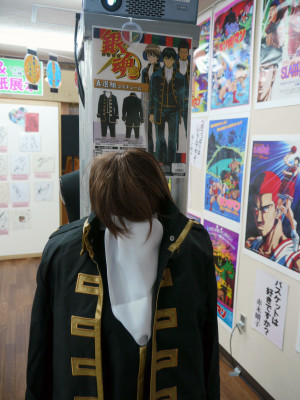 A girl cosplaying as Rei Ayanami.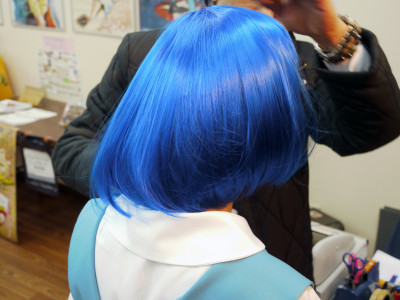 The autographs and posters are not for sale, but various anime goods including Hatsune Miku's senbei Mikusen can be purchased here.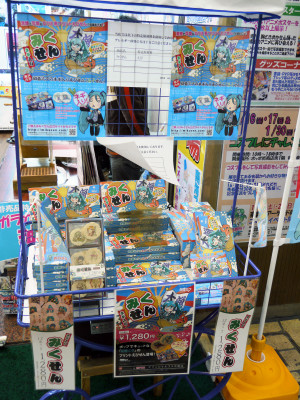 Animate Tokushima also had special features for Machi Asobi Fes.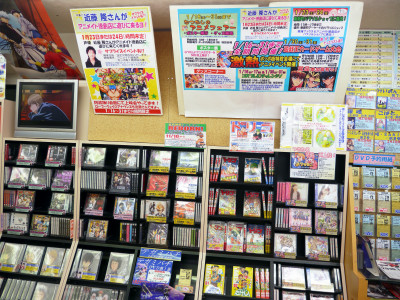 Autographed CDs of Tsukineko who performed at the last Machi Asobi Fes.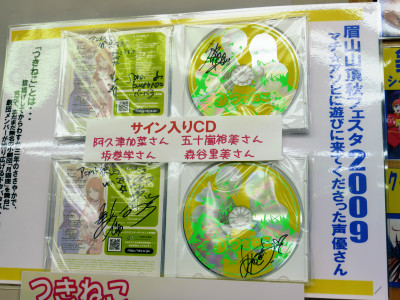 The Prince of Tennis character designer Akiharu Ishii is from Tokushima. His illustration was on display.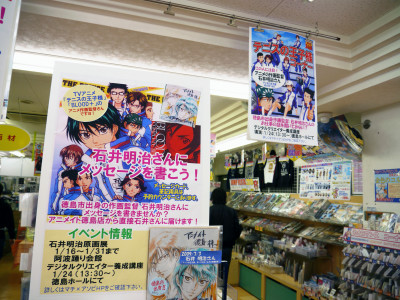 Messages posted in the box will be delivered to Ishii.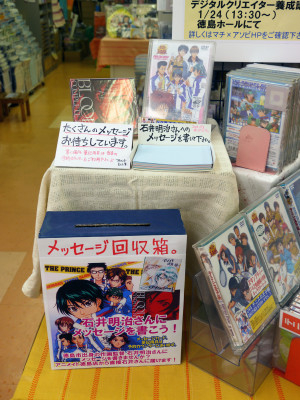 Voice actor Takashi Kondo known for his role as Kyoya Hibari in Katekyo Hitman Reborn! will visit Animate Tokushima on January 23 or 24.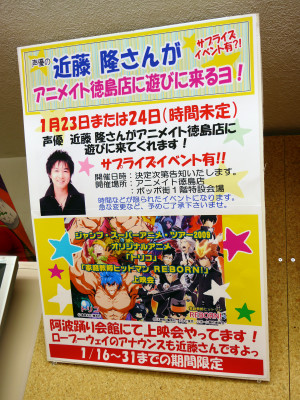 Related Posts:
Front Page: 50 covers representing 50 years of SHONEN SUNDAY - GIGAZINE

Front Page: 50 covers representing 50 years of SHONEN MAGAZINE - GIGAZINE

11-metre statue of Tezuka's "Phoenix" Unveiled at Kyoto International Manga Museum - GIGAZINE

TAF 2009: Hand Drawings and Autograph of Shoji Kawamori of MACROSS FRONTIER and BASQUASH! - GIGAZINE

DVD Box Set "It's a Rumic World" with New Episodes of "Urusei Yatsura", "Ranma 1/2" and "InuYasha" - GIGAZINE