Girls' School Rock Band Coming Back! 2nd Season for "K-on!" Announced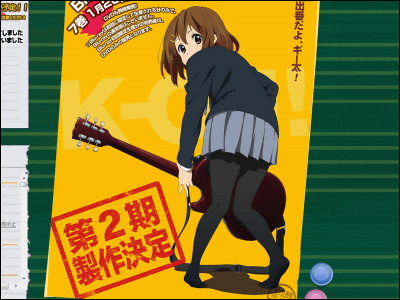 (This article was originally posted in Japanese at 00:24 Dec. 31, 2009.)

Great news for end of the year 2009. 2nd season of K-on! announced.

This was first revealed in "'K-On!' Live Event - Let's Go!!", actresses concert event held in Yokohama on Dec. 30. Now the news is published on the anime's official web page.

Read on for detail.

TBS Animation - K-On! Official Web Page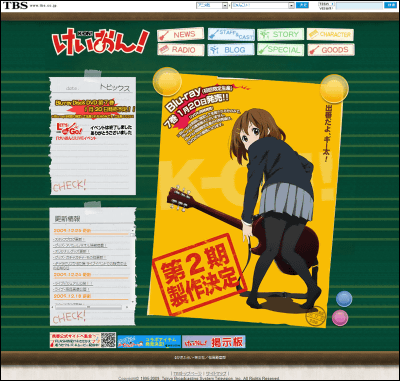 The original K-On! manga has been serialized on Manga Time Kirara since May, 2007. The anime adaption was done by Kyoto Animation and aired from April to June, 2009.

The airing turned out to be a big success, along with great sales in DVDs and Blu-rays, sound tracks, plastic figurines and even headphones and bass guitars used by characters in anime.

No concrete schedules and synopsis are revealed yet. Hope to see it soon.

Related Post:
K-ON! economic effect? Massive lift on the sales of expensive headphones worn by the lead - GIGAZINE

"K-ON!" boosts Fender's left-handed bass guitar sales by 800% - GIGAZINE

"Ho-kago Tea Time" EP featuring Songs performed by the Band in "K-On!" - GIGAZINE

K-ON! Nendoroid shown at Wonder Festival 2009 [Summer] - GIGAZINE

All K-ON! Figures can be seen in WONDER FESTIVAL 2009 [Summer] - GIGAZINE

"K-ON!" Prizes now Quavering Claw Vending Machine shown in AMS 2009 - GIGAZINE

110% in Size! "Plop Plus petit" adds "K-on!" characters - GIGAZINE

This is what we call "Hommage", awesome video of Figma doing K-ON! OP song - GIGAZINE
in Anime, Posted by darkhorse_log