Comings and Goings of Weekly Shonen Jump in 2009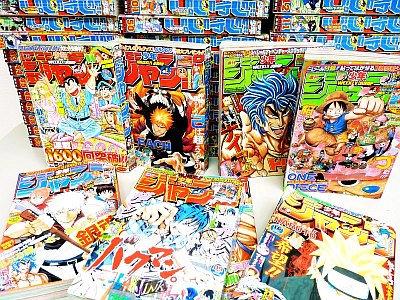 (This article was originally posted in Japanese at 09:00 Dec. 31, 2009)

From #1 to #53, total 49 issues (some were joint issues that stand for two numbers) of Weekly Shonen Jump came out in 2009. While popular titles like Bakuman and Toriko got anime adaptions green-lit, some middle-ranking and relatively long-running titles saw their (sometimes forced) conclusion, including Eyeshield 21, Majin Tantei Nogami Neuro and To Love-Ru.

So what happened in Shonen Jump last year? Here's our summary, including analysis on one-shot, newcomers and discontinued titles, total price of the year's issues, and the whole illustration on the spine (which make one big picture when lined up).

Read on for details and pics.
Not many of the readers might be aware of, but the illustrations on the magazine's spine connect to make an extensive picture. Characters from Naruto were featured in 2009, running with batons in relay race. Same runners can be seen multiple times, but of course they can perform Bunshin no Jutsu (the ninja clone technique).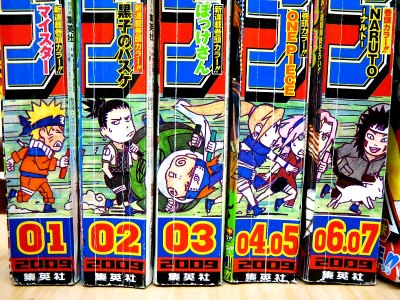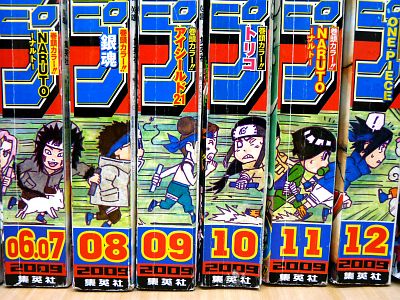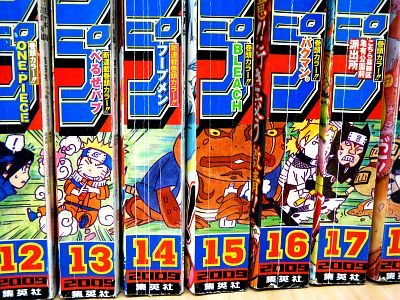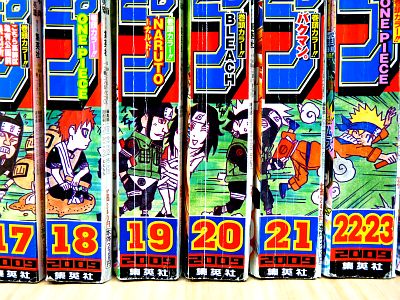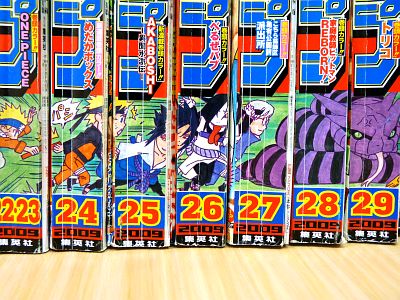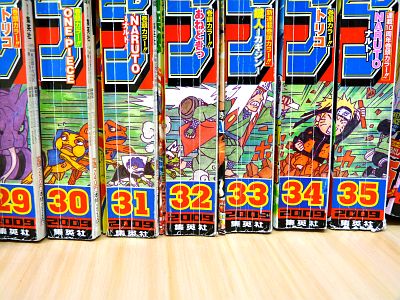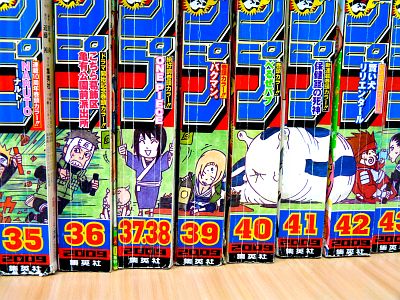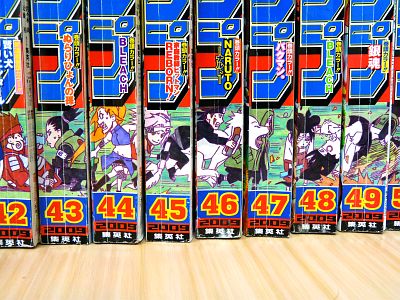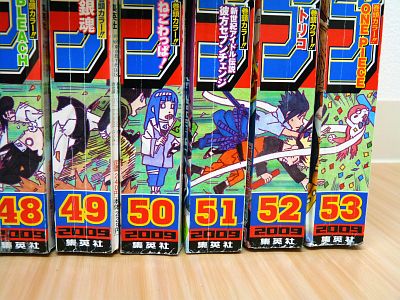 Watch it in video.
YouTube - NARUTO's big picture on the spines of Weekly Shonen Jump 2009


The burning pirate is the mascot of Shonen Jump, always printed with yellow flame on the spine.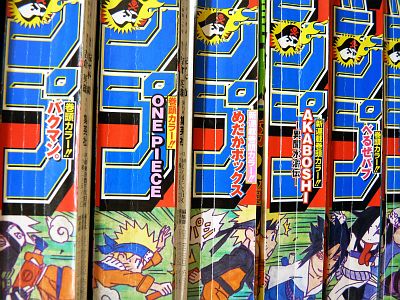 A cover featuring Naruto for the 10th anniversary of its serialization. The plate on Naruto's headband was printed in shiny gold, and the mascot pirate is replaced by Naruto for the special occasion.


Colour of the flame surrounding the pirate varies on front cover.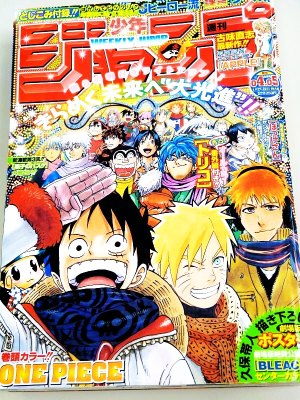 By the way, NARUTO made the cover of 9 issues in 2009, followed by One Piece and Toriko which adorned 4 covers each. "Various" in the chart below refers to assemblage of characters from various titles, like the picture above.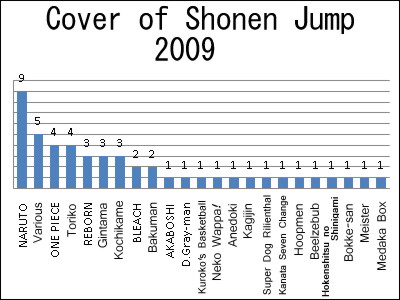 Here are the 49 issues published in 2009(cover date). Pile on the left consists of issues without newly launched series nor one-shot manga, center pile consists of issues in which a new series was launched, right pile of issues with one-shots. You can see new titles and new talents are introduced quite frequently.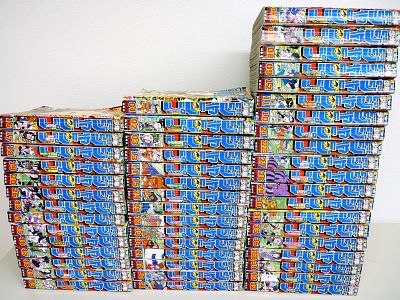 19 one-shots were published in 2009: APPLE(Naoshi Komi), Double Mame Daichi(Kyosuke Usuta), Trigger Keeper(Daisuke Ashihara), Neko Wappa!(Naoya Matsumoto), Medaka Box(Story: Nisio Isin/Manga: Akira Akatsuki), Buchikamashi(Story: Saruichi/Manga: Kohei Fujino), CRIMSON KING(Yo Matsuyuki), Keppu Gakkyukai(Masaru Miyokawa), BLUST!(Yusuke Murata), Kiben gakuha Yotsuya sensei no Kaidan(Shun'ichi Furutachi), Kuromitsu-sama Mairu!(Naoki Iwamoto), ULTIMATE CHASER(Makoto Kasuga), LOCK ON!(Kenta Tsuchida), Meiji Hyakki Hakkoutan DENGI(Yusaku Shibata), CROWN!(Story: Kei Inayoshi/Manga: Tsutomu Kobayashi), north island(Ei Ando), Yonaoshi Densetsu!! Yona Oshiro(Hirofumi Neda), Metalica Metalca(Teruaki Mizuno) and SWOT(Naoya Sugita). Most one-shots get colour pages.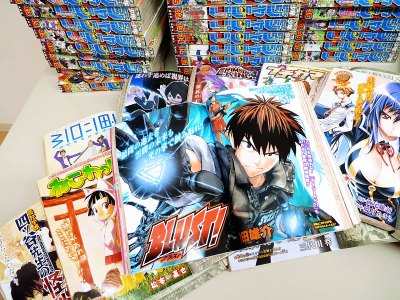 There's always a chance that a one-shot received well will come back as a series (like Naruto, the serialization of which started in 1999 based on a one-shot published in 1997), but only two of the 19 one-shots in 2009 came back; Medaka Box and Neko Wappa!.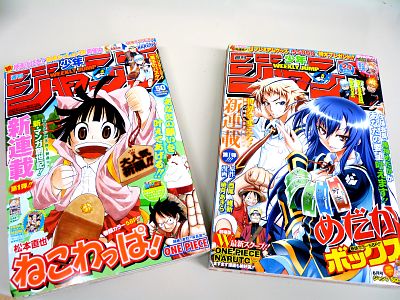 15 series were launched or re-launched in 2009: D.Gray-man(Katsura Hoshino), Meister(Kaji Kimiya), Kuroko's Basketball(Tadatoshi Fujimaki), Bokke-san(Yoshiyuki Nishi), Beelzebub(Ryuhei Tamura), Hoopmen(Kawaguchi Yukinori), Medaka box(Nisio Isin, Akira Akatsuki), AKABOSHI(Yoichi Amano), Anedoki(Mizuki Kawashita), Kagijin(Yasuki Tanaka), Wasshoi! Waji Mania(Satoshi Wajima), Hokenshitsu no Shinigami(Show Aimoto), Super Dog Rilienthal(Daisuke Ashihara), Nekowappa!(Naoya Matsumoto) and Shinseiki Idol Densetsu Kanata Seven Change(Shuichi Asou). Of which, only seven titles remain ongoing.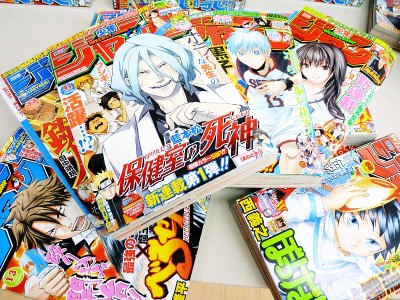 In most cases, a new series will get a cover feature for its debut, but Wasshoi! Waji Mania only got the bottom right corner of the cover for the occasion, nearly wiped out by Naruto's shuriken.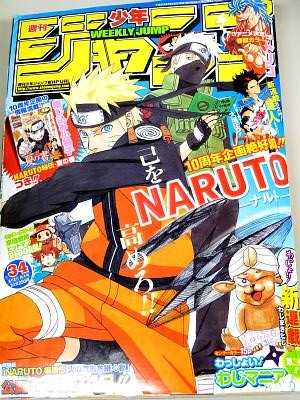 Ten titles concluded (or discontinued) in 2009: Eyeshield 21(2002-2009), Majin Tantei Nogami Neuro(2005-2009), To Love-Ru(2006-2009), Asklepios(2008-2009), Meister(2009), Bokke-san(2009), AKABOSHI(2009), Hoopmen(2009), Kagijin(2009), Wasshoi! Waji Mania(2009). The picture below shows the last installment of Majin Tantei Nogami Neuro, To Love-Ru and Eyeshield 21. Lasting longer than three years, these three were relatively long-running titles in Shonen Jump.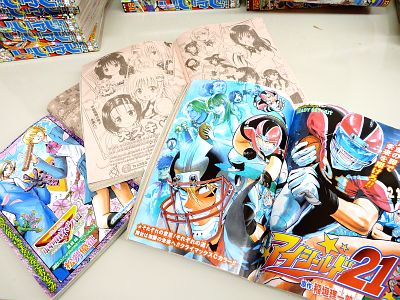 D.Gray-man was re-launched in 2009 but after 8 weeks it moved on to monthly magazine Jump Square.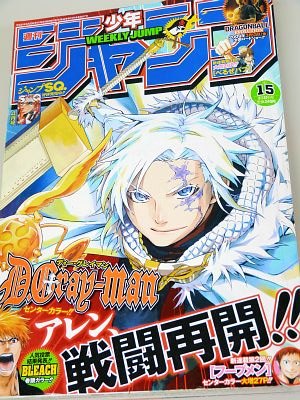 Hunter × Hunter took a year off after making a brief appearance in Issue #2, 2009. The next installment is to come out in Issue #5-6, 2010. Hope it'll be regularly serialized this time.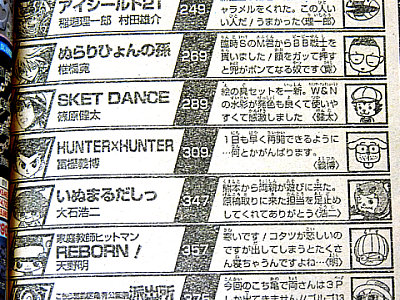 Of the titles launched in 2009, Meister was the shortest-lived, concluded in 10 weeks. Ten-week period is said to be the shortest term of serialization in Shonen Jump, regardless to the severeness of unpopularity of the series, to at least provide a chance to wrap up the story.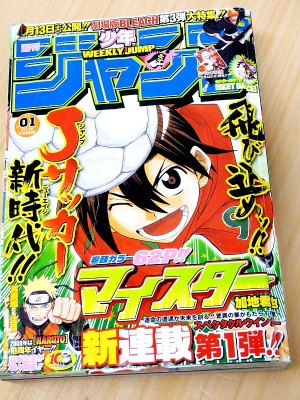 Weekly Shonen Jump is said to be deciding where in the magazine a manga should be placed strictly by the popularity according to their weekly questionnaire, so that the installments of popular titles come near the front and unpopular ones come near the end of the magazine.

The competition is fierce, and manga fans are always speculating which title will be concluded, or executed, next. Seems like it's not very hard to predict this by watching the movement of where the installments are placed.

Three long-running series that concluded in 2009. Most issues of Shonen Jump has installments of 20 to 23 titles. Eyeshield 21 got the place of leadoff for the 9th issue of 2009, but other than that, all three tend to be placed in the last half of the magazine. Final installments of long-running titles seem to be strategically placed around the center of the magazine, with colour pages in most cases.


These are the short-lived titles. Most made their debut as a cover feature, but the popularity must have rapidly decreased. They all concluded unceremoniously near the back of the magazine.


Currently running titles that started in 2009. Seem to be faring well compared to the "concluded" titles above.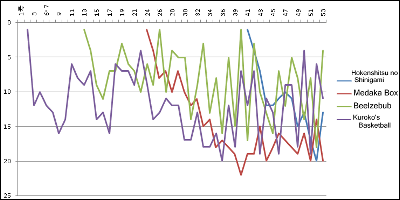 Let's take a look at the popular titles. One Piece and Naruto never goes lower than 3rd, which means these two titles can be spotted in the first 80 pages or so in every issue of Shonen Jump. BLEACH might look rather unstable, but it's still always placed in the first half of the magazine and was made the leadoff four times last year.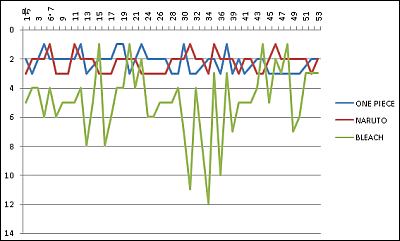 There's at least one obvious exception to the "popularity order". Pyu to Fuku! Jaguar is currently the fifth longest-running series in Shonen Jump, thus must have solid fan base. Since it's almost always placed in the end of the magazine, fans can spot it easily when browsing.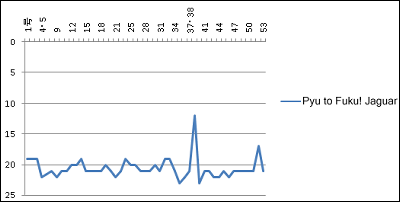 Each issue of Shonen Jump published in 2009 were priced at 240 yen or 250 yen according to its volume, and the total price of 49 issues was 11,940 yen (about $128), which is about the price of 30 tankoubon volumes. Incidentally, four to six tankoubon volumes come out each year for regularly serializing titles, including Naruto, One Piece and Bleach. Buying tankoubons of your favourite manga sounds more rational, but many hard core fans buy the magazine as it's the first opportunity to check out the latest development in their favourite manga.

Related Posts:
Popular Shonen Jump Mangas Showcased in Shueisha's "Jump Festa 2010" - Part 1/3 - GIGAZINE

Popular Shonen Jump Mangas Showcased at Shueisha's "Jump Festa 2010" - Part 2/3 - GIGAZINE

Popular Shonen Jump Mangas Showcased in Shueisha's "Jump Festa 2010" - Part 3/3 - GIGAZINE

Top 15 Most Captivating Manga at the Moment - GIGAZINE

Who is ultimately the strongest anime/manga character in the universe? - GIGAZINE