Design a Character for Broken Blade's "Hear the Scream of an Unknown Soldier" Campaign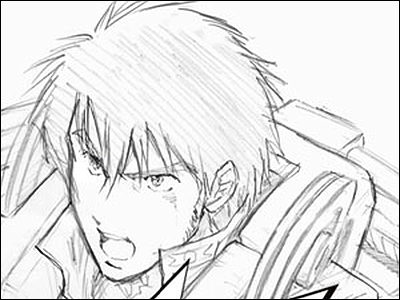 (This article was originally posted in Japanese at 11:45 Dec. 25, 2009)

Anime adaptation of Broken Blade is to be a six-parter film and the first part is due out 2010. They're now seeking for character design of an unnamed soldier who gets floored by the hero Rygart Arrow in the 4th film, as well as his war cry, via popular illustration community Tegakiblog.

The character's face and hairdo will be based on the winning illustration and the line will be screamed in the actual film.

Read on for details and pics.
Notice for the contest on Broken Blade's official website. Click the yellow "Imasugu Oubo (Submit Now)" button to jump to the campaign page on Tegakiblog.
Tegakiblog×Broken blade "Hear the Scream of an Unknown Soldier" Campaign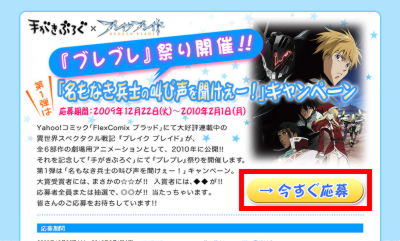 Click the blue "Kaitemiru (Draw)" button to enter the contest.
Tegakiblog: Tegakiblog×Broken Blade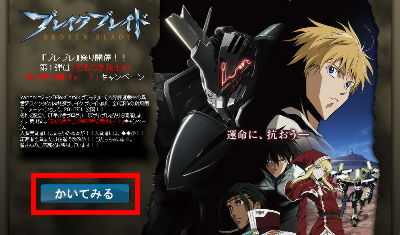 You need a Tegakiblog account to submit your work but there's English description along with Japanese so it must be relatively easy. Membership is free and all you need is an email, nickname and password.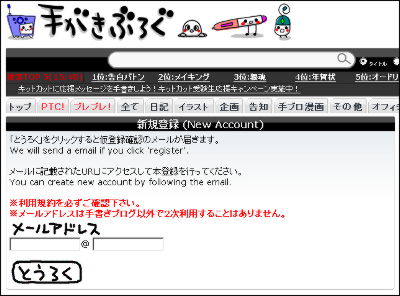 Log in and visit the contest page again. Choose colour, choose pen, and draw!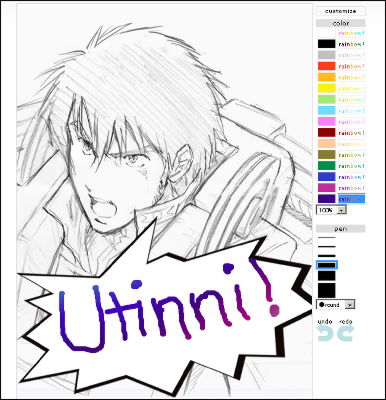 Surprised we're this good at drawing? Well, actually this is a template illustrated by director Nobuyoshi Habara himself. You can either just alter his looks or blank out his face using the white pen (there seems to be no eraser in this drawing tool) and draw a completely new face. You can even change the gender and age of the soldier.


Aside from being an unnamed pilot of a Golem(robot) of the invading army who is to be killed by protagonist Rygart Arrow in the fourth film (due Autumn 2010), you can create the soldier's characteristic and background freely. Write his/her profile in the comment box under your illustration (which will be posted as your Tegakiblog post).

Like this. "Tegaki" means "handwriting". Tegakiblog allows you to blog in your handwriting. By the way, she's screaming "Kyusho wa hazushimasukara! (I won't hit your vitals!)". How considerate.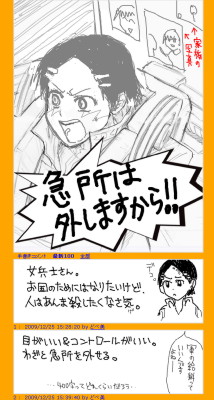 Illustrations and "screams" will be accepted until February 1, 2010 and the winner will be announced on March 1. Then the illustration will be finished by character designer Takushige Hikita. The final character design and profile will be unveiled around the end of May.

The winner gets to receive a "super-rare item" as well as the awesome experience of your character appearing in the movie and shouting your line. There will also be "Bure-Bure Matsuri Prize", "Broken Blade Prize" and other special prizes for those who didn't make it to the movie. Details will be announced around mid January.

"Open" posts in Tegakiblog are open to everybody so you can browse the entries thus far without being a member. Scroll down on the contest's top page.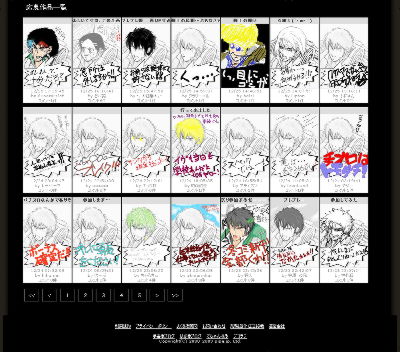 Some people are just posting their "screams" for fun. If you don't mean to enter the contest but just want to post a scream, you can remove "Bure-Bure Matsuri (Broken Blade Fes)" tag from the post.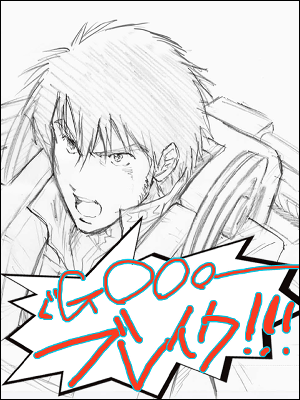 Here's a Dancouga fan paying homage to director Habara (who was the chief animator of Dancouga) by making him scream "Yatte yaru ze!", the hero Shinobu Fujiwara's catchphrase.


But remember, designing the character is the whole point. This guy looks like somebody out of Ken Ishikawa's manga.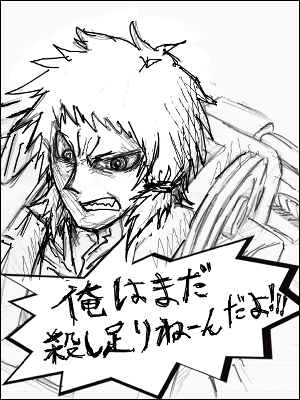 "Boku wa Shinanai!!"(I won't die!!)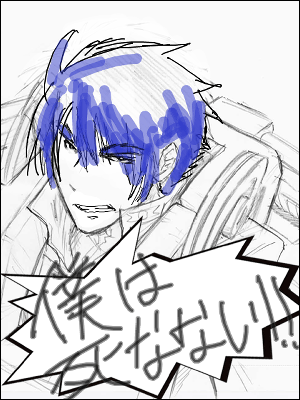 Hero of another anime can't just die here...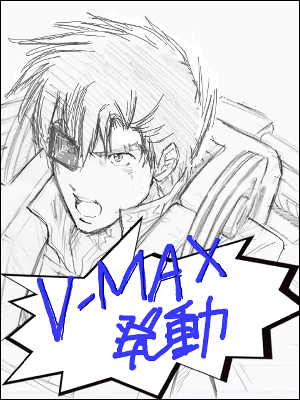 He seems to be in another war (namely, Comiket).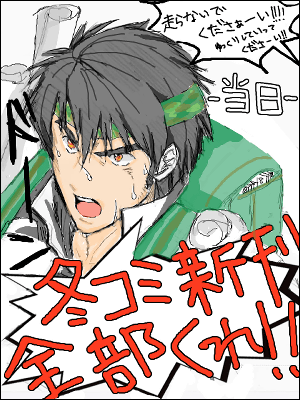 Looks like a veteran.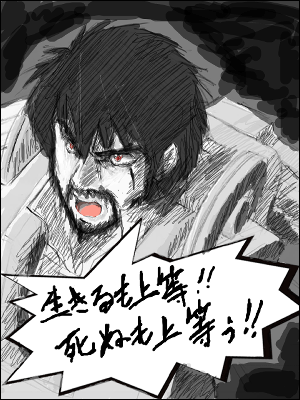 The profile says he's a crybaby, second son of a rich man, suffering from homesickness.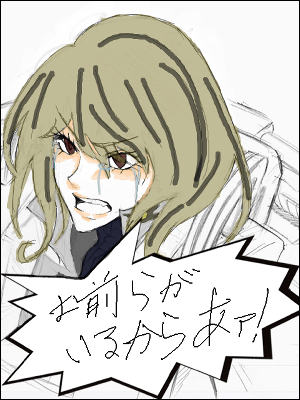 The character can of course be a female.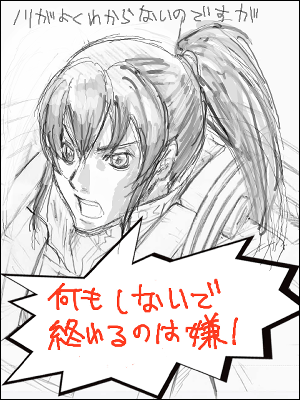 But we're not so sure about mutants...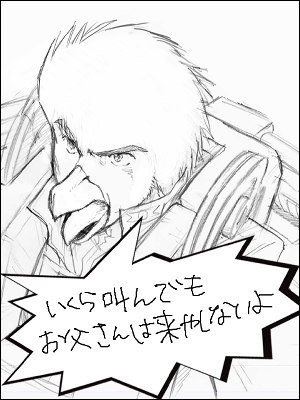 By the way, concrete release dates of the films are as yet unannounced, but at least four of the six films seem to be coming out in 2010.

Related Posts:
"Broken Blade" Anime Film Hexalogy on its way by ProductionI.G and XEBEC - GIGAZINE

Free New Year's Cards Available from Webcomic Magazine "FlexComix" - GIGAZINE

Winners of "Akihabara 2525" Colouring Contest Chosen by Yoshitaka Amano - GIGAZINE

List of New Anime: Winter 2010 - GIGAZINE