Popular Shonen Jump Mangas Showcased in Shueisha's "Jump Festa 2010" - Part 3/3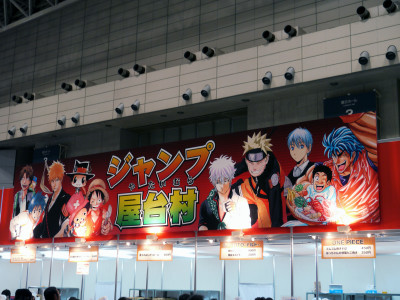 (This article was originally posted in Japanese at 04:00 Dec. 20, 2009)

Following Part 1 and Part 2, here's our third and the last post from Jump Festa 2010. This post will show you specialties themed on various manga characters offered at the food stalls.

Pics after the cut!
Food menu(left) and drink menu(right). One Piece, Naruto, Bleach, Gintama and Katekyo Hitman Reborn!, Toriko, Psyren and Kuroko no Basket were featured.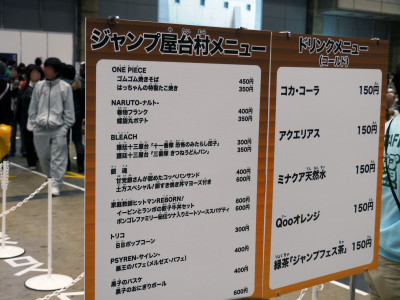 Samples.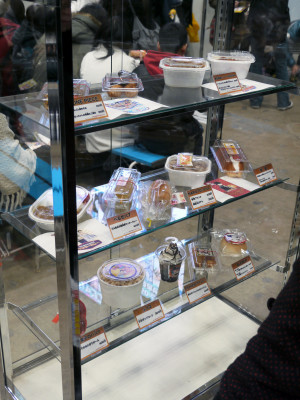 The stall was divided to drink(orange) and food(red).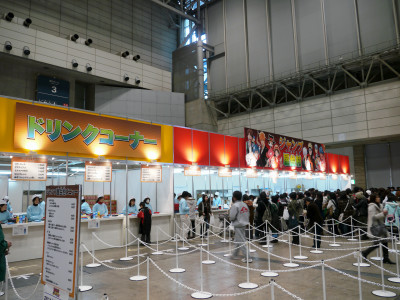 Queueing, as expected.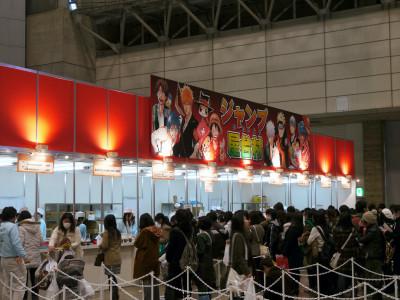 Each manga title had their own queue so you have to decide what you want before joining the line. There was an order card for Katekyo Hitman Reborn!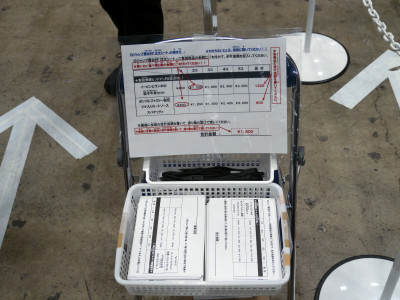 10 minutes wait for Katekyo Hitman Reborn!. "I-Pin and Lambo's Gyudon with Gyoza" and "Vongola Famiglia's Special Spaghetti alla Bolognese with Tuna" were on offer, 600 yen (about $6.50) each.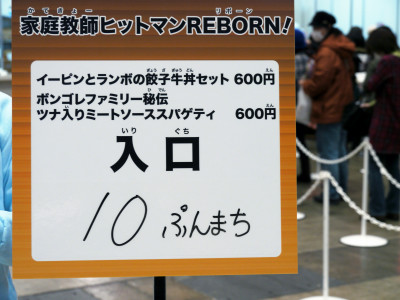 20 minutes for Gintama. Kind of like a popularity contest.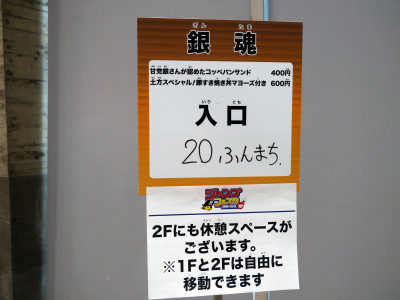 We were able to purchase these.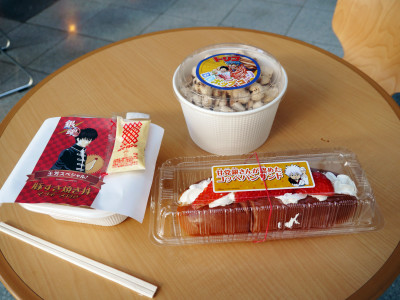 "Hijikata Special! Pork Sukiyaki Donburi with Mayonnaise", 600 yen, from Gintama. As you know, Hijikata is addicted to mayonnaise.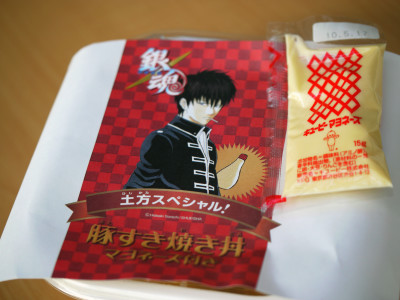 Sukiyaki. If you don't agree with Hijikata's taste you can eat this without mayonnaise.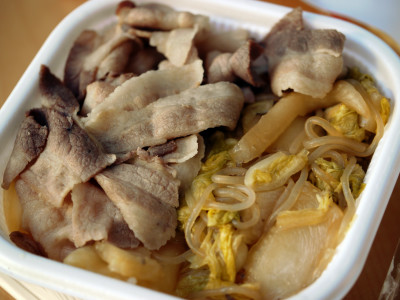 We braved the mayonnaise. Gross?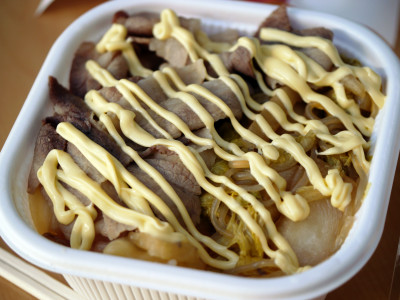 Actually not so bad, but the rice-sukiyaki ratio leaves something (namely, more meat) to be desired.


"Sweet Sandwich Approved by Sweet-Toothed Gin-san", 400 yen (about $4.40)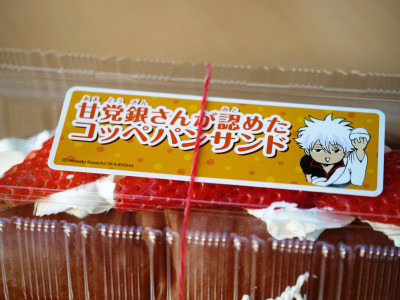 Hot dog bun filled with whipped cream and strawberry.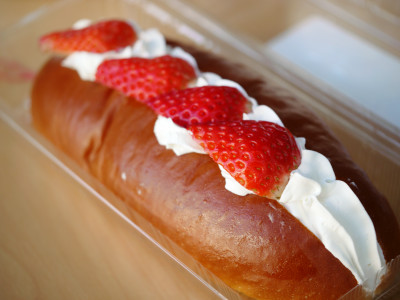 Strawberry jam in the bottom. Sweet.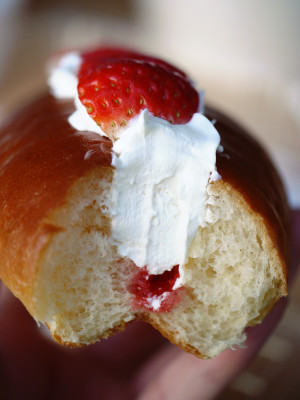 "BB Popcorn", 300 yen ($3.30) from Toriko.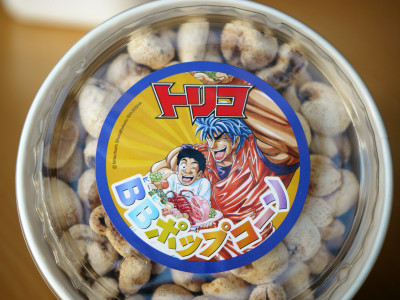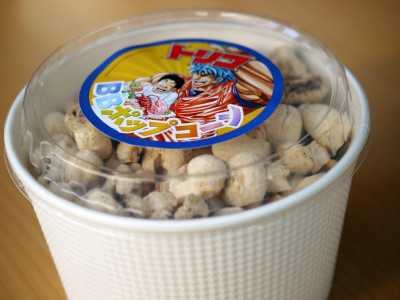 Chocolate flavoured. "BB Corn" is something akin to Popeye's spinach in Toriko.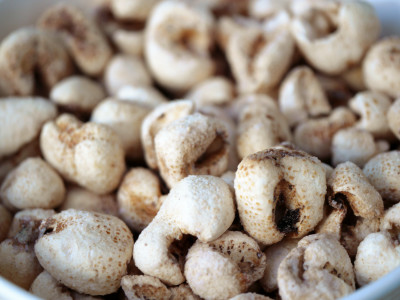 "Melchsee's Parfait" 400 yen from Psyren.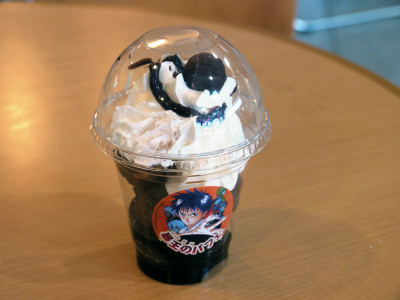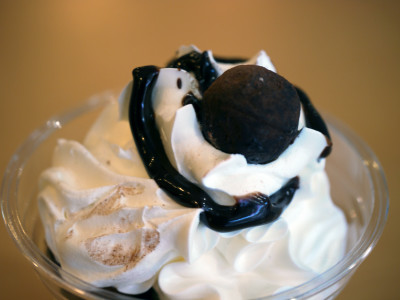 Chocolate truffle on top.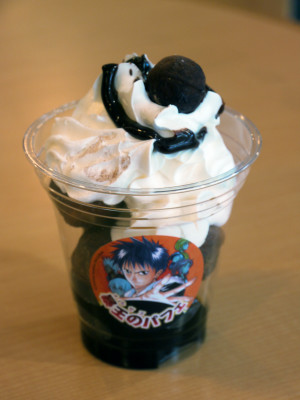 Chocolate-flavoured choux pastry topped with whipped cream and chocolate sauce. Coffee jelly in the bottom.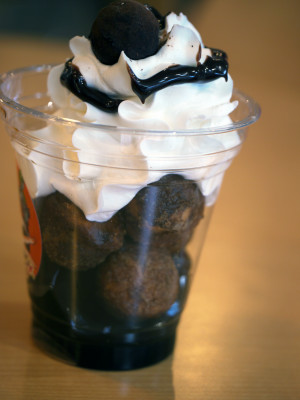 The combination was good but again, the ratio was wrong. Too much whipped cream.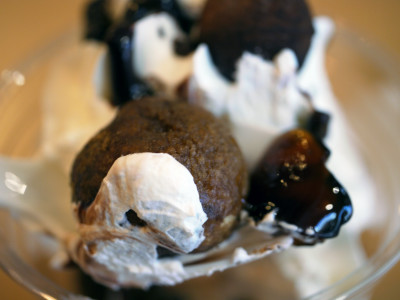 "Jump Fes-cha"(Jump Fes-tea), 150 yen($1.64)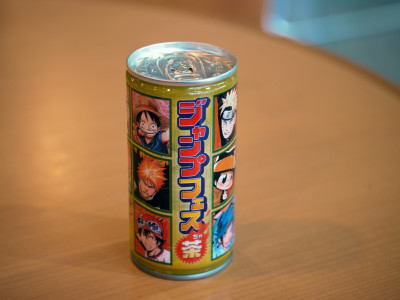 Basically just a canned green tea.


Nura Rikuo from Nurarihyon no Mago.


Ryo-san from Kochikame.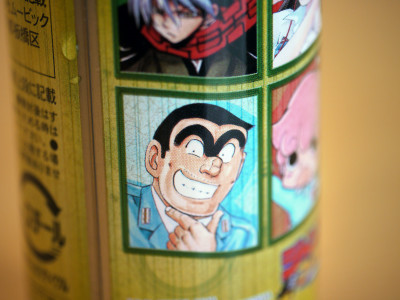 Natsuki Hagiwara from Anedoki.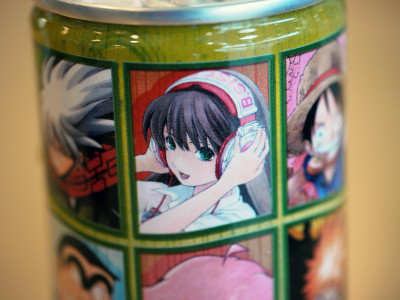 Inumaru from Inumarudashi.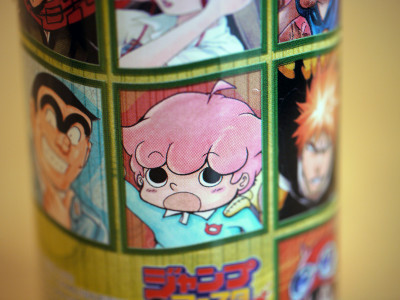 Monkey D. Luffy from One Piece.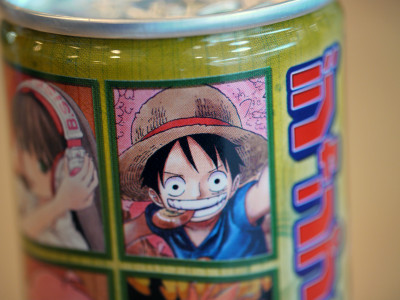 Ichigo Kurosaki from Bleach.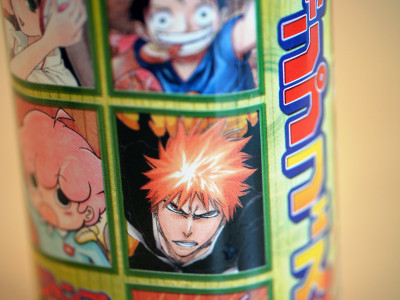 Bossun from Sket Dance.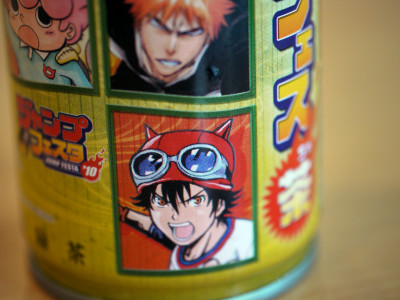 Naruto Uzumaki from Naruto.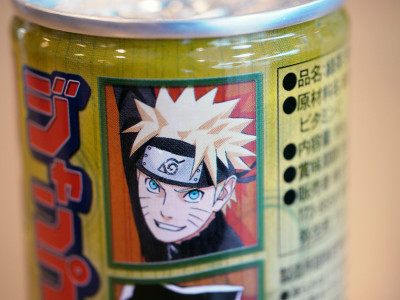 Reborn from Katekyo Hitman Reborn!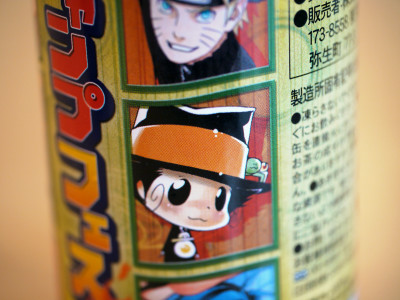 Moritaka Mashiro from Bakuman.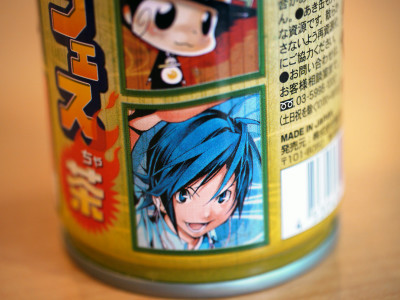 Related Posts:
Kitaro Ramen and other Yokai Snacks at Sakaiminato City - GIGAZINE

Picnic with spooks at Kitaro-Chaya - GIGAZINE

All menus conquered at "Linebarrels Cafe" - GIGAZINE

Who is ultimately the strongest anime/manga character in the universe? - GIGAZINE

Top 15 Most Captivating Manga at the Moment - GIGAZINE

Teaser Site Opened for the Long-Awaited "Gin Tama" Movie - GIGAZINE

List of New Anime: Winter 2010 - GIGAZINE