'70s Hero Recreation "Justice the Super Sonic" added retro taste to the latest Multimedia device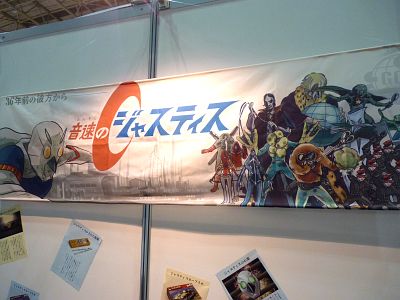 (This article was originally posted in Japanese at 12:17 Dec. 17, 2009.)

At SIGGRAPH ASIA 2009, an artist group "Plus Alpha.tv" demonstrated a multimedia table using Windows 7.

Among other booths showing some stunning up-to-date devices and demo videos, they demonstrated a parody video footage of imaginary retro-taste Tokusatu hero Justice the Super Sonic.

Read on for detail.

The working demo of a multimedia table.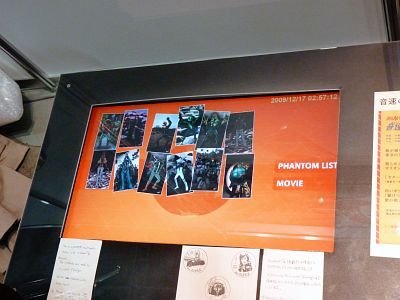 Touching "Movie" starts the opening sequence of this hilarious imaginary drama.


The lyric of the song. It sticks closely to a style of tokusatu heroes in '70s.

The song of "Justice the Super Sonic"
The city covers up enemys
Few stars to shine the darkness of the Tokyo

Light it! Justice!
Brighter than the Orions

"Setuuuuuuuuupppp!!!"
(Ichiro Idaten changes to Justice by Yelling "Setup!")

White body, Blue Body
"Come on! Justice-Car!"
Warrior of Love, Sonic the Justice!
(Ichiro Idaten is an altered human Justice the Super Sonic
He fights with secret society GOD to save people)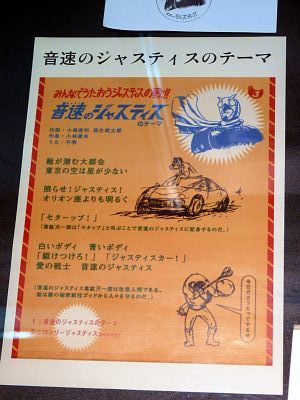 Touch "PHAMTOM LIST" to see Phamtom trading cards, which resembles the novelty cards that used to come with snacks in the '70s. Click on the mark to see the back.


The back has some description of Phantoms and rock-paper-scissors to be used in a simple game.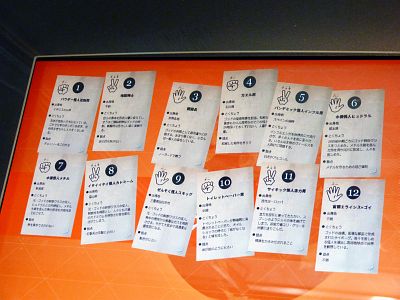 Some banners and posters were displayed in the booth. They seem to have put a lot of work on this imaginary show.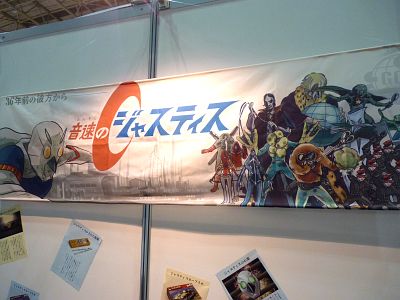 Justice Car plastic model, which has never actually existed.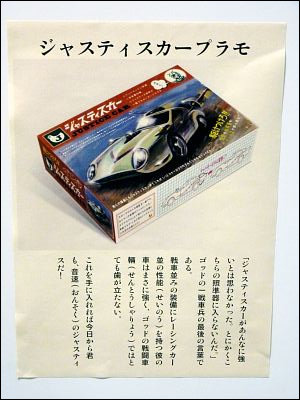 Justice pencil to motivate grade school kids.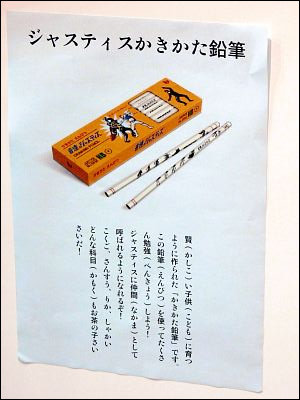 The supersonic wave in Ichiro Idaten's "Setup!"(actually you have to prolong it really long) voice activates the belt and changes him to Justice. These kind of transformation device first became popular by Kamen Rider.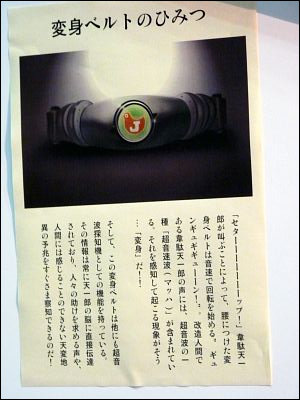 They say that Justice hasn't become popular because he has always been in the shadow of Kamen Rider and other heroes.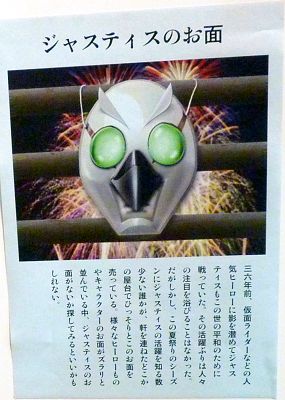 Justice Menko, a pog. It was a popular toy for kids in those days.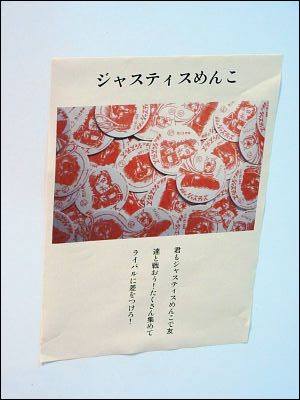 The stamps of Justice and villains in the imaginary drama.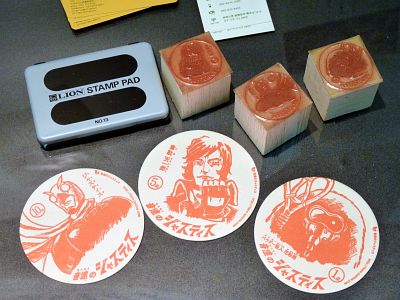 Justice the Super Sonic is a recreation of tokusatsu hero dramas in '70s by Kozakikaku on podcast, under the concept of "What if heroes of '70s appear in our time".

The official site of Justice the Super Sonic has some episode list. And illustrator mr-momong's blog has some design works of Justice Car and animation artworks.

Related Post:
Awesome Masks and Helmets from Various Anime - WONDER FESTIVAL 2009 [SUMMER] - GIGAZINE

Local Tokusatsu Hero "Soryushin Mavel" Saved The Day! - GIGAZINE

Tokyo Motorcycle Show 2009: Super Machines from KAMEN RIDER series, CUTIE HONEY, WILD HOGS and more! - GIGAZINE

10 anime heroes whom Japanese geeky girl wants to marry - GIGAZINE

10 anime Heroine whom Japanese Geeks wants to marry - GIGAZINE