Ghibli's Next Film to be "Karigurashi no Arrietty", adapted from children's novel "The Borrowers"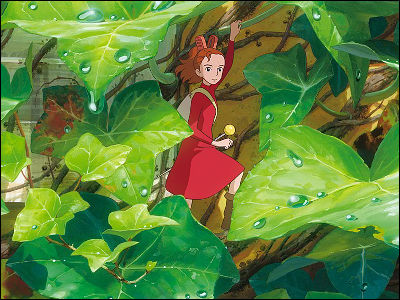 (This article was originally posted in Japanese at 17:30 Dec. 16, 2009)

It became clear that the next film by Studio Ghibli is to come out in Summer 2010, an adaptation of children's fantasy novel The Borrowers by Mary Norton, titled "Karigurashi no Arrietty" in Japanese. The official website launched today.

Read on for details and pics.
Karigurashi no Arrietty Official Website
http://karigurashi.jp/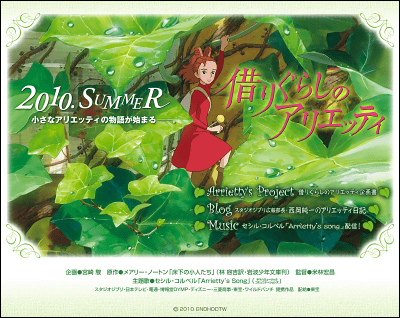 Karigurashi no Arrietty is to be an 80-min film, produced by Ghibli's president Toshio Suzuki. Initially the title was to be "Chiisana Arrietty". The settings will be relocated from 1950s Britain to 2010 Japan.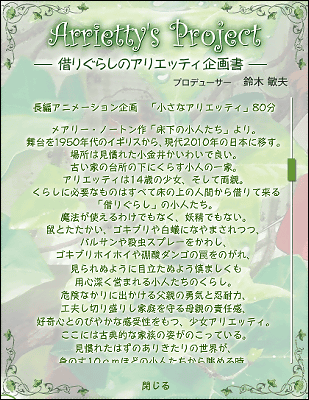 To be directed by Hiromasa Yonebayashi, one of the best animators at Ghibli whose works on Ponyo was highly praised by Hayao Miyazaki.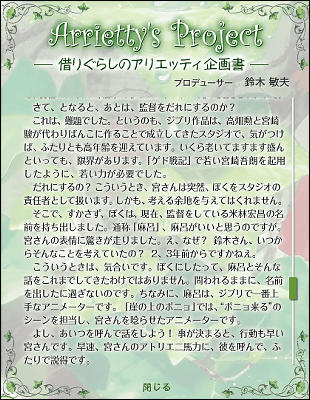 An official blog is to open soon, to be updated everyday by Ghibli's public affairs manager Jun'ichi Nishioka.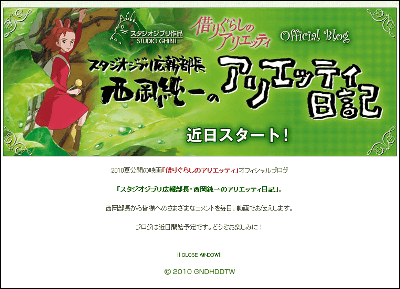 Theme song "Arrietty's Song" will be available on iTunes Store and other online digital media stores from December 19, 2009.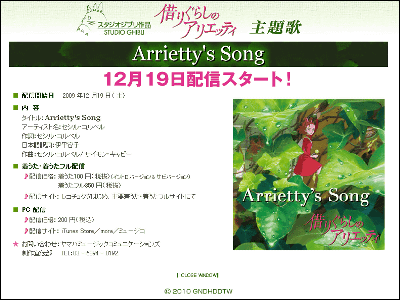 Related Posts:
HD Trailer of "PONYO" came out for English speakers - GIGAZINE

PONYO swimming with fishes in Aquarium Kaiyukan, Osaka - GIGAZINE

Demo review on "Ninokuni: The Another World" with Animation by Studio Ghibli - GIGAZINE

Top 10 Ghibli Characters People Want to Date - GIGAZINE

Photoshop Tutorial -How to make a realistic Totoro using only six free materials - GIGAZINE