Ten Songs from "Final Fantasy 13" Downloadable in MP3 via Official Website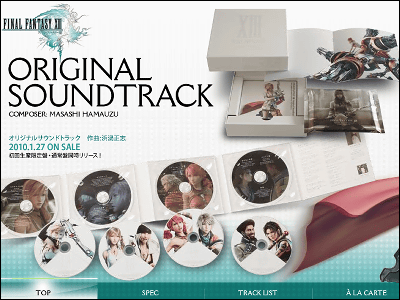 (This article was originally posted in Japanese at 14:30 Dec. 15, 2009)

Two more days to go until the release of Final Fantasy XIII(FF13) on December 17, 2009!

One of our readers informed us that ten songs from the first disc of the game's original soundtrack(four-disc set, to come out on Jan. 27, 2010) are downloadable in MP3 files from Square Enix's official website.

The beautiful songs composed by Masashi Hamauzu include the now familiar theme song played on the game's official website and some previously unreleased songs presumably from earlier part of the game.

Read on for details.
As of 14:00 Dec. 15, 2009, the first ten songs from disc 1 of the soundtrack is unveiled on the official website of "FINAL FANTASY XIII Original Soundtrack" as samples.

FINAL FANTASY XIII Original Soundtrack
http://www.square-enix.co.jp/music/sem/page/fabula/ff13/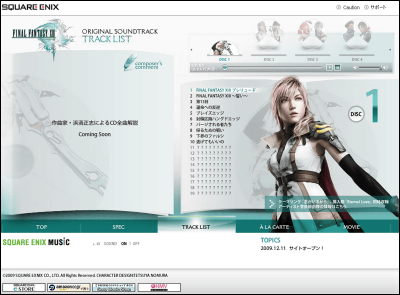 Click "TRACK LIST" on the top page to listen to the songs on a virtual player. Since this virtual player is actually an MP3 player made by Flash, designed to play the MP3 retrieved from the URLs bellow, you can simply download the MP3s instead by visiting those URLs.

1. Final Fantasy XIII Prelude
http://www.square-enix.co.jp/music/sem/page/fabula/ff13/mp3/disc1/track_1.mp3

2. Final Fantasy XIII -Chikai-(Final Fantasy XIII: Oath)
http://www.square-enix.co.jp/music/sem/page/fabula/ff13/mp3/disc1/track_2.mp3

3. Dai 13 Nichi(The 13th Day)
http://www.square-enix.co.jp/music/sem/page/fabula/ff13/mp3/disc1/track_3.mp3

4. Unmei e no Hangyaku(Rebellion against Fate)
http://www.square-enix.co.jp/music/sem/page/fabula/ff13/mp3/disc1/track_4.mp3

5. Blade's Edge
http://www.square-enix.co.jp/music/sem/page/fabula/ff13/mp3/disc1/track_5.mp3

6. Fuusa kukaku Hanged Edge(Blocked Section Hanged Edge)
http://www.square-enix.co.jp/music/sem/page/fabula/ff13/mp3/disc1/track_6.mp3

7. Pa-ji sareru mono tachi(Beings to be Purged)
http://www.square-enix.co.jp/music/sem/page/fabula/ff13/mp3/disc1/track_7.mp3

8. Kaeru tame no Tatakai(Battle to get home)
http://www.square-enix.co.jp/music/sem/page/fabula/ff13/mp3/disc1/track_8.mp3

9. Gekai no fal'Cie(fal'Cie of the lower world)
http://www.square-enix.co.jp/music/sem/page/fabula/ff13/mp3/disc1/track_9.mp3

10. Nigetemo iino?(I can run away?)
http://www.square-enix.co.jp/music/sem/page/fabula/ff13/mp3/disc1/track_10.mp3

Again, just two more days! Now you can listen to these songs again and again till the game comes out!

Related Posts:
"Fi-Fan" or "FF"? Official Abbreviation of "Final Fantasy" Disclosed - GIGAZINE

Photo Review of All 16 Designs of "FINAL FANTASY XIII ELIXIR" - GIGAZINE

Three Weeks To Go till Release! 4th Trailer of "Final Fantasy 13" Came Out! - GIGAZINE

Just revealed: Summoned monsters in "FINAL FANTASY XIII(FF13)" showed in E3 - GIGAZINE

Video and Screenshots of Final Fantasy XIII Demo - GIGAZINE

Final Fantasy 14 Teaser Trailer on the Official Website - GIGAZINE
in Game, Posted by darkhorse_log