Free iPhone App "Bizarre Comic Photo" to add manga effect on your pics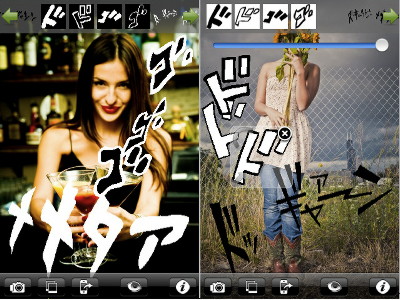 Manga fans, especially those hooked to JoJo's Bizarre Adventure, must be familiar with the distinctive Japanese style onomatopoeias such as "ゴゴゴゴゴ(GoGoGoGoGo)" and "メメタア(MeMetaah)".

Now iPhone users can add these comic effect to their pics with free app "Bizarre Comic Photo Free" released worldwide by ObjectGraph LLC on December 9, 2009.

Read on for details and pics.
Bizarre Comic Photo Free(link to App Store)

This bizarre effect can be easily achieved. Just take a picture or choose one from your album, drag and drop an item from the top, rotate or scale the item as you wish. You can also adjust the transparency of the letters.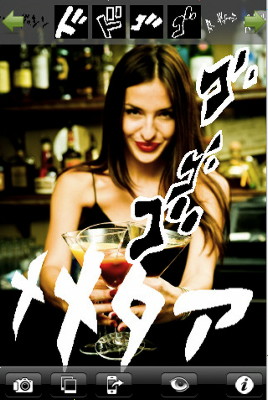 Looks like she's practiced her share of Jojo Dachi here.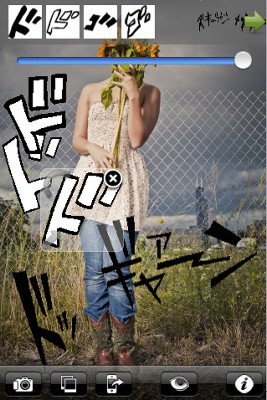 Save and send it to your friend.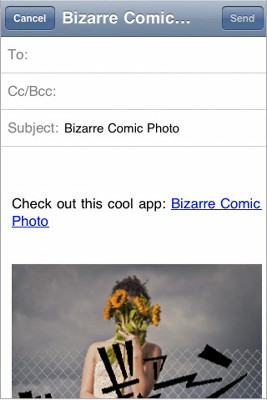 You can also share your pic via Facebook or Twitter.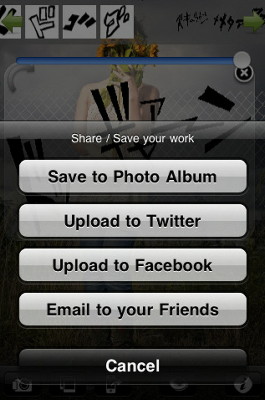 Related Posts:
"Goldfish Scooping" iPhone App by GONZO Founder Shoji Murahama's New Studio - GIGAZINE

HELLO KITTY's App for iPhone and iPod Touch - GIGAZINE

Free App "Sound Trip" Tokyo Navigator for iPhone and iPod Touch - GIGAZINE

JoJo's Bizarre "Hanafuda" Playing Cards - GIGAZINE

Jojo's Bizarre T-shirts On Sale! - GIGAZINE

Top 15 Most Captivating Manga at the Moment - GIGAZINE