List of New Anime: Winter 2010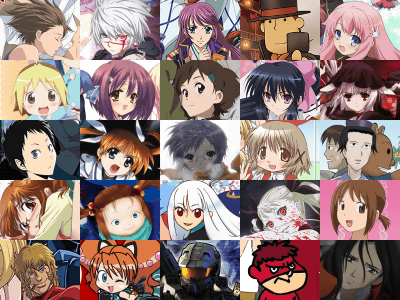 (This article was originally posted in Japanese at 00:45 Dec. 05, 2009.)

So it's officially winter now, the best season to curl up on a couch and get cosy with your favourite anime (since it's so cold outside). Holidays are almost there and with New Year comes the new animes of 2010!

Here's our anime list for Winter 2010:TV series, films and OVAs. And this time we've added an index of all titles(in alphabetical order) since the list is so long.

2009/12/14
Now we got 19 TV animes, 13 theatrical movies and 4 OVAs. Enjoy!

2010/03/17
And don't forget to check out our new list for Spring 2010 anime season!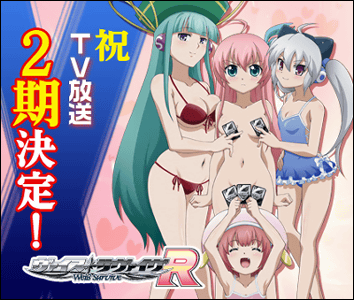 Note:
Two-and-a-half-minute mini programme in a TV show about collectible card games. Continuation of the first season aired from June, 2009. New characters appear and there will be collaboration with Magical Girl Lyrical Nanoha StrikerS and Fate/stay night.

Synopsis:
Takeshi and Michi finally managed to come back to this world but now they have to face strong opponents in Card Battles at school and at Akihabara.

Airing:
TBS: December 4(Fri) 25:25-

Staff:
Planning, Original Story: Bushiroad
Director: Kenji Setou
Original Character Design: Takuya Fujima
Series Composition: Tomoyo Inoue, Toshimitsu Takeuchi
Screenplay: Toshimitsu Takeuchi
Character Design, Animation Director: Hiromi Higuchi
Animation Production: Studio Hibari

Cast:
Michi: Izumi Kitta
Takeshi: The Mash
Shizuru: Atsuko Enomoto
VS Jeesan: Noboru Maeda
Sis: Jun Miruno
Operetta: Hitomi Haruka
Cal: Yoshino Nanjyo

♦Harukanaru Toki no Naka de 3: Owarinaki Unmei(In a Distant Time 3: Endless Fate)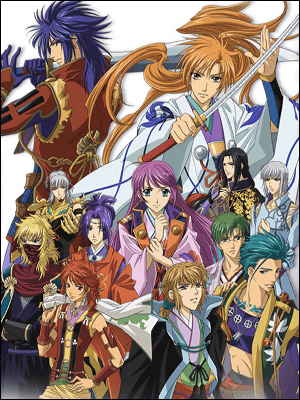 Note:
Special anime based on Koei's otome game Harukanaru Toki no Naka de 3, commemorating the 10th anniversary of Harukanaru Toki no Naka de franchise. Some of the main characters are based on historical figures.

Synopsis:
High school student Nozomi Kasuga is summoned into a world called Kyo that that resembles Kyoto during Heian period and becomes a priestess of Hakuryu(God of White Dragon). In order to return home, she must fight alongside the Genji(Minamoto clan) against the Heike(Taira clan). Masaomi Arikawa, her childhood friend who was also summoned to the world of Kyo, has been separated from Nozomi when they were sent across time and space, and arrived three years before Nozomi. When they finally meet in Kyo, Masaomi is in league with the Heike clan and they must fight against each other.

Airing:
AT-X: January 3(Sun) 25:00-, 1/9(Sat) 19:00-

Staff:
Original Story: Koei
Original Character Design: Tohko Mizuno
Supervison: Ruby Party
Supervising Director, Anime Character Design: Aki Tsunaki
Director: Shigeru Kimiya
Screenplay: Kohji Takamura
Composer: Yoshihisa Hirano
Sound Director: Yasunori Honda
Background Art Director: Chikako Shibata
Colour Composition: Yukiko Ario
Cinematographer: Shin'ya Matsuzaki
Editor: Kentaro Tsubone
Sound Production: Arts Prod.
Music production: Natural Nine
Animation Production: YUMETA CO.,LTD.
Production: Koei

Cast:
Nozomi Kasuga: Tomoko Kawakami
Masaomi Arikawa: Shinichiro Miki
Minamoto no Kuro Yoshitsune(Minamoto no Yoshitsune): 関智一
Hinoe: Naosumi Takahashi
Musashibo Benkei(Saito Musashibo Benkei): Koki Miyata
Yuzuru Arikawa: 中原茂
Kajiwara Kagetoki: Kazuhiko Inoue
Taira no Atsumori: Soichiro Hoshi
Ridvan: Akira Ishida
Kajiwara Saku: Noriko Kuwashima
Hakuryu(Adult form): Ryutaro Okiayu
Hojo Masako: Maria Kawamura
Taira no Tomomori: Kenji Hamada
Taira no Tsunemasa : Eiji Hanawa
Fujiwara no Yasuhira: Kosuke Toriumi

Theme Song: Hinoe, Kajiwara Kagetoki "Kirameki no Tsuki"

♦Chu-Bra!!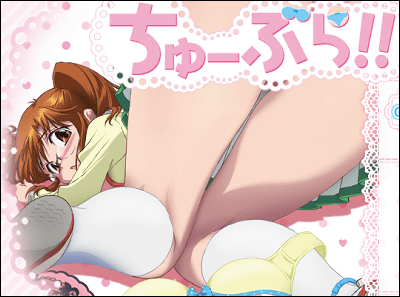 Note:
Based on the manga series by Yumi Nakata serialised in Futabasha's Comic High! magazine. Being a self-proclaimed "puberty girls comedy", it's not exactly an adult manga but there are some sexual themes and explicit scenes some might find offensive, which may or may not make it to the anime. Directed by Yukina Hiiro of yaoi anime Gakuen Heaven, it might have a touch of yuri as well.

Synopsis:
Seventh grader Nayu Hayama is a model student but has a peculiar interest in underwear. When Nayu is accused of enjo-kosai, her classmates Yako Jinguji and Haruka Shiraishi approach her to find out the truth. Somehow they all end up rolling down the stairs in a tangle and Yako and Haruka finds Nayu staring at their panties with strange gleam in her eyes...

Airing:
AT-X: January 4(Mon) 23:00-, (Thu) 17:30-, (Thu) 29:30-, (Mon) 11:30-

Staff:
Original Story: Yumi Nakata
Director: Yukina Hiiro
Series Composition: Reiko Yoshida
Character Design: Miyako Yatsu
Music production: Star Child Record
Animation Production: Zexcs

Cast:
Nayu Hayama: Minori Chihara
Yako Jinguji: Minako Kotobuki
Haruka Shiraishi: Sayuri Yahagi
Kiyono Amahara: Yoko Hikasa
Hiroki Komachi: Yudai Sato
Keigo Hayama: Sakurai Takahiro

Opening Song: Nayu Hayama, Yako Jinguji, Haruka Shiraishi, Kiyono Amahara "Choose Bright!!"
Ending Song: Nayu Hayama, Yako Jinguji, Haruka Shiraishi, Kiyono Amahara "Shy Girls"

♦So Ra No Wo To(lit. Sound of Sky)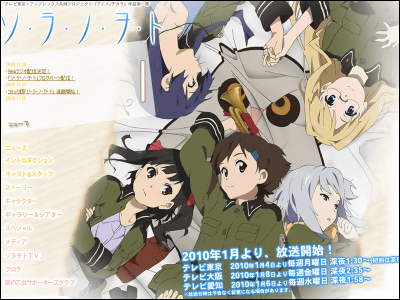 Note:
First title in Aniplex and TV Tokyo's co-project "Anime no Chikara(lit. Power of Anime)" series, featuring up-and-coming creators with original stories (as opposed to animes based on manga, novel or games). Animator Toshifumi Akai makes his debut as a character designer, and you can see he is strongly influenced by Yukiko Horiguchi of K-On! and Lucky Star. Akai even used the pseudonym "Horiguchi Kami"(Horiguchi is God) when he was a crew of Hayate the Combat Butler.

Synopsis:
Kanata Sorami joined the army to be a bugler and was assigned to the 1121 platoon posted in a small town called Saise. The town was holding their annual Water Splashing Festival when Kanata arrived, and she's sucked into the middle of the ruckus.

Airing:
TV Tokyo: January 4(Mon) 26:00- (25:30- from 2nd episode on)
TV Aichi: January 6(Wed) 25:58-
TVO: January 8(Fri) 26:35-

Staff:
Original Story: Paradores
Director: Mamoru Kanbe
Screenplay: Hiroyuki Yoshino
Original Character Design: Mel Kishida
Character Design: Toshifui Akai
Set design: Tomoyuki Aoki
Prop Design: Katsuhiko Kitada
Mechanic Design: Jun'ya Ishigaki
Colour Composition: Kazuko Nakajima
Background Art Director: Masatoshi kai
Cinematographer: Takaharu Ozaki
Editor: Takeshi Seyama
Sound Director: Katsunori Shimizu
Composer: Michiru Oshima
Cooperation: Dengeki Daioh
Animation Production: A-1 Pictures
Production: The 1121th Platoon (Aniplex)

Cast:
Kanata: Hisako Kanemoto
Rio: Yu Kobayashi
Kureha: Eri Kitamura
Noel: Aoi Yukis
Felicia: Aya Endos
Yumina: Misato Fukuen
Claus: Unsho Ishikawa
Naomi: Mayuno Yasokawa

♦Kosuke Masuda Kosuke Gekijyo Gag Manga Biyori+(Kosuke Masuda Theater: Good Day for Gag Manga+)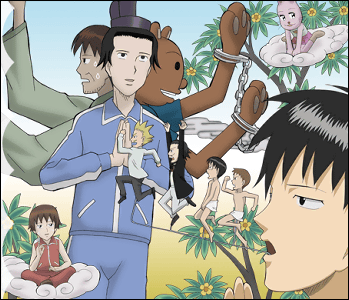 Note:
It's the 4th anime adaption, celebrating original comic's 10th anniversary. Each characters, like Prince Shotoku, Basho Matsuo, Detective Usamichan and Kumakichi-kun are pretty unique and well impressed fans. Former series were first broadcasted on CATV a nd satelite channel then aired on UHF stations. But this series will be aired first on UHF stations.

Synopsis:
-

Airing:
YTV:1/4(Mon) -
Chukyo Television Broadcasting:1/5(Tue) -
Kids Station:1/9(Sat) 23:54-
TVK:January-
Television Saitama:January-

Staff:
Original Story: Kosuke Masuda
Director: Heitaro Daichi
Composer: Harukichi Yamamoto

Cast:
TBA

♦Lady×But!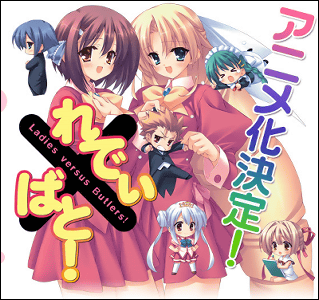 Note:
The title means Ladies versus Butlers!. Adaptation of the light novel series by Tsukasa Kozuki. Director Atsushi Otsuki and anime studio Xebec of Kanokon join force again.

Synopsis:
Highschool student Akiharu Hino looks like your average punk with three safety pins in his right ear but inside he's just a shy and inexperienced boy who's totally oblivious to attractions. Adopted by his uncle when his parents were killed in an accident, he eventually finds out his relatives are all after his money and transfer to a boarding school to get away from them. At the prestigious boarding school he reunites with his childhood friend (actually, more like a childhood nightmare) Tomomi Saikyo who became a daughter of a business tycoon with the remarriage of her mother.

Airing:
AT-X: January 5(Tue) -

Staff:
Original Story: Tsukasa Kozuki
Original Illustration: Munyu
Director: Atsushi Otsuki
Character Design: Akio Takami
Series Composition: Go Tamai
Prop Design: Hisako Tsurukubo
Background Art Design: Kaoru Aoki
Colour Composition: Tamae matsuoka
Background Art Director: Ryoka Kinoshita
Cinematographer: Tomoyuki Nakata
Sound Director: Jin Aketagawa
Animation Production: XEBEC

Cast:
Akiharu Hino: Kazuyuki Okitsu
Tomomi Saikyo: Ayako Kawasumi
Sernia=Iori=Flameheart: Mai Nakahara
Saori Shikikagami: Ami Koshimizu
Kaoru Daichi: Rie Kugimiya
Pina=Sformclan=Estoe: Mai Goto
Mimina Sakurazawa: Rina Hidaka
Kaede Tenjoji: Mariya Ise
Mikan: Kumi Sakuma

♦Baka to Test to Shokanju(Idiot, Test and the Summoned Beast)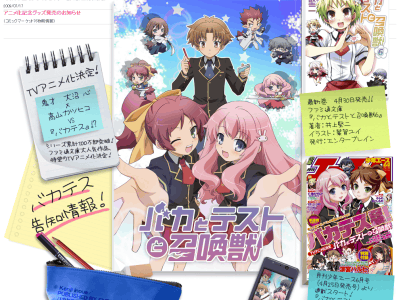 Note:
Anime adaption of the light novel series by Kenji Inoue. You can see a trailer here.

Synopsis:
Akihisa Yoshii attends an academy where they rigidly divide the student body based on the result of the tests taken: the best students goes to A class, the most incompetent students to F class. Akihisa, known as the idiot or the baka of the title, is naturally placed in the lowest F class. The students can summon Beasts that are used for battles and war between each classes. The better you score, the stronger Beast you can summon. So the A class always wins, having the smartest students and strongest Beasts.
On the day of the placement test, a smart girl named Mizuki Himeji had a fever and couldn't complete her test. As a result, she was pigeonholed into the F class together with Akihisa. Together they set on a plan to bring down the domineering A class.

Airing:
TV Tokyo: January 6(Wed) 26:30-
TV Aichi: January 6(Wed) 26:58-
TVO: January 8(Fri) 27:35-
AT-X: January 14(Thu) 11:00-, 23:00-, (Mon) 17:00-, 29:00-
Media Factory Mobile: January 15(Fri)-

Staff:
Original Story: Kenji Inoue
Original Illustration: Yui Haga
Director: Shin Onuma
Series Composition: Katsuhiko Takayama
Character Design: Miwa Oshima
Animation Production: SILVER LINK.
Production: Baka to Test to Shokanju Production Committee

Cast:
Akihisa Yoshii: Hiro Shimono
Mizuki Himeji: Hitomi Harada
Minami Shimada: Kaori Mizuhashi
Yuji Sakamoto: Tatsuhisa Suzuki
Hideyoshi Kinoshita: Emiri Kato
Kohta Tsuchiya: Koki Miyata
Shoko Kirishima: Tomomi Isomura
Mika Shimizu: Ayana Taketatsu
Toshimitsu Kubo: Takuma Terashima
Yuko Kinoshita: Emiri Kato
Hazuki Shimada: Mana Hirata
Aiko Kudo: Yoshino Nanjo
Shin Fukuhara: Kenjiro Tsuda
Soichi Nishimura: Akio Otsuka

♦Durarara!!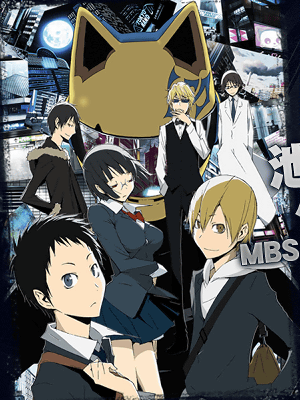 Note:
Adaptation of the light novel series by Ryohgo Narita by the crew of the 2007 anime Baccano!, also adapted from Narita's novel.

Synopsis:
The series is about a Dullahan working as an underworld courier in Ikebukuro. When Teito Ryugasaki enters a highschool in Ikebukuro, he is warned about the dangerous gang called "Dullahs" roaming the town. One night, he witnesses the "Headless Rider" who was supposed to be an urban legend. The rider turns out to be Celty Sturluson, a Dullahan from Ireland who came to Japan looking for her stolen head. Her motorcycle is actually a horse in disguise.

Airing:
MBS: January-
TBS: January-

Staff:
Original Story: Ryohgo Narita
Original Illustration: Suzuhito Yasuda
Director: Takahiro Ohmori
Series Composition: Noboru Takagi
Character Design: Takahiro Kishida
Mechanic Design, Action Director: Tatsuo Yamada
Animation Director: Akira Takada
Background Art :Masashi Ito
Colour Composition: Yumi Miyawaki
Assistant Director: Shinya Kawamo
Cinematographer: Hitoshi Tamura
CG Producer: Norikazu Kanbayashi
Editor: Kazuhiko Seki
Composer: Makoto Yoshimori
Animation Production: Brain's Base
Production: Ikebukuro Dullahs

Cast:
Mikado Ryugamine: Toshiyuki Toyonaga
Masaomi Kida: Mamoru Miyano
Anri Sonohara: Kana Hanazawa
Izaya Orihara: Hiroshi Kamiya
Shizuo Heiwajima: Daisuke Ono
Shinra Kishitani: Jun Fukuyama
Kyohei Kadota: Yuichi Nakamura
Yumasaki Walker: Yuuki Kaji
Erika Karisawa: Ayahi Takagaki
Seiji Yagiri: Kazuma Horie
Namie Yagiri: Sanae Kobayashi
Simon: Takaya Kuroda

Opening Song: THEATRE BROOK "Uragiri no Yuuyake"
Ending Song: Yuuya Matsushita "Trust Me"

♦Okami Kakushi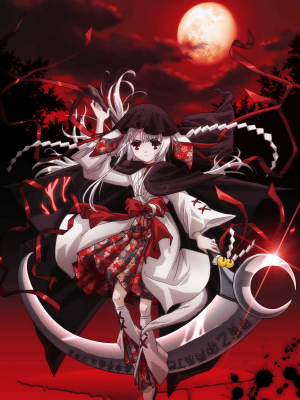 Note:
Anime adaption of the visual novel developed and published by Konami under game director Ryukishi07 of Higurashi no Naku Koro ni with characters designed by Peach-Pit of Rozen Maiden. Directed by Norihiro Takamoto of 07-Ghost and Dazzle. Theme songs by FictionJunction and Yuuka Nanri.

Synopsis:
A 16 year old boy, Hiroshi Kuzumi, started to live in a new town that is located in the mountains. The town is separated into new and old streets by the river, and many mysterious local cultures still remain. Although confused and enjoying his new life, one person kept her distance from him: class committee member Kushinada Nemura. In their few encounters she gave him a word of advice: "Stay away from the old streets".

Airing:
TBS: January 7(Thu) 25:59-
BS-TBS: January 30(Sat) 25:00-
SUN-TV: January -

Staff:
Original Story: Konami Digital Entertainment
Original Concept: Ryukishi07
Original Character Design: Peach-Pit
Director: Norihiro Takamoto
Series Composition: Dohko Machida
Character Design, Chief Animator: Atsuko Watanabe
Composer: Takumi Ozawa
Animation Production: AIC

Cast:
Hiroshi Kuzumi: Yu Kobayashi
Nemura Kushinada: Mariya Ise
Isuzu Tsumuhana: Emiri Kato
Mana Kuzumi: Saki Fujita
Kaname Asagiri: Mai Fuchigami
Kaori Mana: Yuko Goto

Opening Song: FictionJunction "Toki no Mukou Maboroshi no Sora"
Ending Song: Yuuka Nanri "Tsukishirube"

♦Kaitou Reinya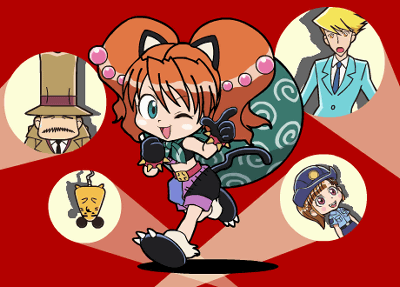 Note:
Based on a four-panel manga serialised in several magazines including Newtype, Comptiq and Shonen Ace, centering a girl thief Reinya who speaks in Hakata-ben(Fukuoka dialect) modeled after Reina Tanaka of idol group Morning Musume. Twelve episodes in all.

Synopsis:
Renya works part time at convenience store FamiNya. But her real identity is "Master Thief Reinya", and the secret basement of the shop is her hide-out. The shop happens to be located next to the Oedo police station, but the officers at Oedo PS seems totally clueless...

Airing:
KBC: January 8(Fri) 24:50-

Staff:
Planning: UP-FRONT STYLE
Chief Director, Storyboard: Something Yoshimatsu
Director: Hideaki Iwami
Screenplay: Ken'ichi Kanemaki
Sound Director: Seiji Mizushima
Chief Animator: Mr.A
Production: Stingray

Cast:
Reinya: Reina Tanaka
Chutaro, Detective: Kosuke Okano
Chief Inspector: So Yoki
Woman Police Officer Notchi: Arisa Noto

♦Hanamaru Yochien(Hanamaru Kindergarten)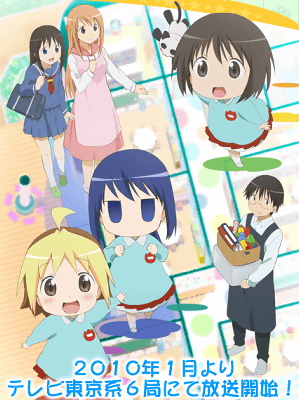 Note:
Anime adaption of everyday-life comedy comic serialized on Young Gangan directed by Seiji Mizushima of Mobile Suit Gundam 00. Series composition is done by Yuichiro "Mr. Anime" Oguro and GAINAX will do animation production.

Synopsis:
On the entering day of Hanamaru Kindergarten, Mr. Tsuchida finds Ann standing alone on a sidewalk waiting for her mother. Mr. Tsuchida calls out to her but Ann mistakes this as flirting. This is the start of Ann and her friends' happy days in the kindergarten.

Airing:
TV Tokyo: 1/10(Sun) 25:30-
TVQ: 1/11(Mon) 26:53-
TVO: 1/12(Tue) 26:05-
TV Aichi: 1/13(Wed) 25:28-
TV Setouchi: 1/14(Thu) 25:58-
TV Hokkaido: 1/15(Fri) 26:00-

Staff:
Original Story: Yuto
Plannning: Taguchi Koji, Atsushi Moriyama
Director: Seiji Mizushima
Assistant Director: Ryuichi Kimuraz
Character Design: Mai Otsuka
Series Composition: Yuichiro Oguro
Background Art Director: Hiroki Matsumoto
Colour Composition: Satoshi Takezawa
Cinematographer: Toyonori Yamada
Editor: Daisuke Hiraki
Sound Director: Satoshi Motoyama
Recording Engineer: Makoto Uchida
Sound Efffects: Eiko Morikawa
Sound Production: Omnibus Promotion
Composer: Sadesper Record(NARASAKI&WATCHMAN)
Music production: Star Child Record
Animation Production: GAINAX
Production Cooperation: GANSIS
Production: Hanamaru Kindergarden PTA

Cast:
Ann: Kei Shindo
Hiragi: Ayahi Takagaki
Koume: MAKO
Mr. Tsuchida: Satoshi Hino
Ms. Yamamoto: Erino Hazuki
Satsuki: Shion Hirota
Hinagiku: Mariya Ise
Ms. Kusano: Kaoru Mizuhara
Ms. Kawashiro: Naomi Wakabayashi
Yu: Hiromi Igarashi
Kenji: Manami Numakura
Ryota: Ayumi Fujimura
Kenichi: Mami Fujita
Toshiaki: Mayumi Yoshida
Takumi: Arise Sato
Daigo: Asuka Ogame
Ms. Nishikaze: Ayumi Tsunematsu
Ms. Kakogawa: Arisa Ogasawara
Principal: Kiriko Aoyama
Sakura: Yoko Honna
Mr. Hanamaru: Koji Yusa
Mayumi: Chiwa Saito
Gang Boss: Katsuyuki Konishi

♦Nodame Cantabile Finale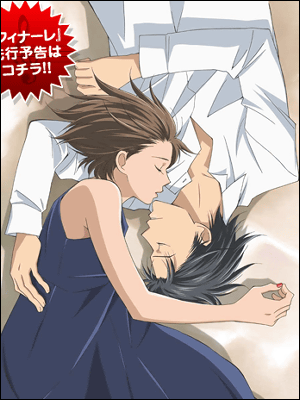 Note:
Third and the last TV anime adaption of the manga by Tomoko Ninomiya that recently concluded. The past Nodame animes got record-breaking ratings for midnight animes, and the live-action version starring Hiroshi Tamaki and Juri Ueno also became hugely popular.

Synopsis:
Nodame continues her piano studies at a conservatory at Paris while Chiaki starts a professional career as a conductor. In Europe, they encounter new friends and rivals, as well as keep in touch with their friends from Japan.

Airing:
Fuji TV Network: January-

Staff:
Original Story: Tomoko Ninomiya
Director: Chiaki Kon
Series Composition: Yoji Enokido
Character Design: Hidekazu Shimamura
Producer: Masato Jono, Kohji Yamamoto, Nobuhiro Osawa
Animation Producer: Yuji Matsukura (J.C.Staff)
Animation Production: J.C.Staff

Cast:
Megumi Noda: Ayako Kawasumi
Shin'ichi Chiaki: Tomkazu Seki
Yasunori Kuroki: Masaya Matsukaze
Rui Son: Sayaka Ohara
Tanya: Shizuka Ito
Frank: Shintaro Asanuma
Jean Donnadieu: Tomoyuki Morikawa
Yunlong Li: Satoshi Hino
Charles Auclair: Motomu Kiyokawa

Theme Song: Yuu Sakai "Manazashi Daydream"

♦Chowder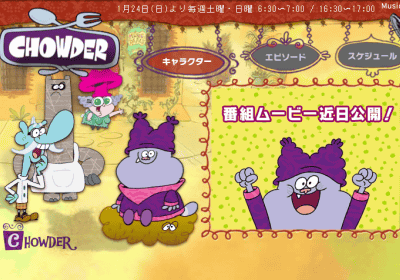 Note:
An original anime from Cartoon Network dubbed in Japanese.

Synopsis:
Chowder is an apprentice cook who dreams to be a master chef. He learns at Moong Dahl's catering company but sometimes his challenge to fulfill his desire for food causes trouble.

Airing:
Cartoon Network: From Jan. 24
(Sat) 6:30- 16:30-
(Sun) 6:30- 16:30-

Staffs:
Screenplay: C.H. Greenbrat

Casts:
Chowder: Hana Takeda
Moong Dahl: Hiroshi Iwasaki
Schnitzer: Yasuhiro Mamiya
Truffle: Kazue Ikura
Panini: Satomi Arai

♦Seikon no Qwaser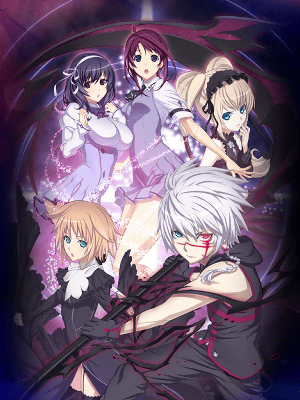 Note:
Based on the ongoing manga series written by Hiroyuki Yoshino(screenwriter of My-HiME and Code Geass) and illustrated by Ken'etsu Sato who did the manga adaption of My-HiME series. Character designer Makoto Uno is known for his curvy girls in Witchblade and Dragonaut: The Resonance, and animator Hiraku Kaneko who did the character design for the buxom Cattleya in Queen's Blade will make his director debut. You can count on a whole lot of cleavages here.

Synopsis:
The story takes place on the grounds of St. Mihailov Academy, a Japanese Eastern Orthodox school, and draws heavily on religious references from the aforementioned religion. Here it follows the trials and hardship of two of its students, Oribe Mafuyu and Tomo Yamanobe, until the encounter with a mysterious, silver-haired, Russian boy named Alexander, or Sasha for short. This pits them and the whole school in an all-out war between the Church itself and the so-called "Adepts", a sect of individuals wielding powers linked to the elements of chemistry.

Airing:
January-

Staff:
Original Story: Hiroyuki Yoshino, Ken'etsu Sato
Director: Hiraku Kaneko
Supervisor: Munenori Nawa
Character Design: Makoto Uno
Series Composition, Screenplay: Makoto Uezu
Screenplay: Tohko Machida, Shigeru Morita
Chief Animator: Isao Sugimoto, Hiroya Iijima
Set Design: Tomoyuki Aoki
Prop Design: Hiroyuki Ohkawa
Background Art Director: Takafumi Suzuki
Cinematographer: Kohjiro Hayashi
Composer: Tatsuya Kato
Sound Director: Jin Aketagawa
Animation Production: TAKI Corporation, Hoods Entertainment

Cast:
Alexander(Sasha): Yuko Sanpei
Mafuyu Oribe: Ayumi Fujimura
Tomo Yamanobe: Aki Toyosaki
Teresa Beria: Minori Chihara
Ekaterina: Aya Hirano
Hana Katsuragi: Yoko Hikasa
Miyuri Tsujidou: Ayako Kawasumi
Fumika Mitarai: Kana Hanazawa
Elizabeth: Ai Shimizu
Ayana Minase: Ayahi Takagaki
Yuri Noda: Susumu Chiba
Shinichiro Otori: Toru Okawa

Opening Song: Faylan "Errand"
Ending Song: Mafuyu Oribe, Tomo Yamanobe, Teresa Beria, Ekaterina, Hana Katsuragi "Passionate squall"

♦TBS Animation HIdamari Sketch×☆☆☆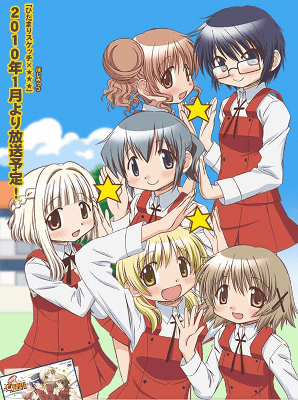 Note:
Third season anime adaption of popular four-panel manga Hidamari Sketch by Ume Aoki, with the same cast and crew.

Synopsis:
Follows the everyday life of Yuno, Miyako, Hiro and Sae, art-major students of Yamabuki Highschool living in "Hidamari-so (Sunshine Apartment)".

Airing:
January-

Staff:
Original Story: Ume Aoki
Director: Akiyuki Shinbo
Series Composition: Nahoko Hasegawa, Natsue Yoguchi
Character Design, Animation Director: Yoshiaki Ito
Background Art Director: Toshiharu Iijima
Sound Director: Toshiki Kameyama
Composer: Tomoki Kikuya
Music production: Lantis
Editor: Kazuhiko Seki
Animation Production: Shaft

Cast:
Yuno: Kana Asumi
Miyako: Kaori Mizuhashi
Hiro: Yuko Goto
Sae: Ryoko Shintani
Yoshinoya: Miyu Matsuki
Chika: Rie Kugimiya
Natsume: Misato Fukuen
Landlady: Miyuki Sawashiro
Headmaster: Cho
Ume sensei: Ume Aoki

Opening Song: Yuno, Miyako, Hiro, Sae "Dekirukanatte☆☆☆"
Ending Song: Marble "Sakura Sakura Saku: Anohi Kini wo Matsu Sora to onaji de"

♦Katanagatari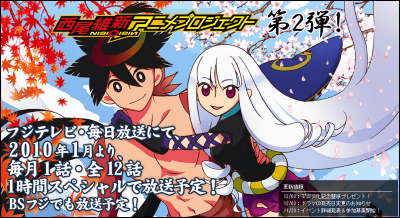 Note:
Anime adaption of the light novel series by Nisio Isin, following Bakemonogatari. Twelve 60-min. episodes in all, to be aired monthly. Director Keitaro Motonaga and series composer Makoto Uezu frequently work together, as in School Days, Akaneiro ni Somaru Saka and Ah My Buddha.

Synopsis:
Shichika Yasuri, master swordsman of "Kyoto-ryu" school which doesn't involve sword, lives on a remote island with her sister Nanami. One day, a woman named Togame visits Shichika on the island, which isn't even on the map, and asks her to help collect the twelve swords made by a legendary swordsmith.

Airing:
MBS: January-
Fuji TV: January-

Staff:
Original Story: Nisio Isin
Original Character Design: Take
Director: Keitaro motonaga
Series Composition: Makoto Uezu
Character Design, Chief Animator: Tsuyoshi Kawata
Background Art Director: Tadashi Kudo
Colour Composition: Akemi Tejima
Special Effect: Kumiko Taniguchi
Cinematographer: Keisuke Nakamura
Editor: Jun Taguma
Sound Director: Yasunori Ebina
Composer: Taku Iwasaki
Animation Production: WHITE FOX

Cast:
Shichika Yasuri:
Togame:
Nanami HYasuri:
Koumori Yasuri:

♦Omamori Himari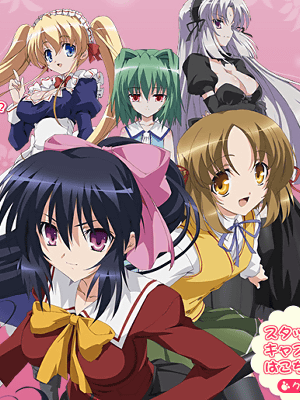 Note:
Anime adaption of the manga series by Matra Milan. First TV series to be directed by Shinji Ushiro of OVAs Strait Jacket and Da Capo: If.

Synopsis:
Yu-to Amakawa is the only living descendant of the Amakawa Clan, one of 12 ancient demon-slayer families. His life is turned around on his 16th birthday when a mysterious girl appears as his bodyguard against the demons that are now trying to kill him.

Airing:
tvk: January-
Other UHF Stations: TBA

Staff:
Original Story: Matra Milan
Director: Shinji Ushiro
Series Composition: Katsumi Hasegawa
Character Design: Satoshi Isono
Producer: Seiichi Hachiya
Animation Production: Zexcs
Production: OmaHima Production Committee

Cast:
Himari: Ami Koshimizu
Yuto Amakawa: Daisuke Hirakawa
Rinko Kuzaki: Iori Nomizu
Shuzuku: Kei Shindo
Lizlet L Chelsie: Asuka Ogame
Sae Kisaragi : Michiko Neya
Taizo Masaki: Tatsuhisa Suzuki
Iincho: Yu Shimamura

♦Dance in the Vampire Bund


Note:
Anime adaption of the manga series by Tamaki Nozomu.

Synopsis:
Akira kaburagi used to live an ordinary highschool life. But when he turns 17, Mina Tepes, princess-ruler of all vampires, enters his life and demands him to be her "protector" as promised. Turns out Akira is a member of the Earth Clan, a clan of werewolves who have served as guardians and Knights for the Tepes family for centuries. Plus, he's made a promise to always protect Mina when he was a small child.

Airing:
Chiba TV: January-
Other UHF Stations, AT-X: TBA

Staff:
Director: Akiyuki Shinbo
Series Composition: Hiroyuki Yoshino
Character Design, Chief Animator: Naoyuki Konno
Series Director: Masahiro Sonoda
Design Worls: MEIMU, Tokumitsu Kobayashi
Background Art Director: Kohji Azuma
Colour Composition: Michiyo Iriomote
Cinematographer: Satoshi Fujita
Sound Director: Yota Tsuruoka
Composer: Akio Tobashi
Animation Production: Shaft
Production: Vampire Bund Executive

Cast:
Mina Tepes: Aoi Yuki
Akira Kaburagi: Yuichi Nakamura
Yuki: Chiwa Saito
Vella: Yuko Kaida
Nanami: Shizuka Ito

Opening Song: Aiko Nakano "Friends"
Ending Song: hibiku "Tsumeato"

♦Heart Catch PreCure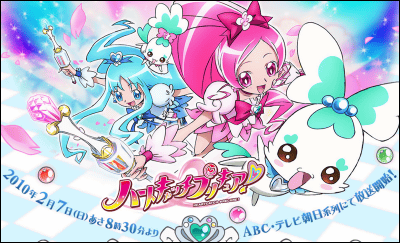 Note:
The latest(7th) sequel of one of the most favored anime for girls. The number of Pretty Cures should be the point. Starting with two, they grow to six in "Yes! Pretty Cure 5 GoGo!" and reduced to four in "Fresh Pretty Cure!". How many Pretty Cures will be in this?

Synopsis:
To be announced.

Airing:
TV Asahi network: From November(To be announced)

Staffs:
Animation Production: Toei Animation

Casts:
To be announced.

♦COBRA THE ANIMATION: The Six Braves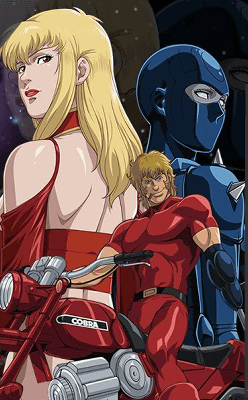 Note:
Produced in 2008 to celebrate the 30th anniversary of space-opera manga series Cobra by Buichi Terasawa, along with two OVAs(Cobra the Animation: The Psychogun and Cobra the Animation: Time Drive). The TV series was originally planned to be aired from July, 2009 but rescheduled to 2010. Director Osamu Dezaki of the 1982 film Cobra: Space Adventure will do the directing and storyboarding.

Synopsis:
The story follows the adventures of Cobra who lived an ordinary life until enemies started to hunt him down. Cobra surgically alters his face, and erases his own memory to hide from his enemies. Cobra starts to regain his memories and then unites with his old partner Lady Armaroid, and his ship Tortuga. Later in his adventures, Cobra meets the Royal sisters whose map-tattoos lead to treasure.

Airing:
New Year 2010

Staff:
Original Story: Buichi Terasawa
Director, Storyboard: Buichi Terasawa
Character Design: Akio Sugino
Animation Director: Keizo Shimizu
Background Art Director: Jiro Kohno
Assistant Director: Ken'ichi Maejima
Mechanic Design: Yoshihito Ichihara
Colour Composition: Yumi Aburaya
Cinematographer: Keisuke Nakamura
Sound Director: Tomoaki Yamada
Music Director: Seiji Suzuki
Animation Production: Magic Bus
Production: Guild Project

Cast:
Cobra: Nachi Nozawa
Lady Armaroid : Yoshiko Sakakibara
Crystal Boy: Akio Otsuka
Goku: Kappei Yamaguchi
Afra Mazda: Gara Takashima


---
film

♦Dai Kaijyu Battle Ultra Ginga Densetsu THE MOVIE(Mega Monster Battle: Ultra Galaxy Legend The Movie)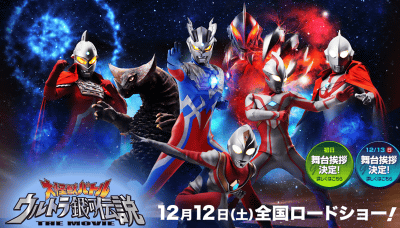 Synopsis:
Traitor Ultraman Berial was once sealed by Ultraman King. But somehow he has broke out from a space jail and plots to destroy Nebula M78 by using Giga Battle-nizer, which can control a hundred monsters at a time. To protect their homeland, Ultraman Mebius stands up with Ray, the monster handler and Monster Gomola.

Note:
Ultraman Berial is the first evil Ultraman throughout over the 40 years' history of Ultraman. The stories are set on Earth in the TV series but this time the story takes place on Nebula M78. Sakammoto Koichi of Power Ranger series is to direct the film.

Trailer of Latest Ultraman Flick "Mega Monster Battle: Ultra Galaxy Legend The Movie" - GIGAZINE

Opening Date:
Dec. 12(Sat.) on various theatress

Staffs:
Director: Koichi Sakamoto
Screenplay: Jun'ya Okabe, Tatsuro Kashihara, Yuji Kobayashi
Producer, Visual Supervisor: Junya Okabe
Production Producer: Koki Okagawa
Cooporate Producer; Hiroyasu Shibuya, Nobuyuki Koyama
VFX Producer: Takashi Kuwabara
VFX Director: Hajime Koyasu
Special Model Producer: Takafumi Junbuchi
Special Model: Fuyuki Shinada, Yuya Takahashi
Character Designs: Masayuki Goto, Tashiro Kiya
Filming: Takumi Furuya
Lighting: Katsunori Saito
Artwork: Tetsuzo Osawa
Editing: Shuichi Kakesu
Acrion Director: Akihiro Noguchi
Production: Tsuburaya Production, Dai Kaijyu Battle Ultra Ginga Densetsu Production Committee(Tsuburaya Production, Bandai, Bandai Visual, Bandai Namco Games, Warner Brothers, Dentsu, Dentsu Tech, Shogakukan, dwango, TYO)
Distribution: Warner Brothers.

Casts:
Ray: Shota Minami
Hyuga: Hiroyuki Konishi
Haruna: Saki Kamiryo
Oki: Toru Hachinohe
Kumano: Mitsutoshi SHunto
Hayata(Ultraman): Susumu Kurobe
Dan Moroboshi(Ultra Seven): Koji Moritsugu
Mirai Hibino(Ultraman Mebius): Shunji Igarashi

♦ONE PIECE film STRONG WORLD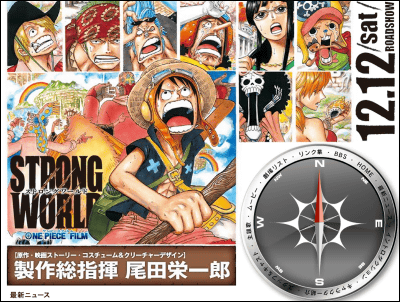 Synopsis:
The news of Eastern Sea annihilation hit Lufi and Mugiwara Pirates. To save their homeland, Lufi decided to go back to the Eastern Sea but a flying pirate ship captained by legendary pirate Shiki the Goleden Lion appears and kidnaps Nami. Others are left on a flying islands full of fearsome beasts.

Note:
2009 is the 10th annniversary of the original comic serialized on Weekly Shonen Jump. This will be the first movie whose story is done by the original author Eiichiro Oda. Famous actor Naoto Takenaka, olympic swimmer Kosuke Kitajima and announcer Aiko Kaido appears as a guest cast of voice.

Opening Date:
Dec. 12(Sat.) in various theatres.

Staffs:
Original Story, Costume and Creature design, Director in Chief: Eiichiro Oda
Director: Munehisa Sakai
Screenplay: Hirohiko Kamisaka
Animation Director: Masayuki Sato
Art Director: Takeshi Waki
Animation Production: Toei Animation

Casts:
Monkey D. Lugi: Mayumi Tanaka
Roronoa Zoro: Kazuya Nakai
Nami: Akemi Okamura
Usoppu: Kappei Yamaguchi
Sanji: Hiroaki Hirata
Tonytony Chopper: Ikue Oya
Robin: Yuriko Yamaguchi
Frankey: Kazuki Yao
Bruck: Cho
Shiki the Golden Lion: Naoto Takenaka
Pirate Kitajima: Kosuke Kitajima
Ever: Aiko Kaido
Dr. Indigo: Ryusei Nakao
Scarlet: Banjyo Ginga
Shao: Wasabi Mizuta
Mother of Shao: Mika Doi

Main theme song: Mr.Children "fanfare"

♦Fate/stay night Unlimited Blade Works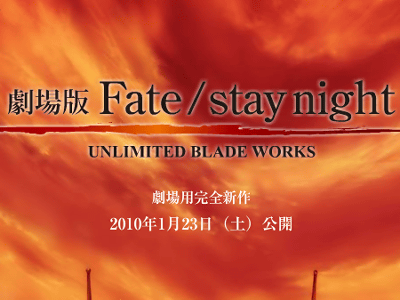 Synopsis:
Once in some decades, Holy Grail appears in Fuyuki City and Seven sorcerers with their servants fight for it. Untalented sorceror Shiro Emiya happened to participate in this Holy Grail War with "Most Outstanding" servant Saber.

Note:
Movie adaption of TYPE-MOON's visual novel "Fate / stay night". The story was once adapted to TV anime in 2006, but there's no mention whether this movie follows the same storyline as TV anime. The subtitle "Unlimited Blade Works" is a name of magic which servant "Archer" uses.

Opening Date:
Jan. 23, 2010 in Cinema Sunshine Ikebukuro and other theatres.

Staffs:
Original Story: Type Moon
Director: Yuji Yamaguchi/ Screenplay: Takuya Sato/ Character Designs and Animation Director in Chief: Megumi Ishihara/ Animation Production: Studio Dean/ Production: Fate-UBW Project/ Distribution: Clockworks, Geneon Universal Entertainment

Casts:
Shiro Emiya: Noriaki Sugiyama/ Saber: Ayako Kawasumi/ Rin Tosaka: kana Ueda/ Ssakura Mato: Noriko Shimoya/ Illya: Mai Kadowaki/ taiga Fujimura: Miki Ito/ Archer: Junichi Suwabe/ Rider: Yu Asakawa/ Kirei Kotomine: Jyoji Nakata

Main Theme Song: Sachi Tainaka

♦Maho Shojyo Lylical Nanoha THE MOVIE 1st(Magical Girl Lyrical Nanoha)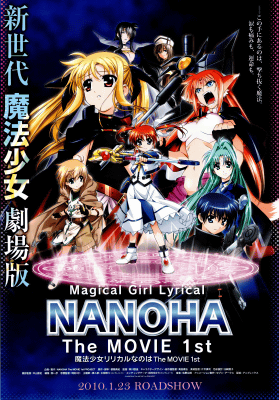 Synopsis:
Grade school pupil Nanoha Takamachi finds a talking ferret and takes it home. The ferret tells her his name is Yuno Scrya and he came to this world from Mid-childa to search for lost Jewel Seeds, the magical technology. Nanoha set off for Jewel Seed with Yuno but there's others collecting these too. Fate Testarossa is one of those who confronts them on their way.

Note:
Beginning in 2004, the story has been adapted to TV anime for three times. This movie is an adaption of the first series and to be totally re-drawn and edited. 2nd seried director Keizo Kusawaka will take the lead.

Opening Date:
Shinjyuku Mirano and 19 other theaters: Jan. 23, 2010(Sat.)

Staffs:
Planning and Production:NANOHA THe MOVIE 1st PROJECT
Original Story and Screenplay: Maki Tsuduki
Director: Keizo Kusakawa
Charactor Designs and Animation Director in Chief: Yasuhiro Okuda
Art Director: SHinji Katahira
Color Composition: Tomoko Tasaki
Filming Director: Atsushi Nakayama
Editing: Kazuhiko Seki
Sound Director: Jin Aketagawa
Music: Hiroaki Sano
Animation Production: Seven Arks
Distribution: Aniplex

Casts:
Nanoha Takamachi: Yukari Tamura
Fate Testarossa: Nana Mizuki
Yuno Scrya: Kaori Mizuhashi
Alf: Natsuko Kuwaya
Chrono Harlaown: Mikako Takahashi
Precia Testarossa: Rei Igarashi
Lynis: Masumi Asano
Amy Limietta: Yuki Matsuoka
Lindy Harlaown: Aya Hisakawa

Main Theme: Nana Mizuki
Inserted Song: Nana Mizuki
Ending Song: Yukari Tamura
♦Space Battleship Yamato - Resurrection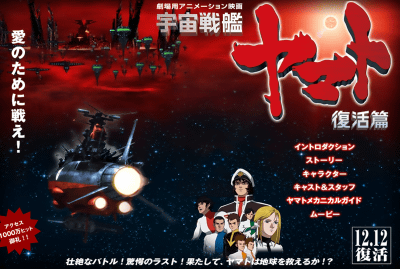 Note:
There has been so many attempts of making sequel for this great space opera masterpiece but they were all cancelled for tumbling copyright lawsuits. This is the first Yamato sequel in this 26 years.

Synopsis:
In the year 2220, the Solar System is threatened by an approaching blackhole and the people decided to immigrate to other planets. Two immigrant fleets headed for other solar systems 27,000 light years away, but they suddenly disappeared. Battleship Yamato is demothballed and enhanced to escort the third immigrant fleet, commanded by Captain Susumu Kodai.

Opening Date:
Dec. 12.

Staffs:
Original Story, Producer, Director: Yoshinori Nishizaki
Original Idea: Shintaro Ishihara
Screenplay: Buru Ishihara, Atsuhiro Tomioka, Yoshinori Nishizaki
Character Designs, Chief Art Director: Tomonori Kogawa
Mechanical Designs, Assistant director: Makoto Kobayashi
Sound Director: Tomohiro Yoshida
Supervisor: Toshio Masuda
Executive producer: Yoshinori Nishizaki, Noriaki Nakazawa
Production Studio: Yamato Studio
CG Production: Omnibus Japan

Casts:
Susumu Kodai: Koichi Yamadera
Miyuki Kodai: Ayumi Fujimura
Yuki Kodai: Noriko Yume
Kosaku Omura: Chafurin
Tasuke Tokugawa: Toru Furuya
Ryo Kamijyo: Kentaro Ito
Atushi Kobayashi: Daisuke Namikawa
Maho Orihara: Ryoka Yuzuki
Yoichi Sakurai: Kenji Nojima
Ryohei Nakanishi: Kappei Yamaguchi
Saburo Kinoshita; Kosuke Toriumi
Minoru Goda: Akimitsu Takase
Miharu Sasaki: Fuyuka Oura
Hashiru & Kakeru Tenma: Daisuke Sakaguchi
Shiro Sanada: Takeshi Aono
Jiro Shima: Ryutaro Okiayu
Shuzo Sado: Ichiro Nagai
Analyzer: Kenichi Ogata
Admiral Metzlar: Hiroshi Ienaka
Commander Balsman: Shozo Iduka
Queen Ilya: Atsuko Tanaka
General Pascal: Kazuhiko Inoue
General Gorui: Masato Ibu
Captain Seagull: Taketo Koyasu
Narration: Michio Hasama

♦Afro Samurai: Resurrection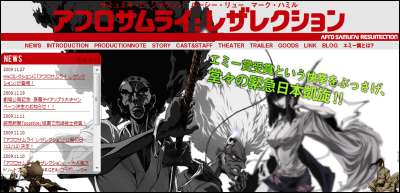 Note:
This strange mixture of traditional samurai and pop culture resulted in 400,000 copies sold in United States and two nomination for Emmy Awards. It is said that popular actor Samuel L. Jackson showed great interest on Afro Samurai and bid for a voice actor in the earliest phase of production.

Synopsis:
Beating Justice, Afro's revenge has done. He lives days of hermitage carving out Buddharupa, praying for those he slashed by his blade. But one day, his senior disciple and a mysterious woman who had to be dead appeared. Despite Afro's resistance, they robbed his champion headband and his father's cremains. Can Afro make his comeback as samurai?

Opening Date:
Dec. 12.

Staffs:
Original Story: Takashi Okazaki
Director: Fuminori Kizaki
Screenplay: Yasuyuki Muto
Art Director: Shigemi Ikeda
Music: The RZA
Animation Production: GONZO

Casts:
Afro, Ninjya-Ninjya: Samuel L. Jackson
Shio: Lucy Liu
Ping: Mark Hamil

♦Ningen Shikkaku (No Longer Humnan) Director's Cut Edition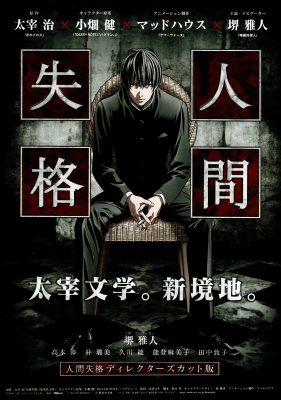 Note:
"Aoi Bungaku(Blue Literature)" series aired on NTV network coming to theatre answering its popularity. It's also for the 100th anniversary of original author Osamu Dazai's birth.

Synopsis:
The protagonist (told in first-person POV) feels some difficulty in communicating with others. He acted as a class clown to hide it but one day in his middle school, it was almost revealed. The fear lead him to self-destructive life of alcohol, tobacco and brothel. After expulsion from highschool, he got stuck with his life from destructive female relationship.

Opening Date:
Cine Libre Ikebukuro: Dec. 12(Sat.)
Theatre Umeda: Dec. 19

Staffs:
Original Story: Osamu Dazai "Ningen Shikkaku"
Director: Morio Asaka
Assistant Director: Tomomi Yoshino
Character Ideas; Ken Obata
Screenplay: Tomo Suzuki
Character Designs, Chief Animation Director: Masanori Shino
Color Composition: Yoshinori Horikawa
Art Director: Tomoyuki SHimizu
Sound Director: Yasunori Honda
Filming Director: Kenji Fujita
Animation Production: Madhouse

Casts:
Yozo Oba, navigator: Masato Sakai
Horiki: Wataru Takagi
Tsuneko: Romi Pak
Shizuko: Aya Hisakawa
Yoshiko: Mamiko Noto
Madamme: Atsuko Tanaka

♦Professor Layton and the Eternal Diva



Note:
Movie adaption from a famous puzzle game "Professor Layton" series for Nintendo DS. The story is set on the first mistery that Prof. Layton and Luke challenged together. Voices will be dubbed by original actors. Diva Jenis will be dubbed by Nana Mizuki and other actors like Atsuro Watabe and Saki Aibu appears as guest characters.

Synopsis:
One day Prof. Layton got a letter from his former student Jenis, an opera singer. She says her friend Melina, who passed away a year ago, appeard in front of her in a little girl's form and told that she got a eternal life. Layton goes to the opera house with Luke and Remi to solve the mystery. The opera is about a legend of immortal kingdom and audience are here for the eternal life.

Opening Date:
Dec. 19(Sat.)

Staffs:
Original Story: Level Five
Director: Masakazu Hashimoto
Story Idea: Akihiro Hino
Screenplay: Aya Matsui
Animation Production: PA Works, OLM
Production: Team Layton

Casts:
Prof. Layton: Yo Oizumi
Luke: Maki Horikita
Jenis: Nana Mizuki
Deathcall: Atsuro Watabe
Remi: Saki Aibu

♦Yona Yona Penguin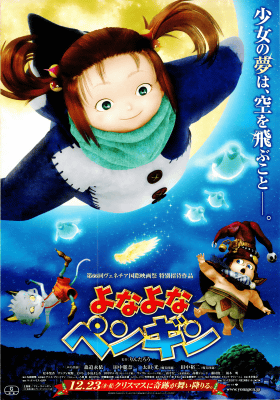 Note:
A big-budget($15 million USD) 3D anime movie by director Rintaro, famous for Galaxy Express 999 and Genma Taisen, and staffs from Japan and France.

Synopsis:
Coco is a strange girl who wears Penguin coat and wanders around night town. Her dream is to fly someday. One day, she picked up a doll. Guided by it, she wanders into mysterious world and meet Charlie the goblin. Somehow she is mistaken as a legendary heroine and gets involved into an adventure to save the world.

Opening date:
Theatres:Dec. 23

Staffs:
Original Story, director: Rintaro
Character Designs: Katsuya Terada
Screenplay; TOmoko Kaneharu
Music: Masayuki Honda
Animation supervisor: Tsuneo Maeda
CGI Supervisor: Toru Shinozaki
Art Director: Mihoko Magori
Producer: Dennis Freedman
Animation Production: Madhouse

Casts:
Coco: Ei Morisako
Charlie: Rena Tanaka
Zammy: Hikaru Ota
Bucca Boo: Yuji Tanaka
Dean: Ichiro Nagai
Charlie's Father: Hideyuki Tanaka
Charlie's Mother: Yuko Minakuchi
Coco's Mother: Mami Koyama
Muru-muru: Kappei Yamaguchi
Chabisuke: TARAKO
Mans: Nachi Nozawa, Kenji Utsumi
Devil Quartet: Rika Matsumoto, Dandy Sakano, Hiroshi, Yoshio Kojima
Twin Fairies: Reina Tanaka, Rin-rin
Brat trio: Motoko Kumai, Noriko Kuwashima, Pak Romi
Spider: Toshiyuki Honda
Arc Angel: Koichi Yamadera
Coco's Father: George Takahashi
Parakeke: Shunji Fujimura
Old Man: Akira Tsukamoto

Main Theme: Coco and Amigo Penguins "Amigo Penguin"

♦Nodame Cantabile: Finale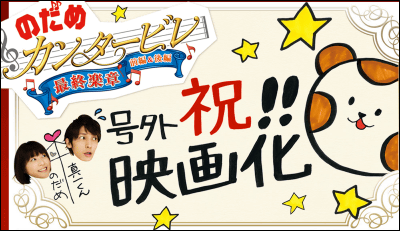 Note:
At the same time with anime conclusion, the live action drama aired since 2006 also meets its finale as two-parter. The first episode is to be distributed in December and the sequel will be on April. In addition to original casts, there will be many new guest actors.

Synopsis:
Chiaki became a resident conductor of Roux-Marlett Orchestra, where his master Stresemann once had the same job. But Chiaki is so disappointed seeing the band's unmotivatedness to the music and concert master Simon's uncooperative attitude to a freshy conductor. With no good progress, their concert approaches day by day...

Opening Date:
Dec. 19

Staff:
Original Story: Tomoko Ninomiya
Director: Hideki Takeuchi
Screenplay: Rin Eto
Animation Production: Cine Bazarr
Production: TV, Kodansha, Amuse, Toho, FNS27
Distribution: Toho

Cast:
Juri Ueno
Hiroshi Tamaki
Eita
Asami Mizukawa
Keisuke Koide
Eiji Wentz
Becky
Sayaka Yamaguchi
Yu Yamada
Shosuke Tanihara
Takeshi Nadagi
Seiji Fujishi
Michiko Kichise
Masato Ibu
Naoko Takenaka

♦Higanjima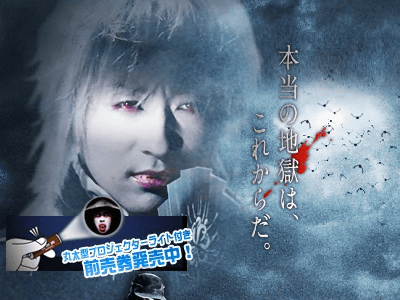 Notes:
The live-action movie adaption of this vampire horror was said to be difficult due to its explicit violence. Extras are recruited on Weekly Young Magazine which serializes the original comic.

Synopsis:
Searching for missing brother, Akira Miyamoto landed on Higanjima, with his friends and mysterious girl Rei. They found out that Higanjima is full of vampiric residents and there's no way to escape. How could Akira and his friends fight and escape from the island?

Opening Date:
Shinjyuku Wald 9 and other theaters: Jan. 9.

Staffs:
Director: Kim Thae-Kyun
Screenplay: Tetsuya Oishi
Executive Producer: Toru Miyake, Juno Lee
Planning : Micott & Basara, Kraze Pictures
Producer: Yuko Kameda, Shon Shin, Don Kwon, Yoshinori Fujita
Production: "Higanjima" Film Partners
Distributor: Warner Brothers

Casts:
Akira: Hideo Ishiguro
Atsushi: Hiroshi Watanabe
Rei: Mizukawa Asami
Masa: Koji Yamamoto
Ken-chan: Tomohisa Yuge
Yuki: Miori Takimoto
Pon: Fumito Moriwaki
Nishiyama: Satoshi Adachi
Kato: Masaya Handa
Ryoko: Ayako Omura

Theme Song: 9mm Parabellum Bullet "Inochi no Zenmai(Clockwork Life)"

♦Himitsu Kessha Taka no Tsume(Secret Society Eagle Talon) THE MOVIE 3 - http://Takanotsume.jp is Forever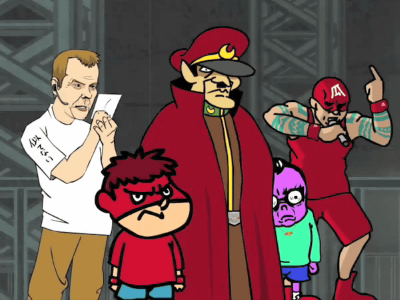 Note:
The 3rd movie adaption of famous Flash animation, following 2007's "Fuhrer Only Live Twice" and 2008's "Black Oolong Tea Who Loved Me". The theme song will be "I Dreamed A Dream" by Susan Boyle who was sprung to fame by Britain's Got Talent.

Synopsis:
TBA

Opening Date:
TOHO Cinemas franchise and other theatres: Jan. 16

Staffs:
Director etc.: FROGMAN

Casts:
Fuhrer, Yoshida-kun Philip, Dr. Leonard, Bosatsutoge-kun etc.: FROGMAN
Juliet: Yukie Kawamura
Juliet's child: Mariko Do
Grandchild of the man who met in Texas: Mou Chugakusei
Eiji Bando: himself

Theme Song: Susan Boyle "I Dreamed A Dream"

♦The Vanishment of Haruhi Suzumiya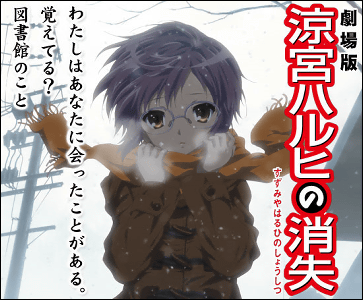 Note:
The Vanishment of Haruhi Suzumiya was first thought to be scheduled in the 2nd season of TV anime but actually Sasanoha Rhapsody, Endless Eight and The Sigh of Haruhi Suzumiya were aired. This movie adaption was announced after the last airing of TV anime. The animation will be done by Kyoto Animation, famous for its adaption true to the original. The movie will be 150min long.

Synopsis:
One winter day before Christmas, Kyon found Haruhi isn't in the seat behind him in the class. Instead of Haruhi, Asakura, who once tried to assassinate Kyon,

Opening Date
Shinjyuku Wald 9: Feb. 6

Staffs:
Planning: Takeshi Yasuda, Tomofumi Arashi, Yoko Yada, Nobuhiko Sako, Shunji Inoue
Original Story, Assistance on Screenplay: Nagaru Tanigawa
Original Illustration, Character Planning: Noizi Ito
Director in Chief: Tatsuya Ishihara
Director: Yasuhiro Takemoto
Screenplay: Fumihiko Shimo
Character Design, Super-Chief Animation Director: Akiko Ikeda
Chief Animation Director: Taishi Nishiya
Art Director: Seiki Tamura
Filming Director: Ryuta Nakaue
Settings: Hiroyuki Takahashi
Color Composition: Naomi Ishida
Editorial: Kengo Shigemura
Sound Engineer: Yota tsuruoka
Sound Effect: Eiko Morikawa
Recording Engineer: Satoshi Yano
Assistant Recording Engineer: Mai Sunaba
Sound Effect Production: Yoshimi Sugiyama, Gakuonsha
Recording Studio: Studio 2010
Music: Satoru Kosaki
Music Producer: Lantis
Production Producer: Nagaharu Ohashi
Assistant Producer: Mayumi Yamaguchi
Producer: Atsushi Ito, Hideaki Yada
Animation Production: Kyoto Animation
Distribution, Marketing: Kadokawa Shoten, The Klock Worx
Production: SOS Brigade

Casts:
Kyon: Tomokazu Sugita
Haruhi Suzumiya: Aya Hirano
Yuki Nagato: Minori Chihara
Mikuru Asahina: Yuko Goto
Itsuki Koizumi: Daisuke Ono
Ryoko Asakura: Natsuko Kuwaya
Tsuruya-san: Yuki Matsuoka
Taniguchi: Minoru Shiraishi
Kunikida: Megumi Matsumoro
Kyon's sister: Sayaka Aoki

Theme Song: Yuki Nagato(Minori Chihara)


---
OVAs

♦Boku, Ota-Li-man(Me, a Otaku Salaryman)



Note:
OVA(Flash animation) adaption of a web comic by Yoshitani based on his own life as a Salaryman with gorgeous voice actors like Mamoru Miyano of Gundam OO and DEATH NOTE and Rie Kugimiya.

Synopsis:
29 years old computer engineer Yoshitani's everyday life as a closet Otaku is kinda enjoyable, although he has no girlfriend.

Release Date:
January.

Starffs:
TBA

Casts:
Yoshitani: Mamoru Miyano
???: Rie Kugimiya

♦Halo Legends



Note:
Omnibus based on famed fps game Halo consists of 8 episodes by Bones, STUDIO 4C, Production I.G. Toei Animation with supervision of two Sci-Fi anime guru Mamoru Oshii and Shinji Aramaki.

Synopsis:
See here for episode list and synopsis.
"Halo Legends" Anime DVD and Blu-ray to come out in February, 2010 - GIGAZINE

Release Date:
Feb. 16

Staffs:
Creative Supervisor: Shinji Aramaki, Mamoru Oshii
Director: Hideki Nimura(#1, #2), Toshiyuki Sugano(#3), Yasushi Muraki(#4), Koji Sawai(#5), Koji Yamasaki(#6), Shinji Aramaki(#7), Daisuke Nishio(#8)
Rendition: Tomoki Kyoda(#4)
Producer: Eiko Tanaka(#1, #2, #3), Masahiko Minami(#4)
Executive Producer: Koichi Mashita(#5), Mitsuhisa Ishikawa(#6), Hiroyuki Seshita(#7), Kozo Morishita(#8)

Casts:
TBA

♦Dante's Inferno An Animated Epic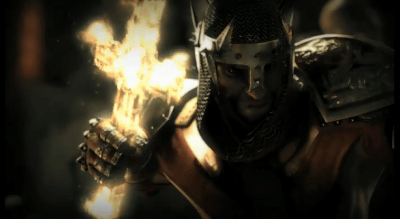 Note:
Anime adaption of Inferno from Dante's Divine Comedy. The adaption will be 6-parter and the first episode is to be done by Production I.G.

Synopsis:
TBA

Release Date:
Feb.

Staffs:
Director: Yasuomi Umetsu
Animation Production: Production I.G.

Casts:
TBA

♦"Isshoni" Series Vol.2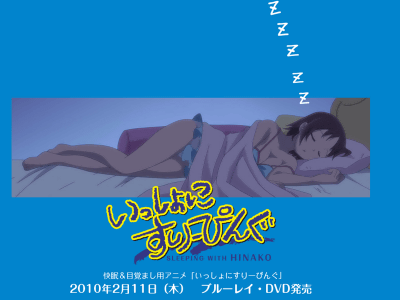 Note:
The sequel to Training With Hinako, one of the most talked-about training-with-anime-heroine stuff.

Synopsis:
TBA

Release Date:
Feb. 11

Staffs:
Production: PRIMASTEA

Casts:
TBA

2009年 Winter Anime List in Alphabetical Order

- TV animes -
♦Baka to Test to Shokanju(Idiot, Test and the Summoned Beast)
♦Chu-Bra!!
♦COBRA THE ANIMATION: The Six Braves
♦Dance in the Vampire Bund
♦Durarara!!
♦Hanamaru Kindergarten
♦Harukanaru Toki no Naka de 3: Owarinaki Unmei(In a Distant Time 3: Endless Fate)
♦Heart Catch Pretty Cure!
♦Kaitou Reinya
♦Katanagatari
♦Lady×But!
♦Masuda Kosuke Gekijyo: Gyagu Manga Biyori(Kosuke Masuda Theatre: Good Day for Gag Manga)
♦Okami Kakushi
♦Omamori Himari
♦Nodame Cantabile Finale
♦Seikon no Qwaser
♦So Ra No Wo To(lit. Sound of Sky)
♦TBS Animation HIdamari Sketch×☆☆☆
♦Weis Survive R

- Movies -
♦Afro Samurai: Resurrection
♦Dai Kaijyu Battle Ultra Ginga Densetsu THE MOVIE(Mega Monster Battle: Ultra Galaxy Legend The Movie)
♦Fate / stay night Unlimited Blade Works
♦Higanjima
♦Himitsu Kessha Taka no Tsume(Secret Society Eagle Talon) THE MOVIE 3 - http://Takanotsume.jp is Forever
♦Maho Shojyo Lylical Nanoha THE MOVIE 1st(Magical Girl Lyrical Nanoha)
♦Ningen Shikkaku (No Longer Humnan) Director's Cut Edition
♦Nodame Cantabile: Finale
♦ONE PIECE film STRONG WORLD
♦Professor Layton and the Eternal Diva
♦Space Battleship Yamato - Resurrection
♦The Vanishment of Haruhi Suzumiya
♦Yona Yona Penguin

- OVAs -
Boku, Ota-Li-man(Me, a Otaku Salaryman)
Dante's Inferno An Animated Epic
Halo Legends
"Isshoni" Series Vol.2

Related Post:
"Godzilla 5th Form Pattern" is more than amazing, with Kamata, Shinagawa, Kamakura Form Figures - GIGAZINE

Interview with Mamoru Oshii: Details of Releasing "The Next Generation -Patlabor-" Director's Cut - GIGAZINE

Highway Night Bus "COCOON" by WILLER EXPRESS Secures Private Spaces For All Passengers - GIGAZINE

"Nissin Cup Noodles Matcha Seafood Flavor" Review: What Does Green Noodle Taste Like? - GIGAZINE

Interview with Fumito Ueda, "The Last Guardian" Game Director and Designer - GIGAZINE

List of New Anime Series launching Spring 2009 - GIGAZINE

List of New Anime: Summer 2009 - GIGAZINE

List of New Anime: Autumn 2009 - GIGAZINE
in Anime, Posted by darkhorse_log