Macross Train, Macross Billboards and Macross Columns advertising the "Macross Frontier" Movie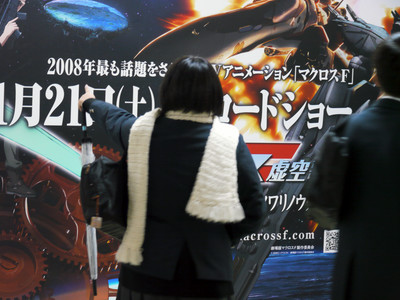 (This article was originally posted in Japanese at 17:56 Nov. 21, 2009)

Macross Frontier The Movie: The False Diva opened in Japan on Saturday, November 21, 2009. Huge advertisement campaign has been running all over Tokyo to promote the movie. Here are some videos and pics we took of the Macross train of Yamanote Line, gigantic Macross billboard in Shinjuku Station and columns adorned by Macross characters and Valkyries in Ikebukuro Station.

Video and pics after the cut!
(Japanese)Macross Frontier The Movie: The False Diva
http://www.macrossf.com/movie/

A trailer was shown at Yodobashi Akiba(Akihabara) and Yodobashi Umeda(Osaka).
Trailer of "Macross Frontier The Movie: The False Diva" at Akihabara


We checked Cinema Sunshine, Ikebukuro a few days before the movie's premiere.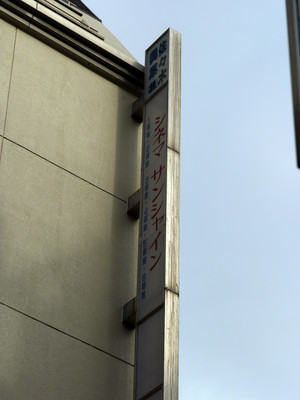 The posters above the entrance shows the currently running titles.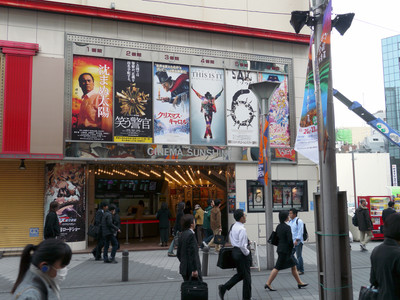 Huge poster featuring Sheryl Nome.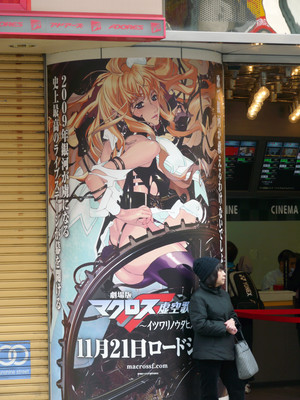 Billboard located in the underground concourse of Shinjuku Station.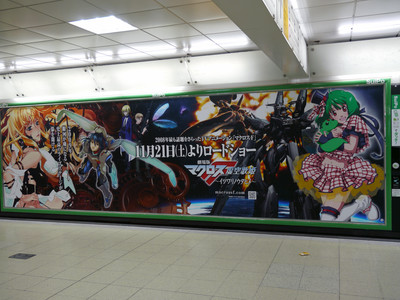 It's so huge you can't miss it.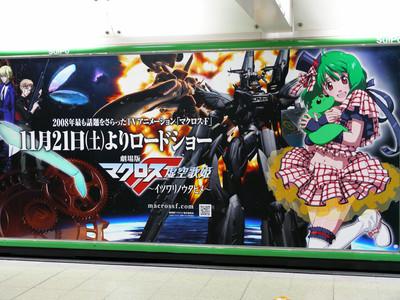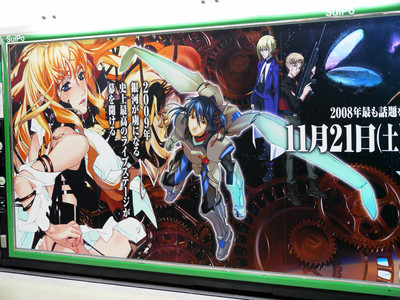 A highschool student pointing at it. Seems like the ad is effective.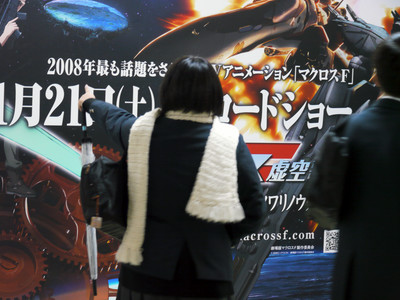 Incidentally, next to the Macross billboard was Verbatim's ad featuring idol group AKB48.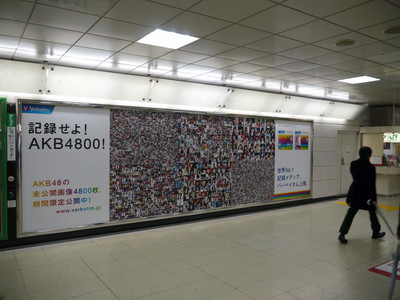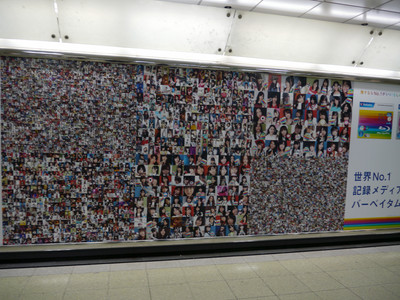 This one certainly was eye-catching, too.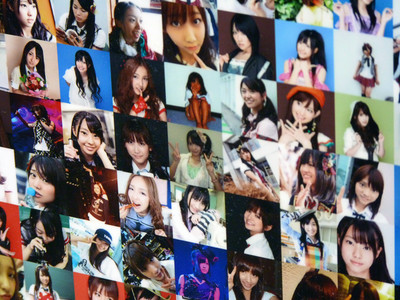 Columns in the concourse of Ikebukuro Station were wrapped in Macross posters, each column featuring a character or a machine. This one is Alto Saotome.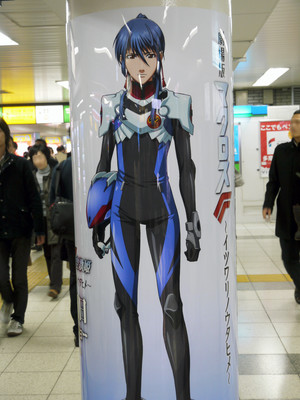 Two versions of Ranka Lee.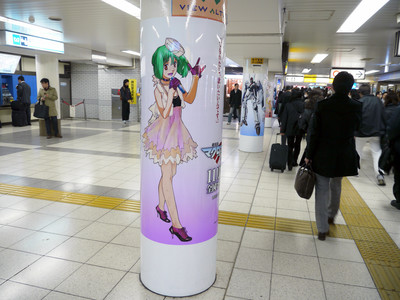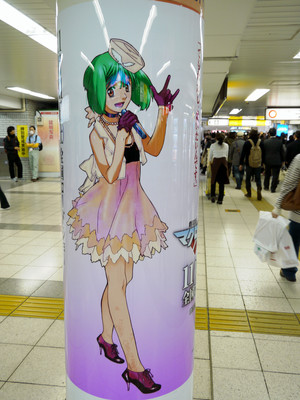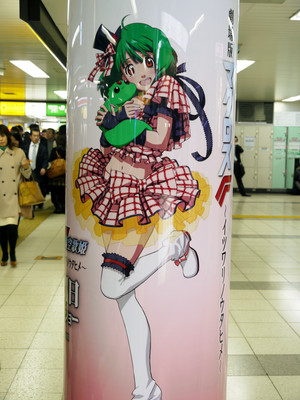 Sheryl Nome was quite sexy.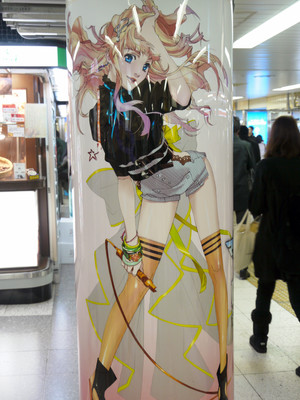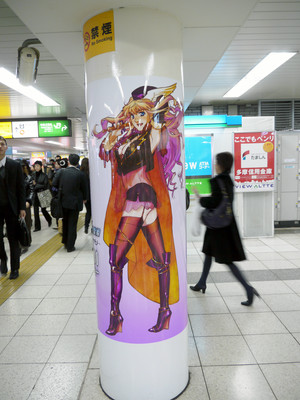 Michael Blanc.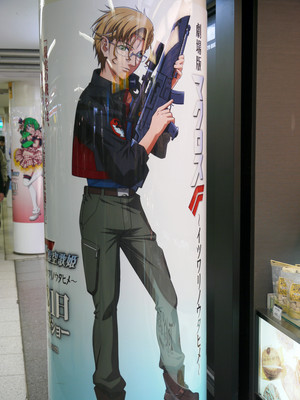 Brera Sterne, whose role in the movie is said to be quite different from the TV series.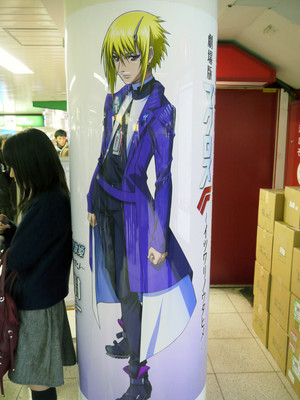 Valkyries were all depicted in their Battroid mode.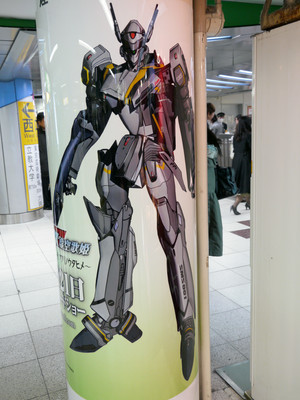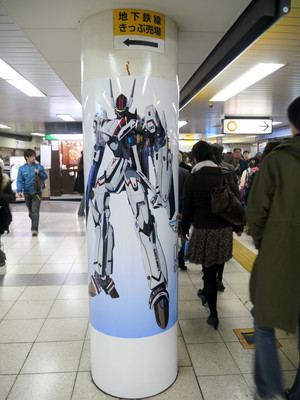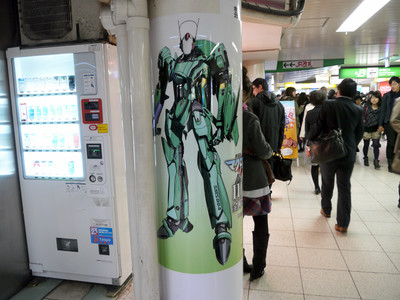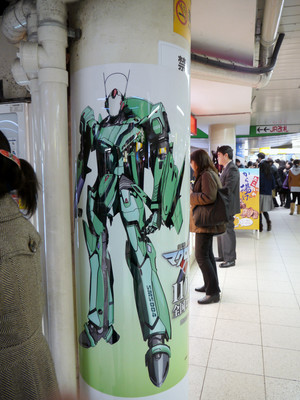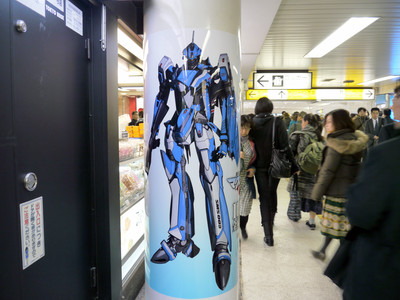 Macross ad train on Yamanote Line. Eight types of illustrations can be seen on an 11-car train, and there are two Macross trains running the Yamanote line so there are 16 variations in all. If you're staying in Tokyo and lucky enough, you might be able to see them all. Many people were taking pictures with their cellphones on the platform.
Yamanote Line "Macross Frontier" Train Arrived


The illustrations were on both sides of each door.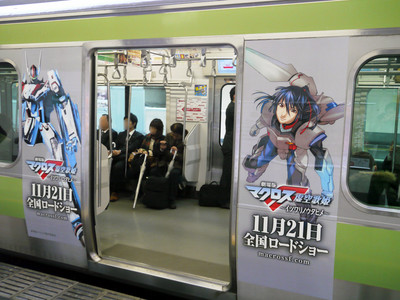 Seven illustrations of Ranka Lee.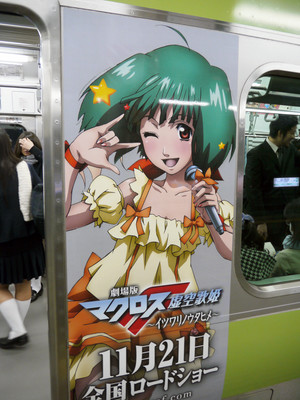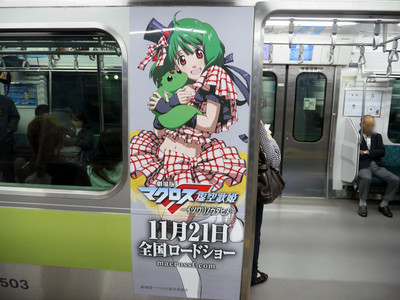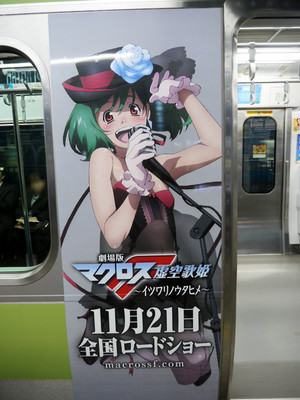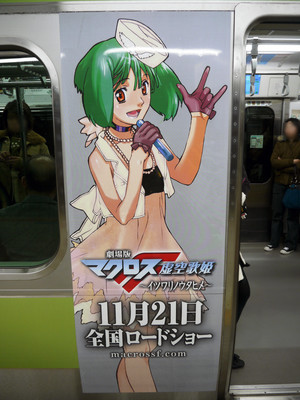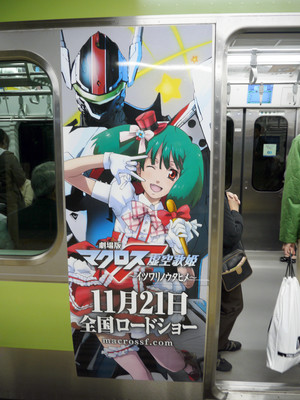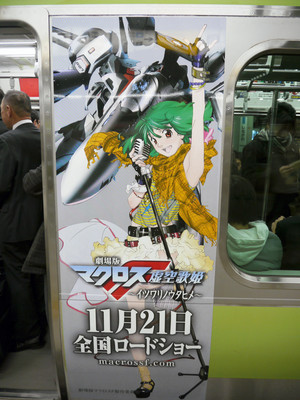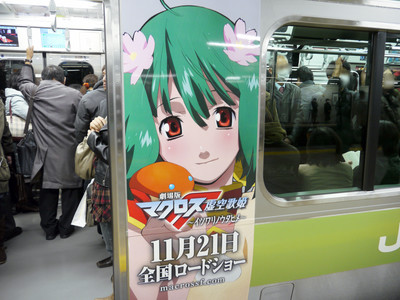 Six Sheryl Nome.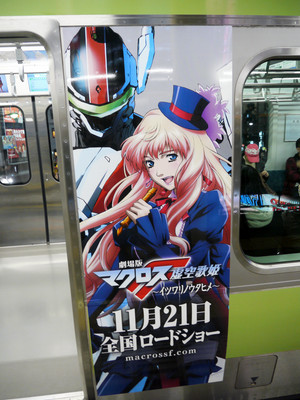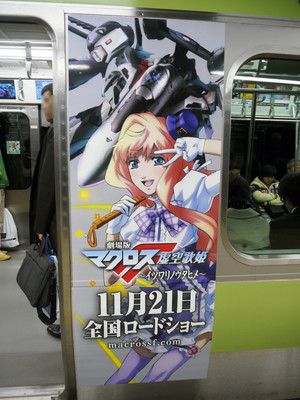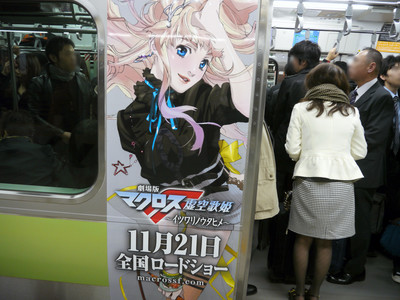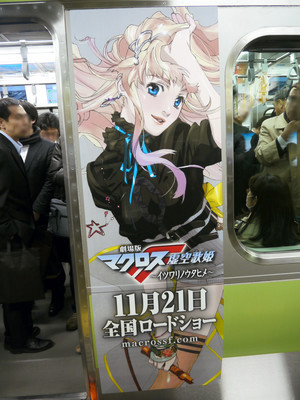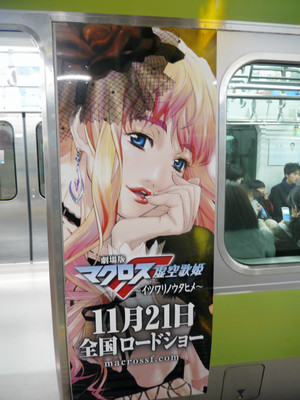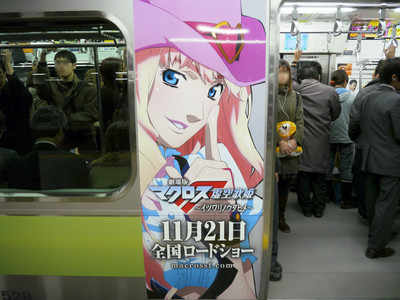 Alto Saotome is supposed to be the main protagonist but there was only one illustration of him.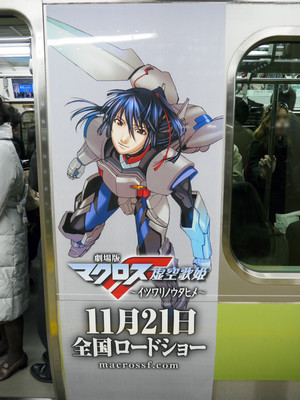 Two Valkyries, in Fighter mode and Battroid mode.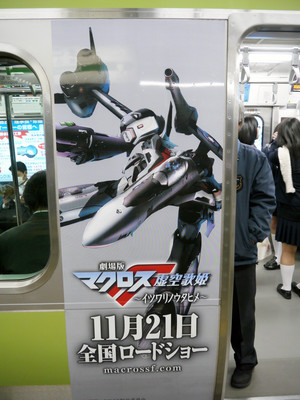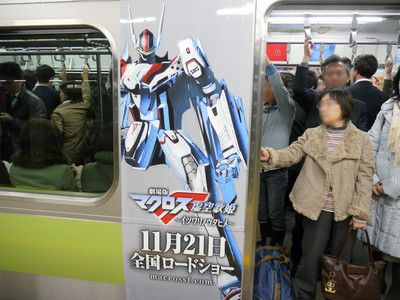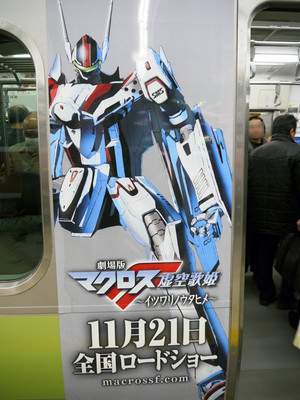 Video of the outgoing train.
Yamanote Line "Macross Frontier" Train Departure


Macross train will be running for two weeks so there's still a chance to see it and board it. Where exactly the train is running at the moment can't be predicted, but there's the "Yamanote Line 100th Anniversary Commemorative Train" (known as the Chocolate Train) reportedly running a few minutes after Macross train. Chocolate Train is tweeting(Yamanote Line Chocolate Train (chocoden) on Twitter) about once in an hour reporting its current location, so it might give you a clue.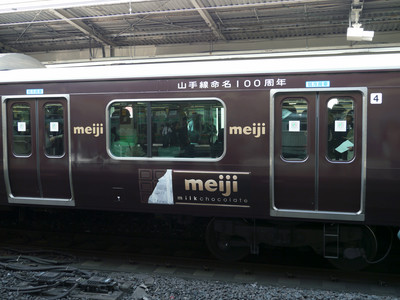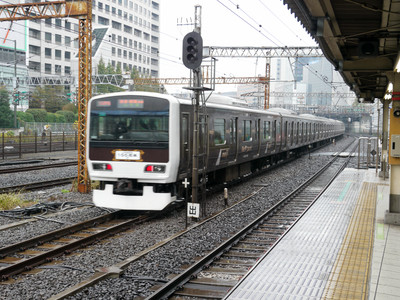 Related Posts:
Movie of Macross Frontier to come out on November 21st - GIGAZINE

Figures of Ranka Lee and Sheryl Nome from Macross Frontier - WONDER FESTIVAl 2009 [SUMMER] - GIGAZINE

Cutest USB Flash Drive / Action Figure of Lupin III, Rei Ayanami, Ranka Lee and more! - GIGAZINE

Huge Action Figure of Transformable Warship SMS Macross Quarter from "Macross Frontier" - GIGAZINE

Kitaro and Neko Musume's announcements on Kitaro Train - GIGAZINE

List of New Anime: Autumn 2009 - GIGAZINE