Green Light for "Kaiji" Live-Action Film Sequel!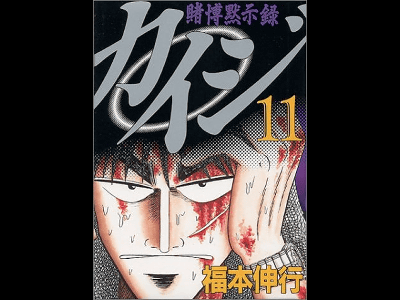 (This article was originally posted in Japanese at 16:14 Nov.19, 2009)

Live-action film adaptation of popular gambling manga Kaiji starring Tatsuya Fujiwara of Death Note has came out on October 10, 2009 and still running in many theatres throughout Japan. It's securing its place among the greatest hits this year, making 2.1 billion yen (about $24 million) box office in a month (that's pretty big in Japan). A sequel has been green-lit for 2011 release.

Read on for details and pics.
"Kaiji: Jinsei Gyakuten Game" Official Website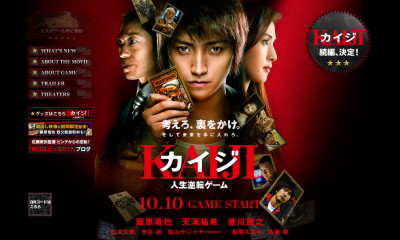 It says "KAIJI Sequel Green-Lit! ☆☆☆" on the movie's official website. Click the button (top right) to see comments by Tatsuya Fujiwara, the original manga's author Nobuyuki Fukumoto and director Toya Sato.

Movie "Kaiji" Sequel Green-Lit!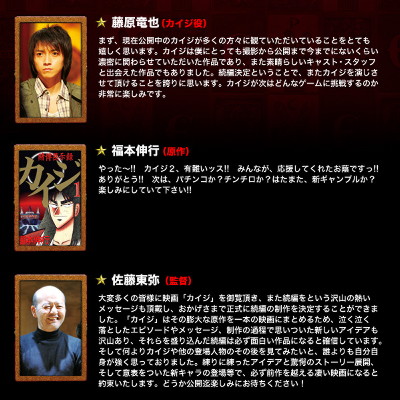 Tatsuya Fujiwara (Kaiji):
First of all, I'm delighted that so many people are watching the first movie, now showing. Personally, Kaiji is the movie that I was most deeply involved in my carrer, from the production to the promotion, and I was able to meet great people, cast and crew. Now that a sequel has been green-lit, I'm honoured to play Kaiji again. I can't wait to find out what kind of game Kaiji will play this time.

Nobuyuki Fukumoto (Original Story):
Hooray!! Kaiji 2, how glad I am!! This wouldn't have happened without all your support, every one!! Thanks!! So what next? Pachinko? Dice? Or another new gamble? Don't miss it!!

Toya Sato (Director):
Thanks to the number of audience and all the request for a sequel, the sequel is now officially decided. More than anyone, I've wanted to know what happened next to Kaiji and other characters. To wrap up the epic manga to a feature-length film, regretfully we had to cut many episodes and messages in the first film, and many new ideas also kept popping up during the production. Now we can include all those elements in the sequel so I'm sure it won't fail to be entertaining. With the most polished ideas, extraordinary plot and surprising new characters, I'll promise you the sequel will be even astonishing than the first film. Please don't miss it!
The movie Kaiji is now showing at 306 theatres throughout Japan, and continue running at least until December 13. Of the 306 theatres, 291 have already decided to extend the run.

It's been receiving mostly favourable reviews, and the fact that the male loan-shark Endo has been turned into a female character was taken surprisingly well by the original manga's fans, thanks to actress Yuki Amami's popularity and her superb performance. By the way, the manga's author Nobuyuki Fukumoto himself makes a guest appearance in the film. You can spot him easily (there's a picture of him on Wikipedia, for your information), so don't miss it!

Related Posts:
Gambling Manga "Kaiji" adapted to Live-Action Film starring Tatsuya Fujiwara - GIGAZINE

"GANTZ" Going Live-Action Starring Ken'ichi Matsuyama and Kazuya Ninomiya - GIGAZINE

Ninja Movie "Kamui" hitting Film Festivals in London and Toronto - GIGAZINE

Tezuka's Darkest Manga "MW" adapted to Live-Action Film - GIGAZINE

"Watshi no Yasashikunai Senpai" to be the First Live-Action by Director Yamamoto of "Kannagi" - GIGAZINE