"Halo Legends" Anime DVD and Blu-ray to come out in February, 2010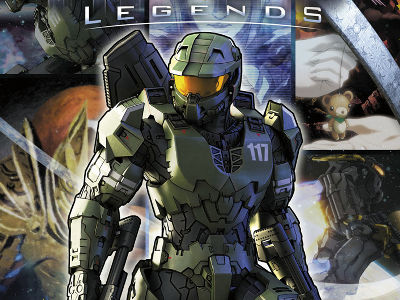 (This article was originally posted in Japanese at 10:25 Nov. 19, 2009)

Halo Legends, anime adaption of the popular FPS Halo series is to be released world-wide on February 9, 2010 in DVD and Blu-ray. The DVD and Blu-ray will include seven-story (eight-episode) anthology of 10-15 minute length each, 118 minute in total, and 79 minute of special features.

The production is handled by five renowned Japanese studios; Production I.G, Bones, Studio 4°C, Toei Animation and Casio Entertainment. Mamoru Oshii of Ghost in the Shell and Shinji Aramaki of Appleseed serve as the project's creative director.

Read on for details and pics.
HALO LEGENDS - Official Movie Site

(Japanese)Warner Home Video "Halo Legends" Blu-ray

(Japanese)Warner Home Video "Halo Legends" DVD

The anime is in English, subtitled in Finnish, French, German, Japanese, Norwegian and Spanish. You can watch a trailer on Warner's website.

Japanese-dubbed version will be available in Japan for 5,980 yen(Blu-ray) and 4,980 yen(DVD). This is the cover design for Blu-ray(Japanese version).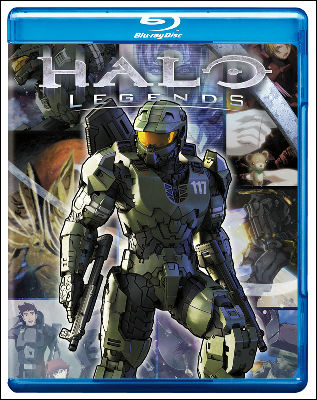 Cover designs for the U.S. release. The DVD is priced at $15.16, the Blu-ray $22.36, last we checked. Now available for pre-order.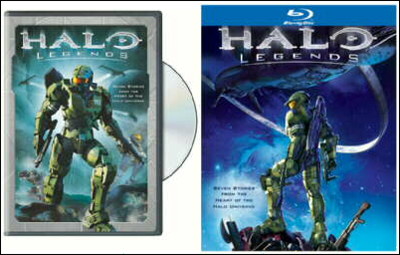 The stories are set in the 26th century of the Halo universe. We couldn't find English summary of the episodes anywhere on the official site, so here's a translation of the synopsis on the Japanese website.

Episode 1 & 2: Origins " Part1 & Part2 (by STUDIO 4°C)
Highly intelligent AI Cortana recounts the thousand-year history of Halo universe, from the origin of Forerunner to the end of the Human-Covenant War (Halo 3. This story will help beginners to get perspective of the complicated Halo universe.

Episode 3: The Babysitter (by STUDIO 4°C)
This episode is a sidestory focused on elite human United Nations Space Command soldiers known as Orbital Drop Shock Troopers(ODSTs) that appeared in Halo 3: ODST. ODSTs aren't too thrilled about a Spartan supersoldier joining their squad on a mission to assassinate a Prophet. The difference, conflict and eventual understanding between ODSTs and Spartans are highlighted.

Episode 4: Prototype (by bones)
In an act of insubordination, a marine known for his cold-bloodedness attacks the Covenant alone, armed with a Powered Suit which should have been destroyed, to get back his human dignity. This story is a "what if" in the SPARTAN Project in which Powered Suits were developed as prototypes.

Episode 5: Homecoming (by Production I.G)
This story features a female Spartan, one of Master Chief's comrade. Memory of her troubled childhood comes back to her in the midst of battles, and she questions about the Machiavellianism and secretiveness of the SPARTAN project. When young, she was abducted by the Office of Naval Intelligence(ONI) and Dr. Catherine Elizabeth Halsey for the SPARTAN Project, escaping once, only to find a clone replacing her at home.

Episode 6: Duel (by Production I.G)
This episode tells the Covenant's side of history. An elite Covenant was bestowed the rank of Arbiter. But when he refused the honor, his dearest wife was killed. He vows revenge and engage in a one-man battle against the Hierarchs. The story has some Samurai-ish elements.

Episode 7: The Package (by Shinji Aramaki)
Ten-minute battle of the Spartans against Covenants, this episode is the only full CG animation in the collection. Master Chief along with four Spartan supersoldiers fights the Covenant Elites to get back Dr. Catherine Halsey, creator of the SPARTAN Project. The first half consists of space battle on Booster Frame fighters, the second half of hand-to-hand combat on Covenant's cruiser.

Episode 8: Odd One Out (by Toei Animation)
A comical spinoff, this episode is aimed at children not familiar with Halo series which is rated 15+ (16+ or M in some region), with Toei Animation's original perspective of the Halo universe. Spartan "1337" arrives at a wrong planet and meet three kids. He tells them that he's the strongest soldier in the universe but while he's trying to convince them of his invincibility, he almost gets eaten by a dinosaur. Meanwhile, Covenant sends a new soldier to defeat Master Chief but somehow he gets sent to 1337...
Casio Entertainment isn't mentioned above, but we guess they did the CG animation production on Episode 7 directed by Shinji Aramaki.

You can see some hi-res pics on Casio Entertainment's Japanese website which look very much like the battle scenes in Episode 7 described above.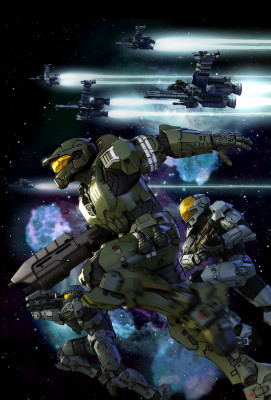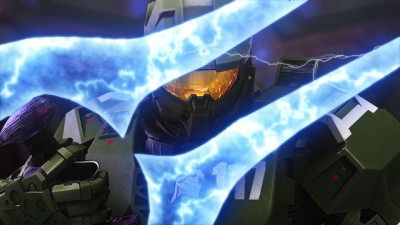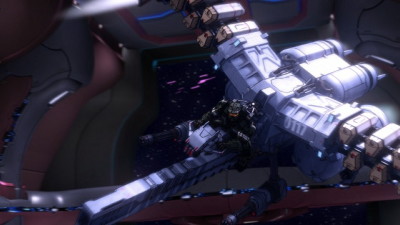 Related Posts:
Trailer of "Tron Legacy", the re-produced legendary Sci-Fi 3DCG movie revealed - GIGAZINE

DIY-ing "VR Game Gun", the ultimate Virtual-Reality gun controller - GIGAZINE

List of New Anime: Autumn 2009 - GIGAZINE

TAF 2009: Trailer of "Musashi: The Dream of the Last Samurai" and a talk show featuring Mamoru Oshii - GIGAZINE

3D Sci-Fi Action Anime "TO" to be aired on TBS before the DVD and Blu-ray Release - GIGAZINE

Microsoft unveiled new controller and games for Xbox360 at E3 - GIGAZINE