"Fate/stay night" is coming Blu-ray as Special Edition, commemorating its theatrical debut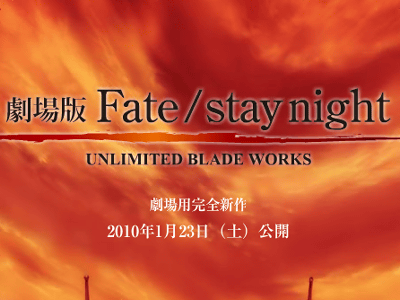 (This article was originally posted in Japanese at 14:45 Nov. 18, 2009.)

Dojin-origin adventure game Fate/stay night has been a long-run hit in Otaku culture.

To celebrate its movie edition starting from Jan. 23, 2010, re-edited version of TV airing is coming Blu-lay, with entire images, sound tracks and songs brushed up for better quality.

Read on for detail.

(JP)Movie "Fate / stay night - UNLIMITED BLADE WORKS" Official site.
http://www.fatestaynight.jp/

(JP)[Blu-ray] Fate/stay night TV reproduction I [Blu-ray] / Anime - Neowing

(JP)[Blu-ray] Fate/stay night TV reproduction II [Blu-ray] / Anime - Neowing

Titled "Fate/stay night TV reproduction", 24 episodes of TV anime will be devided into two parts. They will be totally re-filmed for clear video image with new opening animation. Existing OP song "disillusion" will be drastically re-arranged to "disillusion-2010-". The release will be Jan. 22, 2010.

On this special edition, ending song will also be renewed, while its title is uncertain yet. The singer will be the rock band Jyukai and Sachi Tainaka for the first part (Episode 1-12). For the second part (Episode 13-24), Tainaka sings solo. She is also featured as a singer for the theatrical movie.

It's only half a year ago that they published Blu-ray which contains whole 24 episodes for $400. You could say it's a bit cruel for fans who bought it.

Related Post:
Movie of "Fate/stay night" Coming Soon - GIGAZINE

Figures of Saber from "Fate" Franchise - WONDER FESTIVAL 2009 [SUMMER] - GIGAZINE


All 47 Garage Kit Masterpieces Chosen for "Wonder Show Case" in Past Ten Years - Vol. 4 - GIGAZINE

Best 8 Moe Characters of the Year in Anime Saimoe Tournament 2009; Final on Oct. 17 - GIGAZINE
in Anime, Posted by darkhorse_log