Softbank Mobile's Winter 2009/Spring 2010 Model Cellphone Handsets Announced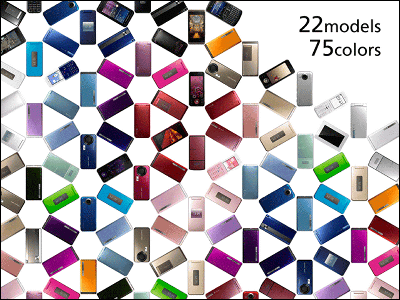 (This article was originally posted in Japanese at 09:15 Nov. 10, 2009)

Softbank Mobile announced today their new handset lineups for Winter/Spring 2009-2010 at a press conference.

The state-of-the-art models are equipped with Wi-Fi by default to utilize their new services including free newspaper browsing and preview of whole feature -length films. The new models include "AQUOS SHOT" with 12 mega pixel camera, "AQUOS Keitai FULLTOUCH" with large 4" LCD, "dynapocket" smartphone, "COLOR LIFE" with 15 colour variations and some models running on Google's Android OS.

Here's our coverage of the press conference.
The site.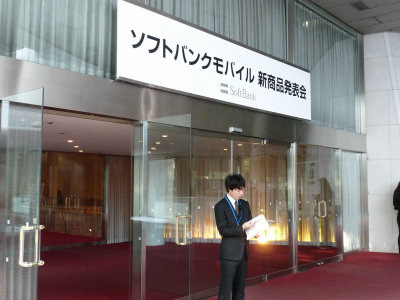 Wi-Fi provides maximum 54Mbps(downlink) highspeed Internet connection.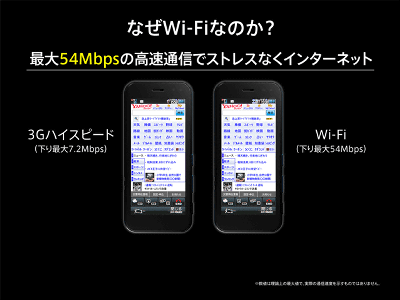 It's ten times as fast as today's 3G mobile telecommunications.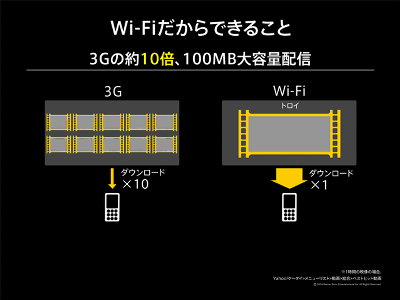 New service "Keitai(Mobile) Wi-Fi Channel"


Sankei Shimbun will provide the whole newspaper for free on "Keitai Wi-Fi Shimbun".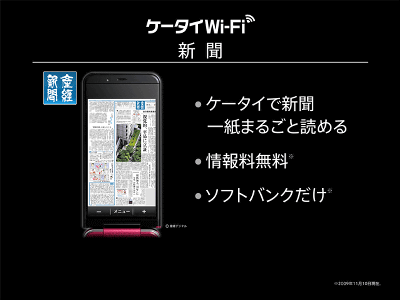 You can check the latest issue of your favourite magazines on "Keitai Wi-Fi Zasshi".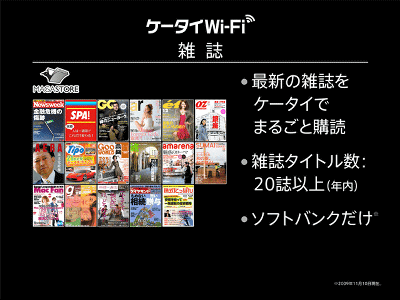 Online mobile screening of new movies "Keitai Wi-Fi Keitai Shishakai". Wi-Fi connection allows smooth data transfer for the whole length of the film.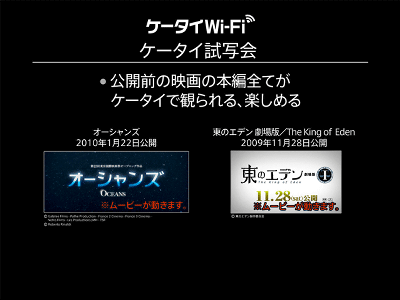 You can watch YouTube and GyaO!(major Japanese Web TV station).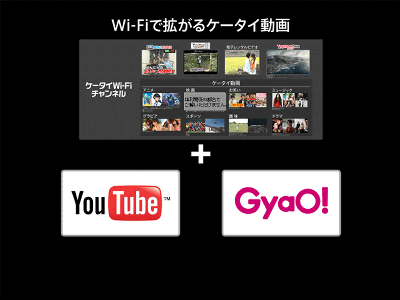 "AQUOS Keitai FULLTOUCH" (941SH) by SHARP.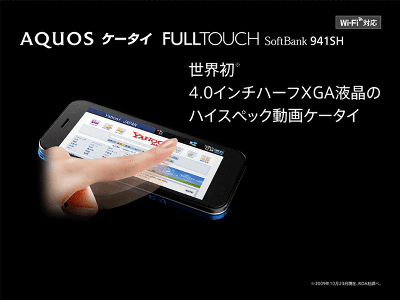 Equipped with 8 mega pixel camera and 4.0 inch XGA LCD.


"AQUOS SHOT" (940SH) by SHARP with 12.1 mega pixel camera.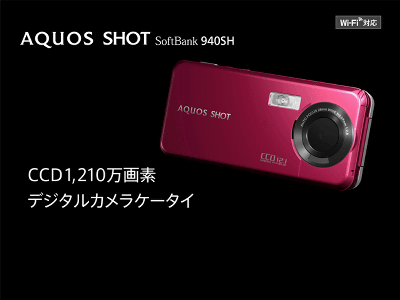 It's the first camera phone in the world capable of rapid-shooting 100 continuous shots.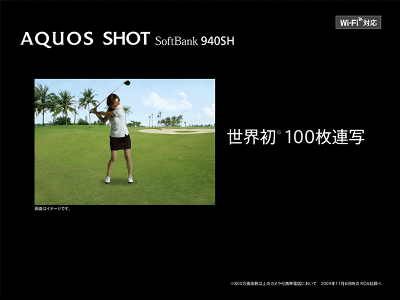 You can make the camera recognise your friends and automatically focus on his/her face, and the pictures can be automatically organised in albums according to the subject.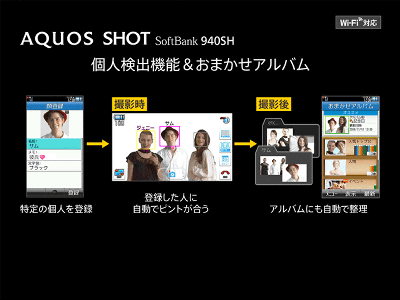 This is by far the highest-end model by Sharp.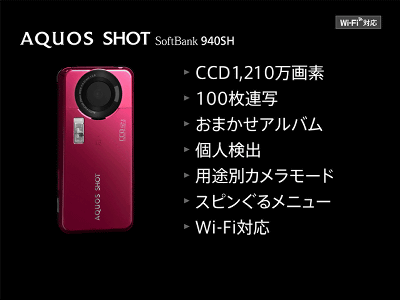 "AQUOS Keitai 943SH" is the thinnest in the history of Sharp's cycloid phones (the term refers to the unique flip/rotate movement of the screen).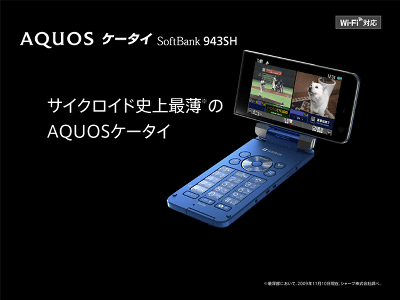 "940N" by NEC is the thinnest model with Wi-Fi announced today.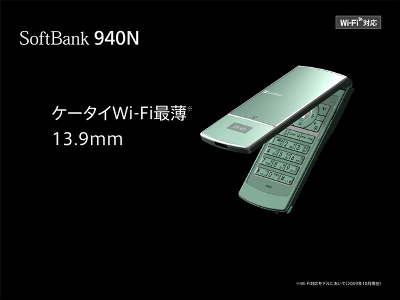 "VIERA Keitai 940P" by Panasonic with touchpad.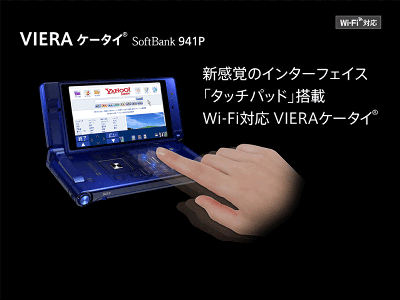 The whole Final Fantasy IV is preinstalled.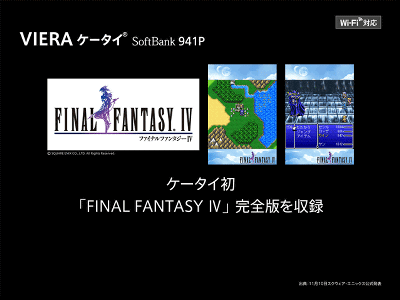 "X01SC" by Samsung runs on Windows Mobile 6.5, the thinnest handset model in Japan with QWERTY keyboard.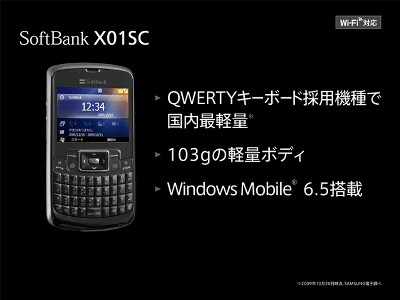 "dynapocket (X02T)" by Toshiba with Snapdragon processor (1GHz) and 4.1 inch touchscreen.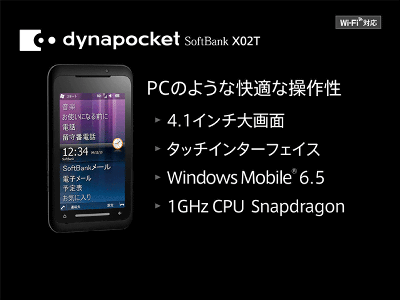 A smartphone that runs on Google's Android OS with 1GHz Snapdragon processor and 3.7 inch OELD will cone out in Spring, 2010.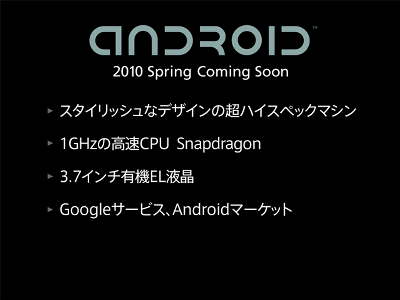 These eight models get the Wi-Fi connection.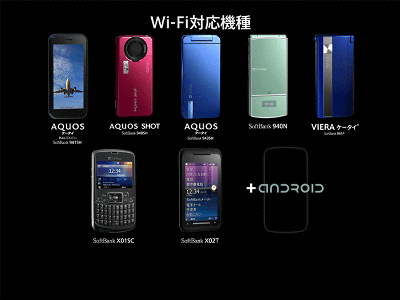 Models without Wi-Fi were also announced.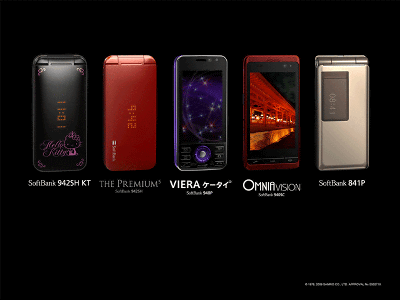 "THE PREMIUM (942SH)" by Sharp.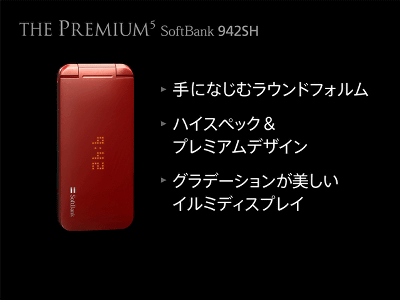 Hello Kitty-themed model "942SH KT" is a special version of "942SH".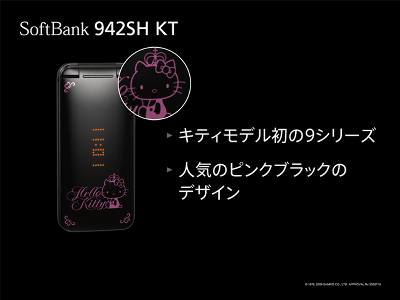 "832SH s" aimed at middle-aged and above.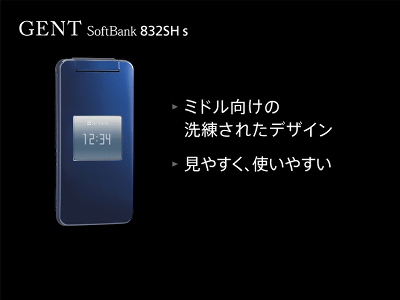 "Kodomobile 740N" for children.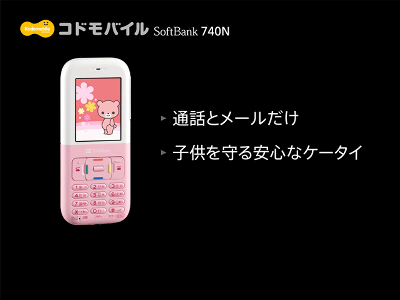 "840P for Biz" for corporate-use.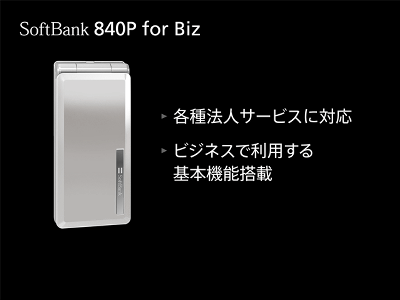 "741N" themed on "Simple and Compact".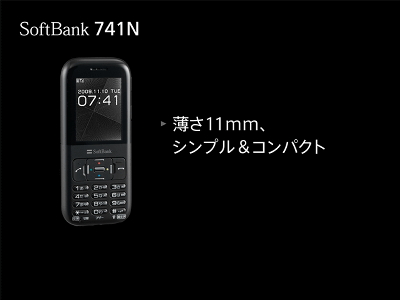 "PhotoVision HW002" with 9 inch display.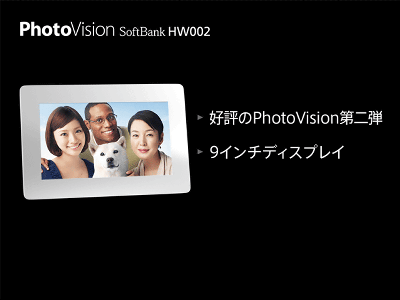 Data communication terminals "C02LC" and "C02SW".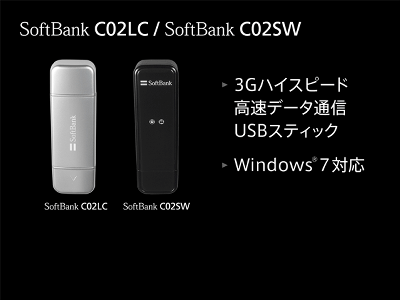 "COLOR LIFE 840P" comes in 15 colours.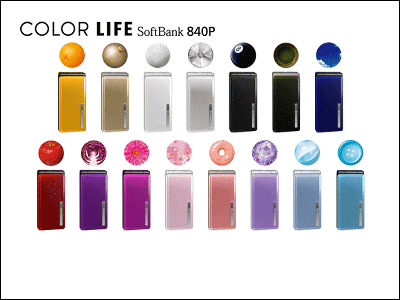 Dedicated to design, texture and usability.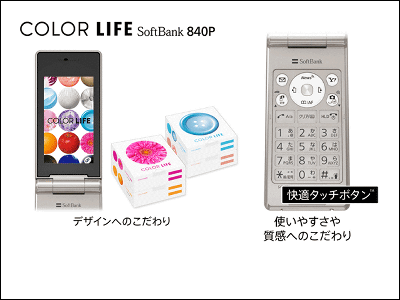 The predictive text change according to time of the day and year.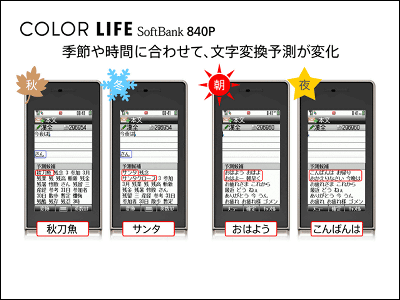 "Jelly Beans 840SH" comes in seven colours.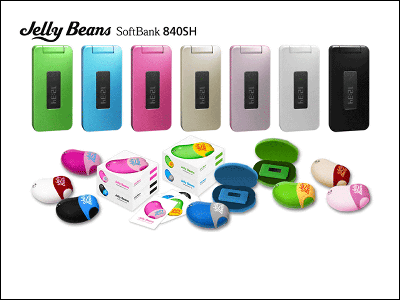 22 new models, 75colours in all.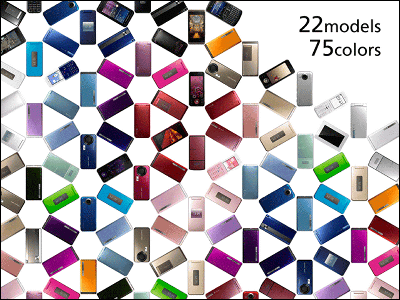 There was a question-and-answer session held at the end of the conference.

Q.
About the Wi-Fi connection, what will the bills be like? And what about the area range? Isn't it inconvenient for home use?

A.
We're preparing to offer some kind of "Wi-Fi Value Pack" rate plan. And of course we'll expand access points. As of now, 50% of Wi-Fi users are connecting from their home.

Q.
Another thing about Wi-Fi, it says here that there's only one flat-rate plan at 1400 yen. Isn't this retrogression from existing rate plans?

A.
To allow the customers to use 3G and Wi-Fi as much as they like without worrying about the bills, we decided to rule out extra-charges based on usage. We wanted to make the rate system simple and comprehensive.

Q.
So your new models are Wi-Fi enabled, what about femtocell?

A.
Now that the regulations are relaxing and the technology is maturing, we're conducting many tests to gain high performance and wide-range compared to our competitors.

Q.
On smartphones, how do you regard the compartmentalization of customers and differentiation of your products?

A.
We're based on the picture that iPhone is the monarch of smartphones, with some users choosing others by necessity, those who need WindowsMobile or QWERTY keyboard, or those who prefer Android OS to make the best of Google's services. Softbank will provide ultimate service to all of these customers.

Q.
Softbank seems to be struggling outside the metropolitan area according to the number of cell phone subscriptions announced lately. Isn't there a need to emphasize models other than iPhone?

A.
Struggling outside the city is one way to put it, but you can also say we're doing remarkably well in the city. The number of subscriptions itself is continuing to grow steadily, and the need of is now in the middle of expanding from cities to country. We provide wide range of service to attract wide range of customers.

Q.
Are "COLOR LIFE" and "JellyBeans" targeted at female customers? How can you be confident they'll sell well?

A.
We have experience in developing simple models that appeal to wide range of users. Easy and casual models fitting everyday life are highly marketable. See what happens on our shop's sales chart when they're launched.

Q.
You said you're aiming to equip all of your handsets with Wi-Fi in the future. When will it realise, and does that include low-priced entry models?

A.
"All" is a turn of phrase but when you think about it, camera phones were privilege at first but today camera became one of the fundamentals of cell phone. We don't mean to just forcibly add Wi-Fi to every model. The time will come when all cell phones are expected to have Wi-Fi connection, and we aim to be the first company to fulfill that status.

Q.
The Android phone to be released next spring, which manufacturer will it be by?

A.
We can't tell you that since the company has not announced the product yet, anywhere in the world. It will be one of the most advanced, cutting-edge model in the world so please wait and see.

Q.
It seems like your smartphones are becoming very much like iPhone. Are they influenced?

A.
It's only natural. Most of our employee use iPhone. Not only ours but handsets by other company are also greatly influenced by iPhone, as you can clearly see. When a new era unfolds, there's always a leader, or a star product like that. Softbank will keep up with the world by always providing the best and latest models.

Q.
Will your new hotspots be different from existing BB Mobile Point? What about the compatibility? Will you be able to access by computers?

A.
For the time being, Softbank Wi-Fi Spot service subscribers will be provided access at existing BB Mobile Point. iPhone and smartphone users will continue to be provided access at BB Mobile Point as well. A new Wi-Fi access point will not necessary be a new BB Mobile Point.

Related Posts:
Adorable Speaking Stuffed Toy of Softbank Mobile's "Oto-san" Dog - GIGAZINE

Softbank Revealed their 2009 Summer lineup, featuring "AQUOS SHOT", "Solar K-tai" and more - GIGAZINE

Photos of Softbank's all cellphone lineup for 2009 Summer vol.1/2 - GIGAZINE

Photos of Softbank's all cellphone lineup for 2009 Summer vol.2/2 - GIGAZINE

2008 Autumn/Winter model cellular phone of SoftBank -Part One - GIGAZINE