Anime Film "The Vanishment of Haruhi Suzumiya" to Come Out in February, 2010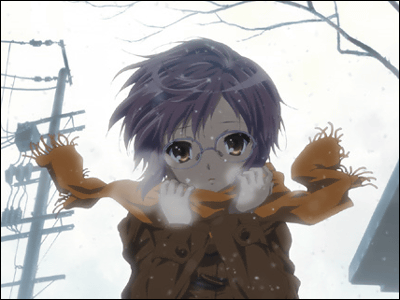 (This article was originally posted in Japanese at 10:00 Nov. 10, 2009)

The Vanishment of Haruhi Suzumiya, the feature length film based on popular anime Haruhi Suzumiya series was announced on October 9, 2009, to open in Spring 2010. But it seems like we don't have to wait that long. Instead of Japanese spring break season (late March to early April) when a lot of anime films hit the theatres, the film is to come out on February 6, 2010, surprisingly early considering the series' notorious unpunctuality.

Read on for details.
(Japanese)The Vanishment of Haruhi Suzumiya Premiere on February 6, 2010

In The Vanishment of Haruhi Suzumiya, Kyon arrives at school one day in December to find everything has changed. Haruhi is missing, and Ryoko Asakura, who had previously been deleted by Yuki Nagato, is a normal student. Yuki is an ordinary human, and Mikuru Asahina does not recognize him. Only Kyon is aware that everything is different. The story is told in the 4th volume of the original light novel series and it's one of the most popular story arcs among fans.

Anime series The Melancholy of Haruhi Suzumiya aired in 2006 and right after the conclusion, a second anime season was announced by huge adverts on newspapers. But after two long years of silence (we can remind you of their excruciatingly teasing marketing strategy here), when the second season finally came out it was first a rerun of first season in chronological order and then there was the eight nearly identical episodes aired from June through August as Endless Eight, so fans waiting for anime version of The Vanishment of Haruhi Suzumiya was again disappointed. And then the movie was announced after the airing of final episode.

So Haruhi Suzumiya had the fans practically wrapped around her finger for three years. The movie was announced to be opening in spring 2010 but in Haruhi's terms spring could mean summer or even autumn, we'd call it as good as punctual if the movie at least comes out within the year. Thus it came as a surprise that the movie is to come out earlier than anticipated, but it's good to hear they're being punctual for a change.

The movie will premiere on February 6, 2010 in Japan and an advance ticket will go on sale on November 21, 2009. This advance ticket doesn't come with supplement and there will be another special advance ticket released later, which will come with goodies, so it might be wise to wait just a little more.

By the way, the film's length is disclosed to be around 150 minutes, which is notably long in comparison to other anime films; Princess Mononoke was 133 min, Summer Wars 114 min and Evangelion: 2.0 You Can (Not) Advance 108 min, for example.


Theatres:
United Cinemas Sapporo
Cinema Sunshine Ikebukuro
Shinjuku Wald 9
United Cinemas Toyosu
Tachikawa Cinema City
Warner Mycal Cinemas Minatomirai
Cinecitta Kawasaki
TOHO Cinemas Ebina
Keisei Rosa 10
TOHO Cinemas Ichikawa Colton Plaza
MOVIX Saitama
Cineplex Tsukuba
MOVIX Utsunomiya
MOVIX Isezaki
Century Cinema
Umeda Burg 7
Nanba Parks Cinema
Kobe Kokusai Shochiku
Kyoto Cinema
United Cinemas Canal City 13
Etc.

Related Posts:
Artful Ascii Arts of "Suzumiya Haruhi" and her company. - GIGAZINE

Haruhi Suzumiya "Sasanoha Rhapsody" version Nendoroid Petit for Anime Newtype Channel Subscribers - GIGAZINE

"Haruhi"started airing at last, with 14 NEW EPISODES!!! - GIGAZINE

Haruhi's New Episode Aired! With New Ending Song! - GIGAZINE

Spoiler:"Haruhi" finally got out of their endless summer vacation - GIGAZINE